Skip to main content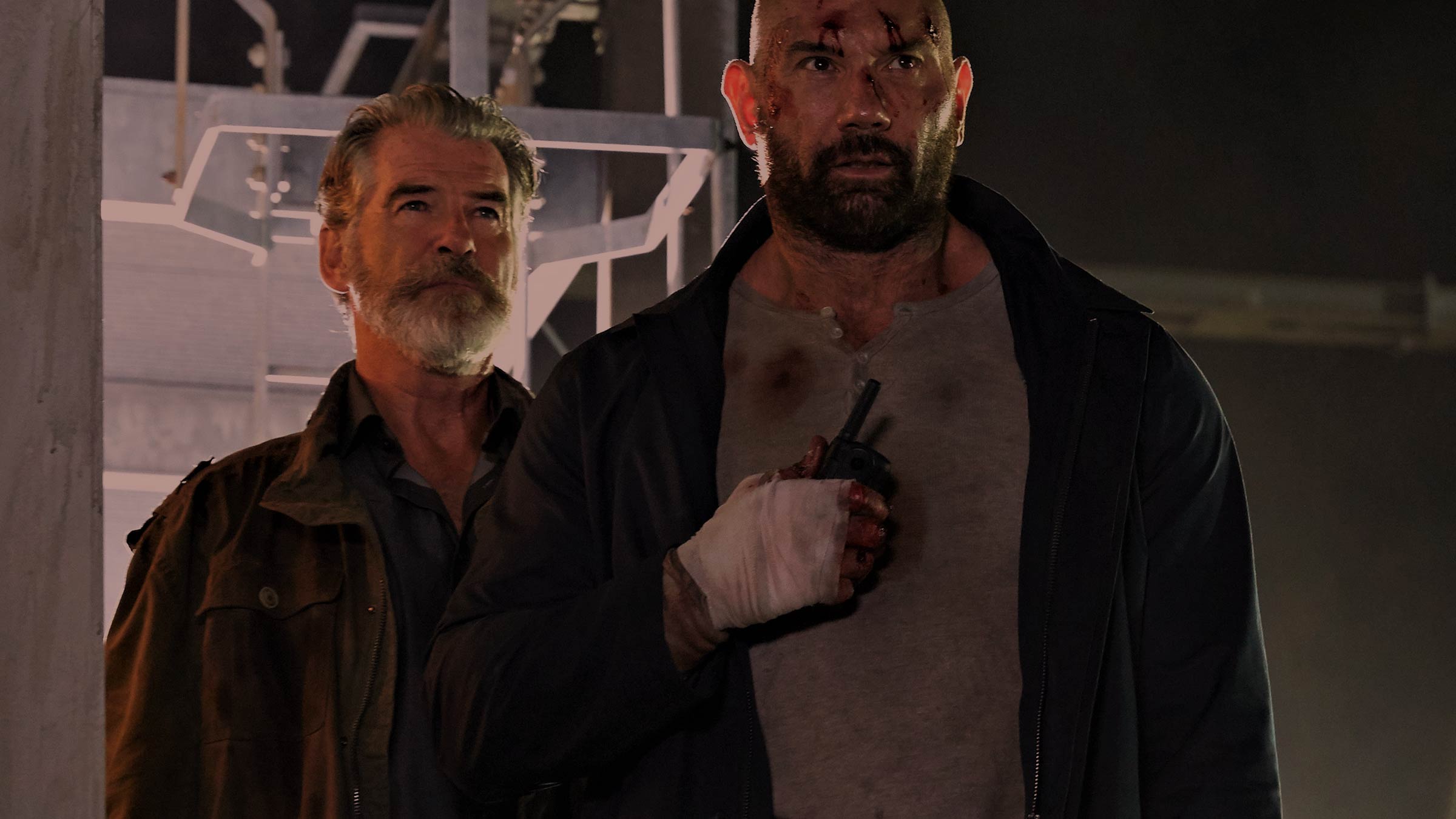 Imagine Die Hard, but in a football stadium. Now replace Bruce Willis with Dave Bautista and add former Bond Pierce Brosnan into the mix...
Final Score, available from Friday 7 September in cinemas and in Sky Cinema On Demand. Cert 15. Also available in HD
We all know football as the beautiful game; a sport that brings the world together to appreciate athleticism, teamwork and skill. But what happens when a group of heavily armed criminals show up to turn the beautiful game deadly, taking hostages and demanding ransom?
That's the scenario in Final Score, the latest Sky Cinema Original film, available in Sky Cinema On Demand and in cinemas around the country from Wednesday 5 September. It's a film so tough it could bench-press an entire footy team (probably), with an explosive lead performance from Guardians Of The Galaxy star Bautista.
When criminal gang leader Arkady (Ray Stevenson, Thor) takes over West Ham's ground in an attempt to capture Dimitri Bellov (Pierce Brosnan), the only man who can stop him is Michael Knox (Bautista), an ex-army hardman who's drawn into the action when the gang takes his niece hostage. Guess what? They're going to regret messing with him.
Bautista is one of the breakout stars of the past few years thanks to his hilarious performance as Drax in Guardians Of The Galaxy and his brief but moving turn in Blade Runner 2049. So we're excited to see him stepping up to leading man status here – and we really don't like the bad guys' chances…
Upgrade to Sky Cinema now
Don't have Sky Cinema? You can find out about our Sky Cinema package and upgrade here.
Watch on the go
If you subscribe to Sky Cinema on Virgin TV, you can watch on the go with the Sky Cinema app on your mobile, laptop or tablet anywhere in the UK (or while temporarily in the EU) with a WiFi or broadband connection. Just download from the Apple app store, Google Play or the Amazon appstore and log into the app to start watching.
HD: HD TV required to view HD channels. Number of inclusive HD channels depends on package.
Sky Cinema HD: Sky Cinema Premiere +1 not available in HD.
Sky Cinema app: Only available via the Sky Cinema app (selected iOS and Android devices only) or website to customers who subscribe to these channels. Only available on iOS 8 and above, and Android 4.x. UK only (or while temporarily in the EU). Maximum 2 devices. Selected content may not be available to view. Separate End User Licence Agreements and terms and conditions apply to the Sky Cinema app and website. Live streaming and On Demand available in UK (or while temporarily in the EU) with broadband, WiFi or 3G/4G only. Minimum 800 kbps recommended per device accessing the service.