Skip to main content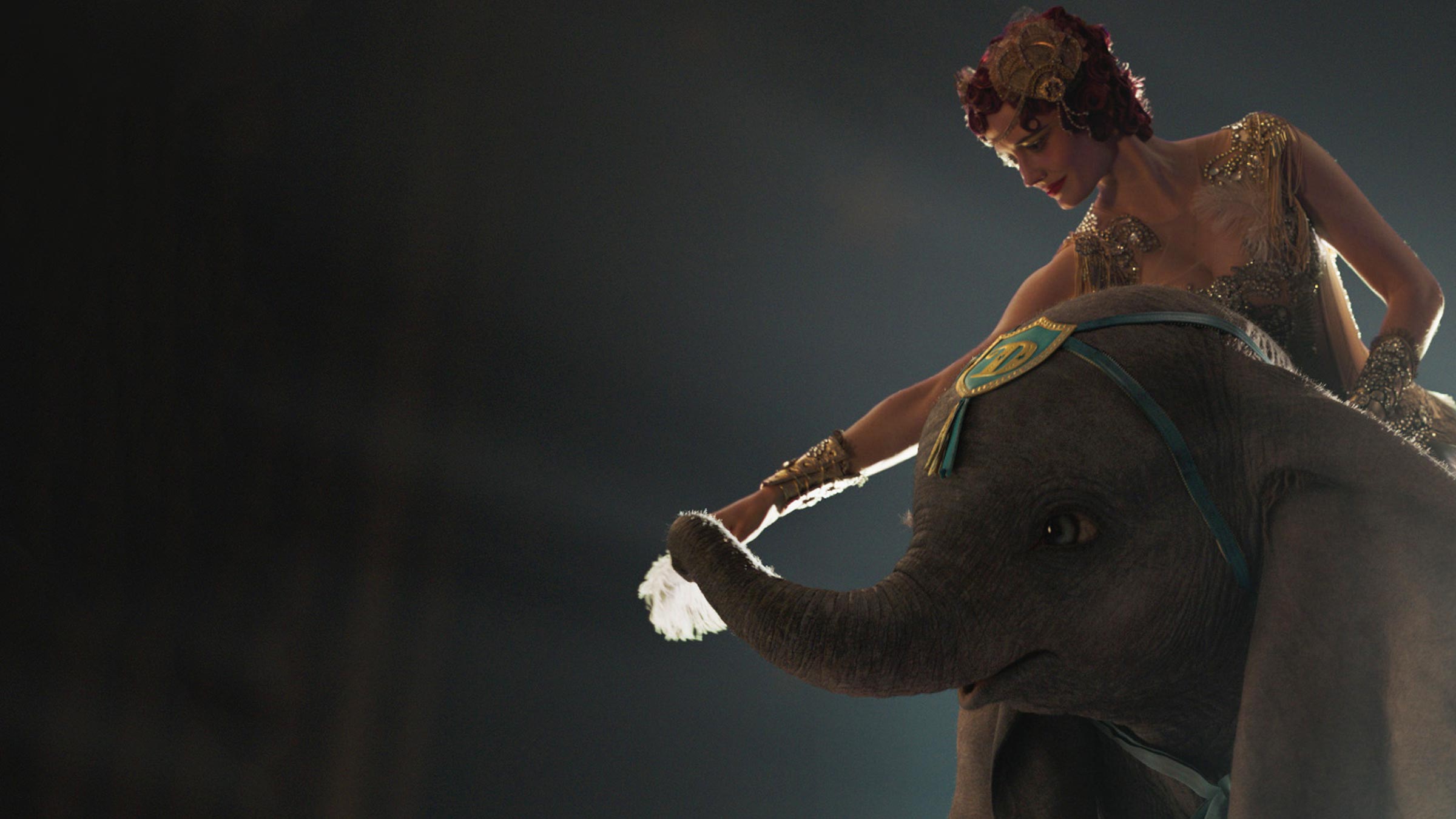 Are you ready for a live-action remake of elephantine proportions?
Dumbo + Digital Bonus, available to buy on the Virgin Media Store. Cert PG
Dumbo, the beloved 1941 animated film from Disney, is a movie many of us grew up with, whether watching it in the cinema or at home on a well-worn VHS tape for the 1,000th time. And we can still feel its magic today, all those years later. Like an elephant, a Dumbo fan never forgets! When Disney announced this live-action remake, fans were initially wary. However, in director Tim Burton's capable hands, Dumbo took the skies like never before.
Both films are loosely based on the children's book, Dumbo, The Flying Elephant, written by Helen Aberson-Mayer and Harold Pearl in 1939, which tells the story of a baby elephant in a travelling circus. Born with adorably oversized ears, the plucky progeny of mama elephant Mrs Jumbo is teased for his unusual appearance and given the cruel nickname "Dumbo". But those ears are anything but dumb – they enable Dumbo to fly! He becomes a top circus attraction, but his fame begins to attract some unwanted attention…

Just like Dumbo, Burton, known for his dark, gothic and eccentric style, has always been a bit of an outsider in the industry. "At Disney, they like me, but I get paid to be the slightly accepted weirdo," he said. "I felt for that kind of character from the get-go. I tried to keep what I loved about it, the image of this character who doesn't quite fit in being devoured by a large family multi-entertainment company."
In Burton's fifth film for Disney, the titular elephant has been given a hyper-realistic CGI makeover. If you fell for the cartoon cutie the first time around, just wait until he pulls on your heartstrings with those big blue eyes in this iteration, which offers a heady mix of nostalgia, old-school storytelling and stunning visuals. "The old Disney movies used to give you everything: joy, happiness, sadness, death, fear," Burton said. All those elements are there in the remake, while the refreshed story breathes new life into the classic tale.
The film features some key differences that set it apart from the animated original. For example, it's set in 1919 rather than 1941, the animals don't talk, it's not a musical and it's humans rather than elephants that initially poke fun at Dumbo's ears. The story follows Holt Farrier (Colin Farrell), a former circus star who returns home to his two children and the circus after losing an arm in the First World War. Max Medici (Danny DeVito), who runs the Medici Brothers' Circus, employs Holt and his children as Dumbo's carers.
The circus, which is struggling financially, gets a new lease of life as Dumbo the Flying Elephant takes to the skies. However, entrepreneur VA Vandevere (Michael Keaton) catches wind of Dumbo's magical abilities and attempts to poach him for his latest entertainment venture.
The star-studded cast also includes Eva Green (Casino Royale), Alan Arkin (Argo), Sharon Rooney (My Mad Fat Diary) and DeObia Oparei (Game Of Thrones). So what are you waiting for? With a sense of magic only Disney can deliver and Burton's fantastic vision, you'll fall in love with Dumbo all over again.

But wait, there's more on Store!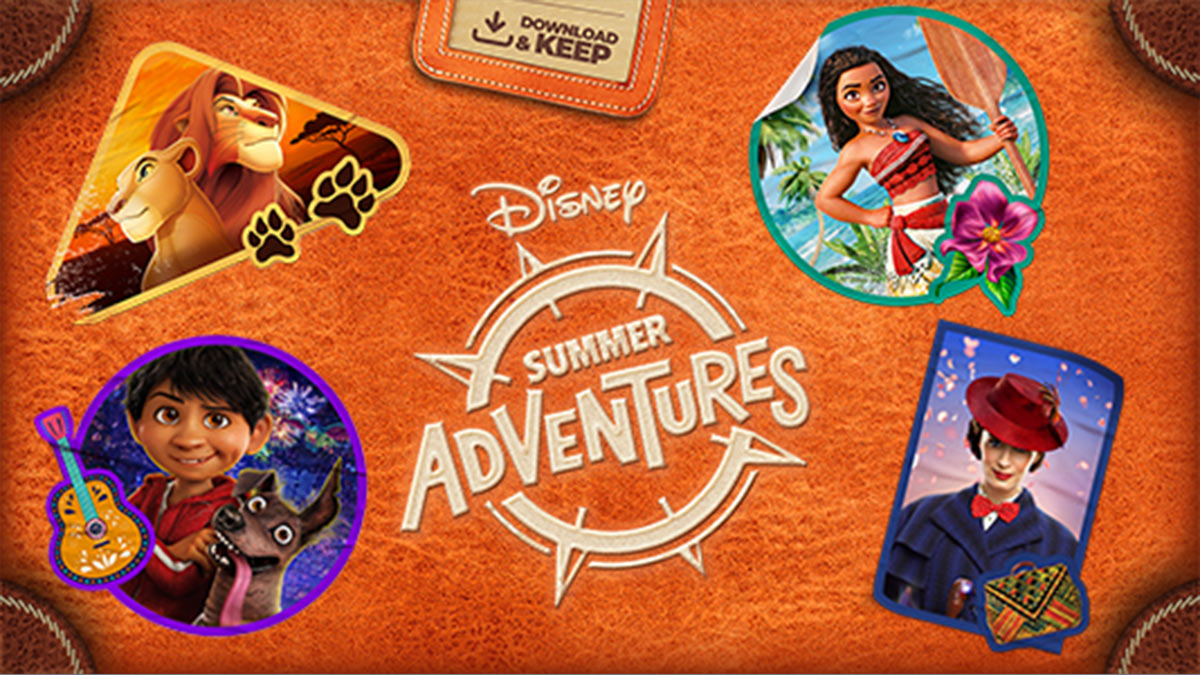 Flying high post-Dumbo? There's no need to come down just yet, as fellow live-action remake The Lion King is now available to pre-order on the Virgin Media Store. Hakuna matatas all round! What's more, loads of classic and more recent Disney smashes are available to buy for less in the Disney Summer Adventures Collection until Sunday 18 August. Read on to find out more about some of the great films on offer.
The Lion King (2019)
The Lion King, available to pre-order on the Virgin Media Store. Cert PG
Jon Favreau, director of the brilliant live-action version of The Jungle Book, has given The Lion King the same treatment. It's a spectacle to behold, with viewers wondering which animals are real and which are CGI. It's been well received, with reviewers praising the film's beautiful visual effects (a "game changer") and "gorgeous score" in particular.
The star-studded voice cast includes Donald Glover (Simba), Beyoncé (Nala), Seth Rogan (Pumbaa), Billy Eichner (Timon), John Oliver (Zazu), James Earl Jones (who returns to voice Mufasa) and Chiwetel Ejiofor (Scar). Glover and Beyoncé's "Can You Feel The Love Tonight" duet will have you all misty-eyed as the spectacular scenes play out.

The Lion King (1994)
The Lion King, available to buy for £7.99 until Sunday 28 July, then £10.99 until Sunday 18 August. Cert U
This classic Disney animation takes you on a journey across the plains of Africa alongside Simba, heir to his father Mufasa's throne. Simba's evil uncle Scar is desperate to become king, and sets in motion a plan to lure Mufasa and Simba into a wildebeest stampede. Cue one of the most tear-jerking Disney moments ever. Simba later finds himself lost in the wilderness, only to happen upon warthog Pumbaa and meerkat Timon, who help him to look on the bright side of life and join him in his quest to reclaim the throne. Take that, Scar!

Mary Poppins Returns
Mary Poppins Returns + Digital Bonus, available to buy for £11.99 until Sunday 28 July. Cert U
The magical Mary Poppins (Emily Blunt, A Quiet Place) returns in this smashing sequel, released 54 years after the original film – and it's like she never left. We're transported to 1930s London during the Great Depression, when the original novels by PL Travers were set. Siblings Michael (Ben Whishaw, A Very English Scandal) and Jane Banks (Emily Mortimer, Shutter Island) are all grown up, and far removed from the starry-eyed children they once were. Perhaps Ms Poppins has a trick or two up her sleeve to help bring some magic back into their lives?

Ralph Breaks The Internet
Ralph Breaks The Internet + Digital Bonus, available to buy for £11.99 until Sunday 11 August. Cert PG
If we learned anything from Wreck-It Ralph, it's that you don't want to have your game unplugged. The Wreck-It Ralph arcade game came close in the first film when Ralph (voiced by John C Reilly) went AWOL in a bid to turn his bad guy image around. Thankfully, things are back to (relative) normality again, but it's not long before another permanent "game over" is looming, putting Ralph's friend Princess Vanellope von Schweetz (Sarah Silverman) in serious danger.

Not heard about the Virgin Media Store?
It's the place where you can buy the latest and greatest movies and TV Box Sets, yours to watch again and again, at home or on the go. Sign up now at virginmediastore.com, choose from hundreds of films and TV Box Sets and start watching instantly.
Enjoy your purchases on your Virgin TV Box (TiVo®/V6), online, or on your registered iOS and Android devices with the Virgin Media Store app.
Show me the latest releases on the Virgin Media Store.
The Disney Summer Adventures Collection: Offers end Sunday 18 August 2019. Normal price of The Lion King (1994): £13.99. Normal price of Mary Poppins Returns + Digital Bonus: £13.99. Normal price of Ralph Breaks The Internet + Digital Bonus: £13.99.
Virgin Media Store: Separate terms and conditions apply to the Virgin Media Store service. DVD included for movie purchases only. Purchases must be made on the website or set top box. Virgin TV subscription and our latest Virgin TV V6 box required to buy and watch via set top box – Store is not available on other boxes. Compatible device & browser required. Max 5 registered devices. Max 2 devices can stream content simultaneously. Stream and download in UK only (or while temporarily in the EU).
Interviews: Any opinions expressed in interviews are those of the interview subject and not those of Virgin Media.