Skip to main content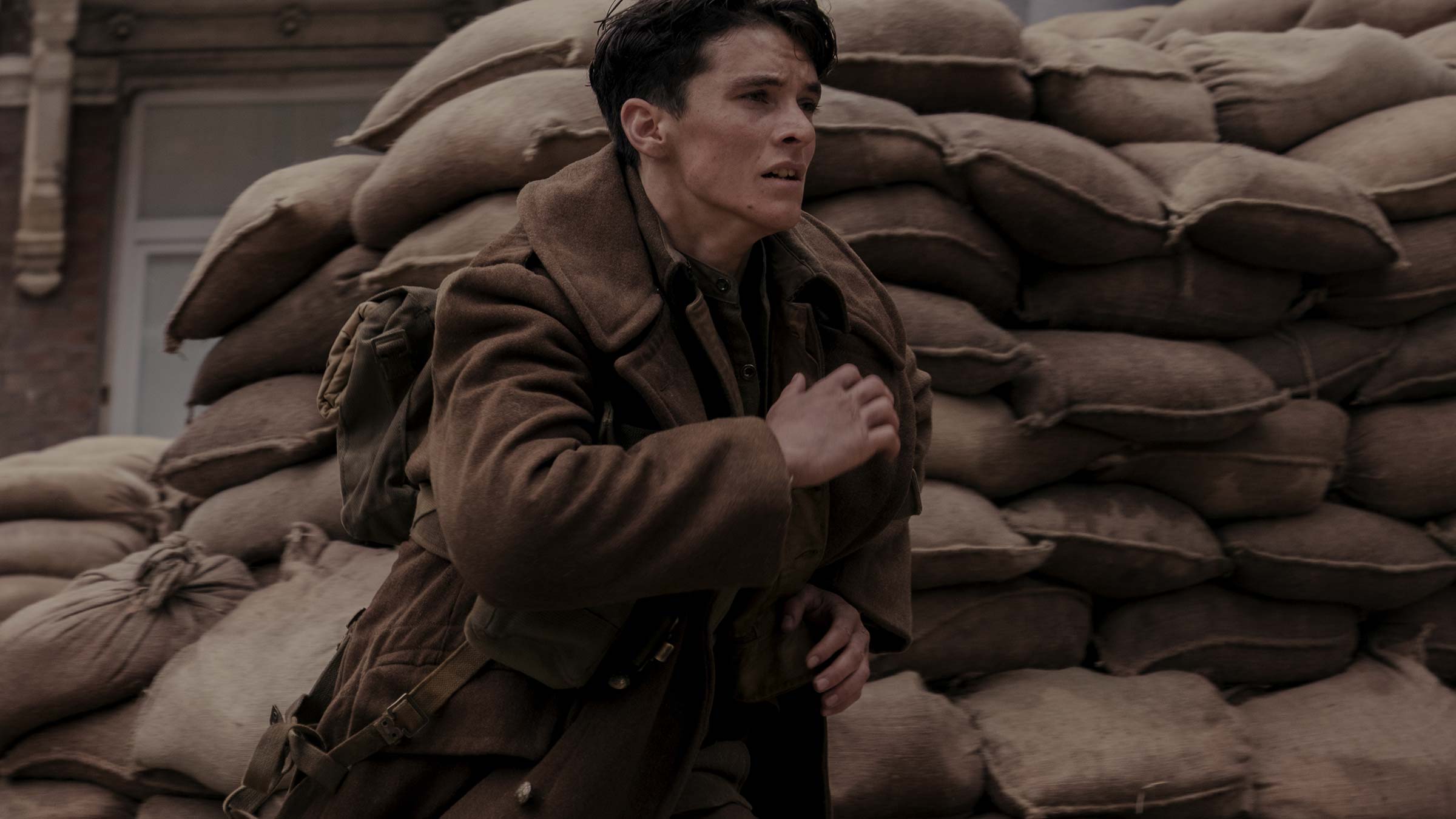 This pulse-racing war thriller plunges its audience firmly into the heart of the action. As it lands on Sky Cinema, are you ready?
Dunkirk, available from Friday 4 May in Sky Cinema On Demand. Cert 12. Also available in HD
1940. The Battle of France. Allied soldiers from Belgium, France and the British Empire find themselves surrounded by the German Army. Time has run out, and the Germans are pressing home their advantage. A hugely risky evacuation is the only option left.
This is the apocalyptic background to the gripping story told in writer-director Christopher Nolan's Dunkirk. Even though it lacks a traditional linear narrative, and at times dialogue is kept to a bare minimum, it's so intense that your mind will never be allowed to wander.
And aside from the daring storytelling, we give huge props to Nolan for his bold casting choices. Unknowns like Fionn Whitehead and Tom Glynn-Carney landed roles alongside Kenneth Branagh (Murder On The Orient Express), Cillian Murphy (Peaky Blinders), Mark Rylance (Bridge Of Spies) and Tom Hardy (Taboo), with former One Direction member Harry Styles also appearing in his first movie role.
Want to know more about this convention-defying blockbuster? Here are some fascinating insights into the award-winning epic…
Nolan wanted to shoot it without a script
In a conversation with his brother – fellow filmmaker Jonathan – that was published alongside the Dunkirk script, he revealed he wanted to move away from making films like Inception and Interstellar that were driven by dialogue… but his missus wouldn't let him. A conversation with his wife and producing partner, Emma Thomas, changed his mind. "I remember saying I just want to show it, it's almost like I want to just stage it. And film it. Emma looked at me like I was a bit crazy and was like, OK, that's not really gonna work."
OF COURSE Michael Caine is in it
It wouldn't be a Christopher Nolan film without Michael Caine. We don't get to see his face, unfortunately, but we do hear the 84-year-old icon's familiar voice via radio link giving instructions to the Spitfire pilots played by Jack Lowden (War & Peace) and Tom Hardy (below).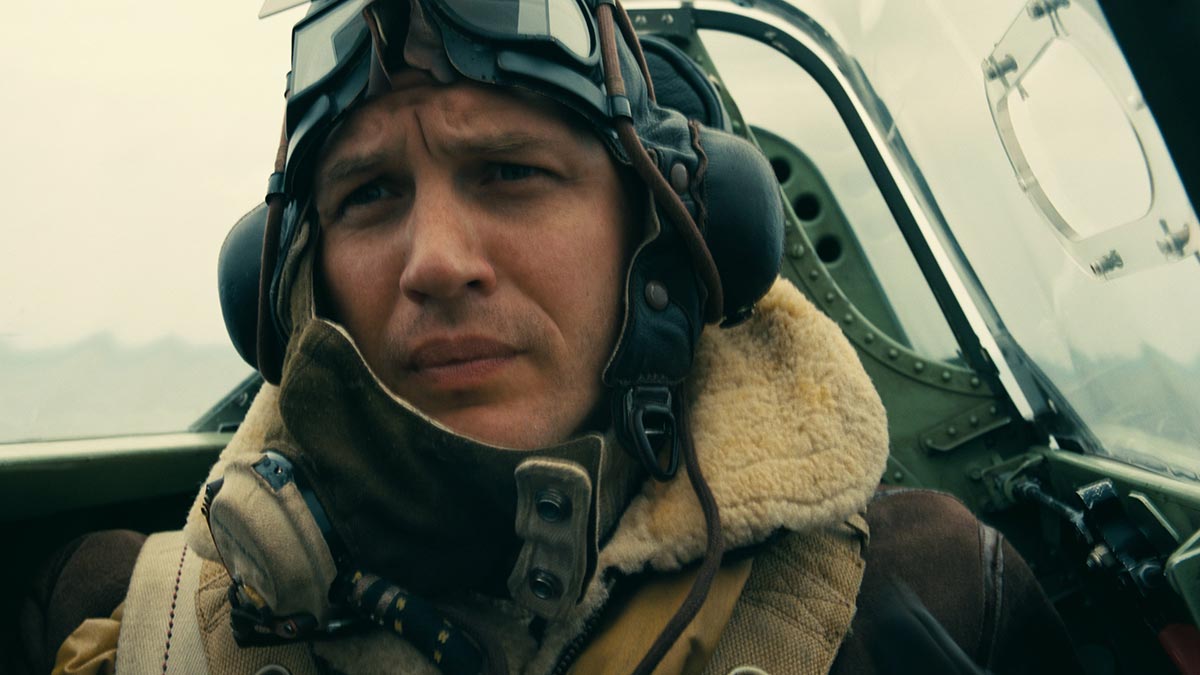 Harry Styles got his role because of his "old-fashioned face"
Nolan says he took a chance on the One Directioner because he has "the kind of face that makes you believe he could have been alive in that period… Harry's character's very unglamorous. It's not a showboating role."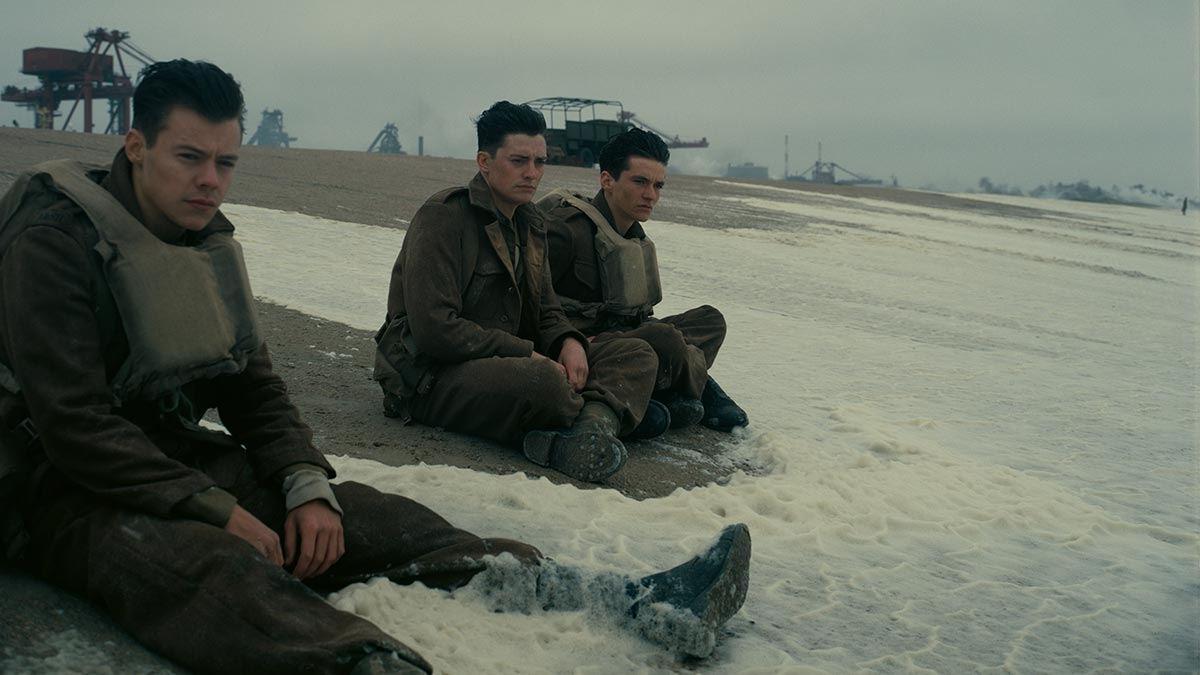 It's Nolan's second collaboration with Hoyte Van Hoytema
Cinematographer Van Hoytema (Spectre) previously worked with Nolan on Interstellar. Shooting on the actual French beaches where the World War II evacuation took place, and using IMAX cameras, meant Van Hoytema really had his work cut out. But it did allow him to create some astonishing, indelible cinematic imagery – and landed him an Oscar nomination.
And Nolan's sixth collaboration with Hans Zimmer
Sound and music are integral to the film's immersive nature. Zimmer, who has worked with Nolan on films including Inception, The Dark Knight and Interstellar, says that the pair's shared aim has always been to fuse the music perfectly with the imagery and "on this one, we've come as close as anybody ever has".
It avoids using CGI
With Dunkirk, Nolan went old-school and used cardboard cut-out props of soldiers and military vehicles to create the impression of a large army. Only 325 extras were used for filming the epic scenes on the beaches of Dunkirk.
Veterans say the movie is louder than the battle
Branagh revealed that he spoke to World War II veterans after the movie's British premiere, and they claimed it was louder than the real deal. On the actual beach, the stretch of land under fire was so large that the noise of the bombs drifted away through the air. But in the film, the noise of bombs is all-consuming.
Watch on the go
If you subscribe to Sky Cinema on Virgin TV, you can watch on the go with the Sky Cinema app on your mobile, laptop or tablet anywhere in the UK with a WiFi or broadband connection. Just download from the Apple app store, Google Play or the Amazon appstore and log into the app to start watching.
Upgrade to Sky Cinema now
Don't have Sky Cinema? You can find out about our Sky Cinema package and upgrade here.
HD: HD TV required to view HD channels. Number of inclusive HD channels depends on package.
Sky Cinema HD: Sky Cinema Premiere +1 not available in HD.
Sky Cinema app: Only available via the Sky Cinema app (selected iOS and Android devices only) or website to customers who subscribe to these channels. UK only. Maximum 2 devices. Selected content may not be available to view. Separate End User Licence Agreements and terms and conditions apply to the Sky Cinema app and website. Live streaming and On Demand available in UK with broadband, WiFi or 3G/4G only. Minimum 800 kbps recommended per device accessing the service.
Image credits: DUNKIRK: © 2017 WARNER BROS. ENT. ALL RIGHTS RESERVED