Skip to main content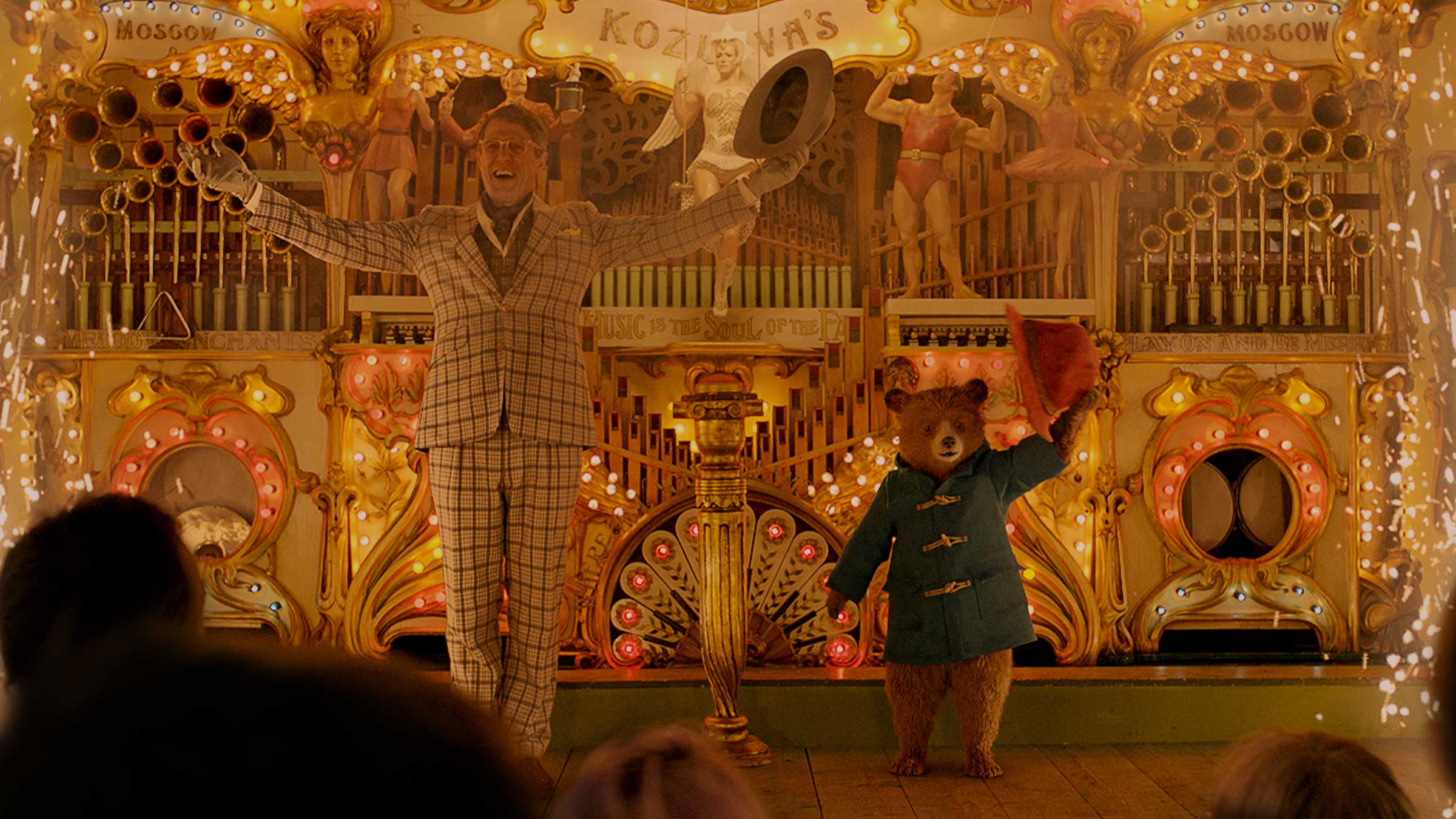 Stave off those post-present-unwrapping blues with some cinematic belters…
Great films to watch at Christmas
Just in case you'd forgotten, it's the Christmas season. The rest of "the fam" have flocked back home, and they suddenly have the urge to spend a few days sat awkwardly on top of one another on the sofa while watching films old, new, and anything in between.
It's a strange phenomenon, but one that makes Christmas feel quintessentially Christmas-ey. As such, we've assembled this lush list of flicks for you to either watch live or whack on record and watch later, when Aunt Grimilda has found her teeth and your dad has finished that episode of The Repair Shop where they recolour some binoculars.
So, pumped for some festive, family film-watching? (Try saying that whilst pinching your tongue). Well, simply copy the below list into your mind palace and mentally circle them with a red pen to get your festive film season all planned out…
(Or just bookmark this page, obviously).
Paddington

Sunday 22 December, 7.15pm, Channel 4/HD (CH 104/141)
There really isn't anything to dislike about Paddington. The classic children's books are brilliantly brought to life by The Mighty Boosh director Paul King, of all people, who channels his inner Wes Anderson in this thoroughly stylised, quirky, comical caper that sees the titular bear and his adopted family fending off Nicole Kidman's evil taxidermist.
True Grit

Monday 23 December, 11.15pm, Film4/HD (CH 428/429)
Here's why you need to watch True Grit. It's written and directed by the Coen brothers. Hailee Steinfeld, Jeff Bridges and Matt Damon deliver ridiculously good performances. Oh, and it's dripping with gorgeous, so-good-you'd-swear-you-could-taste-them visuals. Perfect.

Over The Hedge
Christmas Eve, 1pm, Film4/HD (CH 428/429)
This underrated gem packs a star-studded cast (Bruce Willis, Steve Carrell and… Avril Lavigne, to name a new) and a plot that'll have you chuckling far more than you thought such a film could. A group of wild animals set out to reclaim the forest they've lost to an encroaching suburban development. Oh, and Omid Djalili is at his most Djalili-ish as a stuck-up cat. It's great. Watch it.
Home Alone
Christmas Eve, 5.30pm, Channel 4/HD (104/141)
This charming, side-splitting classic sees Macaulay Culkin living his best life after his irritating family leave him, well, home alone. You'll be resisting the urge to shout "keep the change, ya filthy animal" at every cashier you see within the next week.
Die Hard 2
Christmas Eve, 9pm, Film4/HD (CH 428/429)
As the big day looms, Film4 skips the whole "is Die Hard a Christmas film?" debate by showing this, the equally wintery sequel that sees Bruce Willis attempting to scupper a terrorist attack at an airport. Like the original, it's a non-stop, explosive thriller… which definitely isn't a Christmas film.
Finding Dory

Christmas Day, 3.10pm, BBC One HD (CH 101/108)
IT'S CHRIIIISSSSSSSTMAAAAASSSSSS! Ahem. If ever a film was a dead-cert "fun for all the family" flick, it's this. First, Marlin and Dory found Nemo. Now it's Marlin and Nemo's turn to find Dory after she disappears into the blue in a bid to discover her past… Be warned though, it's a tear-jerker.
Deadpool
Christmas Day, 9pm, Film4/HD (CH 428/429)
We'll skip the bit where we make some flimsy case that the red suit means Deadpool is a bit like Santa. Anyhoo, you won't want to miss this bloody, sweary, fourth wall-breaking feat of chaos, comedy and jaw-dropping action. Easily one of the oddest superhero origin stories ever made, Ryan Reynolds is on tip-top form as the titular hero who, following a medical mishap, becomes a seemingly indestructible vigilante who must track down his kidnapped wife.

Boxing Day, 7.20pm, BBC One HD (CH 101/108)
If the first film in what has become cinema's greatest ever duology had you tickled, then you're in luck, because the sequel is also on telly this Christmas. However, it takes the series into darker, grittier territory… namely, the most colourful prison ever. How does Paddington get there? Watch, find out and cry your little cotton socks off.
Bridge Of Spies

Saturday 28 December, 6.15pm, Film4/HD (CH 428/429)
Taut, atmospheric, exquisitely shot and with stellar performances from stars Tom Hanks and Mark Rylance (who bagged an Oscar for his role), Steven Spielberg's tense, gripping drama is a must-watch. Based on a true story, the action follows hostage negotiations between the US and the USSR at the height of the Cold War, with the US looking to exchange Rylance's Soviet spy for a downed US pilot.
How To Talk To Girls At Parties
Sunday 29 December, 11.45pm, Film4/HD (CH 428/429)
Anarchy, aliens and punk combine in this madcap coming of age tale. It's… weird, but in the best possible way. Elle Fanning delivers another belter of a performance as a mysterious alien, while Alex Sharp stars as the teenage punk who falls head over heels for her.
Edward Scissorhands
Monday 30 December, 12.20pm, Channel 4/HD (CH 104/141)
When the illustrious careers of director Tim Burton and actor Johnny Depp come to an end, it'll be hard to argue that this bizarre, fantastical love story isn't their finest hour. Depp delivers a suitably Depp-esque performance as the artificial man with scissors for hands who, after being taken in by a suburban family, finds himself falling in love with a young Winona Ryder.
Kubo And The Two Strings

Monday 30 December, 2.40pm, Film 4/HD (CH 428/429)
You need to to see this film. No, we know, we always say that – but this time we really mean it. It's a stop motion animated adventure flick unlike any we've ever seen; the titular Kubo using his magical guitar to obtain a magical suit of that, he hopes, will help him solve a longstanding mystery. It's as charming as it is enthralling and thrilling. Please watch it.
Transformers: Age Of Extinction
Monday 30 December, 9pm, Film4/HD (CH 428/429)
Explosions… Massive robots fighting other massive robots… Massive robots fighting other massive robots whilst riding massive robot dinosaurs… Mark Wahlberg… It isn't high art, this film, but it's damn entertaining. Perfect for 12-year olds, or your inner 12-year old.
May your telly days be merry and bright!
If you want to find the very best TV shows, festive specials and films this Yuletide, visit our Christmas hub for the latest news, listings and more.
TV channels: Channels, content and features available depend on your chosen package. Channel line-ups and content are subject to change at any time and to regional variations.
HD: HD TV set, V HD Box, TiVo box or Virgin TV V6 connected with HDMI cables required for HD channels. Number of inclusive HD channels depends on package.