Skip to main content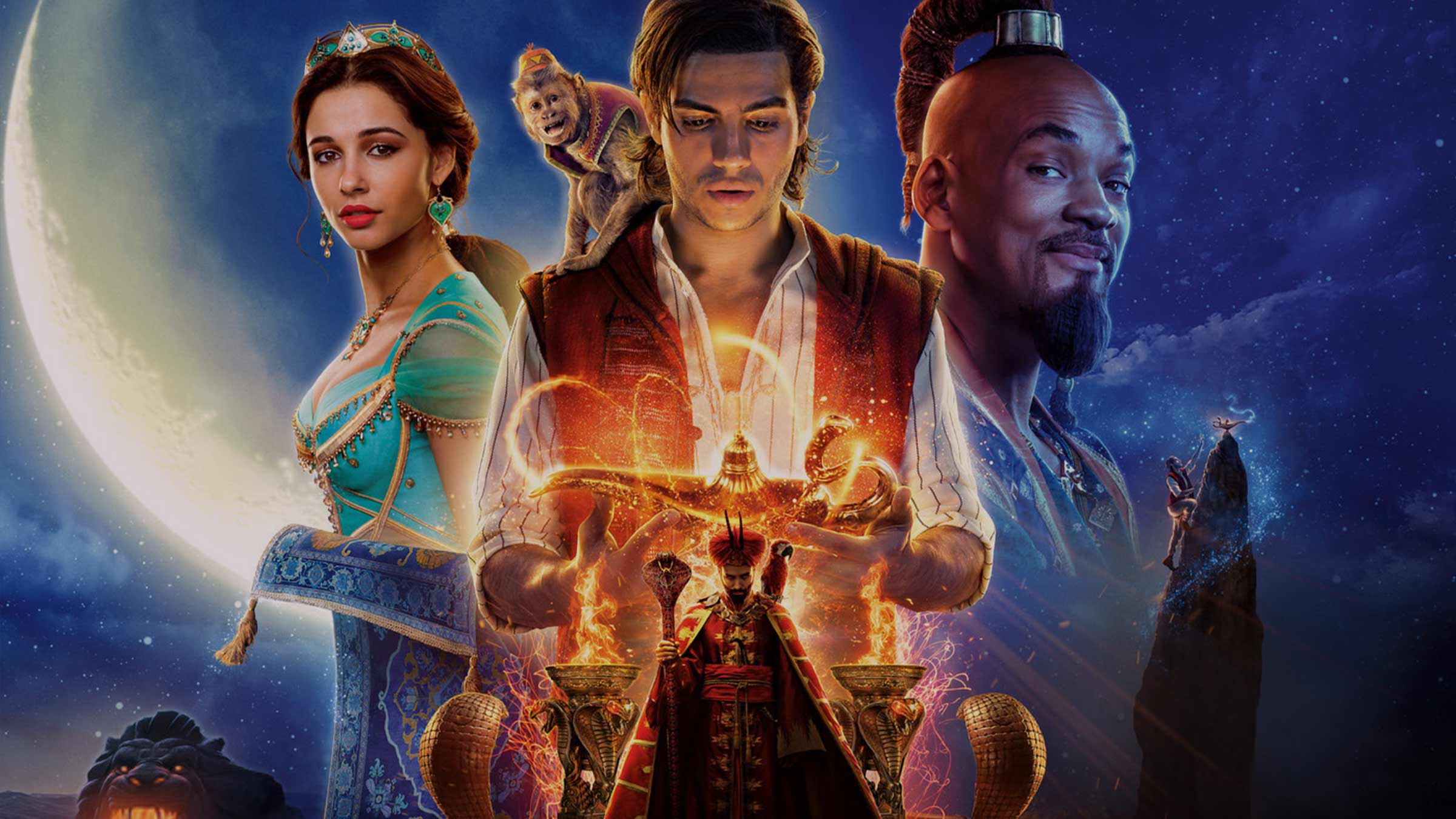 Whether you want a festive classic on Christmas Eve or blockbuster action on Boxing Day, there are more than enough movies to keep you curled up on the sofa
By Kat Romero, Writer
The Christmas period is the perfect excuse for watching a ton of top films. You're probably already in your pyjamas and settled on the sofa, ready to binge a tub of chocolates. So why not binge some of the best movies Virgin TV has to offer over the festive period at the same time?
Whether you're in the mood for a giggle, fancy some classic romance or want some adrenaline-pumping action, we've got you covered.
See what we've got coming up…
Best kids' films on TV this Christmas and New Year

Dora And The Lost City Of Gold
Thursday 22 December, 2.50pm, Film4/HD (CH 428/429)
Our favourite explorer comes to life in this live-action adaptation of the classic cartoon. After a childhood in the Pervuvian jungle, Dora is sent to an American high school. But things take a dramatic twist when she's kidnapped by mysterious mercenaries.
How The Grinch Stole Christmas
Thursday 22 December, 3pm, ITV1 HD (CH 113/103)
Roll your eyes at the hysteria of the holidays? Or have wicked thoughts about short-circuiting your neighbour's ridiculously over-the-top lights? Then this is the perfect comedy for you, as Jim Carrey take on the role of the green grump who's become synonymous with anti-Christmas sentiment. Although you'll never guess what happens at the end…
Paddington
Thursday 22 December, 3.15pm, BBC One HD (CH 101)
Based on Michael Bond's beloved books about the adventures of Paddington Bear, this charming adaptation sees the unworldly ursine move from the jungles of Peru to London. An all-star cast includes Hugh Bonneville, Sally Hawkins, Julie Walters, Jim Broadbent, Peter Capaldi and Nicole Kidman.
Rugrats In Paris
Friday 23 December, 6.40am, Channel 4 HD (CH 104/141)
Our favourite gang of babies take to the big screen for a second feature. The film sees the Finster, Pickles and DeVille families travel to EuroReptarland. Be warned there's a real tear jerker moment when Chuckie witnesses a mother/child dance and realises how much he misses his own mother.
Shrek
Friday 23 December, 12.45pm, Film4/HD (CH 428/429)
It's hard to believe it's been more than 20 years since Mike Myers put on a Scottish accent and became the loveable green ogre. Throw in Eddie Murphy's comedic brilliance as Donkey and Cameron Diaz's transformation into Princess Fiona and you've got all the ingredients of a modern classic.
Trolls World Tour
Friday 23 December, 1.45pm, BBC One HD (CH 101)
When Poppy (Anna Kendrick) and Branch (Justin Timberlake) find out that there are six different troll tribes across the six different lands, with each tribe devoted to a different genre of music, it's happy troll times. But when rockers Queen Bar and King Thrash make it their mission to destroy the other music, Poppy and Branch must unite the trolls and save their diverse world.
How To Train Your Dragon
Christmas Eve, 11.30am, Channel 4 HD (CH 104/141)
Dragons may not seem like the most festive thing but they breathe fire (perfect for roasting chestnuts) and they can fly – ideal if Santa ever needs a back-up for his reindeer. But this Oscar-nominated animation, based on Cressida Cowell's popular books about an awkward young Viking called Hiccup, is perfect to watch any time of the year.
Pokémon: Detective Pikachu
Christmas Eve, 3pm, BBC One HD (CH 101)
In this world, people collect Pokémon to do battle. And when Harry Goodman goes missing, his son Tim (Justice Smith) seeks out the help of Pikachu, who yearns to be a detective, to crack the case. You could say he's "gotta catch em all'. Get it?! Renowned football club owner and gin maker Ryan Reynolds provides the voice of Pikachu.
The Nutcracker And The Four Realms
Christmas Eve, 5.25pm, BBC One HD (CH 101)
When young Clara (Mackenzie Foy) tries to retrieve a one-of-a-kind key to unlock a priceless gift, she's plunged into a mysterious parallel world. She encounters a soldier named Phillip who escorts her to meet the leaders of three realms, where she discoveres that they must enter a fourth realm to retrieve the precious key.
Kung Fu Panda 2
Christmas Day, 9.35am, Channel 4 HD (CH 104/141)
Anything that Jack Black lends his voice to is going to be good! The sequel to the 2008 animated martial-arts hit is just as hilarious as the original and offers feel-good fun for the whole family.
A Shaun The Sheep Movie: Farmageddon
Christmas Day, 1pm, BBC One HD (CH 101)
Fans of CBeebies' main man Justin Fletcher will love this, as he lends his voice to the lead role of Shaun and his cousin Timmy. The second spin-off from the classic Wallace & Gromit after the 2015 hit Shaun The Sheep Movie, it's a perfect fit for all the family.
Aladdin
Christmas Day, 3.10pm, ITV1 HD (CH 113/103)
The Disney favourite gets the live-action treatment and the story truly comes to life. Following Robin Williams' performance as the Genie in the original animated classic is no easy feat but Will Smith does a stellar job, and Mena Massoud and Naomi Scott are charming as the star-crossed lovers Aladdin and Jasmine.
Peter Rabbit
Boxing Day, 5.55pm, Channel 4 HD (CH 104/141)
James Corden lends his voice to the titular character in this raucous comedy hit that brought the beloved Beatrix Potter character back to our screens, with blue-jacketed young Peter causing mayhem on the farm after old Mr McGregor dies. But our one question remains: when are we gonna get another Gavin & Stacey Christmas special, James?
Moana
Wednesday 28 December, 3.50pm, BBC One HD (CH 101)
The tale of a daring young girl who sets out on a dangerous mission in a bid to save her people. Like all Disney flicks, it combines humour with heart. Plus, we guarantee you'll be hummings the songs for days afterwards.
Best romantic films on TV this Christmas and New Year
A Star Is Born
Sunday 18 December, 10pm, BBC Two HD (CH 102)
Pop phenomenon Lady Gaga made her big-screen debut as a leading lady in this 2018 adaptation of the much-remade musical classic. After falling in love with seasoned musician Jack (Bradley Cooper), Gaga's Ally sees her star rise while Jack's demons threaten to destroy him. If you like your onscreen chemistry sizzling hot enough to fry bacon, give this a watch!
Last Christmas
Friday 23 December, 11.10pm, BBC One HD (CH 101)
Emma Thompson co-wrote this wonderful 2019 festive film starring Emilia Clarke (Game Of Thrones) as Kate, a frustrated young woman whose life is turned around when she meets handsome Tom (Henry Golding, Crazy Rich Asians). The pair soon fall for each other – but is Tom everything Kate hoped for?
Jerry Maguire
Thursday 29 December, 12.05am, Channel 4 HD (CH 104/141)
Tom Cruise utters one of his most famous quotes as a sports agent in this romantic comedy. "Show me the money!" Sounds like us when we ask the family for their share of the Christmas Day food shop. Renée Zellweger (Bridget Jones) and an Oscar-winning Cuba Gooding Jr co-star.
La La Land
Christmas Eve, 1am, BBC One HD (CH 101)
Put Ryan Gosling and Emma Stone together and you've got cinematic gold. This romantic film celebrates everything brilliant about old school Hollywood as the stars depict the love affair of Sebastian and Mia. We can't look at a streetlamp on a moonlit evening without feeling the urge to dance…
Four Weddings And A Funeral
Christmas Eve, 10.40pm, Channel 4 HD (CH 104/141)
We know Hugh Grant has impressed with his more serious roles but we still love him as a floppy-haired bumbling heartthrob in a rom-com. And you don't get much better than Richard Curtis' 1994 hit.
Grease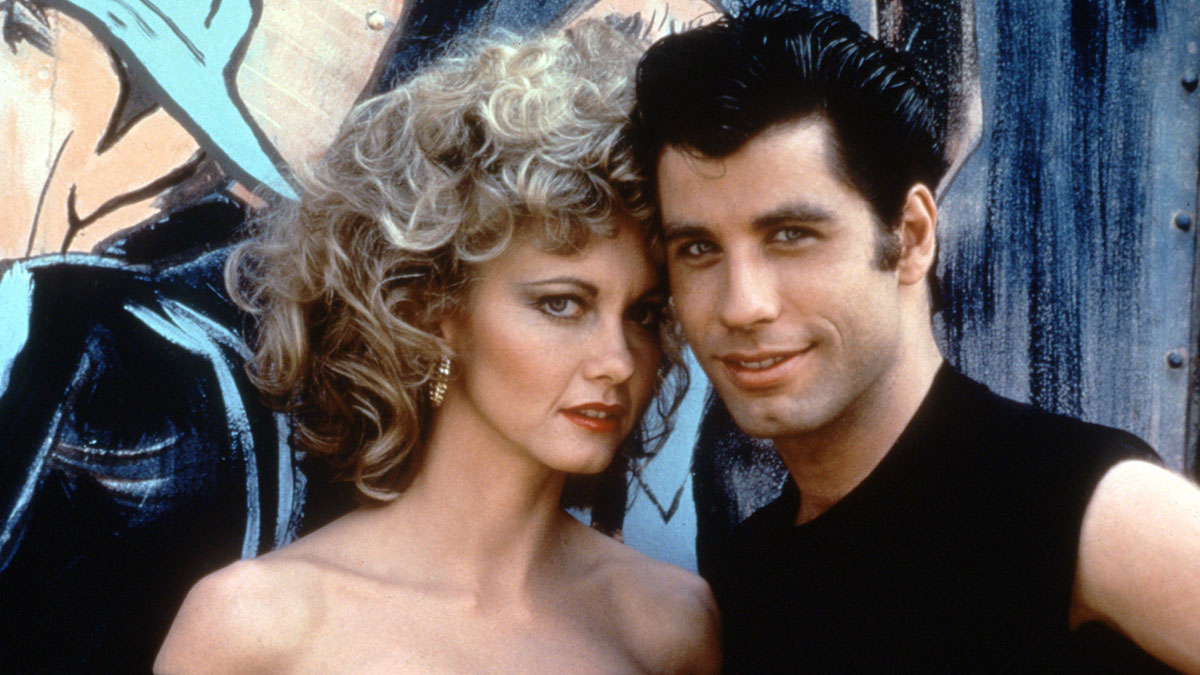 Christmas Day, 6.45pm, Film4/HD (CH 428/429)
Yes, it makes a nod to long summer nights but that doesn't mean the huge hit musical starring John Travolta and the late Olivia Newton John can't be enjoyed over the festive period. Although the sight of ONJ's Sandy in those tight black leggings could make you feel even worse about your third helping of Christmas pudding.
Breakfast At Tiffany's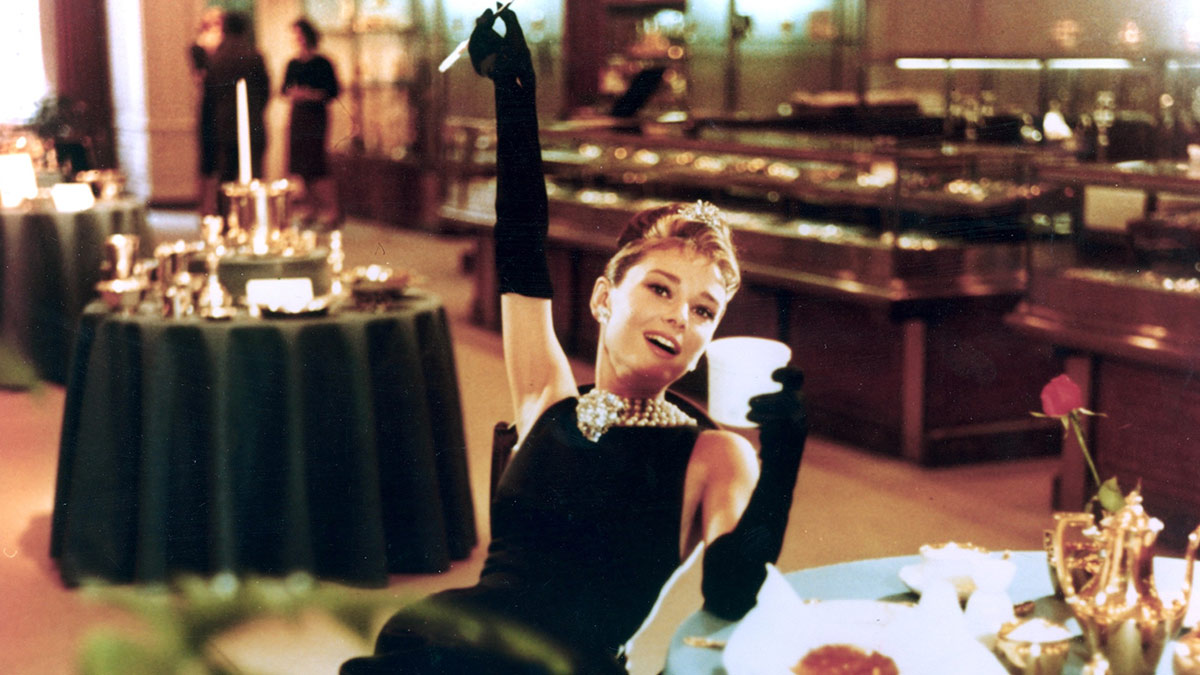 Boxing Day, 10.05am, Channel 5 HD (CH 154/105)
Name an image more iconic than Audrey Hepburn in a classic black dress, tiara and a cigarette holder. The film about a young woman who falls in love with a writer is a must-see for anyone who adores fabulous female leads and the endless elegance of New York City.
Best action/adventure films on TV this Christmas and New Year
Jumanji
Saturday 17 December, 11.10am, Channel 5 HD (CH 154/105)
Before Dwayne Johnson got involved with this series, it produced one of our favourite performances by the late Robin Williams back in 1995. He stars as Alan, who has been trapped inside the board game Jumanji for years until siblings Judy and Peter play it and accidentally set him free – along with all manner of scary beasts and baddies.
The Italian Job
Sunday 18 December, 5.50pm, Channel 5 HD (CH 154/105)
This quintessential 1960s movie stars Michael Caine as one of a gang of crooks who attempt a big heist in Italy using a fleet of Minis. A must-see, not least because Caine delivers most of his best-known lines in it… including the one about the doors.
Back To The Future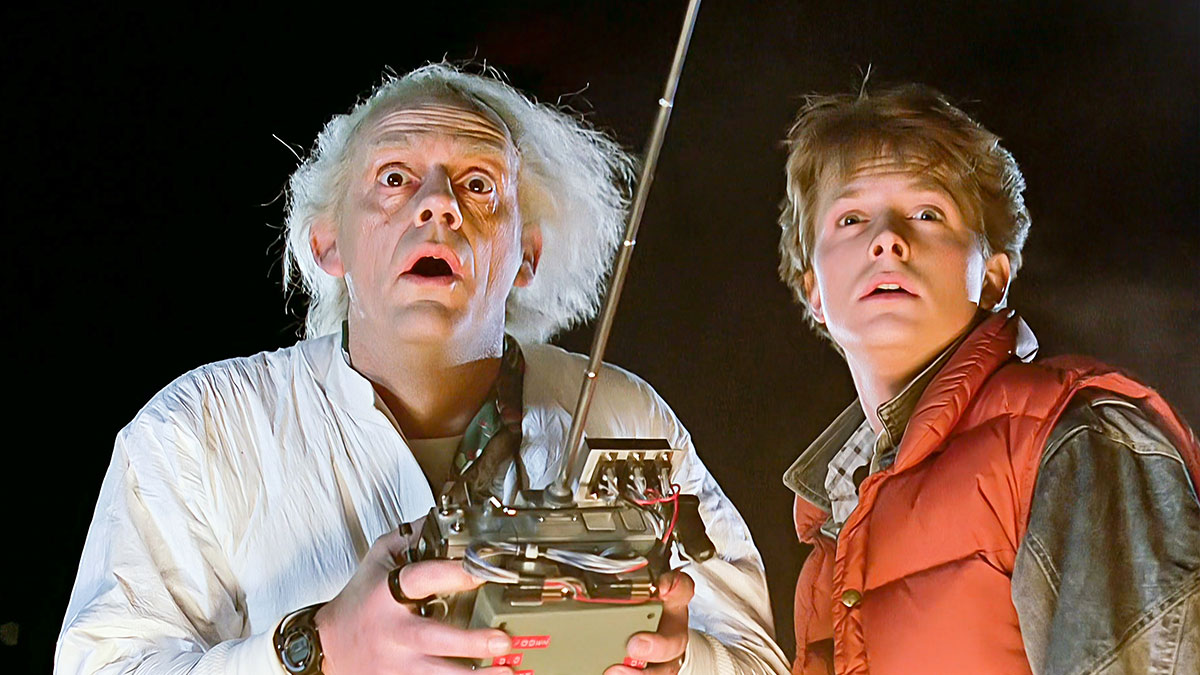 Monday 19 December, 2.45pm, ITV1 HD (CH 113/103)
In this 80s classic Marty McFly (Michael J Fox) travels back to the 1955 when an experiment with scientist friend Doc Brown (a magnificently eccentric Christopher Lloyd) goes wrong. He encounters the young versions of his parents and must make sure they fall in love, or he'll not be born. Most scary of all is that if this film was remade today, they'd travel back to the 90s. We feel old.
Die Hard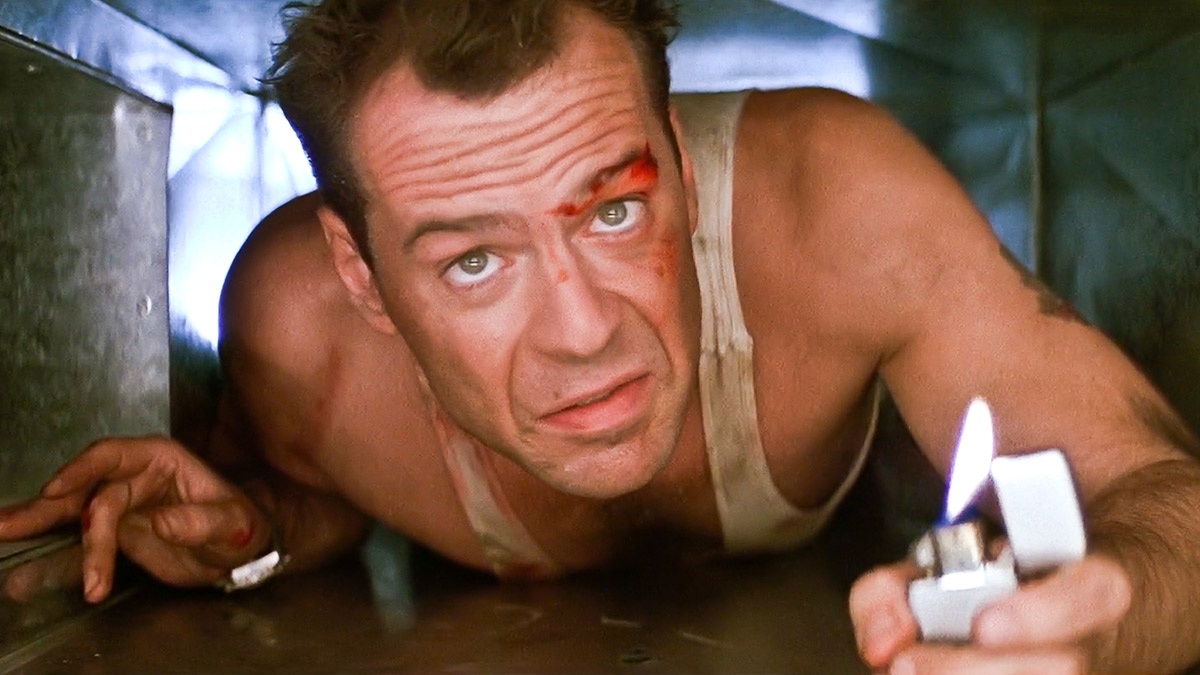 Thursday 22 December, 11.15pm, ITV1 HD (CH 113/103)
It takes place at Christmas, it's set at a Christmas party and John McClane's wife is even called Holly. It's Christmassy as tinsel on a tree. So put the debate to bed and enjoy an all-time festive action masterwork.
Catch Me If You Can
Christmas Day, 10.55pm, Channel 4 HD (CH 104/141)
Leonardo DiCaprio plays a master of deception who's just too tricky to track down, having forged a fraudulent life as a doctor, a pilot and a lawyer. Tom Hanks is hot on his heels as the FBI agent determined to take him down. Based on real events.

Lemony Snicket's A Series Of Unfortunate Events
Tuesday 27 December, 11.50am, Channel 4 HD (CH 104/141)
Jim Carrey undergoes quite the transformation as Count Olaf in this fantasy adventure, with hairs growing from his chin and an excessive amount of wrinkles. Looks like us on New Year's Day…
Indiana Jones And The Temple Of Doom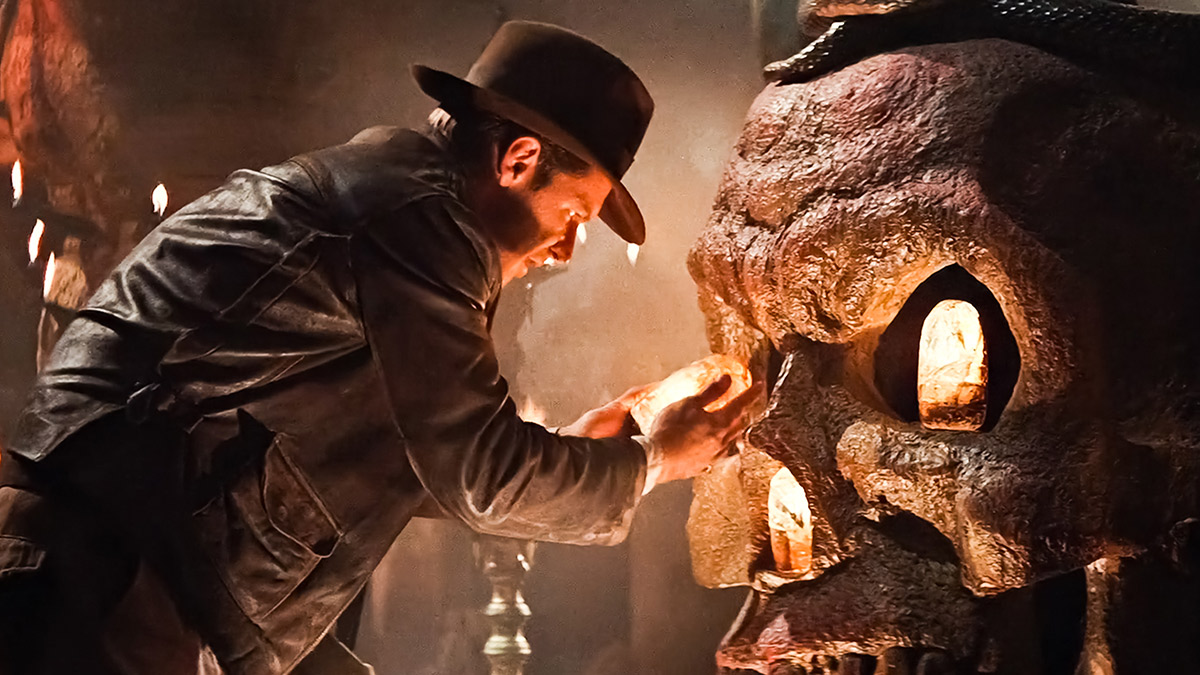 New Year's Eve, 6.40pm, Channel 5 HD (CH 154/105)
The second instalment of the beloved trilogy (we refuse to acknowledge the fourth) sees Harrison Ford reprise his role as Indiana Jones. A film featuring the word "doom" in the title may not seem festive. But hey. Sometimes you need a little bit of bitter to burst through the sweetness.
No Time To Die
New Year's Day, 8pm, ITV1 HD (CH 113/103)
"The past isn't dead…" Daniel Craig's final outing as James Bond comes to ITV1 on the first day of 2023, giving you the chance to see in the new year with its fabulous locations (from Italy to Norway to Cuba), heart-pumping action set pieces, memorable villains and surprisingly emotional ending. A fitting way for Craig to bow out.
Best comedy films on TV this Christmas and New Year
The Addams Family
Thursday 22 December, 7.05pm, Film4/HD (CH 428/429)
With the success of Wednesday, currently streaming on Netflix, take a trip down memory lane to the 1991 film featuring Christina Ricci, Anjelica Huston and Raul Julia as the family obsessed with all things macabre.

Office Christmas Party
Friday 23 December, 12.45am, Channel 4 HD (CH 104/141)
Jennifer Aniston stars as the uptight CEO of a family company who is determined to shut the branch her younger brother runs. To save the branch, the staff plan an epic Christmas party to impress a client and save everyone's jobs.
Mrs Doubtfire
Friday 23 December, 6.40pm, Film4/HD (CH 428/429)
Robin Williams stars in one of his most memorable roles as a father so desperate to spend time with his children, he dresses as a Scottish nanny. He'll be fine as long as he stays well away frmo naked flames.
Home Alone
Christmas Eve, 5.15pm, Channel 4 HD (CH 104/141)
It's been over 30 years since this film hit cinema screens, and we still can't believe Kevin McCallister's parents didn't get in trouble for forgetting about their own child and leaving him home, er, alone. Still, at least he knew how to take care of himself…
East Is East
Christmas Day, 1.30am, Channel 4 HD (CH 104/141)
This British comedy is set in the 1970s and follows a mixed-race family in Salford. The seven siblings struggle with their identity as they try to please both their Pakistani father and English mother.
Jingle All The Way
Christmas Day, 2.35pm, Film4/HD (CH 428/429)
Arnold Schwarzenegger and Sinbad star as two fathers desperate to get their sons a Turbo Man action figure for Christmas – even though it's sold out in every store. Think of Turbo Man as a 90s version of the PS5. Or better yet, Peter Kay tour tickets.
Gentlemen Prefer Blondes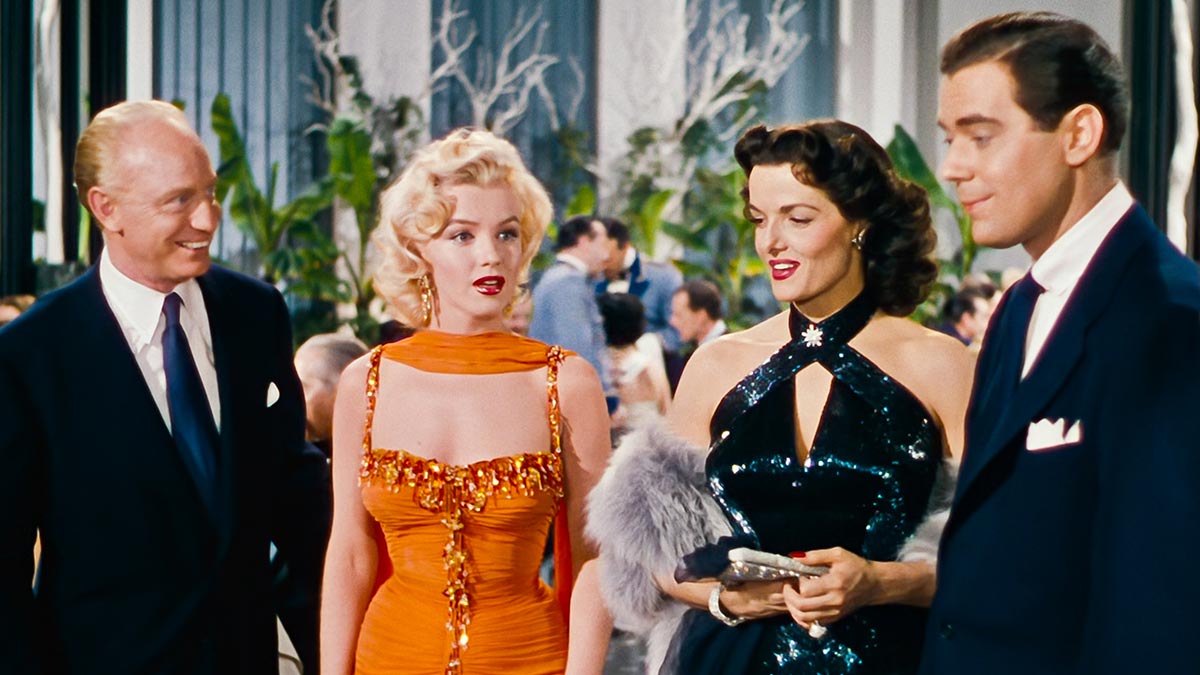 Christmas Day, 3.10pm, BBC Two HD (CH 102)
Marilyn Monroe and Jane Russell are a real treat as best friends Lorelei Lee and Dorothy Shaw in this classic 1953 flick. If you're a Marilyn fan (and who isn't?) it also features her immortal performance of "Diamonds Are A Girl's Best Friend". It's part of a Monroe double bill, followed by…
Some Like It Hot
Christmas Day, 4.40pm, BBC Two HD (CH 102)
… this vintage comedy from director Billy Wilder. Joe (Tony Curtis) and his long-suffering buddy Jerry (Jack Lemmon) disguise themselves as women and join an all-female musical troupe after witnessing a Mafia murder. Marilyn plays Sugar, a sexy singer whose affections Joe hopes to win. Nobody's perfect…
Step Brothers
Christmas Day, 11.10pm, Film4/HD (CH 428/429)
Will Ferrell and John C Reilly have terrific chemistry in this hilarious comedy as two adult men who are still leeches on their parents and are thrown together when they suddenly become stepbrothers. The jokes just never get old although it has ruined the concept of bunk beds for us.
Anchorman 2: The Legend Continues
Boxing Day, 12.55am, Channel 4 HD (CH 104/141)
If Anchorman didn't give you your fill of Ron Burgundy, the sequel to the cult comedy classic will do nicely. Will Ferrell, Paul Rudd, Christina Applegate and Steve Carrell all reprise their roles as we take another trip back to the 70s newsroom.
The Goonies
Tuesday 27 December, 4.50pm, Channel 5 HD (CH 154/105)
A group of kids find their homes under threat from property developers. Shortly before they're forced out, they discover a treasure map and decide to follow it. Can they retrieve the treasure and save their neighbourhood? Goonies never say die!
Bend It Like Beckham
Friday 30 December, 12.30pm, Channel 4 HD (CH 104/141)
Take a trip down memory lane with this awesome Brit flick from the early noughties, when David Beckham was the ultimate football star and adorned the walls of teenage fans everywhere – including aspiring footballer Jess (Parminder Nagra). We wonder what the modern day equivalent would be? Grind it like Grealish? Kick it like Kane? Move it like Maguire?
Airplane!
New Year's Eve, 2.05am, Channel 4 HD (CH 104/141)
No, this is not a fly-on-the-wall documentary featuring a loveable man named Jeremy. That was Airport. Airplane! is the hilarious 1980 disaster-movie parody starring Naked Gun's Leslie Nielsen. More jokes per minute than a Tim Vine stand-up routine. Perhaps.
Best drama films on TV this Christmas and New Year


Meet Me in St Louis

Saturday 17 December, 2.20pm, BBC Two HD (CH 102)

Judy Garland stars in this wonderfully charming film as one of four sisters living in early 20th century St Louis but potentially facing upheaval in the form of a move to New York, thanks to their father's job. Get tissues at the ready when Judy belts out the classic "Have Yourself A Merry Little Christmas".
Knives Out
Saturday 17 December, 9pm, Channel 4 HD (CH 104/141)
This wildly original mystery film features an incredible cast, including Daniel Craig, Toni Collette, Ana de Armas and Chris Evans and centres around the death of a crime novelist and the hunt for his murderer.
Saving Mr Banks
Sunday 18 December, 4.10pm, BBC Two HD (CH 102)
Hollywood legend Tom Hanks depicts the role of Hollywood legend Walt Disney who, like any good dad, is doing his best to come good with a promise he makes his kids. Unfortunately that promise was to obtain the rights to Mary Poppins and author PL Travers (Emma Thompson) isn't willing to hand that over without a fight.
Casablanca
Thursday 22 December, 3.35pm, BBC Two HD (CH 102)
We blame this film entirely for making us believe we could ever look as cool as Sam does when playing a piano. The black-and-white classic also spawned many classic lines. Our fave? "Here's lookin' at you, kid", of course.
Edward Scissorhands
Friday 23 December, 4.45pm, BBC Two HD (CH 102)
The partnership of Johnny Depp and director Tim Burton feels as perfect as turkey and stuffing. Edward (Depp) is a humanoid built by a scientist who dies before he's finished – leaving him with scissors for hands. He's kind and artistic but his hands make him an outcast.
It's A Wonderful Life
Christmas Eve, 1.25pm, Channel 4 HD (CH 104/141)
It really doesn't feel like Christmas without this vintage motion picture. George Bailey (Jame Stewart) has so many problems, he wonders what the point of his life is. But when an angel shows him what life would have been like without him, he starts to see things differently.
1917
Tuesday 27 December, 9pm, BBC One HD (CH 101)
This tense drama is set during the First World War when two soldiers are given the dangerous task of delivering a message within enemy borders to save 1,600 of their own comrades.

Charlie's Angels
Thursday 29 December, 11.25pm, Film4/HD (CH 428/429)
Name a more iconic trio than Drew Barrymore, Cameron Diaz and Lucy Liu. We'll wait… The three women are the butt-kicking angels working for a private detective agency, luring men in with their sexy looks and exacting revenge with their impressive martial arts.
The Greatest Showman
Monday 2 January, 9pm, Channel 4 HD (CH 104/141)
We don't care what anybody says – no one sports a top hat and tails like Hugh Jackman. And considering this is the same man who plays Wolverine, we bow down to the Aussie actor's outstanding versatility. And the whole cast's amazing acting and singing skills in this semi-fantastical musical tale based (loosely) on the life of PT Barnum. A true modern classic.
Christmas has come early
This year we're bringing Christmas early with gifts and giveaways, plus check out all your Christmas TV, movie and sport listings and tips on what to watch and play!
TV channels: Channels, content and features available depend on your chosen package. Channel line-ups and content are subject to change at any time and to regional variations.
HD: HD TV set, V HD Box, TiVo box, Virgin TV V6 box or Virgin TV 360 box connected with HDMI cables required for HD channels. Number of inclusive HD channels depends on package.
Catch Up TV: Catch Up TV content available for up to 7 days or up to 30 days after broadcast, depending on content.
ITV HD is subject to regional variation. ITV HD is not available where STV HD or UTV HD is available.