Skip to main content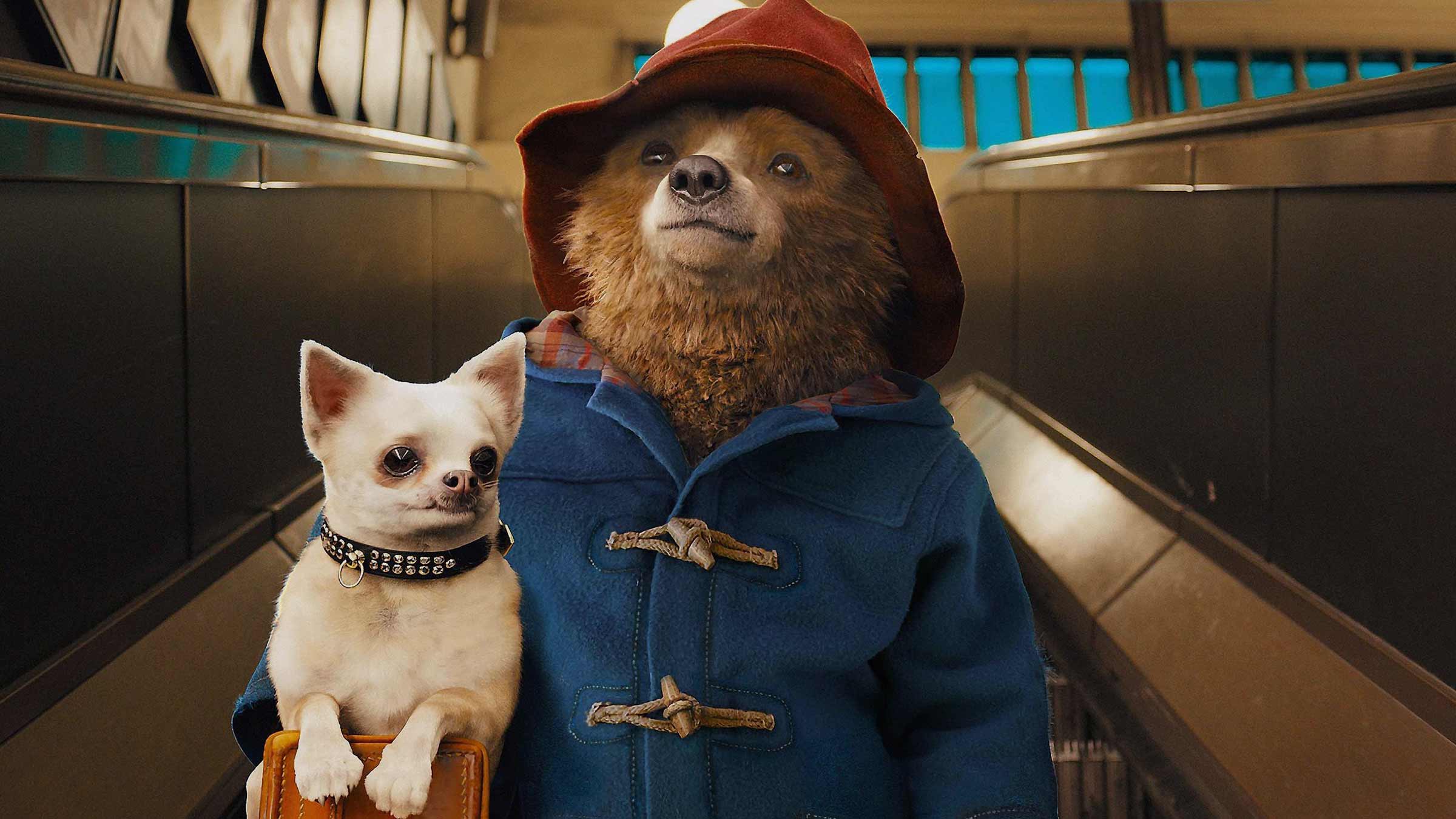 Whether you want a festive classic on Christmas Eve or blockbuster action on Boxing Day, there are more than enough movies to keep you curled up on the sofa
By Ally Sinyard, Writer
The Christmas period could very well be the longest time you've had to dedicate to film-watching since the last lockdown. If that's the case, you'll be pleased to know there are absolutely loads of great movies coming up on Virgin TV.
From Christmas classics like It's A Wonderful Life and Love Actually to recent favourites like Moana and Crazy Rich Asians, you can laugh, sing, cry and gasp your way well into the New Year.
See what's coming up...
Best kids films on TV this Christmas and New Year

Moana
Monday 20 December, 3.05pm, BBC One HD (CH 101/108)
Only just gotten "You're Welcome" out of your head? Too bad! Lin-Manuel Miranda and Disney are too tempting a duo to pass up. Dive back into this animated gem.

E.T. The Extra-Terrestrial
Wednesday 22 December, 11.30am, ITV HD (CH 103)
OK, so we're calling it a kids film but aren't we all forever young and all that? What we're saying is, ET is great at any age, so watch this family favourite with your whole heart.
Sing
Thursday 23 December, 1.50pm, ITV HD (CH 103)
With Sing 2 heading to cinemas in January, now is as good a time as any to catch up on this animated animal musical, featuring songs by Taylor Swift and Elton John, and a koala voiced by Matthew McConaughey.

How To Train Your Dragon
Christmas Day, 11am, Channel 4 HD (CH 104/141)
You know what Christmas morning needs? More dragons. Channel 4 makes it so with the first in the fantastical HTTYD trilogy, about a young Viking called Hiccup who befriends a dragon he names Toothless.

Mary Poppins Returns
Christmas Day, 3.10pm, BBC One HD (CH 101/108)
In this 2018 sequel, Emily Blunt does a practically perfect job of picking up the umbrella from Julie Andrews, as Poppins drops by to help the grown-up Banks children Jane (Emily Mortimer) and Michael (Ben Whishaw).
Paddington
Boxing Day, 4.20pm, BBC One HD (CH 101/108)
This inconceivably charming film deserves your full attention, which is why it's perfectly scheduled on Boxing Day, when you're too full to do anything else.

Paddington 2
Monday 27 December, 5.55pm, BBC One HD (CH 101/108)
Much like a miniature chocolate, one can never simply have just one Paddington. Settle down with the near-perfect sequel and, that's right, a box of miniature chocolates.

Inside Out
Wednesday 29 December, 1.40pm, BBC One HD (CH 101/108)
If any adult ever dare tell you that Pixar is just for kids, direct them to this ingenious film about a little girl's personified emotions and prepare to feel feelings for these feelings. Big Bing Bong feelings.
Coco
New Year's Eve, 2.40pm, BBC One HD (CH 101/108)
Be transported to the Land of the Dead (it's not as menacing as it sounds) in this heartwarming and visually spectacular Pixar film rich in Mexican culture.

Best action films on TV this Christmas and New Year
The Matrix
Wednesday 22 December, 9pm, Sky Showcase/HD (CH 110/109)
Celebrate the release of The Matrix Resurrections in cinemas on this very day by revisiting the very first in the Wachowski's sci-fi series.

Die Hard
Wednesday 22 December, 10.45pm, ITV HD (CH 103)
Let's not start this debate again. If Bruce Willis waving a machine gun fills you full of festive cheer, then let it be, and to all a good night.

John Wick: Chapter 3 – Parabellum
Christmas Day, 9pm, Film4/HD (CH 428/429)
On Christmas Day? Look, for some of us, Keanu Reeves is a gift. With Wick's fourth outing out in May 2022, catch up on the latest instalment and remind yourself of that time he killed a man with a book. Ho-Ho-Ho!

Mission: Impossible – Fallout
Boxing Day, 9pm, Film4/HD (CH 428/429)
Because Tom Cruise has stopped numbering the films, let us help you out: it's the one where Henry Cavill has a moustache and Cruise broke his foot jumping across a building. It's also very, very good.

The Meg
Tuesday 28 December, 9pm, Channel 5 HD (CH 105)
If anything's going to get you out of a post-Christmas food coma, it's Jason Statham versus a 75-foot prehistoric shark. The Stath plays deep sea diver Jonas Taylor, swimming out of retirement to rescue his ex-wife from the Marianas Trench, of course.
Fast & Furious: Hobbs & Shaw
Wednesday 29 December, 9pm, ITV2/HD (CH 115/176)
As spin-offs go, this Dwayne Johnson and Jason Statham team-up is one helluva good ride… if you can stomach a movie involving a global, deadly supervirus.

Raiders Of The Lost Ark
Thursday 30 December, 6.45pm, Channel 4 HD (CH 104/141)
Whether you're watching the first Indiana Jones for the first time or the 400th time, you won't regret spending New Year's Eve-Eve with Spielberg and Ford at their best.
Ready Player One
Thursday 30 December, 10.35pm, BBC One HD (CH 101/108)
For a double-dose of Spielberg action on your Thursday night, why not follow up with this 2018 sci-fi adventure about a young gamer who enters a virtual reality world to find its creator's fortune.
Best drama films on TV this Christmas and New Year
It's A Wonderful Life
Christmas Eve, 2pm, Channel 4 HD (CH 104/141)
It's just not Christmas without this Frank Capra and Jimmy Stewart masterpiece. Pop it on while you're doing some last-minute wrapping, or ignore the fact it's only two in the afternoon, close the curtains and get cosy under a blanket.
Their Finest
Christmas Day, 9.35pm, BBC Four HD (CH 107)
Gemma Arterton (Quantum Of Solace), Sam Claflin (The Hunger Games) and the inimitable Bill Nighy star in this romantic wartime comedy drama about the British Ministry of Information film team.

Bridge Of Spies
Boxing Day, 5.10pm, More4/HD (CH 147/195)
Steven Spielberg, Tom Hanks and Sir Mark Rylance team up for this gripping Cold War espionage thriller. Festive? Not really. Entertaining? Absolutely.
Dirty Dancing
Boxing Day, 8pm, Channel 5 HD (CH 105)
Get out your festive watermelon and feast your hungry eyes on Patrick Swayze and Jennifer Grey in this 80s favourite.
Promising Young Woman
Tuesday 28 December, 9pm, Sky Showcase/HD (CH 110/109)
Winner of Best Original Screenplay at this year's Oscars, Emerald Fennell's scathing thriller sees Carey Mulligan (Drive) out for revenge. This one's not for the faint-hearted.
A Star Is Born
Wednesday 29 December, 9pm, BBC One HD (CH 101/108)
Lady Gaga and Bradley Cooper, who also makes his directorial debut here, are on top form in this award-winning 2018 version of the much-loved showbiz tale. For super fans, you can also watch Judy Garland's A Star Is Born on Thursday 30 December, 10.50pm, on BBC Four HD (CH 107).
Judy
Thursday 30 December, 9pm, BBC One HD (CH 101/108)
Let's be honest, if you've watched the former, you'll have undoubtedly seen Renee Zellweger's Oscar-winning performance as Judy Garland already. If you haven't, it's simply unmissable.
The Aftermath
New Year's Eve, 9pm, BBC Two HD (CH 102)
Warm up to Hootenanny with this post-war period drama starring Keira Knightley, Alexander Skarsgård (True Blood), Jason Clarke (Terminator Genisys) and Martin Compston.
Best romcom films on TV this Christmas and New Year
Crazy Rich Asians
Wednesday 22 December, 10.35pm, BBC One HD (CH 101/108)
A smash hit with critics and audiences alike, Crazy Rich Asians sees New York couple Nick (The Gentlemen's Henry Golding) and Rachel (Hustlers' Constance Wu) travel to Singapore for a wedding. There, Rachel deals with the revelation that Nick's family are the aforementioned crazy rich Asians.
Bridget Jones's Baby
Thursday 23 December, 9pm, ITVBe/HD (CH 119/179)
If your Christmas isn't complete without watching Renee Zellweger run through the snow in leopard-print pants, this third instalment may arrive just in time for your rewatch.
The Holiday
Thursday 23 December, 11pm, ITV HD (CH 103)
Stay up late for an essential annual viewing of the Kate Winslet, Cameron Diaz, Jude Law and Jack Black house-swapping romcom.

Sleepless In Seattle
Christmas Eve, 7pm, W/HD (CH 125/221)
While Tom Hanks and Meg Ryan share little screen time here, their chemistry leads to some magical moments together. A solid choice for the night before Christmas.
Love Actually
Christmas Day, 10.40pm, ITV HD (CH 103)
Much like a box of chocolates (no, we're not going Forrest Gump here), this Richard Curtis festive staple has something for everyone, whether it's Rowan Atkinson's toe-curling cameo to THAT tear-jerking Emma Thompson scene.
Moonstruck
Boxing Day, 11pm, BBC Four HD (CH 107)
Haven't seen Moonstruck? If you liked House Of Gucci and think romcoms aren't for you, let Cher (!) and Nicolas Cage change your mind this Boxing Day night.
Pretty Woman
Tuesday 28 December, 9pm, ITVBe/HD (CH 119/179)
We recommend enjoying this Julia Roberts and Richard Gere favourite in a very bubbly bubble bath with a box of leftover mince pies. Pretty perfect, right?
When Harry Met Sally…
New Year's Eve, 10.40pm, BBC Four HD (CH 107)
Rumour has it that the scheduling of this Nora Ephron classic is deliberate, so that our countdown to midnight coincides with the countdown in the film. Let's find out, shall we?
Best comedy films on TV this Christmas and New Year
Home Alone
Christmas Eve, 3.10pm, Channel 4 HD (CH 104/141)
Succession fans: if you haven't seen a tiny, bespectacled Kieran Culkin in his first film role as Kevin's cousin (or you never made the connection until just now), you're in for a treat.
Elf
Christmas Eve, 5.05pm, Sky Showcase/HD (CH 110/109)
We're loath to use words like "contagious" or "infectious", but there's no real other way to describe Will Ferrell's furiously enthusiastic festive joy in the role of Buddy the Elf.
Mrs Doubtfire
Christmas Day, 11am, Film4/HD (CH 428/429)
The gap between opening presents and cooking Christmas dinner can be no better filled than by the late, great Robin Williams. Just keep an eye on the hob!
Some Like It Hot
Boxing Day, 2.20pm, BBC Two HD (CH 102)
For some, the festive season means bingeing on black-and-white films. If you've already watched It's A Wonderful Life, tee this Billy Wilder favourite up for Boxing Day.
Bridesmaids
Monday 27 December, 9pm, ITV2/HD (CH 115/176)
Co-written by and starring Kristen Wiig, this 2011 comedy about a group of clashing bridesmaids was a game-changer for the genre, showing female friendship in all its hilarious, awkward, gross and fiercely loving glory.
Planes, Trains and Automobiles
Tuesday 28 December, 5.10pm, Channel 5 HD (CH 105)
Steve Martin and John Candy are the ultimate odd couple driving home for Thanksgiving in John Hughes's first foray outside of his legendary teen movies.

Ferris Bueller's Day Off
Wednesday 29 December, 6.55pm, Great! Movies (CH 425)
Speaking of John Hughes's legendary teen movies, get a double-dose of 80s nostalgia with Matthew Broderick as the eponymous teen who bunks off school for the day.
Best of the rest films on TV this Christmas and New Year
The Good, The Bad And The Ugly
Christmas Eve, 9pm, Paramount Network (CH 187)
There's nothing remotely festive about Sergio Leone and Clint Eastwood's epic spaghetti western, other than its title also happens to be the three categories of Christmas jumper.

Meet Me In St Louis
Christmas Day, 12.50pm, BBC Two HD (CH 102)
"Have Yourself A Merry Little Christmas" has been covered and warbled a hundred times over, but Judy Garland was the one who sung it first, in this 1944 MGM musical.
Pavarotti
Christmas Day, 9.35pm, BBC Two HD (CH 102)
For something a little different on Christmas Day, round out the evening with Ron Howard's acclaimed documentary about the life and career of opera singer Luciano Pavarotti.
Singin' In The Rain
Boxing Day, 12.40pm, BBC Two HD (CH 102)
"Make 'Em Laugh". "Good Morning". "Moses Supposes". There are so many perfect musical moments in this movie, not forgetting the title song itself, that this could very well be the greatest musical of all time.
The Beatles: Eight Days A Week – The Touring Years
Boxing Day, 7pm, Sky Documentaries/HD (CH 278/277)
Ron Howard and his Pavarotti team return to turn the lens on Paul, John, George and Ringo during their time on the road in the swinging 60s. A must-see for any Beatles fan.
Blade Runner 2049
Monday 27 December, 9pm, BBC Two HD (CH 102)
In 2017, director Denis Villeneuve stunned cinemagoers with his stunning sequel to Ridley Scott's 1982 sci-fi classic. Of course, credit also goes to cinematographer Roger Deakens, who finally bagged the Oscar after 12 previous nominations over 23 years.

Arrival
Thursday 30 December, 10.15pm, More4/HD (CH 147/195)
Before he made Blade Runner 2049, Villeneuve cemented his status as a visionary sci-fi director with this mind-boggling movie. Amy Adams plays a linguist who must decode an alien language after the extraterrestrials suddenly park themselves on Earth.
Christmas has come early
This year we're bringing Christmas early with gifts and giveaways, plus check out all your Christmas TV, movie and sport listings and tips on what to watch and play!
TV channels: Channels, content and features available depend on your chosen package. Channel line-ups and content are subject to change at any time and to regional variations.
HD: HD TV set, V HD Box, TiVo box, Virgin TV V6 box or Virgin TV 360 box connected with HDMI cables required for HD channels. Number of inclusive HD channels depends on package.
Catch Up TV: Catch Up TV content available for up to 7 days or up to 30 days after broadcast, depending on content.
ITV HD is subject to regional variation. ITV HD is not available where STV HD or UTV HD is available.