Skip to main content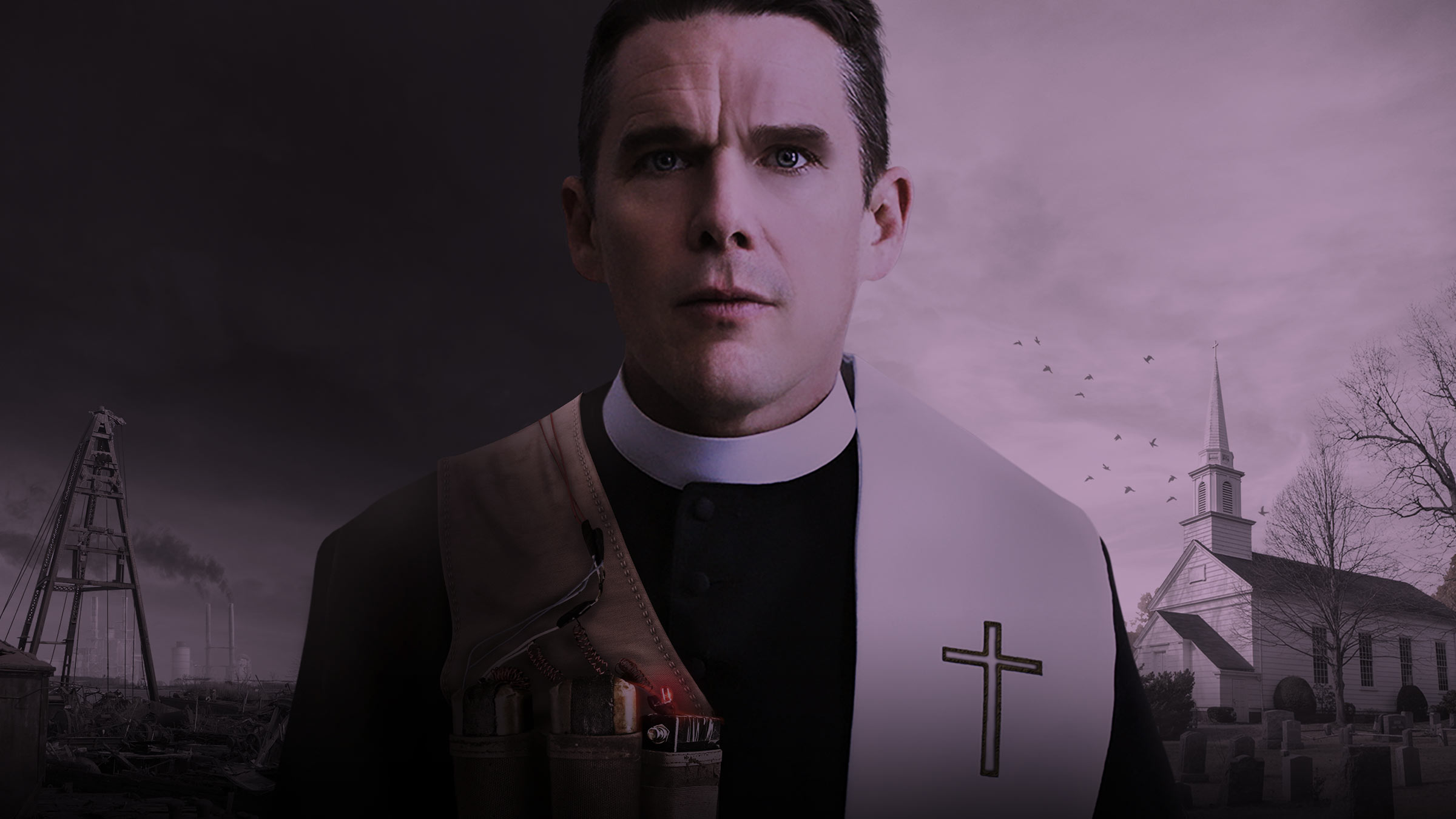 "Can God forgive us for what we've done to this world?"
First Reformed, available from Sunday 24 March in Sky Cinema on demand. Cert 15. Also available in HD
Have you ever heard of such a thing as a religious thriller? Just let that sink in – a religious thriller. As it turns out, it's got cracking potential as a bona fide genre if First Reformed is anything to go by.
Depicting both heavenly and hellish aspects of religion, the film reworks the "conflicted priest" trope to deliver a fresh perspective on the complexities of faith, human nature and the state of the modern world. The priest in question is Reverend Ernst Toller (Ethan Hawke), a Protestant pastor at a Dutch Reformed Church in upstate New York.

Toller's historic church is approaching its 250th anniversary, yet his brand of leadership and the influence of a nearby megachurch, Abundant Life, are threatening to derail Toller's church's original mission. Two of the Rev's remaining parishioners include extreme environmentalist Michael Mensana (Philip Ettinger, One Dollar) and his pregnant wife Mary (Amanda Seyfried). When Mary asks Toller to counsel Michael, a chain of events is set in motion that could see everyone's plans – both good and evil – go up in flames.
Before you tune in to this incendiary thriller, consult the verses below for even more reasons to say "amen" to First Reformed.

Hawke's great-grandmother wanted him to become a priest. He was born in a seminary (an educational facility that prepares students for ordination as clergy, academia or ministry) – something she interpreted as a sign. But he never donned the robes. That is, until the part for First Reformed came calling. His portrayal of Toller, a broken man grappling with his own search for meaning, is powerful, raw and devastating.
The heart-wrenching crises of faith Toller experiences will shake you to your core, as the troubled priest's life begins to inch past the point of salvation.

Despite penning screenplays for some of the most iconic films ever made, including Taxi Driver and Raging Bull, director and writer Paul Schrader had never received an Oscar nomination. But that all changed when First Reformed received a nod in the Best Original Screenplay category. Sadly, it lost out on the night, and critics were also surprised that Hawke's performance didn't garner a nomination.
Schrader however, saw things differently. He phoned Hawke and said, "Ethan, you've won. You may not have gotten nominated, but you won. Your performance has made an impact, and never forget that." For the director, his films needn't be defined by the accolades or acclaim they receive, and there's something infinitely cool about that.
"If the critics had not liked my film, and if the Academy had not liked my film, I would still know it was a good film," he said. "It is very heartening to realise that other people acknowledged what you tried to do." Hawke was later named Best Actor by the New York Film Critics Circle and Los Angeles Film Critics Association, as well as at the Gotham Awards. Go Ethan!

The actor and comedian is no stranger to playing roles associated with religion, but First Reformed is arguably his most serious. He plays Reverend Jeffers, the leader of Abundant Life, who attempts to counsel Toller as he works through his feelings of doubt and isolation.
Cedric also portrays religious figures in the films Big Momma's House and Kingdom Come, and also in the sitcom The Soul Man, which ran for four years. Just what is it about Cedric that screams "reverend"? "I think it's the kind of personality I have. I come off as trustworthy. Maybe it's the bass of my voice," he says.
Having grown up a church-goer, Cedric brings a particular kind of flair and nuance to his role. Small quirks, including flipping the pages of a Bible in a certain way, add a layer of effortless realism. But the role had a deeper meaning too. "This was a different opportunity for me – to even be seen in a film that has so much heavy content, and to understand the other job of the pastor, which is closer to that of a psychologist or a doctor."

First-person narration? Check. Long, sweeping shots? Check. Influenced by Diary Of A Country Priest? Check. Take Taxi Driver's Travis Bickle (Robert De Niro), wrap him up in a priest's cassock and unleash him on the world and you've basically got Reverend Toller. Kind of…
Both of these antiheroes are rage receptacles on the brink of overflowing. It's only a matter of time before they blow. Compare this to their everyday lives; helping other people with their problems – Toller with his parishioners and Bickle with his passengers. If only someone would reach out to Toller with some sage advice, as by the time it's most needed, he's already praying for forgiveness.
First Reformed, available from Sunday 24 March in Sky Cinema on demand. Cert 15. Also available in HD
Find out what's on Sky Cinema
Get even more lights, cameras and action with our movie homepage, featuring all the daily premieres and more of the thousands of films available on demand on Sky Cinema.

Watch on the go
If you subscribe to Sky Cinema on Virgin TV, you can watch on the go with the Sky Cinema app on your mobile, laptop or tablet anywhere in the UK (or while temporarily in the EU) with a WiFi or broadband connection. Just download from the Apple app store, Google Play or the Amazon appstore and log into the app to start watching.
Upgrade to Sky Cinema now
Don't have Sky Cinema? You can find out about our Sky Cinema package and upgrade here.
TV channels: Channels, content and features available depend on your chosen package. Channel line-ups and content are subject to change at any time and to regional variations.
HD: HD TV set, V HD Box, TiVo box or Virgin TV V6 connected with HDMI cables required for HD channels. Number of inclusive HD channels depends on package.
Sky Cinema app: Only available via the Sky Cinema websites or apps (for selected iOS and Android mobiles and tablets) to customers who subscribe to these channels. UK only. Maximum 2 devices. Only available on iOS 8 and above, and Android 4.x. Selected content may not be available to view. Separate terms and conditions apply to the Sky Cinema apps and websites.
Premium channels (add-ons): 30 days' notice required to remove premium channels/packs. Sky Cinema Premiere +1 not available in HD.