Skip to main content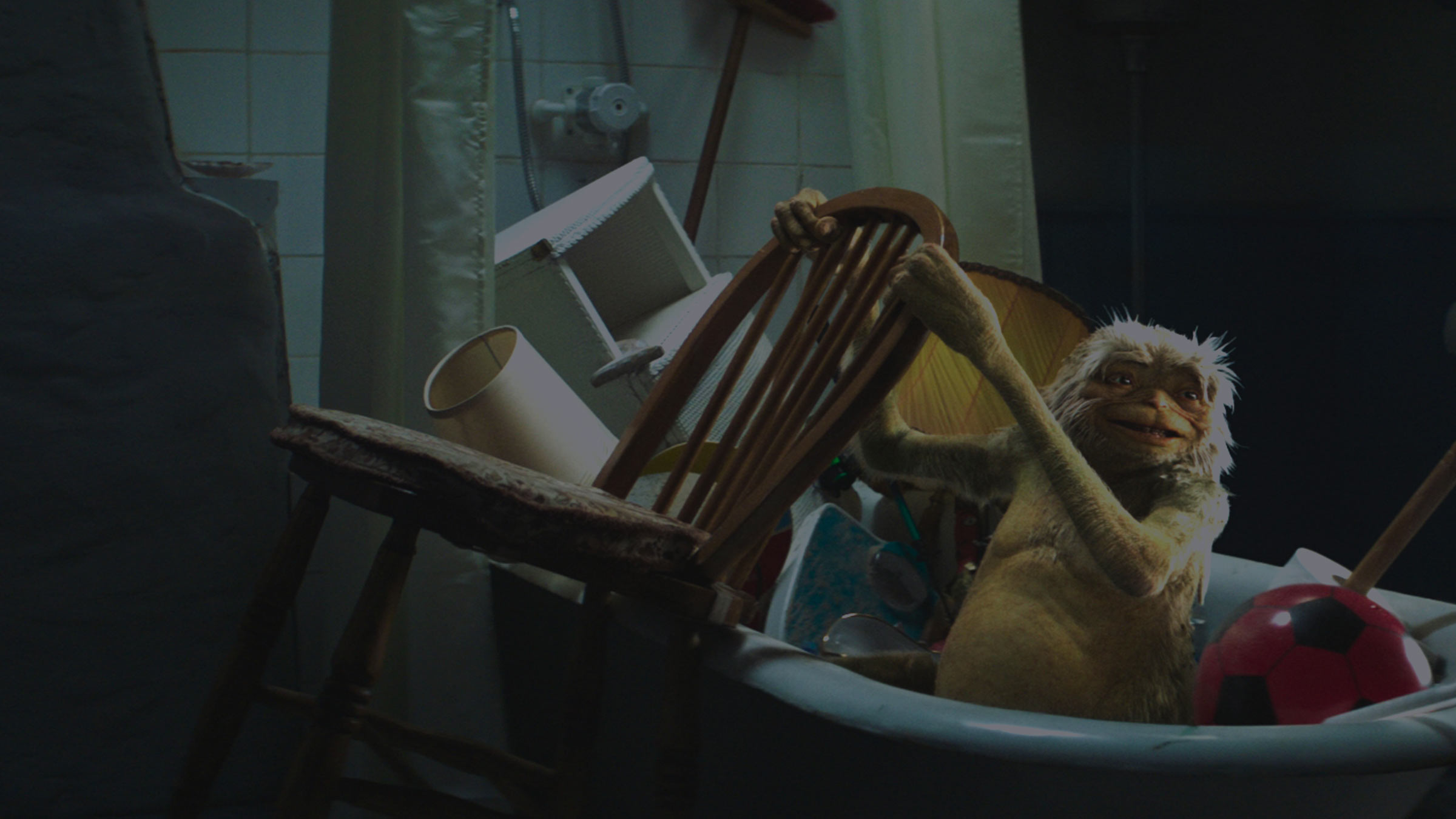 Acclaimed children's author Dame Jacqueline Wilson's wish has finally come true. Her 2012 novel Four Children And It gets the movie treatment with Sky Cinema's Four Kids And It.
By Laura Rutkowski, Staff Writer
Wilson (The Story of Tracy Beaker, The Bed And Breakfast Star) was inspired by E Nesbit's 1902 book Five Children and It. In her version, new couple David (Matthew Goode) and Alice (Paula Patton) both have two children from previous relationships. In an attempt to merge their families, they take Robbie (Billy Jenkins), Ros (Teddie-Rose Malleson-Allen), Maudie (Ellie-Mae Siame) and Samantha, or Smash (Ashley Aufderheide), on a holiday to Cornwall to bond.
Things get off to a disastrous start, but then the children discover a "sand fairy" called the Psammead (voiced by Sir Michael Caine) on the beach. He can only grant one wish a day, which lasts for the duration of that day. Tristan (Russell Brand), an eccentric, mansion-dwelling local has made it his life's mission to track down the elusive being, and he wants to use the Psammead's powers for his own personal gain.

Wilson, however, would wish to "have the ability to conceive of a brilliant new plot for a book. My fingers would just fly over my computer keys and it would all be written just before sunset. Then I'd send it to as many people as I could and hope at least someone's computer somewhere would save it. Then I could have a whole year not working."
Wilson does work hard – she's written over 100 books and penned her first when she nine – but she doesn't need the Psammead. She possesses a special type of magic all her own. Here, in her own words, she discusses why this particular novel had the "It" factor when it came to being the first of her books to be turned into a film…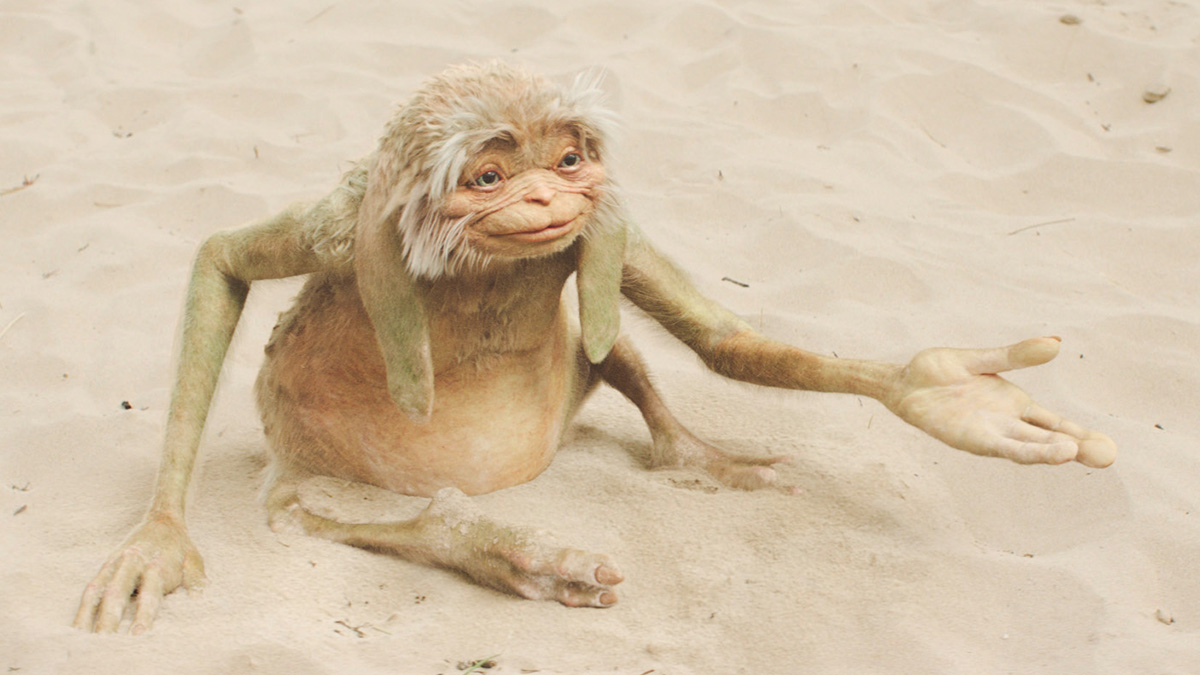 You have to be careful what you wish for, but who could resist that face?

Jacqueline Wilson on Four Kids And It:

"Five Children And It was published right at the beginning of the 20th century, but there's a freshness about the way E Nesbit writes. I've always admired her so much. Her creature, the Psammead, has been living for many hundreds of thousands of years, since the age of the dinosaurs.
Her invention was to have a fairy that wasn't a conventional fairy – all twinkles and magic wands – but to have a grumpy, old gentleman creature. It's such a clever device too to be able to have whatever you wish for, for it to then all disappear at sunset. You can have such good fun with that as an author.
I thought he could be dug up in modern times to see what modern children might make of him and what wishes they might make. I mirrored some of E Nesbit's wishes, particularly the flying. I think everybody still has a secret wish to be able to fly.
The children in the Edwardian book wish to be rich, but nowadays children want to be rich and famous. I let Smash be a pop singer, let her have an audience at the O2 and let her really go for it.
I feel very proud that since Four Children And It came out, I've had quite a few emails from children saying they went on to read Five Children And It. I was thrilled to bits when I was approached about the film. I was sent the script and consulted as the film progressed. I was invited over to Dublin to watch the filming.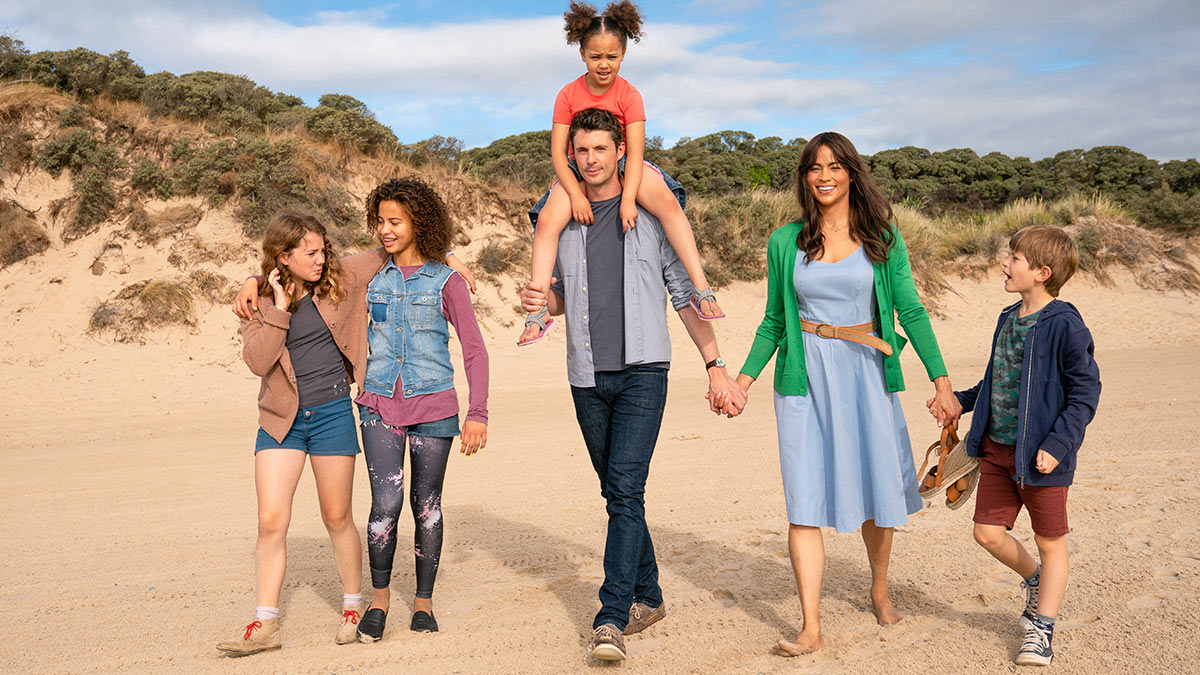 Life's a beach for David (Matthew Goode) and Alice (Paula Patton), until their kids meet for the first time...

With it being a film, it needed a baddie in it. If you're sitting with a book, particularly a first-person book like Four Children And It, you can get absorbed in what the children are feeling and the effect that the wishes have on them, but for a film you need action as well. You need a chase or two and you need some sort of dramatic event happening, so it seemed inevitable that this would happen.
Russell Brand was a very clever choice, because he's got a wonderful swashbuckling, wickedly gothic style about him and he brought his whole quirky personality to the part. He was delightful, and seemed – bizarrely – to have reasonably working knowledge of my books, which I didn't expect.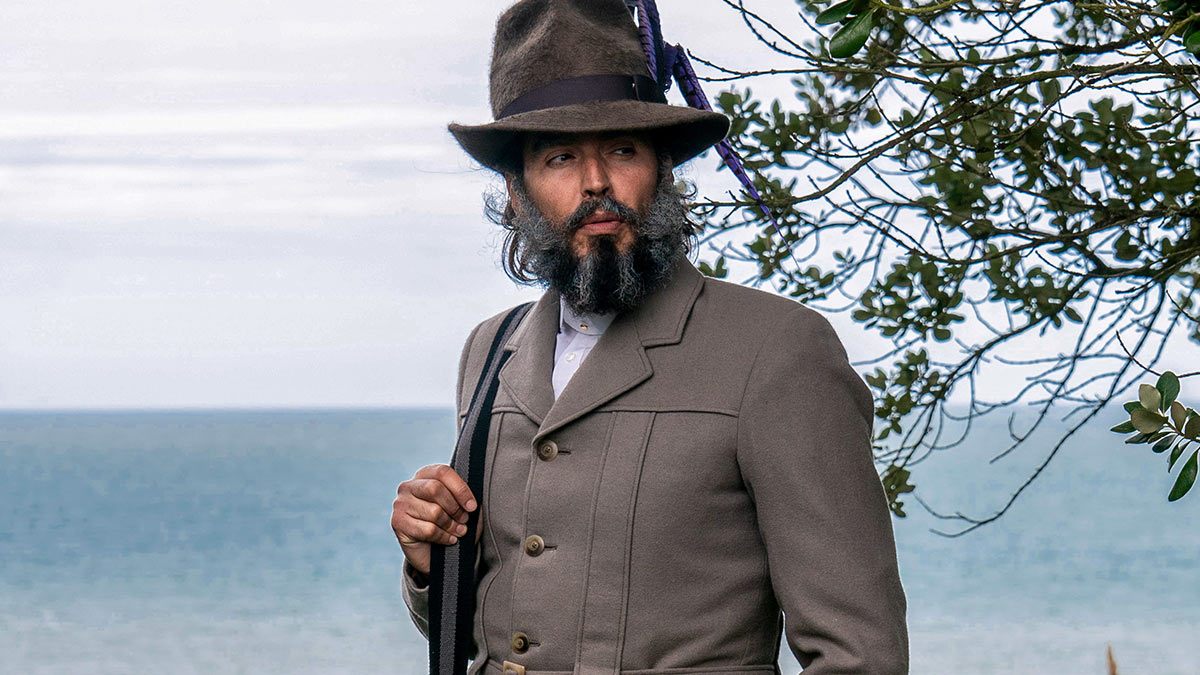 That hat is about the same size as the Psammead!

I've seen the film twice and both times the showings were with children. Luckily they laughed in the right moments and they got a little bit anxious in some parts. When you write books, you never actually see children reading and reacting to them, whereas if you're in an audience and they're all experiencing it together, you get far more of a feel if there is a genuine liking.
I loved the way Teddie played Ros because she's got her dreaminess and her sweetness. I try to be careful with the girl characters in my books, because I don't want them too samey, and yet Ros is very similar to me, so I felt a special fondness for her.
Ros is obviously very much a bookworm, she wants to write, she can be a little bit shy, but she also stands up for herself. She's just got all the makings of a future writer.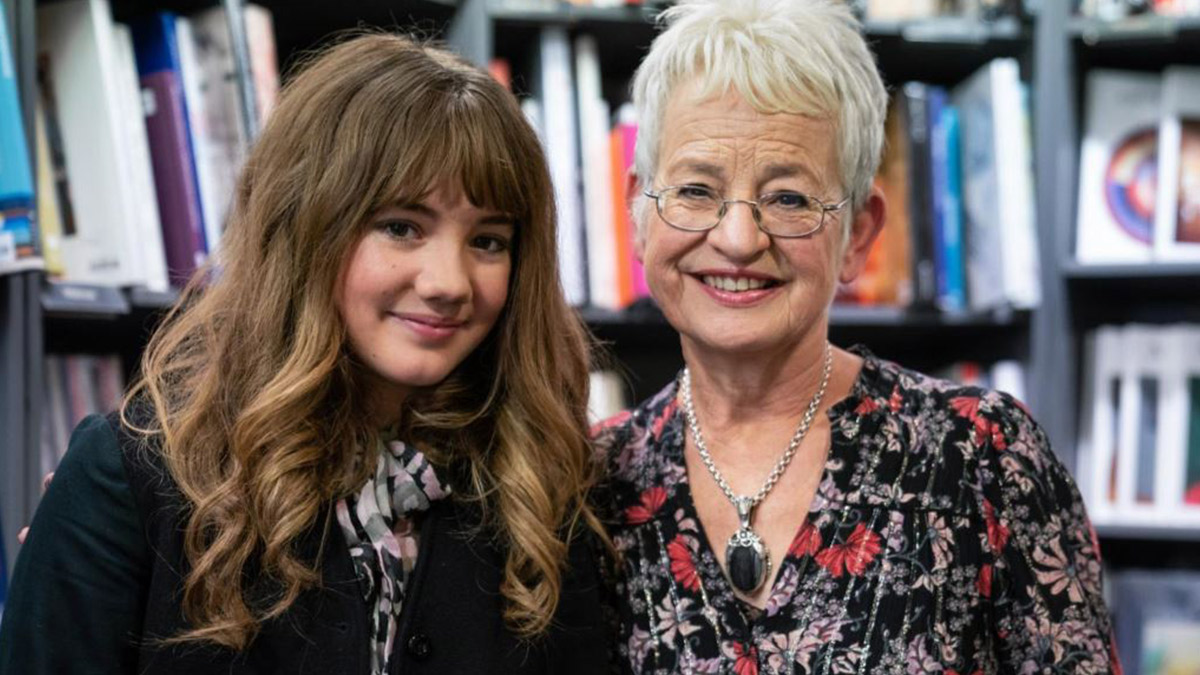 Teddie-Rose Malleson-Allen (who plays Ros) is all smiles as she meets Jacqueline Wilson.

I've been very lucky with the television adaptations and stage adaptations, but if I'm honest, I'd always hoped for an actual film. I can't think of any other particular thing I'd like to achieve. This is the cherry on top of the cake."
When is Four Kids And It on Sky Cinema?
Four Kids And It is available from Friday 3 April in Sky Cinema on demand. Cert PG

Find out what's on Sky Cinema
Get even more lights, cameras and action with our movie homepage, featuring all the daily premieres and more of the thousands of films available on demand on Sky Cinema.
Watch on the go
If you subscribe to Sky Cinema on Virgin TV, you can watch on the go with the Sky Cinema app on your mobile, laptop or tablet anywhere in the UK (or while temporarily in the EU) with a WiFi or broadband connection. Just download from the Apple app store, Google Play or the Amazon appstore and log into the app to start watching.
Upgrade to Sky Cinema now
Don't have Sky Cinema? You can find out about our Sky Cinema package and upgrade here.
TV channels: Channels, content and features available depend on your chosen package. Channel line-ups and content are subject to change at any time and to regional variations.
HD: HD TV set, V HD Box, TiVo box or Virgin TV V6 connected with HDMI cables required for HD channels. Number of inclusive HD channels depends on package.
Sky Cinema on demand: Sky Cinema subscription required.
Sky Cinema HD: Sky Cinema Premiere +1 not available in HD.
Sky Cinema apps: Only available via the Sky Cinema apps to customers who subscribe to these channels. Apps for selected iOS and Android™ mobiles and tablets. UK only (or while temporarily in EU). Maximum 6 registered devices. Maximum of one device can watch TV at any one time. Selected content may not be available to view. Separate terms and conditions apply to the Sky Cinema apps.
Premium channels (add-ons): 30 days' notice required to remove premium channels/packs. Sky Cinema Premiere +1 not available in HD.
Interviews: Any opinions expressed in interviews are those of the interview subject and not those of Virgin Media.