Skip to main content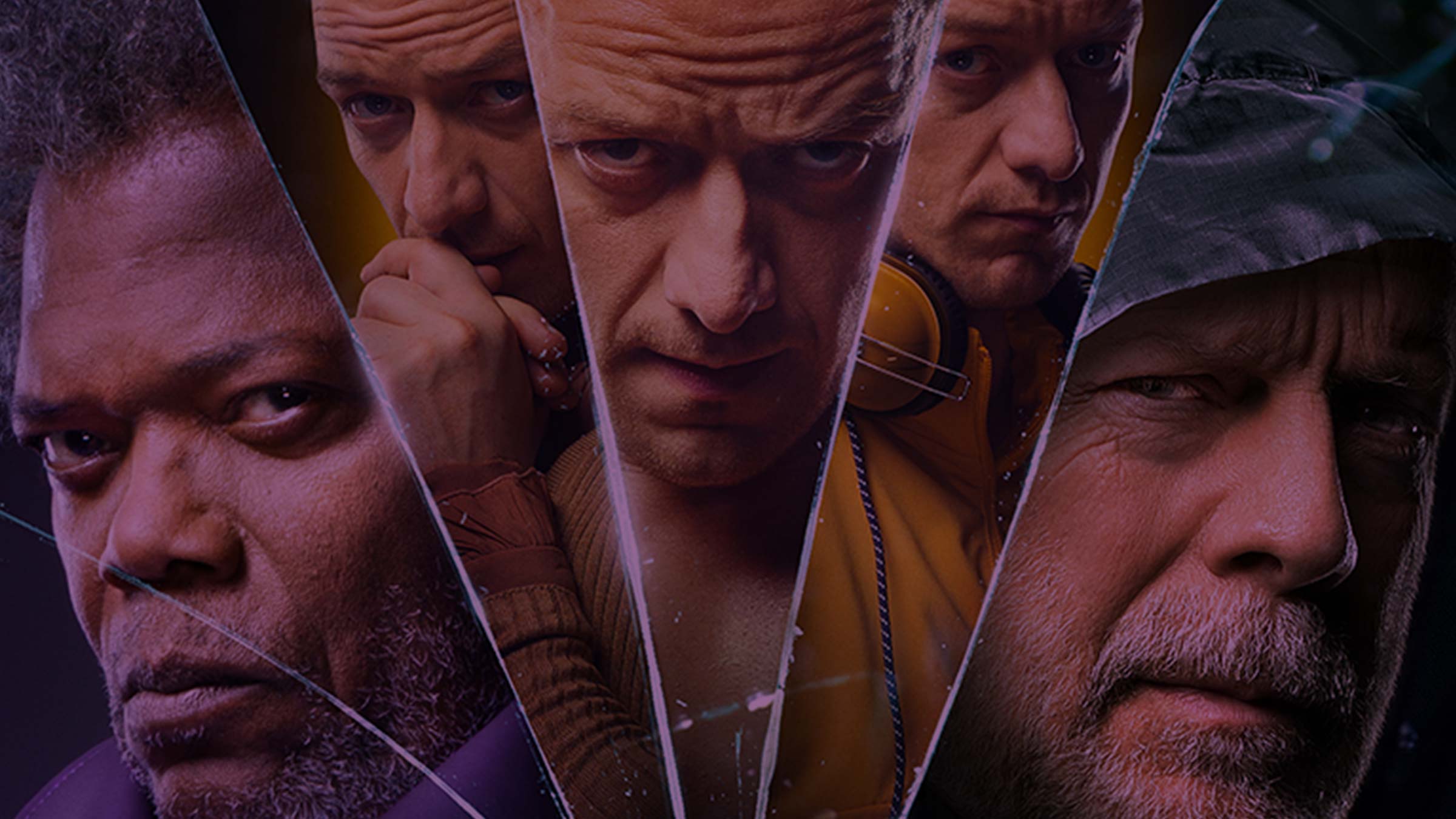 We take a deep dive into the superhero trilogy you never knew you needed – and might not even have known existed
Glass, available to buy on the Virgin Media Store. Cert 15
Director M Night Shyamalan's Unbreakable trilogy, also known as the Eastrail 177 trilogy, concludes with Glass. The superhero stories in this series are Shyamalan's own, taking inspiration from comic books, but not directly based on any in particular (unlike most big-screen efforts). It's the first franchise in this genre written and directed by the same person, and has amassed a loyal following with its interconnected narratives and unconventional format.
After the success of The Sixth Sense, Shyamalan was under pressure to deliver, so he hopped on the superhero train (quite literally, in the case of Unbreakable). While it proved a shrewd move, others at the time were not so sure. In an interview with The New York Times, he revealed how he was repeatedly warned that movies about comic books were "a very fringe market", "not a mainstream notion" and that "regular people don't go to see those kinds of movies". Nowadays, of course, they're ubiquitous.

Glass finds Unbreakable's David Dunn (Bruce Willis) and Elijah Price, AKA Mr Glass (Samuel L Jackson), and Split's Kevin Wendell Crumb (James McAvoy) all under the same roof inside a mental institution. What could possibly go wrong? Quite a lot actually… especially when therapist Dr Staple (Sarah Paulson, American Horror Story) is convinced their respective superpowers are just delusions. She's about to be proven very, very wrong.
Shyamalan has said that each film in the trilogy represents its main character, with Glass shaped after the titular character; "very philosophical and playing a chess match" yet with "a little tongue-in-cheek smile". Before you settle in and prepare to say "checkmate" to this fantastic finale, consult our cheat sheet to learn more about the first two films, as well as the main characters' origin stories.
Warning: Spoilers lie ahead!
Unbreakable, available to buy on the Virgin Media Store. Cert 12

What's going on?
When a train travelling from New York to Philadelphia derails, killing 131 people, security guard David Dunn is the sole survivor. What's more, he emerges completely unscathed. As it turns out, he's never broken a bone, or been ill, in his entire life. He's not even caught a cold!
David is contacted by Elijah Price, a mysterious comic-book art gallery owner with brittle bone disease, which earned him the nickname "Mr Glass" as a child. He quizzes David on his clean bill of health, leading David to reveal that he once nearly drowned as a boy. Elijah takes this as a sign, explaining that water is David's one weakness – after all, every real superhero has one.
Another of David's powers allows him to see the criminal acts a person has committed simply by touching them. He decides to use his abilities for good – starting with a particularly bad guy. Not all heroes wear capes; some of them wear a rain poncho. David's superhero status is secured, and all with a lack of spandex!
Who will you recognise?
Bruce Willis (Die Hard) as David Dunn
Samuel L Jackson (Captain Marvel) as Elijah Price, AKA Mr Glass
Charlayne Woodard (Pose) as Elijah's mother
Robin Wright (House Of Cards) as David's wife Audrey
Spencer Treat Clark (The Last Exorcism Part II) as David and Audrey's son Joseph
M Night Shyamalan cameos as a drug dealer
How does it connect to the trilogy?
When David shakes Elijah's hand at the end of the film, he sees that Elijah orchestrated the train crash at the beginning of the movie, as well as a series of other horrific incidents. Elijah reveals that he masterminded the atrocities in a bid to find someone like David, and realises he is destined to be the villain to David's hero. David reports him to the police and Glass is convicted of murder and terrorism. The closing titles explain, "Elijah Price is now in an institute for the criminally insane", which is where we next see him in Glass.
In Shyamalan's own words…
"The tone of Unbreakable matches its main character, David, who has a kind of sombre, introspective, slow-build realisation."
Split, available to buy on the Virgin Media Store. Cert 15

What's going on?
Kevin Wendell Crumb has dissociative identity disorder, which manifests as 23 separate personalities, including Barry, a talented fashion designer who likes to keep up appearances; Dennis, a sexual deviant with obsessive-compulsive tendencies; Patricia, who will fix you a lunch and tell you off in the same instance; and Hedwig, a nine-year-old boy with a slight lisp and a longing to be liked. Together, they are referred to as the Horde.
The 24th, and most dominant, personality is called the Beast, and he's growing more powerful by the second. For his day job, Kevin works at Philadelphia Zoo, and the Beast is an amalgamation of all the animals housed there. To make matters worse, Kevin's also housing three teenage girls below the zoo in a secret underground tunnel system.
His victims, Casey, Claire and Marcia, were kidnapped and locked away as sacrifices for the Beast, and they're forced to play to Kevin's alter-egos both as a means of calming him down and creating an opportunity to escape. Kevin's therapist, Dr Fletcher, catches wind of his plans and begins a rescue attempt, but it'll take a lot more than psychobabble to tame the Beast.
Who will you recognise?
James McAvoy (X-Men: Apocalypse) as Kevin Wendell Crumb
Anya Taylor-Joy (The Witch) as Casey Cooke
Sebastian Arcelus (House Of Cards) as Casey's father
Jessica Sula (Skins) as Marcia
Haley Lu Richardson (The Edge Of Seventeen) as Claire Benoit
Betty Buckley (Preacher) as Dr Karen Fletcher
Bruce Willis as David Dunn
M Night Shyamalan cameos as Jai, a security guard in Dr Fletcher's apartment building (also believed to be the same guy dealing drugs in Unbreakable)
How does it connect to the trilogy?
Split's status as a sequel to Unbreakable is only revealed at the end of the film. On the TV at a local diner, a news reporter is discussing Kevin and how his multiple personalities are collectively referred to as the Horde. A woman at the bar remarks, "This is like that crazy guy in the wheelchair that they put away 15 years ago, and they gave him a funny name too. What was it?", before a man sat next to her replies, "Mr Glass". That man is none other than David Dunn. Interestingly, Bruce Willis' role was uncredited so as not to spoil the surprise! And on that bombshell… the film ends.
In Shyamalan's own words…
"The main character of Split is this kinetic, pyrotechnic character that's violent, scary, funny and weird – and threatening. The film has a very dark thriller, almost horror, vibe."

But wait, there's more!
Can you believe it's been a whole 20 years since The Matrix was first released? In celebration of this mighty anniversary, the We Love Keanu collection is now available on the Virgin Media Store until Sunday 26 May, which includes the mind-bending sci-fi flick, as well as more of Keanu's best, like John Wick, John Wick: Chapter 2 and, of course, Point Break.
And that's not all, because John Wick: Chapter 3 – Parabellum, plus bonus content, is available to pre-order on the Virgin Media Store from Wednesday 15 May. Reeves reprises his role as hitman John Wick, who's now a walking $14 million target, putting him at the top of the kill list of some of the world's most skilled assassins. We still don't know whether we'd choose the red pill or the blue pill featured in The Matrix, but at least we know the answer to whether we'll watch the above. Bring on the Wick!
Not heard about the Virgin Media Store?
It's the place where you can buy the latest and greatest movies and TV Box Sets, yours to watch again and again, at home or on the go. Sign up now at virginmediastore.com, choose from hundreds of films and TV Box Sets and start watching instantly.
Enjoy your purchases on your Virgin TV Box (TiVo®/V6), online, or on your registered iOS and Android devices with the Virgin Media Store app.
Show me the latest releases on the Virgin Media Store.
Virgin Media Store: Separate terms and conditions apply to the Virgin Media Store service. DVD included for movie purchases only. Purchases must be made on the website or set top box. Virgin TV subscription and our latest Virgin TV V6 box required to buy and watch via set top box – Store is not available on other boxes. Compatible device & browser required. Max 5 registered devices. Max 2 devices can stream content simultaneously. Stream and download in UK only (or while temporarily in the EU).