Skip to main content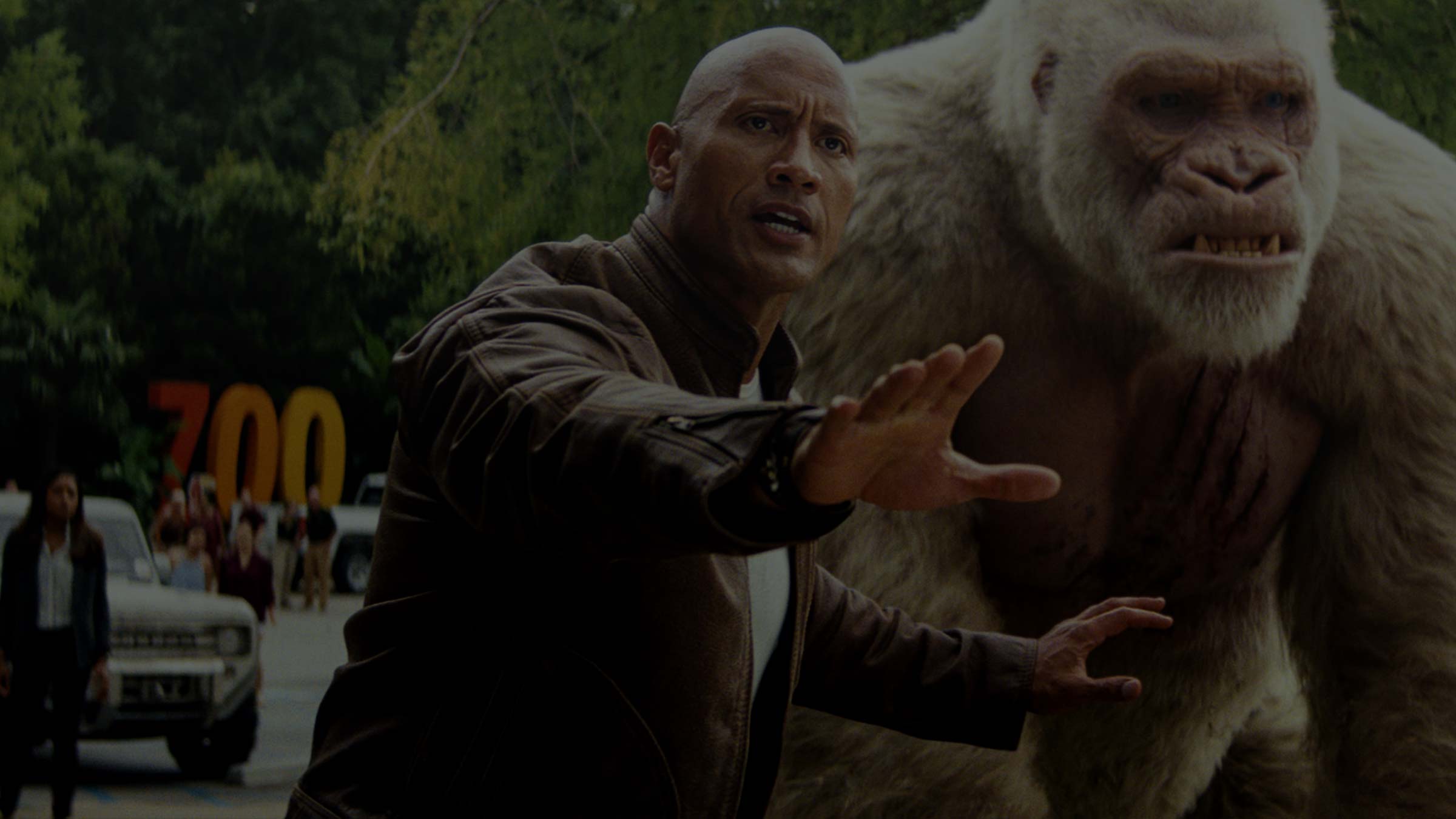 Biceps, giant gorillas and all manner of sizzling set pieces await in this explosive adaptation of the classic arcade game
Buy Rampage on the Virgin Media Store and rent on Virgin Movies from 20 August. Cert 12
When a man-made pathogen crashes down to Earth, a trail of debris is scattered across the US. To make matters worse, the pathogen (which causes exponential growth and increased aggression in animals) infects a crocodile, a wolf, and George, an albino gorilla who lives in the San Diego Wildlife Sanctuary.
But if there's one set of biceps that can wrestle with these massive monsters, it's George's keeper, and arguably the most jacked primatologist ever seen on screen, Davis Okoye (global megastar Dwayne Johnson). With cities lying right in the path of destruction, Okoye teams up with genetic engineer Dr Kate Caldwell (Naomi Harris) to help keep George safe, and attempt to save the beasts from being put down by the military.

Director Brad Peyton (reteaming with Johnson after San Andreas) embraces the over-the-top premise and creates all manner of explosive CGI set pieces: forget Snakes On A Plane, this has a 15-foot, albino gorilla wreaking havoc on a plane instead. Peyton's created another cracking, explosion-fest of a blockbuster fronted by this generation's leading action man.
But this isn't the first time that Rampage has taken the world by storm – this year's box office smash is an adaptation of the classic 1986 arcade game! So, if you're left with a craving for even more enormous, citywide scuffles, fear not. Simply track down an original arcade cabinet, NES, Amstrad or other 80s gaming system and you'll soon be getting those giant fists swinging once more.
Want more monster movie deals?
From 6-13 August, you can get your hands on a frightfully good film deal! For just £7.99, you can buy titles including Kong: Skull Island, Godzilla and Deep Blue Sea, as well as the Dwayne Johnson movie San Andreas.
Not heard about the Virgin Media Store?
It's the place where you can buy hundreds of ace films and TV Box Sets. Want to know more about how to order these top movies and series? Then read our full story here.
How to use it
First, set up your account quickly and easily at virginmediastore.com. Once that's done, if you have a Virgin TV box you can buy and watch hundreds of films and TV Box Sets via the Virgin Media Store app on your box. Alternatively, if you're not a Virgin TV customer you can buy and watch via the Virgin Media Store website and do everything through that. Simple!
HD: HD TV required to view HD channels. Number of inclusive HD channels depends on package.
Virgin Media Store: Separate terms and conditions apply to the Virgin Media Store service. DVD included for movie purchases only. Purchases must be made on the website or set top box. Virgin TV subscription and our latest Virgin TV V6 box required to buy and watch via set top box – Store is not available on other boxes Compatible device & browser required. Max 5 registered devices. Max 2 devices can stream content simultaneously. Stream and download in UK only (or while temporarily in the EU).
Movies On Demand: Virgin Movies On Demand movies are pay by title. Once purchased, all chargeable On Demand content must be viewed within 48 hours.