Skip to main content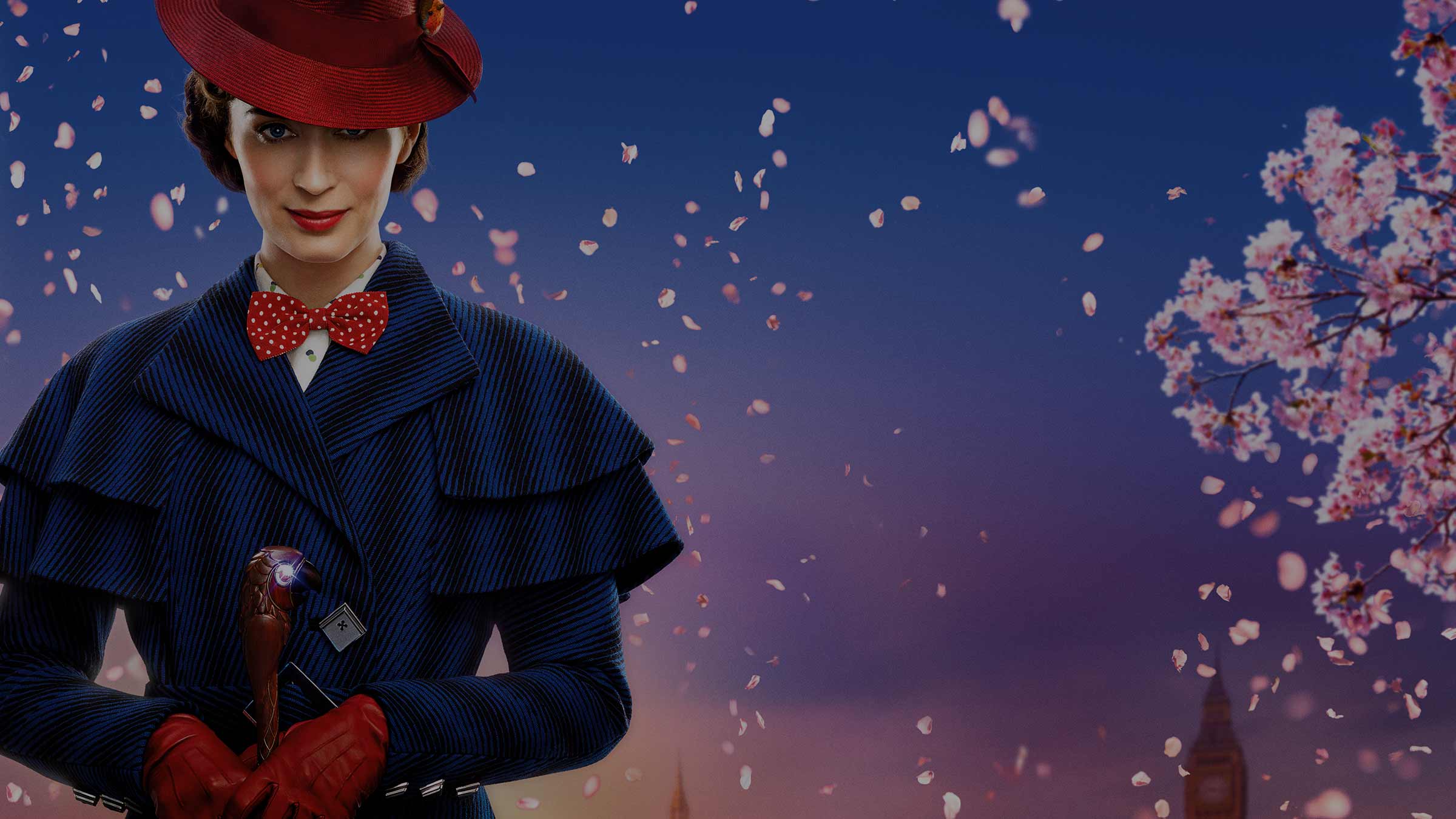 All together now *deep breath*: supercalifragilisticexpialidocious!
Mary Poppins Returns + Digital Bonus, available to buy on the Virgin Media Store. Cert U
The magical Mary Poppins is finally back in this smashing sequel, released 54 years after the original film. And it's like she never left. We're transported to the time of the original novels by PL Travers – 1930s London during the Great Depression. Siblings Michael and Jane Banks are all grown up, and far removed from the starry-eyed children they once were.
They share their home on Cherry Tree Lane with Michael's three children and their housekeeper Ellen. But Michael's in a spot of financial trouble. He's taken out a loan from his employer, the Fidelity Fiduciary Bank, and risks having his childhood home repossessed if he can't find the means to repay it by the end of the week.

That's when Mary Poppins floats down, practically from a cloud ("I was flying the kite and it got caught on a nanny!" says Michael's youngest son, Georgie). With a little help from her friend Jack, her kooky cousin Topsy and the power of song (all-new songs, in fact), Mary gets to work, sharing her infectious enthusiasm and words of wisdom with the Banks family.
Everything that made the original so delightful is replicated in Mary Poppins Returns. And although visual effects in the movies have come a long way since the 1960s, a wonderful scene harks back to the two-dimensional animation that features in the original film's "Jolly Holiday" scene. As Mary, Jack and the children find themselves at a cartoon carnival, you'll be overcome with nostalgia – and yes, the famous dancing penguins return!
In the first film Mary (played by Julie Andrews) says, "In every job that must be done, there is an element of fun". Let us assure you, there's more than just an element of fun in this film – it's joyful and uplifting the whole way through!
Julie Walters, who plays housekeeper Ellen, sums up the film perfectly: "It's about love and overcoming adversity, and we as humans want to see that. But it's also brilliantly escapist". Whether you're planning to watch it alone, with friends, or with some wee ones, you really can't go wrong this most magical of nannies. But before you settle in to watch with a spoonful of something delicious nearby, click/hover on the characters below to learn more about who's who.


Not heard about the Virgin Media Store?
It's the place where you can buy the latest and greatest movies and TV Box Sets, yours to watch again and again, at home or on the go. Sign up now at virginmediastore.com, choose from hundreds of films and TV Box Sets and start watching instantly.
Enjoy your purchases on your Virgin TV Box (TiVo®/V6), online, or on your registered iOS and Android devices with the Virgin Media Store app.
Show me the latest releases on the Virgin Media Store.
Virgin Media Store: Separate terms and conditions apply to the Virgin Media Store service. DVD included for movie purchases only. Purchases must be made on the website or set top box. Virgin TV subscription and our latest Virgin TV V6 box required to buy and watch via set top box – Store is not available on other boxes. Compatible device & browser required. Max 5 registered devices. Max 2 devices can stream content simultaneously. Stream and download in UK only (or while temporarily in the EU).
Image credits: Mary Poppins Returns © 2018 Disney Enterprises Inc. All Rights Reserved