Skip to main content
Meet the brand new agents in Men In Black: International!
Men In Black: International, available to buy now on the Virgin Media Store or rent on Virgin Movies from Monday 21 October. Cert 12
The original Men In Black was the perfect 90s movie. It somehow managed to be both achingly cool and ludicrously goofy, with OG stars Will Smith and Tommy Lee Jones bouncing off each other as special agents J and K.
And now, more than 20 years after the release of the original film, we're back in black, but with fresh faces and a brand new mission. Thor: Ragnarok alumni Chris Hemsworth and Tessa Thompson star as H and M (secret agents, not the clothing store). They're joined by Liam Neeson's MIB UK branch boss High T and the inimitable Emma Thompson, who reprises her role as Agent O.
After a pair of extraterrestrial twins crash a meeting with a member of alien royalty, Vungus the Ugly (Kayvan Novak, What We Do In The Shadows), H and M are thrown into a dangerous world of high-powered weaponry, unforgiving exes and a conspiracy that could rock the entire Men In Black organisation…
Intrigued? Here are even more reasons why you should watch the latest entry in the sci-fi franchise.
It was seven years in the making
Rumours of a fourth Men In Black film began to circulate way back in 2012, after Men In Black 3. It took a while, but with Hemsworth and Thompson on board, the franchise has been given a much-needed new look. It was a risk, but it's paid off nicely.
Thompson and Hemsworth vibe perfectly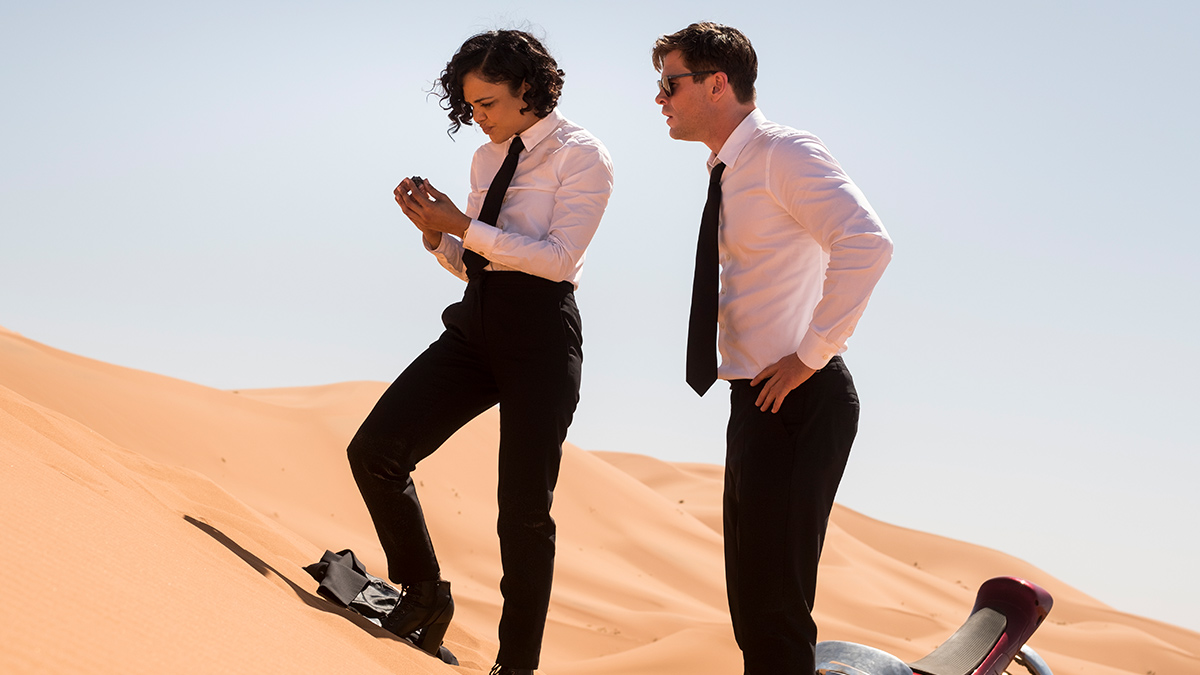 J and K's chemistry was what made the original films so special, and Hemsworth and Thompson's relationship similarly shines. With prior experience working together in the Marvel Cinematic Universe, the pair make quite the double act.
The supporting characters will fill you with joy
Rebecca Ferguson (Mission: Impossible – Fallout) is brilliant and beguiling as Riza Stavros, H's ex-girlfriend who just so happens to be an intergalactic arms dealer. Emma Thompson is a delight as ever, and the return of Frank the Pug and the chain-smoking worm dudes from the original film will transport you right back to 1997.
There's constant tomfoolery – and the jokes keep landing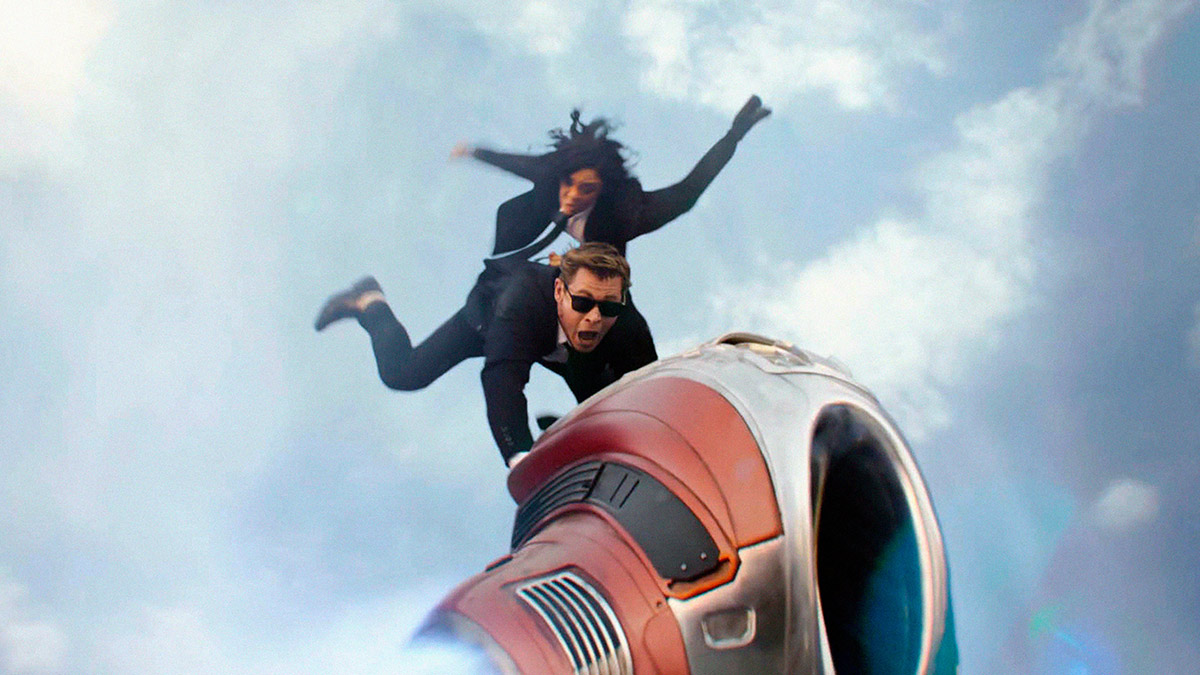 Like you'd expect from a Men In Black film, MIB: International doesn't take itself all that seriously. However, this time around it foregoes the "straight man/eccentric man" double-act trope, instead choosing to hit you full throttle with a barrage of non-stop gags. The result is nearly two hours of silliness that'll have you grinning from ear to ear.
You'll want M to be your best mate
We first meet M as a child named Molly Wright, who, after aiding an alien escapee, manages to avoid having her memory wiped by the Men In Black. More than 20 years later, she's knocking on the door of the organisation and rocking the trademark suit faster than you can say "MIB".
It's nostalgic but still feels fresh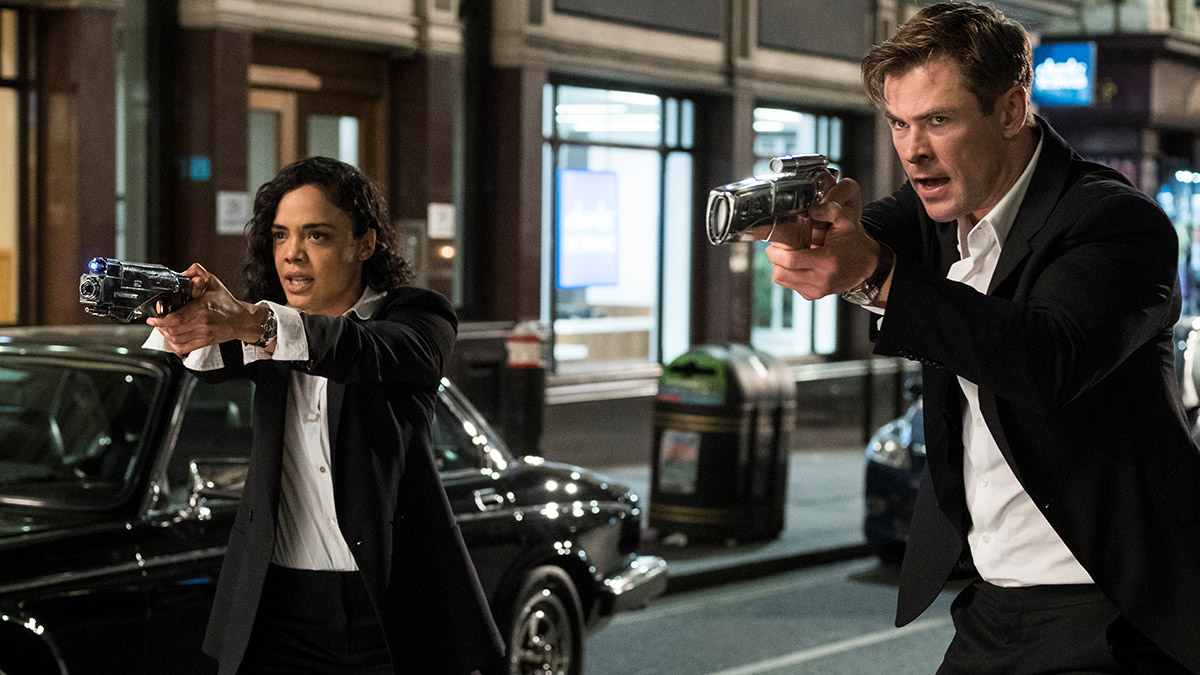 Like fusion cooking and hybrid architecture (yep, we're comparing MIB to fancy food and beautiful buildings), MIB: International perfectly blends the old and new. Will Smith and Tommy Lee Jones might be OOO, but it still feels like the Men In Black of yesteryear, with plenty of references and fun little Easter eggs to enjoy.
Not heard about the Virgin Media Store?
It's the place where you can buy the latest and greatest movies and TV Box Sets, yours to watch again and again, at home or on the go. Sign up now at virginmediastore.com, choose from hundreds of films and TV Box Sets and start watching instantly.
Enjoy your purchases on your Virgin TV Box (TiVo®/V6), online, or on your registered iOS and Android devices with the Virgin Media Store app.
Show me the latest releases on the Virgin Media Store.
Virgin Media Store: Separate terms and conditions apply to the Virgin Media Store service. DVD included for movie purchases only. Purchases must be made on the website or set top box. Virgin TV subscription and our latest Virgin TV V6 box required to buy and watch via set top box – Store is not available on other boxes. Compatible device & browser required. Max 5 registered devices. Max 2 devices can stream content simultaneously. Stream and download in UK only (or while temporarily in the EU).