Skip to main content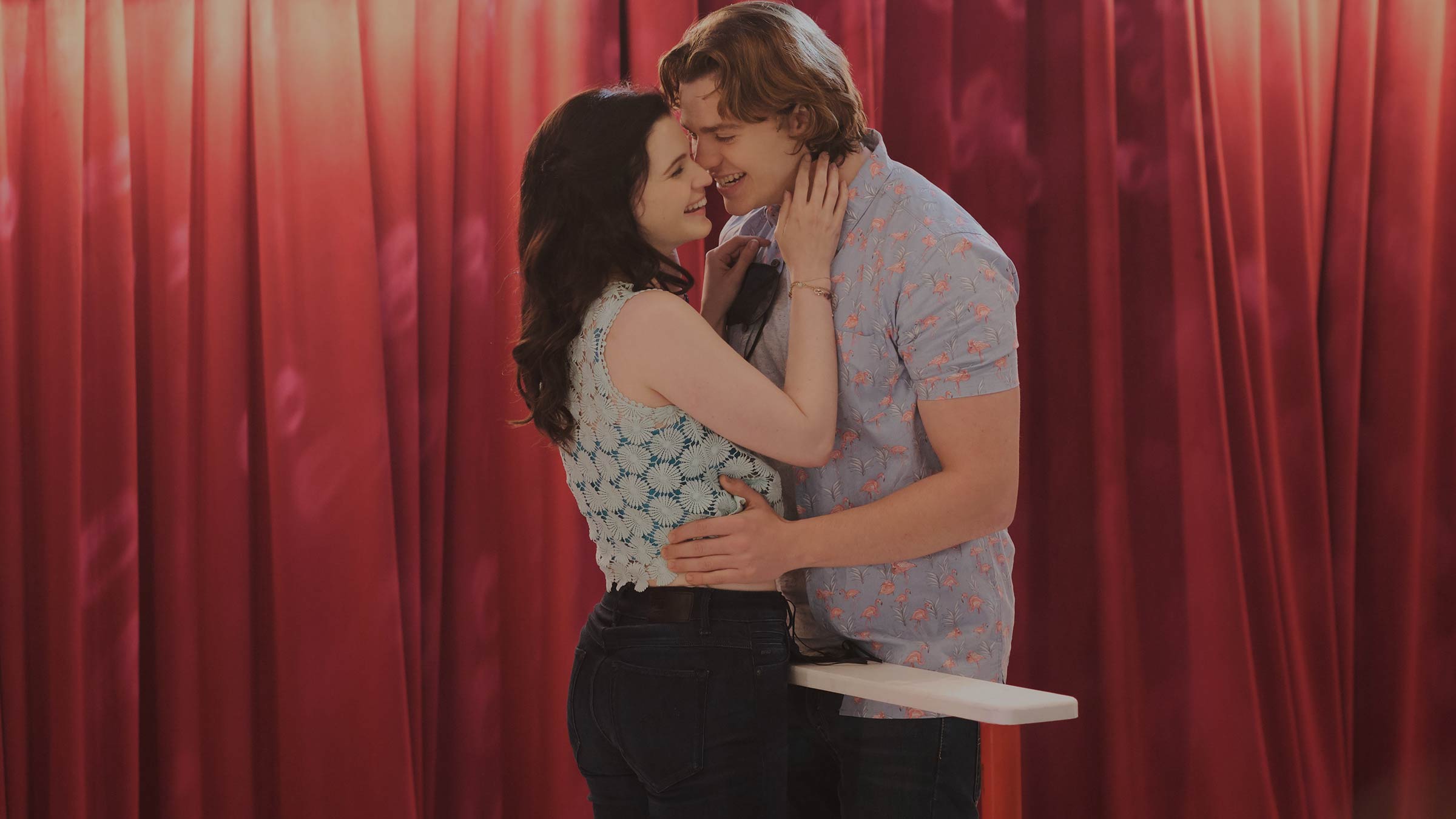 Your Friday night plans are sorted. Pucker up and press play on The Kissing Booth 2, then check out five more Netflix romcoms
By Laura Rutkowski, Staff Writer
What's better than a romcom? A romcom sequel, of course! The Kissing Booth 2 has dropped on Netflix today, and actor Joey King, who plays main character Elle Evans, told The Hollywood Reporter she thinks the sequel is "better than the first movie". She added, "We wanted to give fans something to remember, something that is even bigger and better than the movie that they fell in love with initially, something that exceeded all expectations."
The original film, released in 2018, became one of Netflix's most re-watched movies. Based on the book by Beth Reekles, the story follows teen Elle Evans, who is best friends with Lee Flynn (Joel Courtney). She has a huge crush on his brother Noah (Jacob Elordi), but her friendship with Lee means Noah is off-limits. Until, that is, she sets up a kissing booth at the spring carnival and she's quite literally forced to confront her feelings (and Noah's handsome face).

So where does that leave Noah and Elle? Well, after spending a wonderful summer together, Noah moves away to study at Harvard in Massachusetts, while Elle enters her final year of high school in Los Angeles. As long distance tests their relationship, Elle and Noah both begin forming new friendships closer to home.
New guy Marco (Taylor Zakhar Perez) catches Elle's eye, meanwhile fellow Harvard student Chloe (Maisie Richardson-Sellers) makes a beeline for Noah. Marco also just happens to be the perfect candidate for this year's kissing booth, which is back open for business!
Molly Ringwald reprises her role as Lee and Noah's mother, and her appearance is basically a big stamp of approval for the romcom, especially as she's starred in so many herself. After you step into The Kissing Booth 2 (or perhaps you already have), check out these five other Netflix romcoms that are bound to make you go all sweaty-palmed, tongue-tied and heart-eyed.
1. Love Wedding Repeat
Find it on Netflix
Jack (Sam Claflin) wants to make sure his sister Hayley (Eleanor Tomlinson) has the perfect wedding day, but he has to mingle with his ex (Freida Pinto) and "the one that got away" (Olivia Munn). Oh, and Hayley's ex (Jack Farthing) also shows up, definitely not holding his peace – so far, so romcom.
However, just when you think you might have this film figured out, it will continue to surprise you. There are a whole number of ways that a wedding could go wrong. In this case, it involves sleep medication and several variations of rearranged place cards. Aisling Bea, Joel Fry and Tim Key also star in this silly, yet sweet, adventure.

2. Someone Great
Find it on Netflix
When music journalist Jenny (Gina Rodriguez) secures her dream job, it means moving from New York City to San Francisco, something her boyfriend of nine years (Lakeith Stanfield) isn't prepared to do. He also rules out long distance, and just like that, Jenny finds herself single. She calls on her best friends Erin (DeWanda Wise) and Blair (Brittany Snow) to paint the town red for a big blow-out before she moves.
It features the iconic RuPaul as a drug dealer and a ridiculously fun dance scene to Lizzo's "Truth Hurts." While this is ultimately a break-up movie, it's also a love letter to ride-or-die friends and proves that sometimes the "someone great" in your life is yourself.

3. The Perfect Date
Find it on Netflix
Noah Centineo is essentially the poster teen (although, he's 24 in real life, which makes your crush on him a lot less creepy) for romcoms. Swiped, Sierra Burgess Is A Loser, To All The Boys I've Loved Before, To All The Boys: PS I Still Love You – yep, he's in all of them and you can probably guess from the titles that they're all variations on a theme.
In The Perfect Date, high school student Brooks Rattigan (Centineo) creates an app called The Stand-In, where he can be hired as a date. The money he makes goes towards his college fund and it's all fun and games until feelings get involved. If you fancy watching Centineo be a "cowboy, an art connoisseur and a bad friend", stick this on to take your mind off the fact we still don't have a release date for To All The Boys: Always And Forever, Lara Jean!

4. The Wrong Missy
Find it on Netflix
Despite only being released in May, The Wrong Missy is one of the most-watched Netflix original films of all time – 59 million households tuned in during its first four weeks of release. This film shows how important it is to label your phone contacts. You know, if you met on Bumble, put a bee emoji next to their name or something. Or, a skull emoji if they're someone you shouldn't contact. In fact, just delete that number entirely.
If you're a fan of Adam Sandler movies, The Wrong Missy takes a similar format and it's actually produced by Sandler's company, Happy Madison. Tim (David Spade) is left heartbroken when his fiancée dumps him. To step back into the dating scene, he's set up on a blind date with oddball Missy (Lauren Lapkus). It leads nowhere, and a year later, Tim hits it off with a woman at the airport, whose name also happens to be Missy. He takes a chance and invites her to his company's corporate retreat to Hawaii, only to find out he invited – insert the name of the film here.

5. The Half Of It
Find it on Netflix
This is like a modern retelling of Cyrano de Bergerac, with Ellie Chu (Leah Lewis) as our lovelorn Cyrano. Ellie is a bit of an outcast at her high school, but makes money writing essays for fellow students. One day, she's approached by Paul Munsky (Daniel Diemer), who wants Ellie's help to win the affections of his crush, Aster Flores (Alexxis Lemire). What Ellie doesn't anticipate is that she'll start to fall for Aster too.
This LGBTQ+ coming-of-age flick sensitively handles topics including ethnicity, immigration and sexuality, which allows it to cut through the saccharine to deliver real sentiment. It also accurately reflects how sometimes romance in the modern age is just a well-worded text (we'd need to get Cyrano up to speed there).


How to watch Netflix with Virgin TV
If you have a TiVo® box or Virgin TV V6 box, powered by TiVo®:
Press home on your remote
Select Apps & Games
Select All Apps
Select Netflix
If you're already a Netflix subscriber, you can also access the app through Search & Discover or by pressing Red on channel 204. Just sign in with your existing login and start watching. And you'll only have to log in the first time you use it.
If you're new to Netflix, then you'll need to subscribe to use the app. The easiest way to do this is by going to netflix.com/virginmedia. You can also subscribe using the Netflix app in Apps & Games.
Netflix: Netflix subscription required at extra cost.