Skip to main content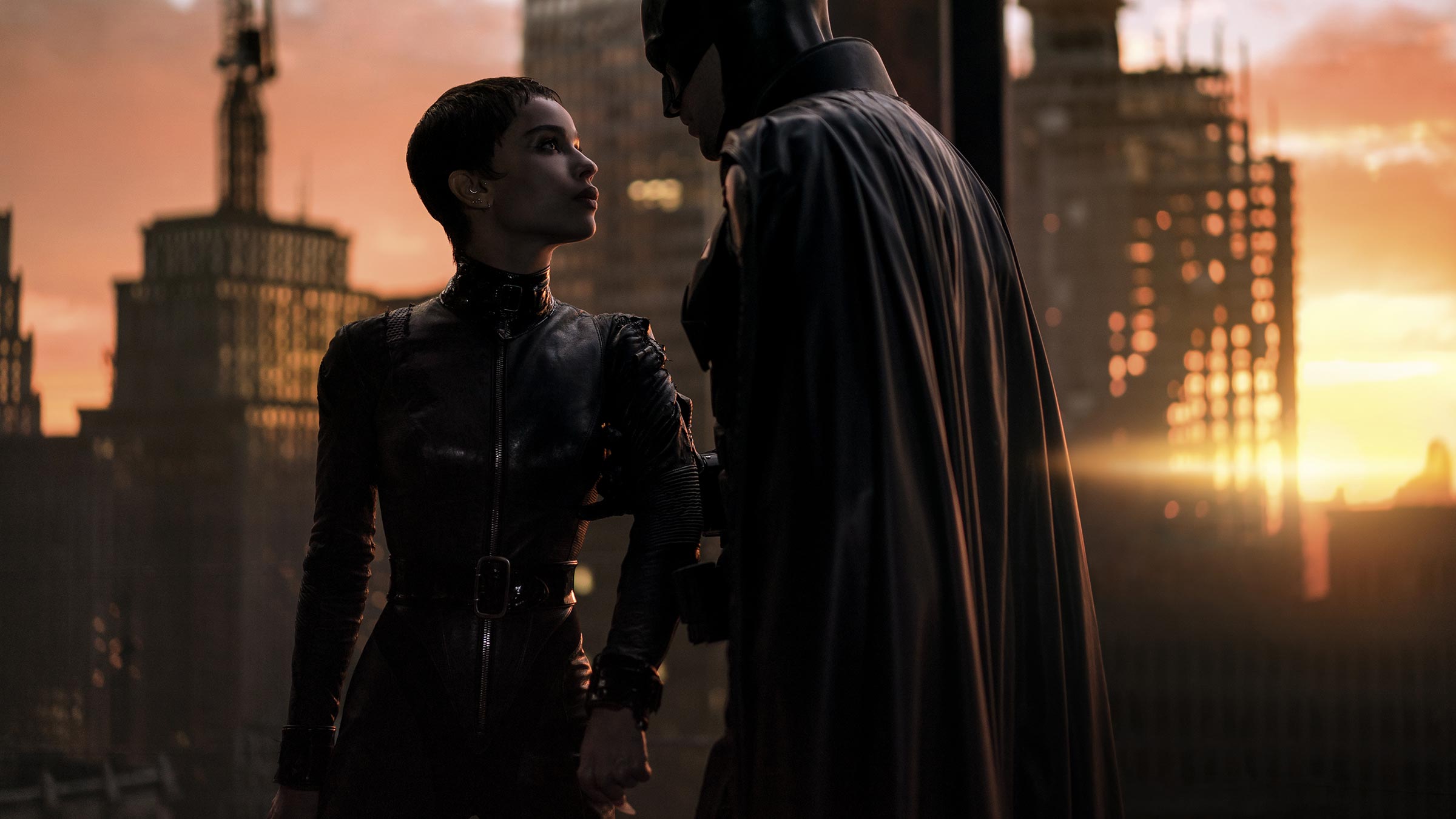 With the Christmas season upon us, we've got a whole load of exciting new films for you to enjoy – from Hollywood blockbusters to indie coming-of-age dramas and festive classics
By Kat Romero, Writer
Everybody knows that Christmas and great films go together like mini sausages and bacon-y blankets. And this month, Sky Cinema has a whole new set of fantastic flicks to keep you entertained. If you're in the mood for a big action-packed fantasy blockbuster, the latest in the Fantastic Beasts series is here, starring Jude Law and Eddie Redmayne.
We also love the coming-of-age classic Inbetween Girl, showcasing brilliant newcomer Emma Galbraith. For a festive classic, look no further than Prancer, which tells the tale of a young girl and her reindeer. Or you can simply swoon over Robert Pattinson in The Batman. Don't say we don't spoil you!
Don't forget, you can also watch hundreds of Sky Cinema titles on up to five devices with the awesome Virgin TV Go app at no extra cost to Sky Cinema subscribers. It's the perfect way to take a bit of movie magic with you. Find out more about the Virgin TV Go app here.
Available from Friday 2 December in Sky Cinema on demand. Cert 15
Robert Pattinson (Tenet) takes on the lead as Batman in this action-packed superhero film, which sees the caped crusader called to Gotham City when the mayor is murdered. Soon the evidence starts to lead him closer to home and he realises the perpetrator's web of corruption is linked to his own dark past. Pattinson shines in this role, perfectly embodying the tortured superhero and often conveying a whole series of emotions with just his eyes. Plus, Zoe Kravitz (High Fidelity) shines as Catwoman, and the pair have some seriously sizzling chemistry.
This Christmas
Available from Friday 9 December in Sky Cinema on demand. Cert TBC
We know that there is already an abundance of Christmas flicks to choose but this one has the potential to become a new festive classic. It stars Kaya Scodelario (Skins, The Maze Runner), as Emma, and Alfred Enoch (How To Get Away With Murder) as Adam.
The pair commute to London from their quaint little village of Langton alongside the same passengers daily. When the train breaks down in the middle of nowhere, everyone's Christmas plans are thrown into chaos. That is until Adam decides to be bold and make conversation with his fellow passengers, encouraging them to throw their own party and discover – yes! – the true meaning of Christmas.
The Amazing Maurice
Available from Friday 16 December in Sky Cinema on Demand. Cert PG
In this quirky animated film, based on the books by Terry Pratchett, Hugh Laurie (House) lends his voice to the character of streetwise ginger cat Maurice, who becomes the mastermind behind a money-making scheme when he befriends a gang of talking rats and a human boy named Keith (Himesh Patel, Yesterday). It's a simple plan: the rats infest a town and Keith uses his pipe to lead them away, making a handsome profit. Things are going well – until they reach the town of Bad Blitz and discover something sinister going on…
Fantastic Beasts: The Secrets Of Dumbledore
Available from Friday 23 December in Sky Cinema on Demand. Cert 12
Harry Potter fans can rejoice as the Fantastic Beasts series returns for its third installment. Professor Albus Dumbledore (Jude Law, Sherlock Holmes) becomes aware that the dark wizard Gellert Grindelwald (Mads Mikkelsen, Another Round) is plotting to gain control over the wizarding world. Fearing he cannot stop him alone, he enlists the help of magizoologist Newt Scamander (Eddie Redmayne, The Theory Of Everything) to lead a team of wizards and witches to fight against him. Law shines in the title role as the film addresses Dumbledore's complicated relationship with the wizard who would become his nemesis.
The Nan Movie
Available from Friday 9 December in Sky Cinema on Demand. Cert 15
Catherine Tate's character Joanie Tayler, AKA Nan, became a fan favourite thanks to her potty mouth and iconic cackle, and the cockney pensioner makes her big-screen debut in this film that charts her journey from England to Ireland to visit her dying sister Nell. Tagging along for the ride is her long-suffering grandson Jamie, played by Gavin And Stacey's Mathew Horne.
Through flashbacks we learn that the two sisters fell for the same GI during the Second World War and their toxic love triangle is what shaped Nan into the fiery and foul-mouthed old woman she is today. It's a rollercoaster ride with plenty of laughs and moments of genuine emotion – but one that's best watched after the kids have gone to bed…

The Duke
Available from Friday 23 December in Sky Cinema on Demand. Cert 12
Based on a barely believable true story, this tells the tale of Kempton Bunton, the Newcastle cab driver who stole Goya's portrait of the Duke of Wellington from London's National Gallery and revealed he would return it if the government invested more time and money in care for the elderly. Jim Broadbent (King Of Thieves) plays Kempton with a perfect blend of heart and hilarity, while Helen Mirren (The Good Liar) plays his wife Dorothy and perfectly conveys both her love for her husband and her frustration at his wild battle against social injustice. A feel-good treat for the whole family.

The Bad Guys
Available from Friday 23 December in Sky Cinema on Demand. Cert U
A gang of criminal animals are tasked with their biggest scam yet: trying to go straight and convince everyone they have become good and law-abiding citizens. The five redeemed villains – Mr Wolf (Sam Rockwell, See How They Run), Mr Snake (Marc Maron, DC League of Super-Pets), Mr Shark (Craig Robinson, Killing It), Mr Piranha (Anthony Ramos, Hamilton) and Ms Tarantula (Awkwafina, Crazy Rich Asians) – have become infamous in their city due to their bad behaviour. But after years on the police's most wanted list, they've decided to change their ways. Can they pull it off?
Prancer
Available from Friday 2 December in Sky Cinema on Demand. Cert PG
Ready for a festive classic? This delightful flick tells the story of Jessica (Rebecca Reynolds Tickell) who refuses to give up her Christmas spirit. She stumbles across a wounded deer in the woods that she believes to be Prancer, one of Santa's reindeer. She tries to nurse Prancer back to health and keep it a secret from everyone else. But the whole town discovers the secret and chaos ensues, leading to problems for Jessica and her whole family. A genuine family treat for the festive season, it'll make you feel all warm and fuzzy inside.
Together Together
Available from Friday 16 December in Sky Cinema on Demand. Cert 15
This sweet comedy tells a unique tale of parenthood, charting the journey of single fortysomething Matt (Ed Helms, The Hangover) and his twentysomething pregnancy surrogate Anna (Patti Harrison, The Lost City). A self-confessed loner, Matt enlists Anna's help to make his dream of becoming a father a reality. But they soon come to realise this new relationship will challenge them both and change their perception of love.
Helms's comedic charms are familiar from The Hangover and the US version of The Office but here he plays a calmer, more repressed character who is painfully aware of his loneliness and failure to achieve his life goals. It's sweet and sensitive and the chemistry between Helms and Harrison makes them the perfect pairing.
Inbetween Girl
Available from Friday 9 December in Sky Cinema on Demand. Cert TBC
This charming coming-of-age movie focuses on teen artist Angie Chen (Emma Galbraith, Today I Feel) who is reeling from her parents' divorce. She feels like she's barely noticed by boys at her school – they'd rather swoon over Sheryl, who she describes as "the most blonde girl in school" – but one night she finds surprising comfort in the arms of the school heartthrob Liam. The problem? He's also Sheryl's boyfriend.
The pair decide to continue their affair in secret – what could possibly go wrong? Meanwhile, Angie is also having to deal with her father's new girlfriend and her daughter. Newcomer Galbraith is brilliant as the awkward yet loveable teen as she deals with heartache, insecurity and the complexities of life.
TV channels: Channels, content and features available depend on your chosen package. Channel line-ups and content are subject to change at any time and to regional variations.
HD: HD TV set, V HD Box, TiVo box or Virgin TV V6 connected with HDMI cables required for HD channels. Number of inclusive HD channels depends on package.
Sky Cinema on demand: Sky Cinema subscription required.
TV Go: Content available to view depends on TV package. Not all channels/content from relevant pack available. Live streaming and On Demand requires broadband/WiFi or 3G/4G/5G access. UK only. Access via PC, Mac or TV Go App (selected iOS devices and Android™ devices only). Maximum 5 compatible devices per account can watch TV.
Premium channels (add-ons): 30 days' notice required to remove premium channels/packs.