Skip to main content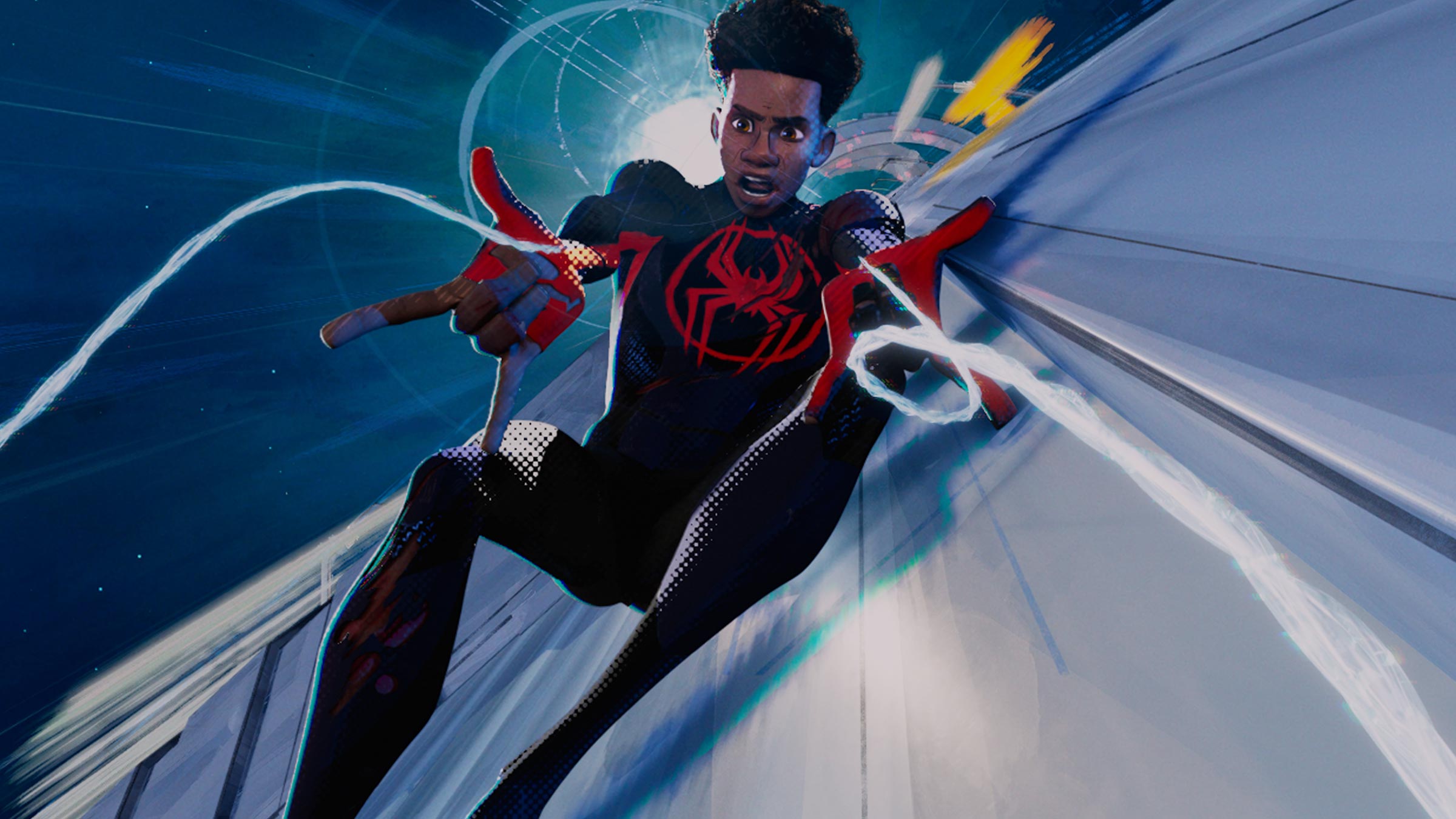 All the best new premieres to watch on Sky Cinema this month, including everyone's favourite plumber and a return into the Spider-Verse
By Simon Ward, Content Director
December means one thing: go, go, go. It's a busy month of busyness, mostly spent flying from place to place like an exhausted Santa without the milk-and-cookies reward. Nor much of his credit. So those moments of calm are precious commodities. You need an arsenal of movies to match that mood, and Sky Cinema has you covered.
There's a smattering of suitably Christmassy fare that includes a Richard Curtis effort – his first in the festive subgenre since Love Actually – and, of course, the annual return of Elf. In fact, check out Sky Cinema on demand for a whole range of Christmas classics.
Elsewhere, there's robots in disguise and a monster disguised as a truck, two gorgeous films about later life that will warm your cockles, and three coming-of-age stories: one about a martial artist in training trying to stop a wedding, one about an anti-ageing elixir and another about a wall-sticking superhero trying to save the multiverse.
Then on Christmas Day itself, it's highly anticipated premiere of The Super Mario Bros. Movie that'll have everyone in your household singing a certain song until at least the first week of January. If you know, you know…
Don't forget, you can watch hundreds of Sky Cinema titles on up to five devices with the awesome Virgin TV Go app at no extra cost to Sky Cinema subscribers. It's the perfect way to take a bit of movie magic with you. Find out more about the Virgin TV Go app here.
Read on to find out what's new on Sky Cinema in December.
Available from Friday 1 December in Sky Cinema on demand. Cert PG
For a writer now synonymous with Christmas, it's surprising Richard Curtis has only written one Christmas movie. So, what does the man behind Love Actually have up his sleeve for his second? As the title suggests, Bernard Bottle (Paapa Essiedu, The Lazarus Project) stumbles upon a genie (Melissa McCarthy, Bridesmaids) who can grant him wishes. But it's not fame and fortune he seeks. With his life unravelling, all he wants is love, actually (sorry!), and to win back his family. Sure to be as sweet as a candy cane.
A Thousand And One
Available from Saturday 2 December in Sky Cinema on demand. Cert 15
Teyana Taylor (Coming 2 America) takes centre stage as a mother whose love knows no bounds, as she fights the system to build a brighter future for her young son Terry. Set across the 1990s and early 2000s in New York City, the film starts as convicted thief Inez (Taylor) is released from prison: with opportunities denied her at every turn, she kidnaps her son Terry back from foster care and the two begin to navigate the trials and tribulations of city life, as well as Terry's growing pains and his academic gifts.
The Three Musketeers: D'Artagnan
Available from Sunday 3 December in Sky Cinema on demand. Cert PG
All for one and one for all! The first film of this two-part epic saga inspired by Alexandre Dumas' much-loved 1844 novel is a swashbuckling adventure from start to finish. When D'Artagnan (François Civil) arrives to Paris in search of the attackers who left him for dead, he forms an unexpected alliance with musketeers Athos (Vincent Cassel), Porthos (Pio Marmaï) and Aramis (Romain Duris). Their escapades eventually lead them to defend France when its future is at stake, but the evil they're fighting is bigger than they ever imagined. Eva Green (Casino Royale) and Jacob Fortune-Lloyd (Bodies) also star.
May December
Available from Friday 8 December in Sky Cinema on demand. Cert 15
Although it has "December" in the title, do not go into this one expecting a Christmas movie. Instead, Natalie Portman (Black Swan) plays TV actress Elizabeth who is preparing to take of the role of Gracie (Julianne Moore, Still Alice), one half of a notorious tabloid relationship long forgotten. But what begins as research into a seemingly mundane relationship reveals far more than either Elizabeth or Gracie expected. Gripping and highly tense.
The Machine
Available from Saturday 16 December in Sky Cinema on demand. Cert 15
We've seen movies based on magazine articles, theme park rides and toys, and now here's one derived from the viral standup routine by comedian Bert Kreischer, who told the story about how he inadvertently helped the Russian mafia rob a train while on a college trip to Russia, thus obtaining the moniker "The Machine". This movie not only brings Kreischer's story to life, it also imagines what might happen when a viral video reaches the people he wronged – namely, a murderous mobster hellbent on kidnapping him to atone for his crimes.
Elf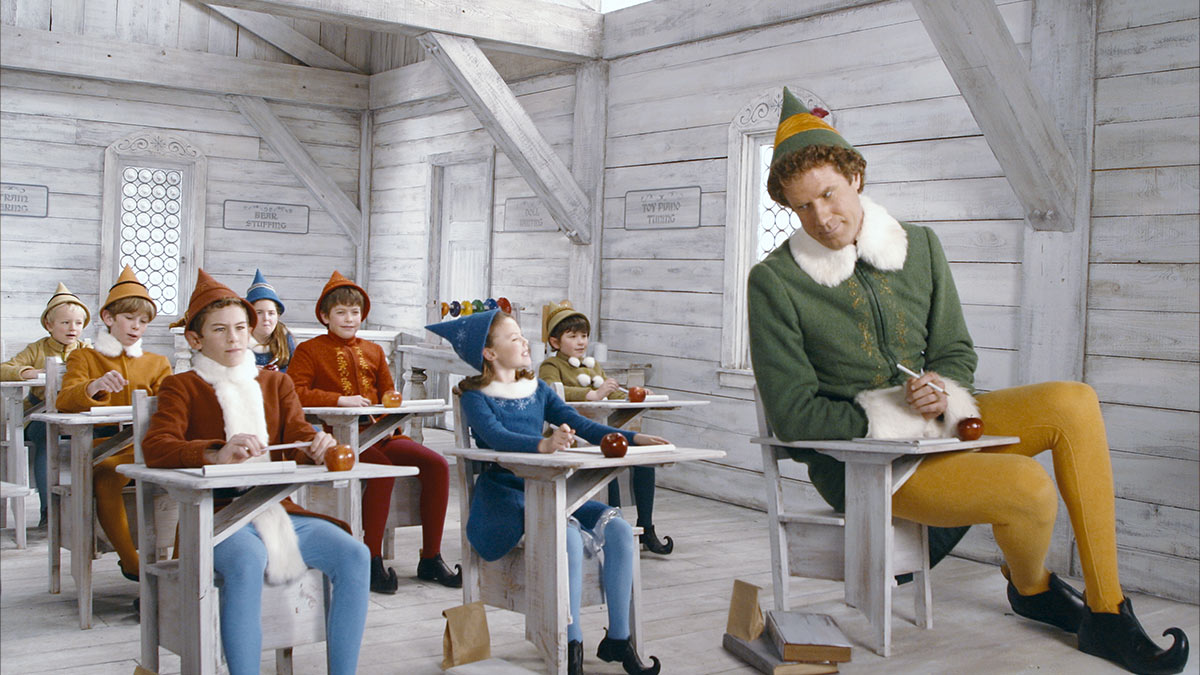 Available from Friday 8 December in Sky Cinema on demand. Cert PG
You can end your online searches for "When is Elf on TV?" or "How I can watch Elf this Christmas?", because it's dropping on Sky Cinema on Friday 8 December so you can also watch it on demand again and again. And again. There's a reason it has become a firm Christmas favourite: the childlike wonder of Will Ferrell's performance; jokes that still pop years later; an early Zooey Deschanel role that quickly made it a requirement for her to sing in every future job; themes of family and love; and a plot so delightfully deranged, it could only happen at Christmas. Bliss.
Dance First
Available from Thursday 14 December in Sky Cinema on demand. Cert 12
Directed by BAFTA and Academy Award winner James Marsh (The Theory Of Everything) with a script from BAFTA winner Neil Forsyth (Guilt), Dance First tells the story of iconic 20th-century writer Samuel Beckett. It's a sweeping account of his life, in all its many parts: Second World War resistance fighter, Nobel-Prize winning playwright, philandering husband and recluse. It's told by the people he loved, loathed and lost.
Shazam! Fury Of The Gods
Available from Friday 15 December in Sky Cinema on demand. Cert 12
Shazam! was one of the most surprising superhero films in recent memory, pitching the well-trodden origin story as Big with superpowers. It was a hit, and proved a welcome respite from a world of capes and tight that was getting ever-more-serious by the second. This sequel continues the story of teenager Billy Batson, who yells "Shazam" to transform into a near-invincible adult superhero. This time, he and his "Shazamily" face off against the Daughters of Atlas, played with scene-chewing joy by Helen Mirren and Lucy Liu.
Mummies
Available from Saturday 9 December in Sky Cinema on demand. Cert U
This fun family film tells the story about three Egyptian mummies who live in an underground secret city, hidden in ancient Egypt. But when they end up in present-day London, they embark on a wacky and hilarious journey in search of an old ring belonging to the Royal Family that was stolen. Featuring an impressive voice including Joe Thomas (The Inbetweeners), Eleanor Tomlinson (The Couple Next Door) and Hugh Bonneville (Paddington).
The Unlikely Pilgrimage Of Harold Fry
Available from Sunday 10 December in Sky Cinema on demand. Cert 12
Based on the bestselling book of the same name by Rachel Joyce, this story about ageing and regret is one of those sincere British dramas that toes the line between sadness and joy and feels like it could have only been made in this country. When Harold (Jim Broadband) learns that his old friend Queenie (Linda Bassett) is dying, he vows to walk to her hospice – 724km away. Along the way, he'll encounter a variety of people while reflecting on his life. Broadband shines alongside Penelope Wilton, who plays his wife.
Spider-Man: Across The Spider-Verse
Available from Friday 22 December in Sky Cinema on demand. Cert PG
As big a game-changer in the world of animation as 1995's Toy Story, 2018's Spider-Man: Into The Spider-Verse practically reinvented what an animated movie could look like. It was also arguably one of the best superhero films ever made. That's a high bar for this follow-up that picks up Miles Morales' story as his dimension's one and only Spider-Man. This time, he's pitted against friends and foes as he tries to redefine what it was means to be a hero.
Allelujah
Available from Christmas Eve in Sky Cinema on demand. Cert 12
When the geriatric ward in a small Yorkshire hospital is threatened with closure, the hospital decides to fight back. Based on the stage play by the legendary Alan Bennett, it's a warm and funny story about surviving old age while paying tribute to the ever-growing demands put on medical staff. Jennifer Saunders and newcomer Bally Gill lead an all-star cast featuring Judi Dench, Derek Jacobi and David Bradley.
Silent Night
Available from Saturday 23 December in Sky Cinema on demand. Cert TBC
Get into the seasonal spirit with a festive revenge thriller! Godlock (Joel Kinnaman, Hanna) is injured in a Christmas Eve gang shooting that also kills his young son. Unable to speak because of his wounds, he nonetheless swears vengeance and embarks on a mission to become a ruthless killer. Silent Night marks the Hollywood return of legendary action director John Woo (The Killer, Face/Off) – it's his first American movie in 20 years, and promises to be a refreshing if intense alternative to the usual family-friendly Christmas fare. One for those who insist Die Hard is a Christmas film (because it is).
The Super Mario Bros. Movie
Available from Christmas Day in Sky Cinema on demand. Cert PG
There was a universal truth that movies based on video games would be a guaranteed critical and commercial flop. The charge sheet includes 1993's unhinged live action Super Mario Bros. that took the colourful source material and ran in the opposite direction. Thankfully, the studio behind Despicable Me understood the brief this time around with this faithful adaptation that has already become as loved is its other properties like Minions. Chris Pratt, Anya Taylor-Joy and Jack Black provides the voices.
Polite Society
Available from Friday 29 December in Sky Cinema on demand. Cert 12
If you've never seen Channel 4 comedy We Are Lady Parts, then what are you doing? Go and watch it now. We'll wait. If you've already seen it (or you've just returned), then this is the fabulous directorial debut from its co-creator Nida Manzoor. It follows martial artist-in-training Ria who believes she must save her older sister from her impending marriage by staging an elaborate wedding heist. Constantly creative and very funny, it's not to be missed.
Sisu
Available from Saturday 30 December in Sky Cinema on demand. Cert 15
Imagine Taken. But instead of the protagonist's daughter, it's the gold they take. Incidentally, the "they" in this scenario are the Nazis. That is very loosely the plot in Sisu as a solitary prospector (Jorma Tommila) is robbed during the last desperate days of the Second World War. As with Taken, this is no ordinary miner and he'll do whatever it takes to get his gold back – even if it means killing every Nazi in his path. A unique spin on the revenge story.
Want to know what you might've missed in previous months on Sky Cinema? Catch up on these premieres below...
Sky Cinema movie premieres: November 2023
Magic Mike's Last Dance
Section 8
The Last Rifleman
Big George Foreman
She Came To Me
Palm Trees And Power Lines
Little Dixie
Renfield
Love Again
The 12 Days Of Christmas Eve
Violent Night
Beau Is Afraid
Sky Cinema movie premieres: October 2023
Shrapnel
Cocaine Bear
Mob Land
Unwelcome
The Fabelmans
Champions
Sick
Puss In Boots: The Last Wish
Pearl
The Pope's Exorcist
Retribution
Sky Cinema movie premieres: September 2023
TÁR
Accident Man: Hitman's Holiday
Sharp Stick
Scream VI
80 For Brady
Something In The Dirt
Knock At The Cabin
All My Puny Sorrows
Spin Me Round
God Is A Bullet
Marcel The Shell With Shoes On
Swallowed
65
Assassins Club
Sky Cinema movie premieres: August 2023
I Wanna Dance With Somebody
Assassin
The Harbinger
A Man Called Otto
Biosphere
Dungeons & Dragons: Honor Among Thieves
She Said
Next Exit
M3GAN
Little Dixie
Agent Game
Wifelike
Margaux
Sky Cinema movie premieres: July 2023
The Integrity Of Joseph Chambers
It Is In Us
Black Adam
Broker
Seriously Red
Breaking Point
Armageddon Time
The Locksmith
Babylon
High Heat
The Silent Twins
The Best Man
Sky Cinema movie premieres: June 2023
Bros
Smile
Simulant
The Infernal Machine
The Lost King
A Love Song
Watcher
Paradise Highway
I Love My Dad
Don't Worry Darling
Emily
Linoleum
Sky Cinema movie premieres: May 2023
Ticket To Paradise
Dead Shot
Mrs Harris Goes To Paris
Halloween Ends
Vengeance
Confess, Fletch
Lyle, Lyle, Crocodile
To Catch A Killer
Summering
Sky Cinema movie premieres: April 2023
Emily The Criminal
The Portable Door
DC League Of Super Pets
Beast
Nope
A Good Person
Resurrection
Sky Cinema movie premieres: March 2023
Elvis
Summit Fever
Where The Crawdads Sing
Bodies Bodies Bodies
The Black Phone
Call Jane
Marlow
Minions: Rise Of Gru
Sky Cinema movie premieres: February 2023
Top Gun Maverick
Father Stu
The Railway Children Return
Rock Dog 3
Bullet Train
Lamborghini
Brian & Charles
The Invitation
The Independent
TV channels: Channels, content and features available depend on your chosen package. Channel line-ups and content are subject to change at any time and to regional variations.
HD: HD TV set, V HD Box, TiVo box or Virgin TV V6 connected with HDMI cables required for HD channels. Number of inclusive HD channels depends on package.
Sky Cinema on demand: Sky Cinema subscription required.
TV Go: Content available to view depends on TV package. Not all channels/content from relevant pack available. Live streaming and On Demand requires broadband/WiFi or 3G/4G/5G access. UK only. Access via PC, Mac or TV Go App (selected iOS devices and Android™ devices only). Maximum 5 compatible devices per account can watch TV.
Premium channels (add-ons): 30 days' notice required to remove premium channels/packs.