Skip to main content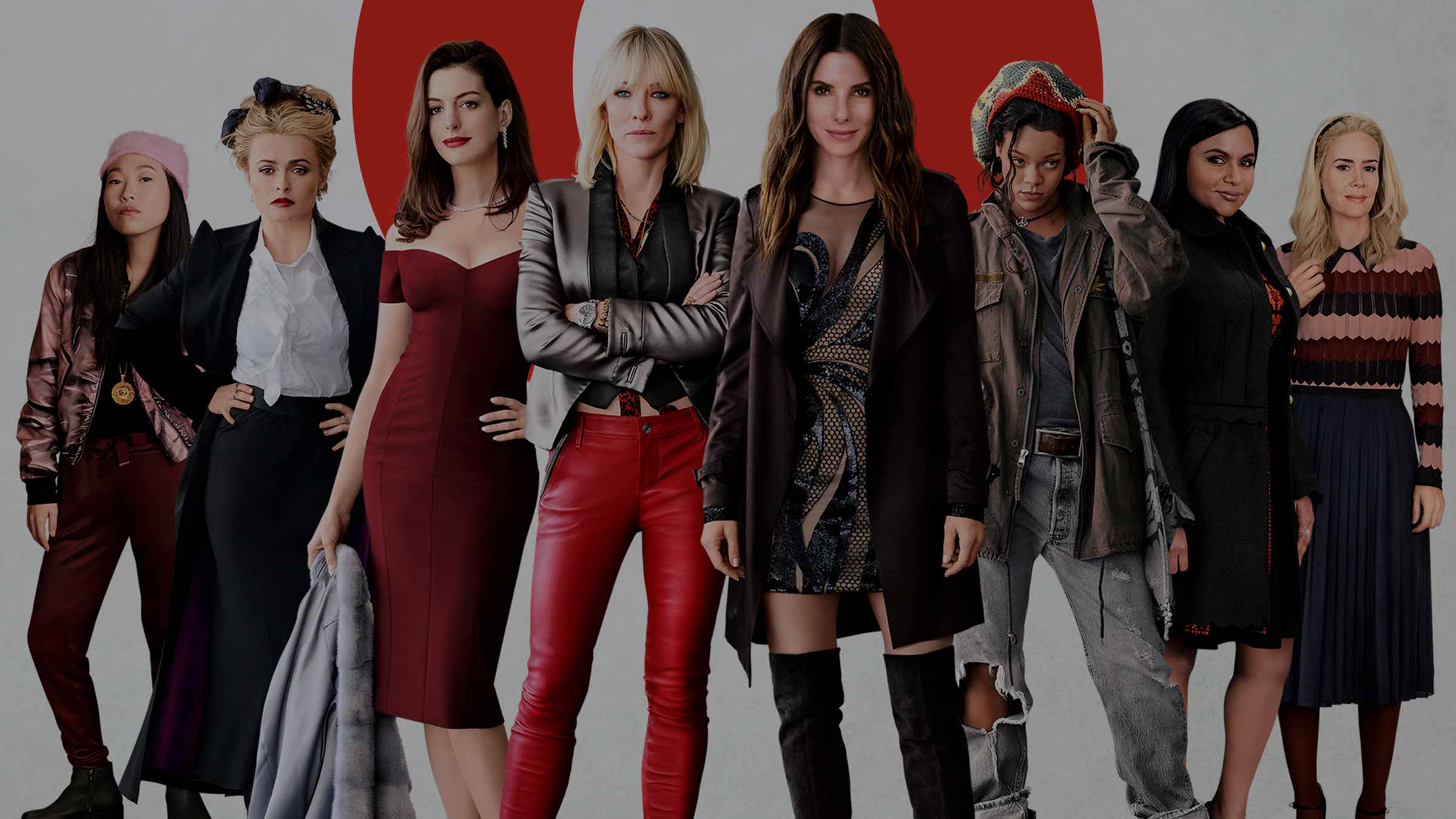 The leading ladies in Ocean's 8 will steal your heart – plus your watch or wallet given half the chance
Ocean's 8, available from Friday 22 February in Sky Cinema on demand. Cert 12. Also available in HD
During her parole hearing, Debbie Ocean (Sandra Bullock, Bird Box) states her desire to lead a low-key, simple life on her release. But let's be honest, with her knack for conning people, just like her brother Danny (George Clooney of the previous Ocean's trilogy), the simple life is not an option.
After convincing the parole board, she sets about putting into motion a plan that took her precisely five years, eight months and 12 days to formulate. But hey, who's counting? She enlists some of the best in the biz to help her steal a $150 million necklace: right-hand woman Lou (Cate Blanchett); hacker Nine Ball (Rihanna), fashion designer Rose (Helena Bonham Carter), jeweller Amita (Mindy Kaling, A Wrinkle In Time), street thief Constance (Awkwafina, Crazy Rich Asians) and Debbie's former partner-in-crime Tammy (Sarah Paulson, American Horror Story).

In case you are counting, that only takes us up to seven. The crucial number eight is the pawn, Daphne Kluger (Anne Hathaway) – actress, socialite and the unfortunate lady on whose neck the Cartier Jeanne Touissant necklace will be at the planned scene of the crime (the Met Gala, of all places).
Ready to get comfy in the company of some seriously cool thieves? If you're still not convinced, here's eight reasons why you need to join the crew…
1. It follows on from the Ocean's trilogy
There's the link between Debbie and Dannie, but the original Ocean's trilogy, led by George Clooney, is more of a guideline for this latest version, released 11 years after Ocean's Thirteen. With an all-female lead cast, Ocean's 8 represents a new breed of heist movie. About time!
2. Director Gary Ross also directed The Hunger Games
Ross co-wrote the screenplay with up-and-coming screenwriter Olivia Milch. While working on The Hunger Games, Ross felt inspired by the strong female lead at the heart of the film and noticed a gap in the market for a female-led heist movie. He said he would only commit to Ocean's 8 if it focused on female characters. #Girlpower!
Also, director Steven Soderbergh and executive producer Susan Ekins, who worked on the previous Ocean's films, served as co-producers on Ocean's 8. #Starpower!
3. The A-list cast are phenomenal – and relatable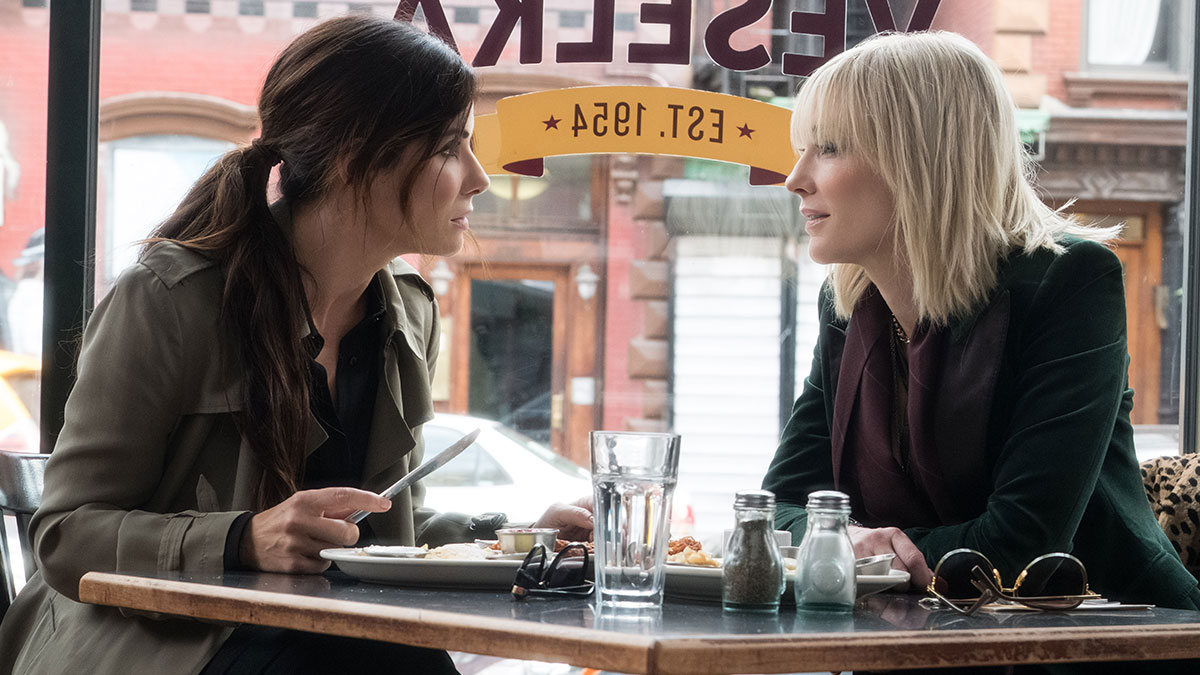 Whether it's Debbie's ingenuity, Lou's entrepreneurial streak or Nine Ball's carefree spirit, you'll find something of yourself and your friends in the gang. And with all that talent on screen, this is one posse you'll be dying to be part of. All of the A-listers bring their A-game, and their adventures (and misadventures) will have you in stitches!
It's impossible to single out just one of the actors, but Hathaway is particularly hilarious as the aloof, self-absorbed Daphne.
4. There's a fair bit of celeb spotting
Also on the cast roster are a whole host of star-studded cameos. That means everyone from Kim Kardashian West, Kendall and Kylie Jenner, Alexander Wang and Tommy Hilfiger to Zac Posen, Maria Sharapova, Serena Williams and Katie Holmes.
Talk about a party. And on set, it literally was! Food and a bar were provided to keep the celebs entertained before, in-between and after their takes, which were filmed in 30-minute slots – not a bad gig for the first timers!

5. The fashion is divine
The trailer alone offers a glimpse at the wardrobe collection of dreams featured in the film. Costume designer Sarah Edwards made sure to give each character clothes befitting their personality and style, and is responsible for all of your outfit envy. Dibs on Lou's green sparkly jumpsuit!
In a film in which everything happens so quickly, this is especially handy, as you can easily identify each character by their signature look. But don't worry, you can always hit pause to freeze the action and make a note of the items you'll add to your shopping list later…
6. The bling is even more divine
The bling. We can't forget the bling. It'd be pretty hard to anyway, as the gigantic diamonds draped around Daphne's neck are impossible to miss. The magnificent piece actually has a real-life, unnamed counterpart designed by Jacques Cartier for the Maharaja of Nawanagar in 1931.
A design of the original was used to craft the one featured in Ocean's 8, complete with zirconium oxides rather than diamonds. Oh well, at least the film's Cartier Mansion scenes were filmed at the real thing in New York – and it's just as luxurious (and sparkly) as you'd expect.
7. It recreates the Met Gala!
The annual fundraising event for the Metropolitan Museum of Art's Costume Institute is one of the biggest nights in the fashion calendar. The theme reveal is always eagerly awaited, as are the fashion choices it inspires.
For his recreation, Ross reportedly paid $1 million to film inside the museum, and even enlisted the help of the Met Gala's caterers. No detail was spared!
8. The ending is open to interpretation
From the beginning of the film (and this is not a spoiler), Debbie alludes to the death of her brother Danny. What? Renowned conman Danny Ocean – dead? Surely not! The end of Ocean's 8 will probably leave you with more questions than answers, but let's just say there might still be hope for a Debbie/Danny reunion…

Find out what's on Sky Cinema
Get even more lights, cameras and action with our movie homepage, featuring all the daily premieres and more of the thousands of films available on demand on Sky Cinema.


Watch on the go
If you subscribe to Sky Cinema on Virgin TV, you can watch on the go with the Sky Cinema app on your mobile, laptop or tablet anywhere in the UK (or while temporarily in the EU) with a WiFi or broadband connection. Just download from the Apple app store, Google Play or the Amazon appstore and log into the app to start watching.
Upgrade to Sky Cinema now
Don't have Sky Cinema? You can find out about our Sky Cinema package and upgrade here.
TV channels: Channels, content and features available depend on your chosen package. Channel line-ups and content are subject to change at any time and to regional variations.
Sky Cinema HD: Sky Cinema Premiere +1 not available in HD.
Sky Cinema app: Only available via the Sky Cinema websites or apps (for selected iOS and Android mobiles and tablet) to customers who subscribe to these channels. Only available on iOS 8 and above, and Android 4.x. Selected content may not be available to view. Separate terms and conditions apply to the Sky Cinema apps and websites.