Skip to main content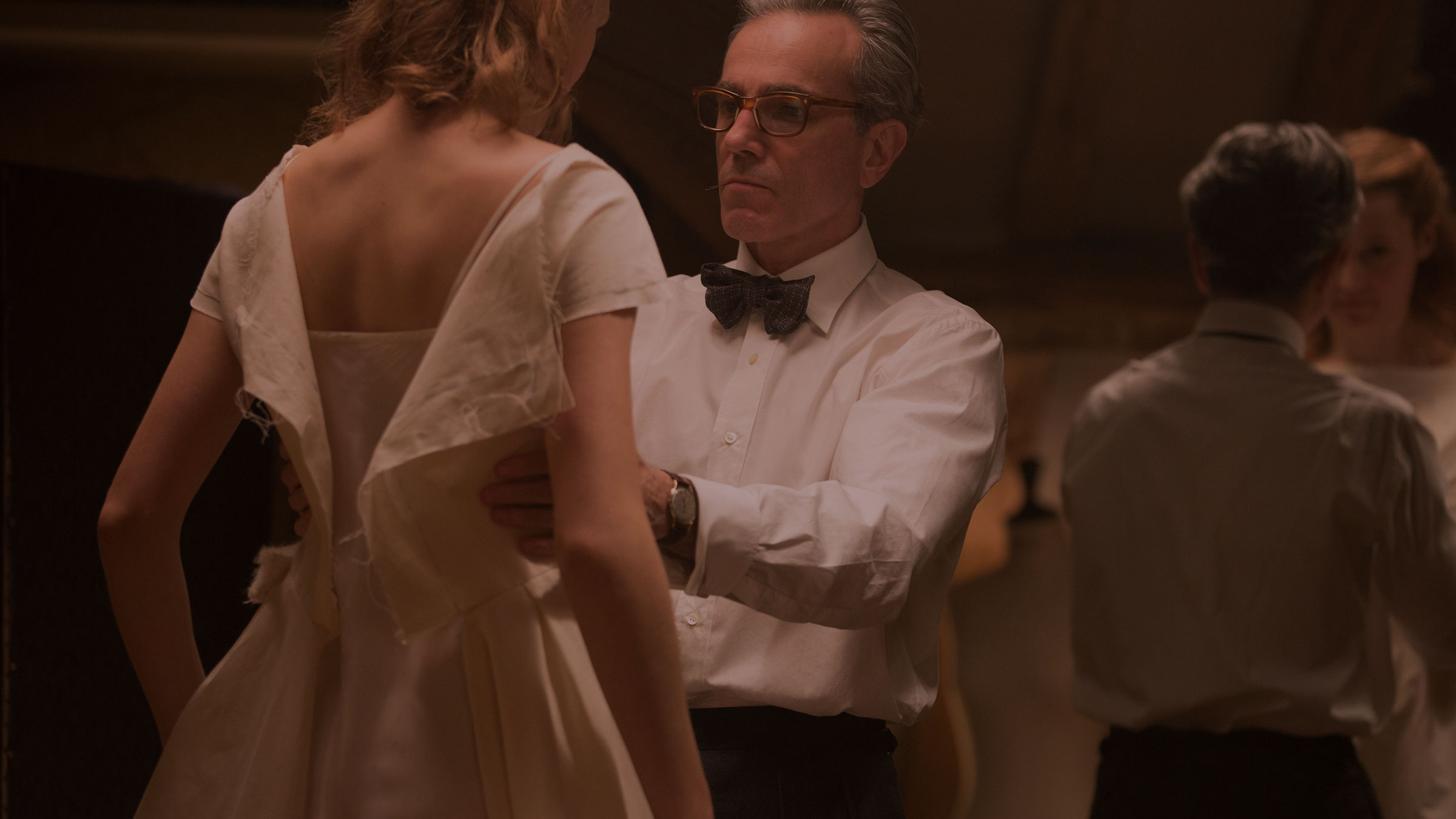 This hauntingly beautiful movie weaves the story of Reynolds Woodcock (Day-Lewis) and the ties that bind him to his muse…
Available from Sunday 28 October in Sky Cinema On Demand
In 1950s London, acclaimed dressmaker Reynolds and his sister Cyril (Lesley Manville) design outfits for the most well-to-do people. In his spare time, Reynolds enjoys life as a busy bachelor; entertaining a series of women, but never committing to a long-term relationship.
Until, that is, he meets Alma (Vicky Krieps). She's a waitress in a café, but Reynolds elevates her to the same status as his glamorous clients, designing beautiful clothes for her to wear. However, what looks like the beginning of a glorious garment design partnership soon starts to unravel…

Directed by Paul Thomas Anderson (There Will Be Blood, The Master), this is a captivating study of love, obsession and couture. Here we unpick the five reasons why you should pull on Phantom Thread's plot lines…


1. It's definitely Day-Lewis' last ever film… probably
Do you need more of a reason?! At the 2013 Academy Awards, Day-Lewis became the first three-time recipient of the Best Actor Oscar. But now he's depriving the world of his talent by going into retirement, something he decided while filming Phantom Thread. It's a shame for audiences, but he's always taken a wholehearted approach to acting that must take its toll.
And this film is no exception. To prepare for his role as Reynolds, Day-Lewis studied as an apprentice with the head of the costume department at New York City Ballet, sewed a Balenciaga dress and gave input into what he wore and designed in the film. He was so invested he even chose his character's name. However, he did quit acting once before in the late 1990s, so anything is possible…
2. The clothes – oh, the glorious clothes!
The attention to detail in the movie's clothes is remarkable. Some of the people who work for Reynolds in the film are real-life seamstresses, lending an air of authenticity to the film. Reynolds' own preferences when designing them are exposed down to the tiniest minutiae, too, as we see him hiding things in the linings of garments, including secrets, coins, words and little messages.
As for Reynolds's blazer/lavender pyjamas combo? That's a Day-Lewis original. Isn't that what everyone wears to bed?
3. The on-screen chemistry sizzles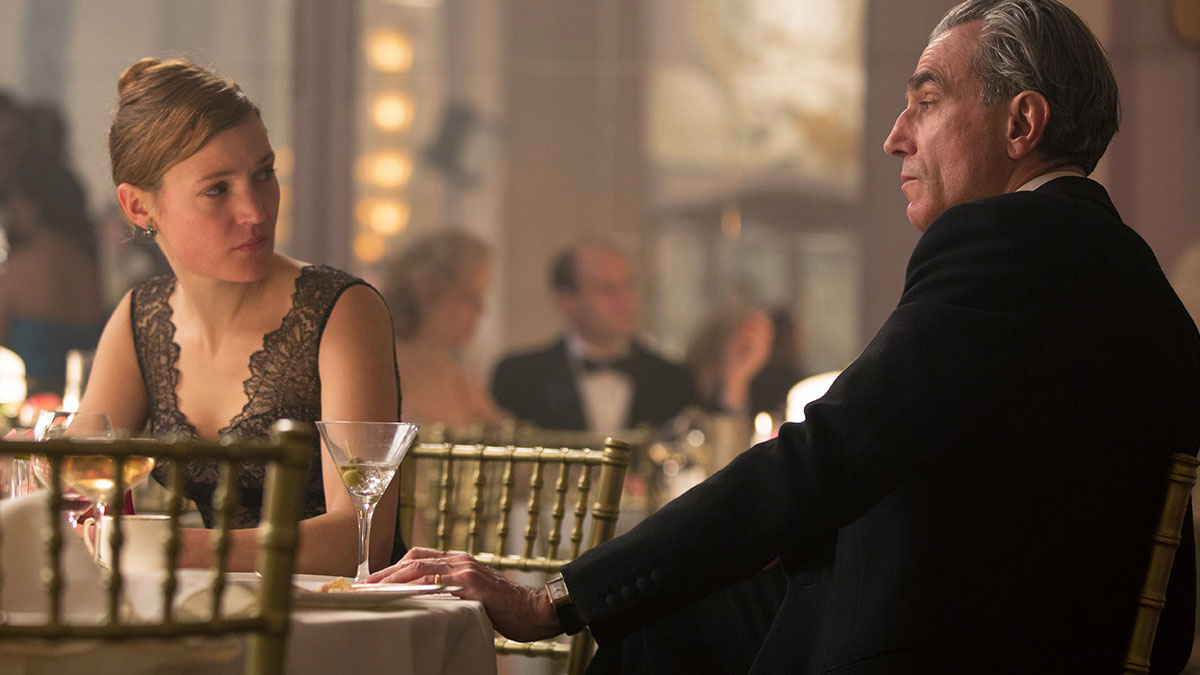 Day-Lewis' stoicism and intensity as Reynolds are counterbalanced by Krieps' bashful naïvety and quiet confidence as Alma. Their characters can't seem to live with each other or without each other. Day-Lewis insisted that Krieps met him for the first time in character on set, making the blush-worthy tension and unwavering eye contact between the two all the more mesmerising to watch. They carry the film the whole way through – and are a movie match made in heaven.
4. It offers excellent advice on how to avoid morning conflicts
Reynolds likes to work all hours of the day, fitting in sketches whenever he can, and to be constantly sleep-deprived in order to be as productive as possible. It becomes apparent early on in the film that Reynolds does not like to be disturbed during breakfast and he despises any crunching or chomping noises.
Cyril warns Alma about Reynolds' foibles as she noisily scrapes her toast – a woman that Reynolds was seeing before didn't last long, she says, because she dared to start a conversation with him at breakfast. His response? "I cannot begin my day with a confrontation. I can't take up space with a confrontation. I simply don't have time for confrontations." If anyone confronts you before you've had your breakfast, simply berate them with this line…
5. Food isn't just food
Without stating it explicitly, Phantom Thread is pretty clear about Reynolds and Alma's appetite for each other and what it says about them. Alma is often shown preparing fresh mushrooms that she's picked, but she has to flick through a book to determine which ones are edible and which are poisonous. Reynolds's tastes on the whole are… particular, to put it mildly. To tease one heated dinner-table debate, Reynolds sees butter as bad. Very, very bad.

Find out what's on Sky Cinema
Get even more lights, cameras and action with our movie homepage, featuring all the daily premieres and more of the thousands of films available on demand in Sky Cinema.



Watch on the go
If you subscribe to Sky Cinema on Virgin TV, you can watch on the go with the Sky Cinema app on your mobile, laptop or tablet anywhere in the UK (or while temporarily in the EU) with a WiFi or broadband connection. Just download from the Apple app store, Google Play or the Amazon appstore and log into the app to start watching.
Upgrade to Sky Cinema now
Don't have Sky Cinema? You can find out about our Sky Cinema package and upgrade here.
TV channels: Channels, content and features available depend on your chosen package. Channel line-ups and content are subject to change at any time and to regional variations.
HD: HD TV required to view HD channels. Number of inclusive HD channels depends on package.
Sky Cinema HD: Sky Cinema Premiere +1 not available in HD.
Sky Cinema app: Only available via the Sky Cinema app (selected iOS and Android devices only) or website to customers who subscribe to these channels. Only available on iOS 8 and above, and Android 4.x. UK only (or while temporarily in the EU). Maximum 2 devices. Selected content may not be available to view. Separate End User Licence Agreements and terms and conditions apply to the Sky Cinema app and website.