Skip to main content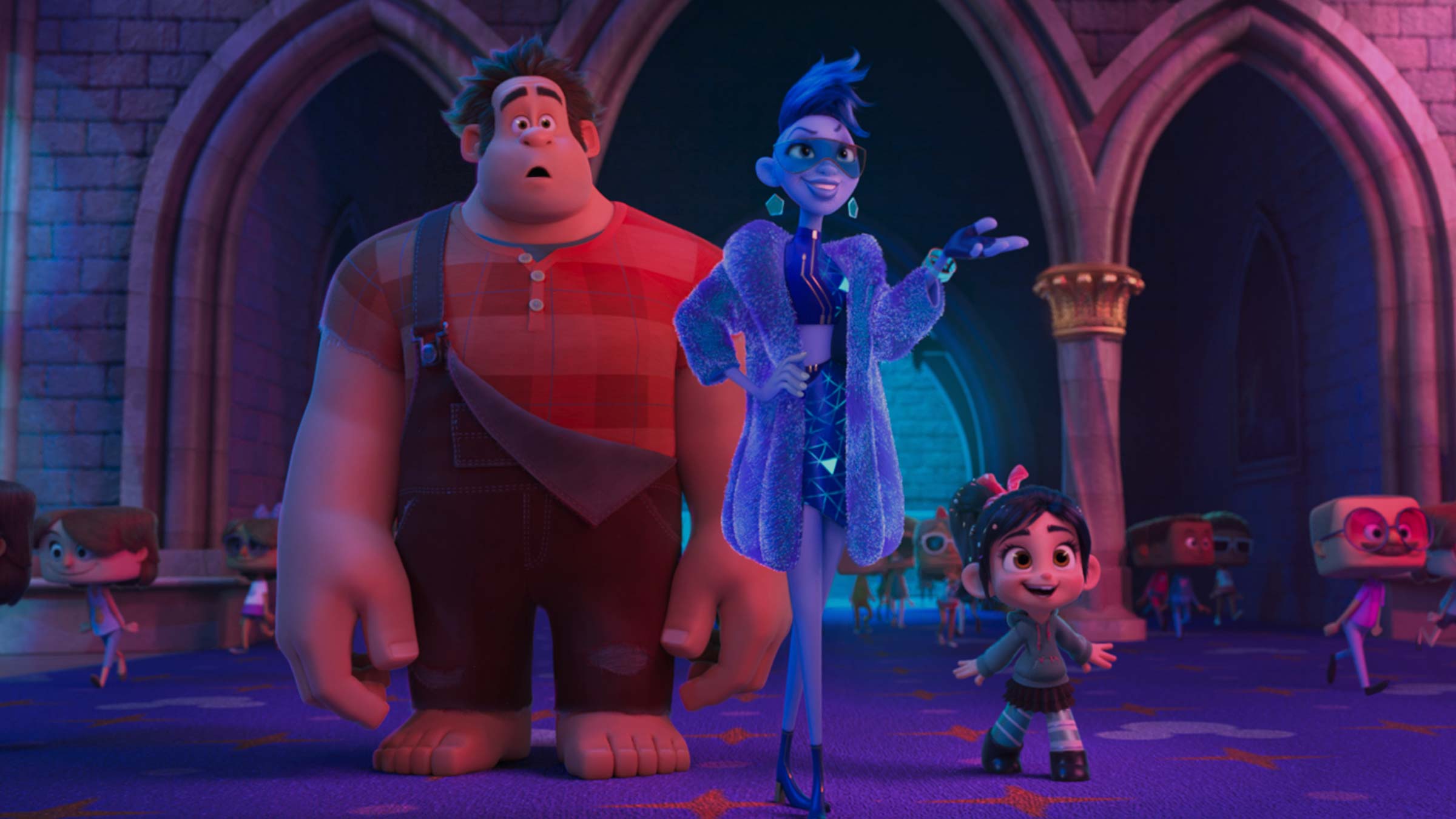 Following on from 2012's Wreck-It Ralph, the titular video game character and his trusty sidekick Vanellope von Schweetz are back to wreck, er break, the internet
Ralph Breaks The Internet + Digital Bonus, available to buy on the Virgin Media Store. Cert PG
If we learned anything from Wreck-It Ralph, it's that you don't want to have your game unplugged. The Wreck-It Ralph arcade game came close in the first film when Ralph (voiced by John C Reilly) went AWOL as he tried to turn his bad-guy image around. Thankfully things are back to normal (as normal as life in an arcade game universe can be, that is) but it's not long before another permanent "game over" is looming, putting Ralph's friend Princess Vanellope von Schweetz (Sarah Silverman) in serious danger.
A broken steering wheel on the arcade racing game Sugar Rush means it's next in line to be unplugged; taking the game world and von Schweetz along with it. When a crazy, newfangled thing called WiFi is introduced at the arcade, Ralph and Vanellope go on a web-surfing adventure in a bid to find a replacement for the broken wheel. First stop, eBay!

This is one cybertastic sequel, complete with viral videos, cruel social media comments and recognisable websites. And, like in the first film, there are loads of seriously laugh-out-loud cameos, with the best being a group of Disney princesses with whom Vanellope develops a royally tight bond, even though she prefers "president" to "princess."
The sweet and silly relationship between gentle giant Ralph and the glitchy, feisty Vanellope continues to delight. In their mission to obtain a new steering wheel, they get sidetracked… a lot. Along the way, the duo discover Slaughter Race, a multiplayer racing game that's just slightly more dangerous than the deceptively saccharine world of Sugar Rush. The game's star racer is Shank, voiced by none other than Wonder Woman's Gal Gadot!
With the internet a major feature of the movie, it makes sense that pretty much every scene is GIF-worthy. The best one is Ralph feeding a bunny in a game stacks and stacks of pancakes. Go on, Google it…

But wait, there's even more on the Virgin Media Store!
For more heroes, each in their own right, check out another killer sequel and the retelling of an old tale below.
Creed II
Creed II, available to buy on the Virgin Media Store. Cert 12
Ding, ding, ding! Round two! Michael B Jordan steps back into the ring as Adonis Johnson, son of former US champion Apollo Creed. Apollo was killed in 1985 by Russian boxer Ivan Drago during a match. Now, his son is challenging Adonis to a fight, and he accepts, against the wishes of his trainer Rocky Balboa (Sylvester Stallone).
While the action and adrenalin of the boxing is still all there, Creed II also incorporates the emotional side of the sport. With a lot more at stake for Adonis this time around, his family's legacy is on the line. But will thoughts of his late, great father help or hinder him when it matters the most? Also, expect many, many more montages – it's what we all want, right?
Robin Hood, available to buy on the Virgin Media Store. Cert 12
Join Taron Egerton as Robin Hood (but not as you know him) as he takes from the rich and gives to the poor. Robin of Loxley returns from fighting during the Third Crusade with a new outlook on life. Despite his own affluent background, his experience of war taints him beyond repair. With the help of Moorish commander, Little John (Jamie Foxx), he starts his very own war back home.
The film also stars Jamie Dornan as Robin's love rival for Marian (Eve Hewson, Bridge Of Spies) and Ben Mendelsohn as Nottingham's scheming sheriff. Watch for Egerton's role reversal from his Kingsman character, as he takes aim with slow-mo, super impressive archery moves. This is one thief who's far from walking the straight and narrow, instead relying on his trusty bow and arrow.

Not heard about the Virgin Media Store?
It's the place where you can buy the latest and greatest movies and TV Box Sets, yours to watch again and again, at home or on the go. Sign up now at virginmediastore.com, choose from hundreds of films and TV Box Sets and start watching instantly.
Enjoy your purchases on your Virgin TV Box (TiVo®/V6), online, or on your registered iOS and Android devices with the Virgin Media Store app.
Show me the latest releases on the Virgin Media Store.
Virgin Media Store: Separate terms and conditions apply to the Virgin Media Store service. DVD included for movie purchases only. Purchases must be made on the website or set top box. Virgin TV subscription and our latest Virgin TV V6 box required to buy and watch via set top box – Store is not available on other boxes. Compatible device & browser required. Max 5 registered devices. Max 2 devices can stream content simultaneously. Stream and download in UK only (or while temporarily in the EU).