Skip to main content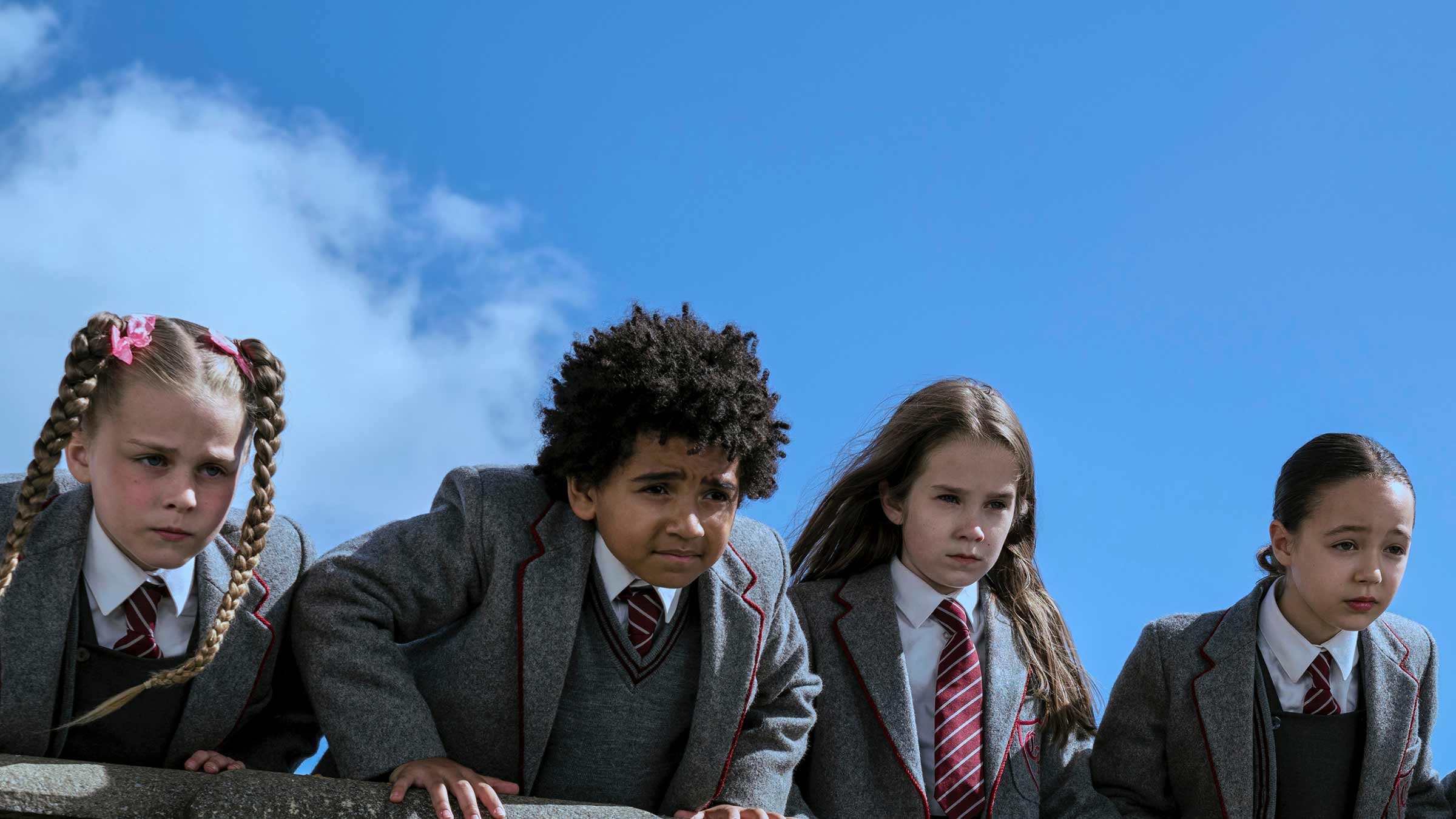 An inspiring story of rebellion with brilliant songs and a touch of magic – this fantastic new release is available to buy now from Virgin Media Store
By Virgin TV Edit
It's the wondrous story of a little girl who fights back against neglect and cruelty with the help of books, supernatural powers and one very sweet schoolteacher. Roald Dahl's Matilda The Musical topped the UK box office when it was released in cinemas in November – and you can watch it in the comfort of your own home when you buy or rent it via Virgin Media Store.
Roald Dahl's Matilda The Musical is the big-screen adaptation of the smash hit West End musical of the same name (which was itself based on Roald Dahl's classic 1988 children's book). Newcomer Alisha Weir stars as the titular Matilda Wormwood, a bright schoolgirl who is resented and bullied by her nasty parents, played by Stephen Graham (Boiling Point) and Andrea Riseborough (The Electrical Life of Louis Wain).

When Matilda is sent to a new school ruled with an iron fist by terrifying headmistress Miss Trunchbull (portrayed by British acting royalty in the shape of actual Emma Thompson!), she also finds the support and kindness of her teacher Miss Honey (Lashana Lynch, No Time To Die). Thanks to her boundless imagination, newly discovered telekinetic powers and unabashed naughty streak, Matilda starts resisting the closed-minded grown-ups in her life – with magical, uplifting and hilarious results.
Roald Dahl's Matilda The Musical is directed by Matthew Warchus, with a screenplay by Dennis Kelly and music by Tim Minchin (creators of the award-winning stage musical). With dazzling dance numbers, brilliant songs and a phenomenal performance from Thompson, it's no surprise that the film has received rave reviews from critics.
You can buy Roald Dahl's Matilda The Musical (cert PG) from 8 February 2023 on Virgin Media Store and rent it from Monday 20 February. If you have a TiVo® box or Virgin TV V6 box, powered by TiVo®, go to On Demand > Movies. If you have Virgin TV 360 box or Stream, go to Box Sets & Movies > Store. You can also buy the sing-along version of the movie for extra family fun!
Thanks to Virgin Media Store, you can see the biggest releases in the comfort of your own home with a couple of clicks. Watch whatever you fancy, whenever!
Haven't signed up to the Virgin Media Store?
It's the place where you can buy the latest and greatest movies and TV Box Sets, yours to watch again and again, at home or on the go. Sign up now at virginmediastore.com, and go to On Demand > Movies to choose from hundreds of films and TV Box Sets and start watching instantly.
Enjoy your purchases on your Virgin TV Box (TiVo®/V6/Virgin TV 360). Or you can access online and on your registered iOS and Android devices with the Virgin Media Store app.
You can also rent the latest films
If you have a TiVo® box or Virgin TV V6 box, powered by TiVo®, go to On Demand > Movies. If you have Virgin TV 360 box, go to Box Sets & Movies > STORE.
Search for a title, or browse by category such as Out This Week, Best Sellers or Collections. Once you've found the movie you want to rent, select Watch now to start watching instantly. Then, sit back and enjoy! You'll have up to 48 hours to finish watching your film.
Virgin Media Store: Separate terms and conditions apply to the Virgin Media Store service. Purchases must be made on the website or set top box. Virgin TV subscription and our latest Virgin TV V6 box required to buy and watch via set top box – Store is not available on other boxes. Compatible device & browser required. Max 5 registered devices. Max 2 devices can stream content simultaneously. Stream and download in UK only (or while temporarily in the EU).
Virgin TV 360 Box: Minimum of M50 Fibre Broadband required for operation. Boxes require a HDMI cable to connect to your TV.
© 2022 Columbia TriStar Marketing Group, Inc. All Rights Reserved.