Skip to main content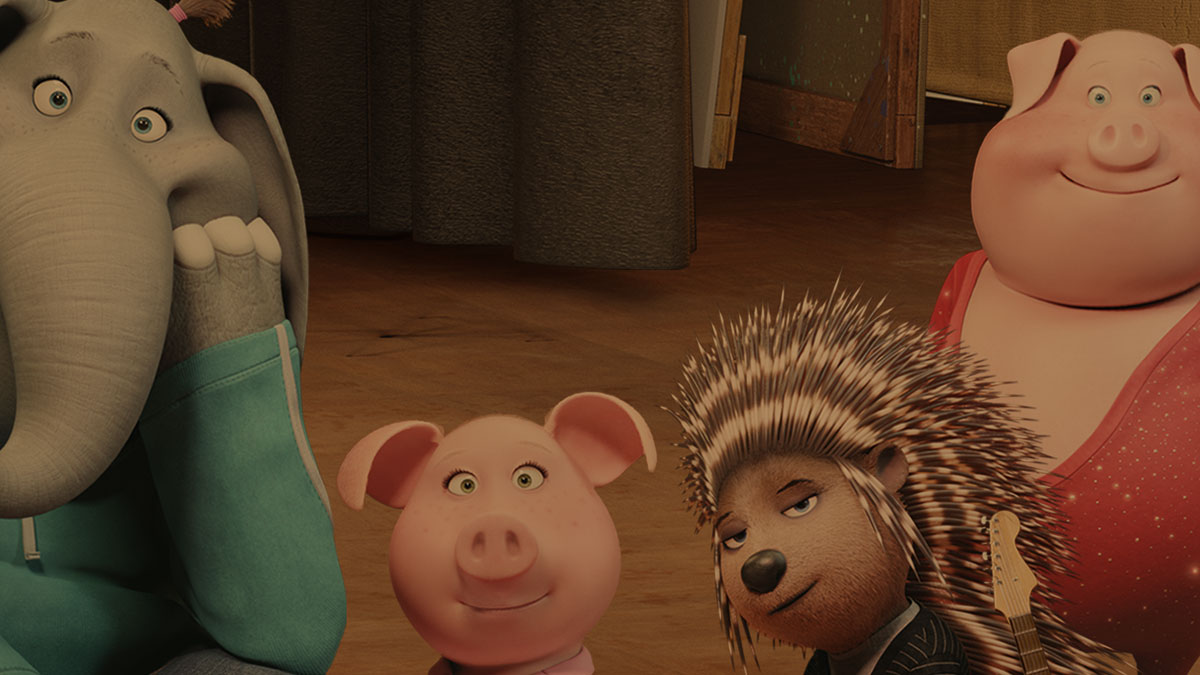 Warm up those vocal chords and shake off those jazz hands because this musical animation will have you singing your heart out
Sing available in Sky Cinema on demand. Cert U. Also available in HD
From the makers of Despicable Me and Son Of Rambow, it follows the tale of a koala called Buster (voiced by Interstellar's Matthew McConaughey) who holds a glitzy singing competition in an attempt to stop his theatre from being shut down. Enter a medley of hopeful animals voiced – and sung – by a cast starrier than a clear night sky. Check out the trailer below and read on for our reasons why you should join the fun...
Watch the trailer below...

1. Sing's got the X fact-fur!
Love reality TV music competitions but feel like the format could do with a little something? A little something more… animated and… animally? Of course you do, and Simon Cowell will be kicking himself that he didn't think of this first. In Sing, Buster offers a prize of $1,000 to the winner of his competition, but his elderly iguana assistant accidentally adds two zeros to the figure on promotional posters. So very Louis Walsh.


2. It's more uplifting than a hot air balloon on a trampoline
Wait, does that…? Never mind. No matter what your species, you'll be moved by Sing. Having come from varied backgrounds and having all faced challenges just to get to the competition, the colourful cast of critters encourage us all to get over our fears and keep trying, even when the odds are stacked against us.


3. The soundtrack will be a hit with the whole family
We don't think anything unites the family more than a singalong, as any parent who's ever taken a long car journey with the kids will testify. And this movie has a number for everyone, whether it's Taylor Swift's "Shake It Off", Gipsy Kings' "Bamboléo" or Elton John's "I'm Still Standing".


4. It's got some seriously cool credentials
As one half of production duo Hammer & Tongs, Sing director Garth Jennings is responsible for loads of cool music vids, such as Blur's "Coffee & TV", Radiohead's "Lotus Flower" and Vampire Weekend's "Cousins". Remember that when you're singing along to Taylor Swift during Sing.


5. The voice cast is music to your ears
With more celebs on the payroll than you can shake a conductor's baton at, you'll have fun playing the "guess the voice" game. It has no less than three Oscar winners and even the supporting roles are filled by some of our favourite stars, including John C Reilly (Kong: Skull Island), Jennifer Saunders (Absolutely Fabulous) and Nick Offerman (Parks And Recreation).


Click/hover on the picture below to check out the main guys...
Watch on the go
If you subscribe to Sky Cinema on Virgin TV, you can watch on the go with the Sky Cinema app on your mobile, laptop or tablet anywhere in the UK with a WiFi or broadband connection. Just download and log into the app to start watching.
Watch Sing in Sky Cinema on demand. Cert U. Also available in HD
Sky Cinema on demand: Sky Cinema Premiere +1 not available in HD.
Sky Cinema app: Only available via the Sky Cinema website or app (for selected iOS and Android mobiles and tablets) to customers who subscribe to these channels. UK only. Maximum 2 devices. Sky Cinema app only available on iOS 8 and above, and Android 4.x. Selected content may not be available to view. Separate End User Licence Agreements and terms and conditions apply to the Sky Cinema app and website. Live streaming and On Demand available in UK with broadband, WiFi or 3G. TiVo tools for TiVo customers only. Minimum 800 kbps recommended per device accessing the service. Maximum of 2 devices per account can watch up to 2 concurrent streams at any time. Customers also need an active 3G/4G or WiFi signal to use the app.