Skip to main content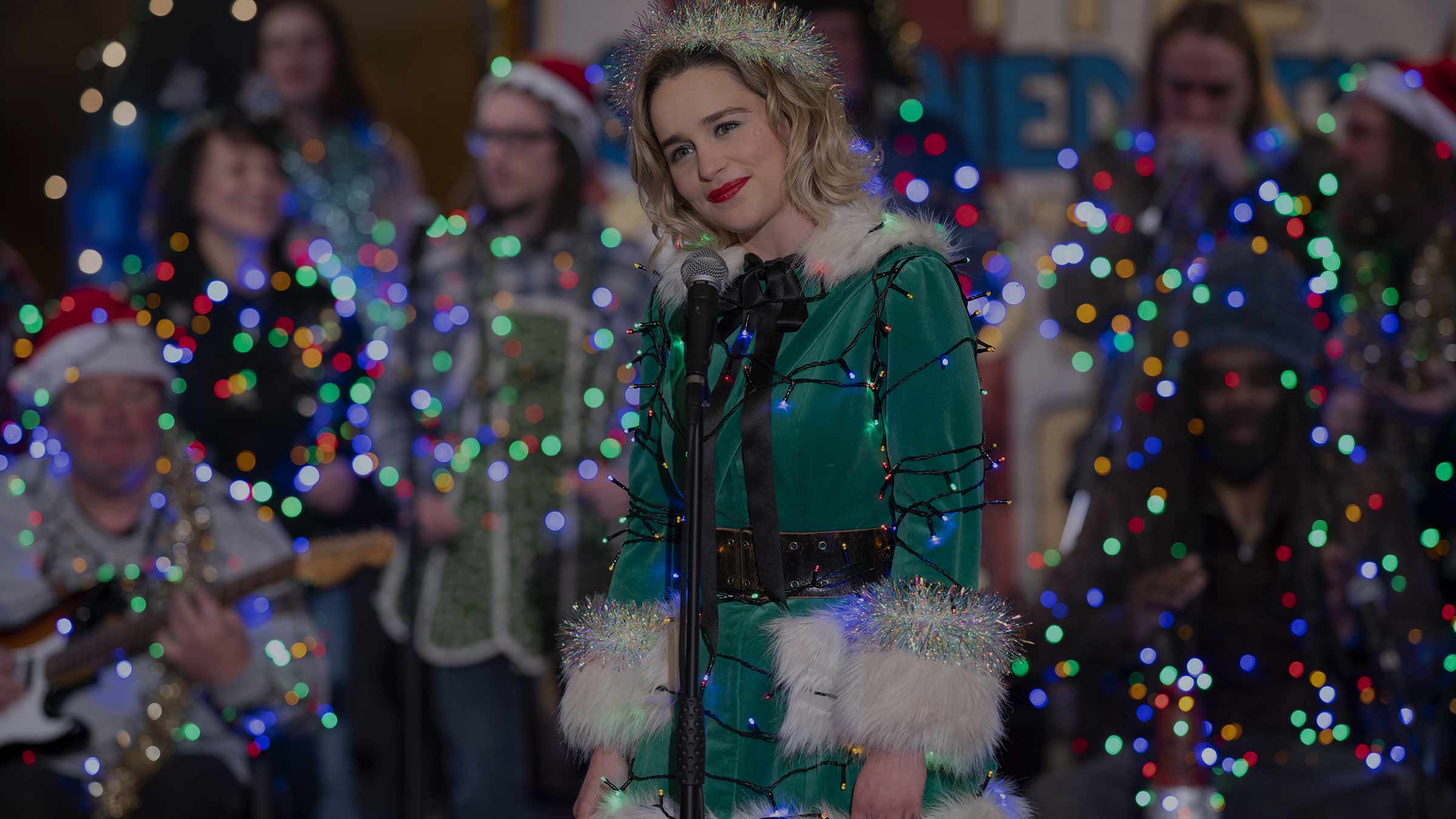 (Noddy Holder voice) "IT'S CHRISTMAAAAAAS!" Well, not quite yet, but if you count down with these films, hopefully the big day will come quicker!
By Laura Rutkowski, Staff Writer
Whether you're the type of person to start watching Christmas movies in September (hey, no judgements here, especially this year), or wait until the week of the 25th, everyone has their own watching routines when it comes to the festive period.
Whether you want to kick back and relax with something traditionally Christmassy, like It's A Wonderful Life, or a modern movie, like Last Christmas, check out our round-up of the best festive flicks on Sky Cinema this December. They will keep you entertained all month long, but which one to unwrap first?
Available in Sky Cinema on demand. Cert 12
Inspired by the music of George Michael and based on Wham!'s song "Last Christmas," the film follows Katarina "Kate" Andrich (Emilia Clarke, Game Of Thrones). The aspiring singer works as an elf at a year-round Christmas shop in London, and one day she meets a man named Tom Webster (Henry Golding, Crazy Rich Asians) outside. She forms a special relationship with Tom, who helps her snap out of her bah humbug spirit. Bridesmaids' Paul Feig directed, while Bryony Kimmings, Emma Thompson (who also stars as Kate's mother) and her husband Greg Wise co-wrote this modern Christmas movie.

2. Surviving Christmas
Available in Sky Cinema on demand. Cert 12
Ben Affleck flexes his funny bone as the wealthy Drew Latham, who doesn't have anyone to spend Christmas with. When he starts recollecting holidays from his childhood, he visits the home he grew up in, only to find another family living there. He offers the residents, Tom Valco (James Gandolfini, The Sopranos) and his wife Christine (Catherine O'Hara, Schitt's Creek), payment in exchange for their company – and moves in. When their daughter Alicia (Christina Applegate, Dead To Me) arrives, Drew wants her to play happy families too.

3. Love Actually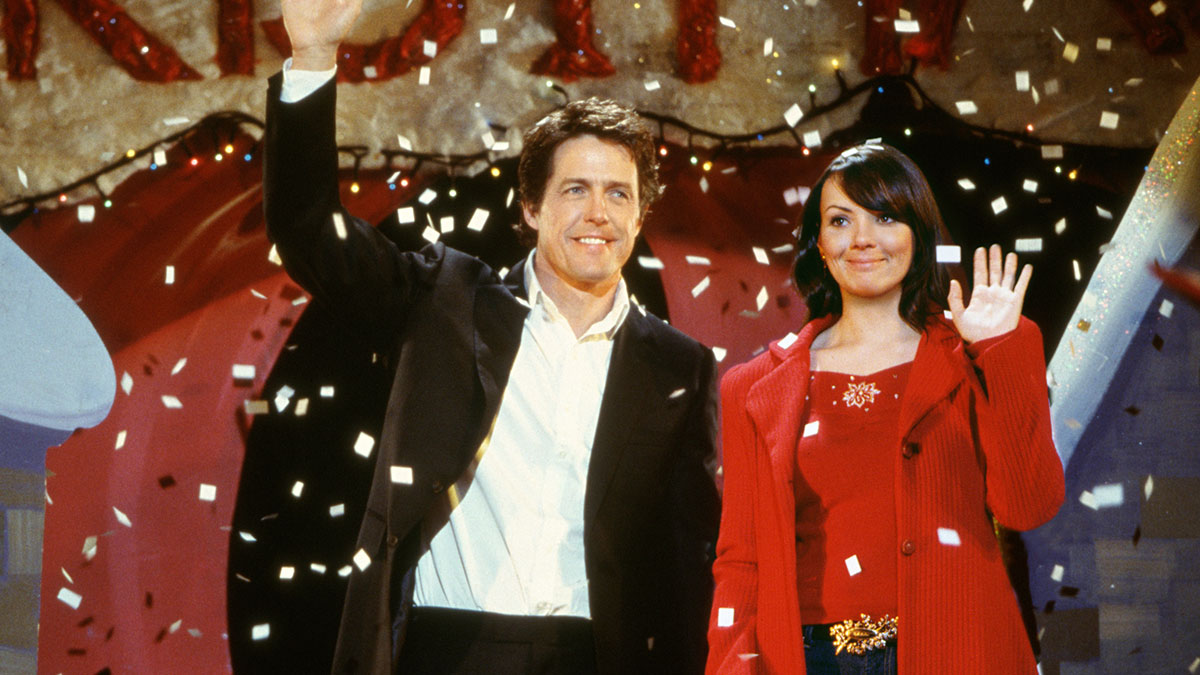 Available in Sky Cinema on demand. Cert 15
It just wouldn't be Christmas without Love Actually! Following nine intertwining love lives in the run-up to Christmas, Love Actually is actually the anti-romantic's romantic comedy, with relationships forming, breaking apart, sputtering out and, in some cases, not even starting. All of this is portrayed by the cream of early noughties British acting talent in Richard Curtis' charming film.

4. Scrooged
Available in Sky Cinema on demand. Cert PG
With the help of Bill Murray, Charles Dickens' A Christmas Carol receives a modern retelling. Murray stars as Frank Cross, a self-centred television executive who is visited by the ghosts of the past, present and future after firing a colleague on Christmas Eve. Frank's miserly ways have also led him to drive away the affections of Claire Phillips (Karen Allen, Raiders Of The Lost Ark), but is it too late for a Christmas miracle?

5. Bad Santa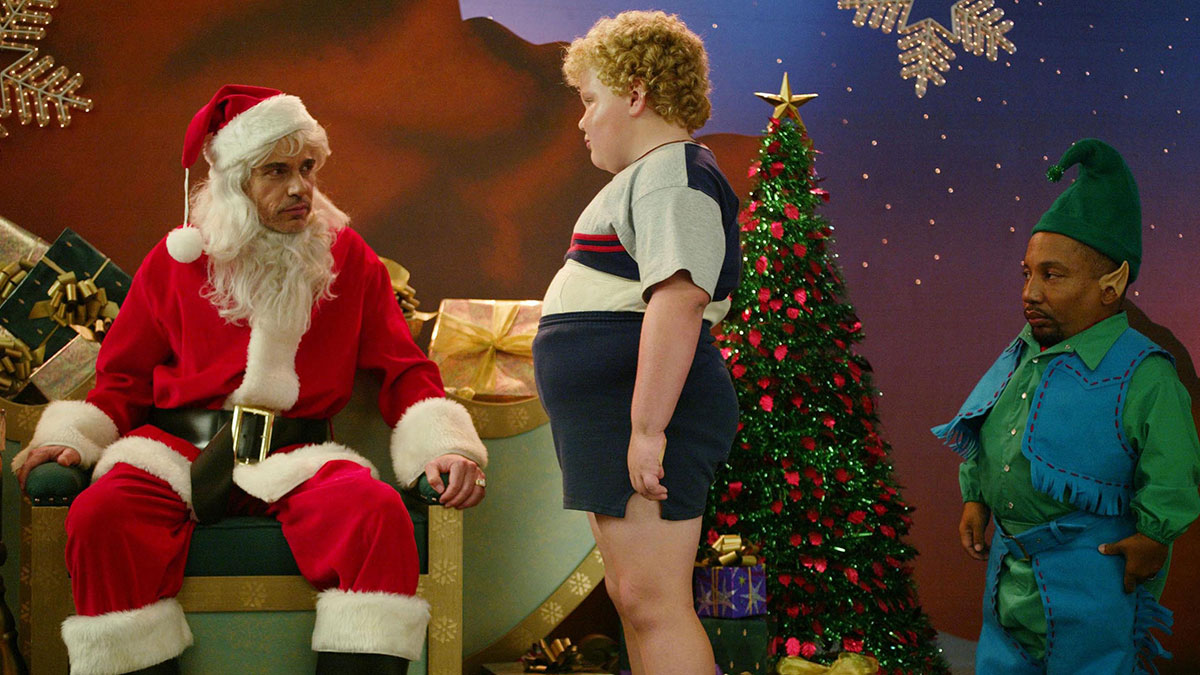 Available in Sky Cinema on demand. Cert 15
If you find most Christmas films a bit too cute, this is the perfect antidote. Billy Bob Thornton is Willie, the world's most foul-mouthed department store Santa Claus. Aided by elf-slash-accomplice Marcus (Tony Cox, Me, Myself & Irene), they rob shopping malls at night under a red-and-green guise. The naughty list? They're at the top of it!

6. The Holiday
Available in Sky Cinema on demand. Cert 12
Two broken-hearted women swap homes for two weeks over Christmas. Iris (Kate Winslet) is still in love with her awful ex (Rufus Sewell) and Amanda (Cameron Diaz) has just broken up with her cheating boyfriend. Iris moves into a gorgeous LA mansion and meets Amanda's kind composer friend Miles (Jack Black), while Amanda heads to a Cotswold country cottage and bumps into Iris' dishy brother Graham (Jude Law). Cue romance, and interiors inspiration.

7. Jingle All The Way
Available in Sky Cinema on demand. Cert PG
Jingle All The Way is a slapstick seasonal masterpiece, pitting Arnold Schwarzenegger's workaholic dad Howard Langston against stressed-out postal worker Myron Larabee (90s comedian Sinbad). In a rapidly paced race against time, the fathers both attempt to buy a coveted action figure for their sons for Christmas in a display of consumerism (and comedy) at its finest.

8. It's A Wonderful Life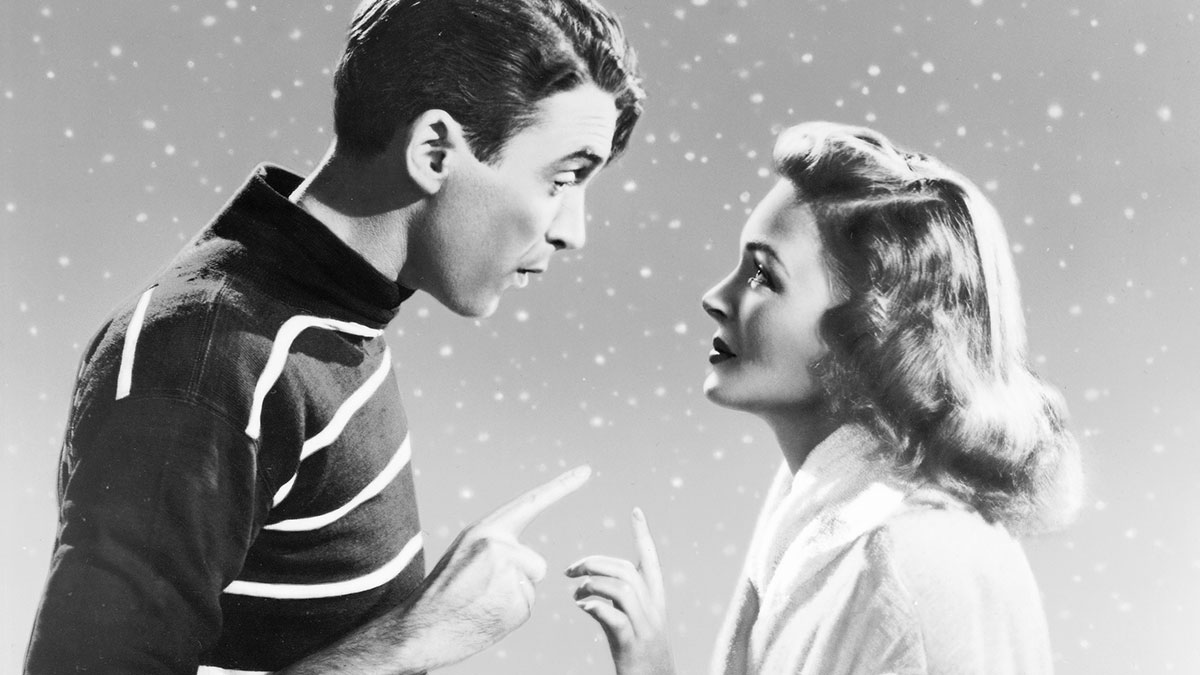 Available in Sky Cinema on demand. Cert PG
As George Bailey (James Stewart) contemplates ending his life, his guardian angel Clarence (Henry Travers) shows him the massive ripple effect on George's small town if he hadn't been around. The message of It's A Wonderful Life takes on an even more poignant meaning when you know the backstory. It was the first film director Frank Capra made after serving in the Second World War and he wanted to celebrate the lives of ordinary Americans. Stewart also served during the war and returned with post-traumatic stress disorder. Making the film proved to be therapeutic for him, while it's become a festive favourite for us.

9. The Polar Express
Available in Sky Cinema on demand. Cert U
Chris Van Allsburg's children's book comes to life in Robert Zemeckis' motion-capture triumph. On the night of Christmas Eve, a boy questions his belief in Santa Claus. As he tries and fails to fall asleep, a steam locomotive arrives outside and he hops aboard the Polar Express as it embarks for the North Pole. Tom Hanks takes on many roles in this adventure that will convert even the most hardened sceptics into believers.

10. Miracle On 34th Street (1947, 1973, 1994)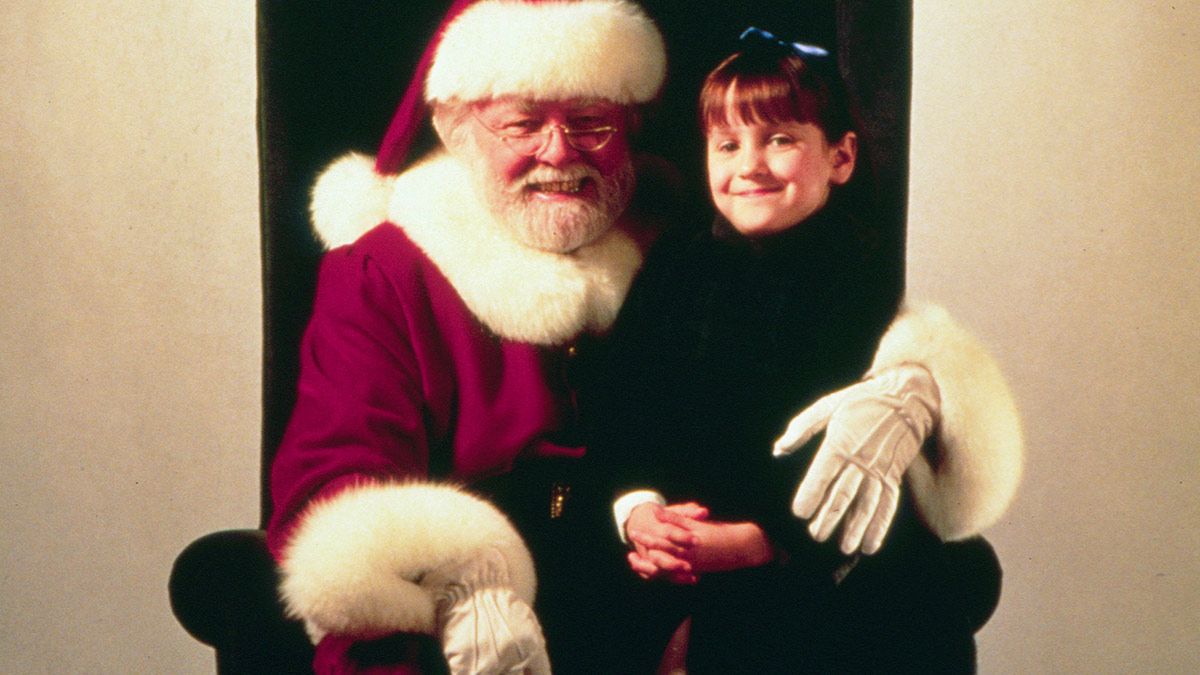 Available in Sky Cinema on demand. Cert U
That's right, you can watch all three versions of the Christmas classic for the ultimate feel-good factor. For many, Richard Attenborough is the Santa Claus, from the 1994 version. It's a story about what might happen if your local department store Santa was also the real thing. Mara Wilson (Mrs Doubtfire) is super sweet as the little girl who doesn't believe in magic, but it's Attenborough's performance, with his sly sense of humour, that makes it soar like Rudolph on Christmas Eve.

11. Die Hard
Available in Sky Cinema on demand. Cert 15
Yes, it IS a Christmas movie, despite it having nothing to do with the season other than the setting. John McTiernans's classic is pretty much the perfect action film, featuring gunfights, quick-witted quips from Bruce Willis' John McClane and a tangible sense of tension and drama. Alan Rickman (in his feature film debut, if you can believe it!) as McClane's counterpart, Hans Gruber, instantly gave us one of cinema's all-time greatest villains.

12. Elf: Buddy's Musical Christmas
Available in Sky Cinema on demand. Cert U
Based on firm favourite Elf and Broadway's Elf: The Musical, this stop-motion animated version retains all the joy and cheer from the original story. Ed Asner reprises his role of Santa Claus from the film, with Jim Parsons (The Big Bang Theory) as the voice of Buddy the elf and Mark Hamill (of the Star Wars films) as Walter Hobbs, the father he's never met. No matter what form this tale is packaged in, it never fails to get you in the Christmas spirit.

Let's do Christmas
Count down to Christmas with prizes to be won every day, plus all your TV listings and tips on what to watch and play!
TV channels: Channels, content and features available depend on your chosen package. Channel line-ups and content are subject to change at any time and to regional variations.
HD: HD TV set, V HD Box, TiVo box or Virgin TV V6 connected with HDMI cables required for HD channels. Number of inclusive HD channels depends on package.
Sky Cinema on demand: Sky Cinema subscription required
TV Go: Content available to view depends on TV package. Not all channels/content from relevant pack available. Live streaming and On Demand requires broadband/WiFi or 3G/4G access. UK only. Access via PC, Mac or TV Go App (selected iOS devices and Android™ devices only). Maximum 5 compatible devices per account can watch TV.
Premium channels (add-ons): 30 days' notice required to remove premium channels/packs. Sky Cinema Premiere +1 not available in HD.