Skip to main content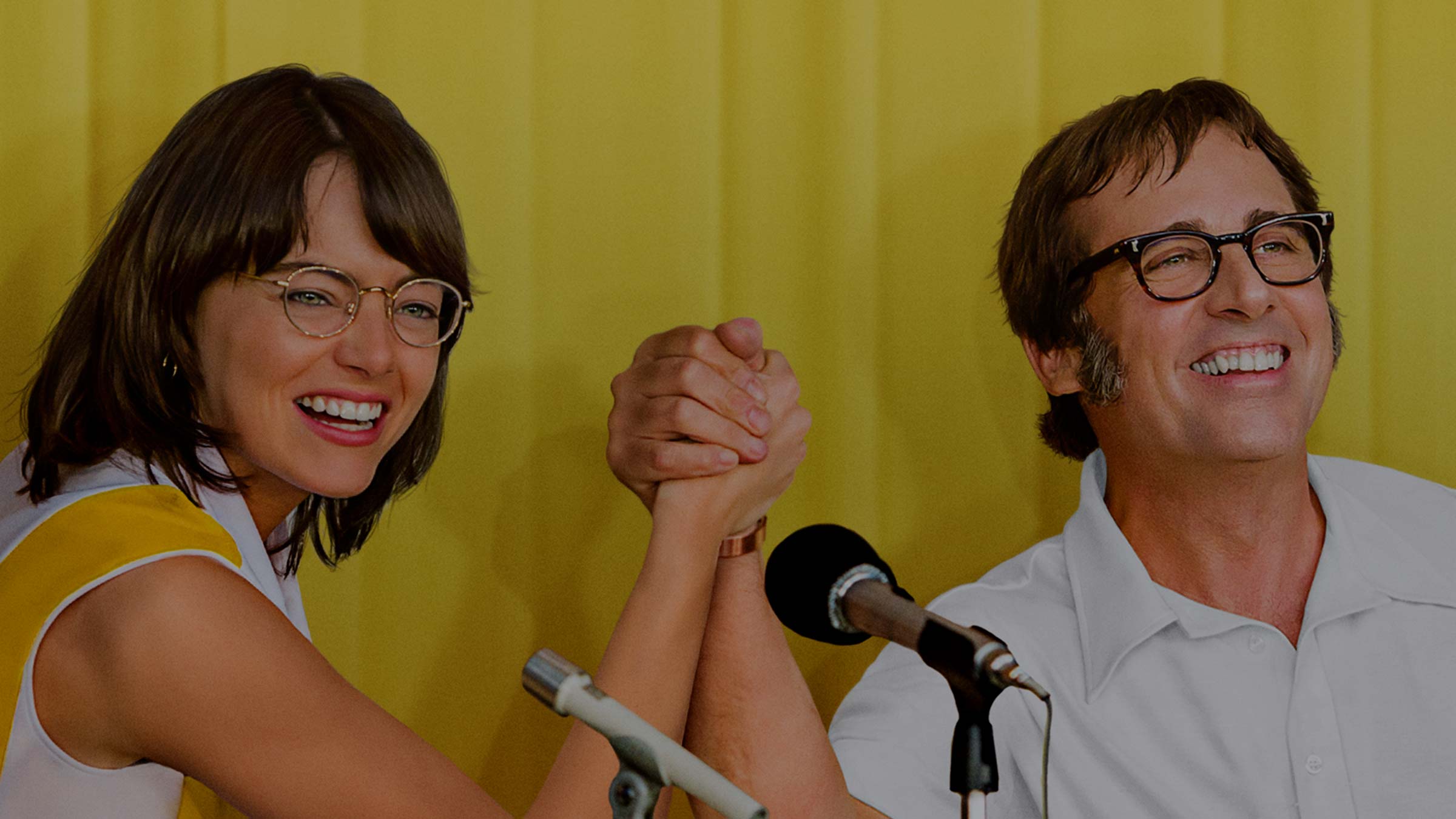 A sporting saga about sexism, a quirky slacker comedy and a modern martial arts epic – just some of the premieres on Sky Cinema this week
Battle Of The Sexes, available in Sky Cinema on demand from Sunday 30 September. Cert 12
Leading the line-up is Battle Of The Sexes, starring Oscar winner Emma Stone and Oscar nominee Steve Carell. Based on real events, this film from Little Miss Sunshine directors Jonathan Dayton and Valerie Faris tells the story of two very different tennis players, and the clash that ushered in a new era for the sport. Billie Jean King (Stone) is at the top of her game as we meet her in 1970, but she's fighting institutional sexism in tennis and has established a rival woman's tour to challenge the sport's authorities to grant equality.
Then there's Bobby Riggs (Carell), a once-great player who's now on his uppers. He senses a publicity opportunity and challenges King and her fellow players, claiming that even an over-the-hill player like him could beat the world's best woman. Cue a face-off that's loaded with political significance but also personal peril for the two participants.

Both Stone and Carell were Golden Globe-nominated for their performances here, playing tennis greats who are faced with almost impossible choices. King has more to lose in the match, not least because she's also in the process of coming out as a lesbian at a time when that was far from accepted. But Riggs, while clownish, was not a monster, and Carell humanises him brilliantly. So even if you know who won, this still makes for a riveting, edge-of-the-seat match-up.
Once you've seen Battle Of The Sexes, what does the rest of the week hold? Here are the other great new films Sky Cinema is serving up for your entertainment…
Hostiles
Available in Sky Cinema on demand from Saturday 29 September. Cert 15
Christian Bale and Rosamund Pike are the stars of this extraordinary western from Crazy Heart director Scott Cooper. Bale plays Captain Joseph Blocker, a war veteran who's charged with escorting a captured Cheyenne war chief, Yellow Hawk (Wes Studi), back to his tribal lands. But the job proves tougher than expected when they are stalked by a dangerous Comanche party, which Pike's Rosalee has already encountered. This is tough, violent viewing, but at heart it's about a man overcoming prejudice in order to do the right thing, and a woman surviving near-madness thanks to unexpected inner strength.
And there's much more Wild West action on Sky Cinema this month – check out some of our other picks from the Western Collection.
Watch this if you like… True Grit, No Country For Old Men, The Salvation

Pyewacket
Available in Sky Cinema on demand from Monday 1 October. Cert 15
Here's one to make even a hardened horror fan's skin crawl. Nicole Muñoz (SYFY's Defiance) plays Leah, an unhappy teenager fascinated with the occult and furious at her mother (The Walking Dead's Laurie Holden) after her father's death. But when she wishes her mother dead and carries out a strange ritual in the woods, she raises more trouble than she bargained for. It's a creepy premise from writer/director Adam MacDonald, who also made the scary-bear movie Backcountry, and cements his name as a horror director to watch.
Watch this if you like… Hereditary, The Conjuring, The Babadook
Social Animals
Available in Sky Cinema on demand from Tuesday 2 October. Cert 15
Noël Wells (Master Of None) leads this quirky indie comedy. She's Zoe, a 20-something who has so far failed to get her life together, and is facing eviction from her mobile home and the utter failure of her business. Her love life is a mess too, until she meets Paul (How I Met Your Mother star Josh Radnor). But he's married, so she comes up with a scheme to sort everything out. Maybe… Get ready for an unconventional tale of love and friendship, and a comforting sense that maybe you're adulting better than you thought.
Watch this if you like… Obvious Child, Liberal Arts, Drinking Buddies
Beauty And The Beast
Available in Sky Cinema on demand from Wednesday 3 October. Cert TBC
OK, this is not the Emma Watson version – that's been available on Sky Cinema for ages and you can read about it here – but a sweeping, romantic French take on the fairytale from Christophe Gans, director of the weird and wonderful Brotherhood Of The Wolf. Léa Seydoux (Spectre) stars as Belle opposite Vincent Cassel (Black Swan) as the Beast in one of the most visually gorgeous films you'll ever see. A huge hit in France, this deserves a look for its costumes and scenery alone. And hey! It allows you to complete a Beauty & The Beast trilogy, of sorts…
Watch this if you like… Brotherhood Of The Wolf, Mirror Mirror, Red Riding Hood
Kill Order
Available in Sky Cinema on demand from Thursday 4 October. Cert 18
When stuntman-turned-director James Mark was looking for a star for this martial-arts epic, he didn't have to look far. His younger brother Chris Mark, also a stuntman, plays the lead role of David in this action thriller. David is an apparently normal young man who learns, after armed assailants come for him one day in school, that he has been the subject of experiments, giving him as-yet-unrevealed abilities. Cue a lot of great fight scenes, in a real treat for martial-arts fans.
Watch this if you like… The Raid, Morgan, The One
Find out what's on Sky Cinema
Get even more lights, cameras and action with our movie homepage, featuring all the daily premieres and more of the thousands of films available on demand on Sky Cinema.


Watch on the go
If you subscribe to Sky Cinema on Virgin TV, you can watch on the go with the Sky Cinema app on your mobile, laptop or tablet anywhere in the UK (or while temporarily in the EU) with a WiFi or broadband connection. Just download from the Apple app store, Google Play or the Amazon appstore and log into the app to start watching.
Upgrade to Sky Cinema now
Don't have Sky Cinema? You can find out about our Sky Cinema package and upgrade here.
TV channels: Channels, content and features available depend on your chosen package. Channel line-ups and content are subject to change at any time and to regional variations.
HD: HD TV required to view HD channels. Number of inclusive HD channels depends on package.
Sky Cinema HD: Sky Cinema Premiere +1 not available in HD.
Sky Cinema app: Only available via the Sky Cinema app (selected iOS and Android devices only) or website to customers who subscribe to these channels. Only available on iOS 8 and above, and Android 4.x. UK only (or while temporarily in the EU). Maximum 2 devices. Selected content may not be available to view. Separate End User Licence Agreements and terms and conditions apply to the Sky Cinema app and website. Live streaming and On Demand available in UK (or while temporarily in the EU) with broadband, WiFi or 3G/4G only. Minimum 800 kbps recommended per device accessing the service.
Image credits: Battle Of The Sexes © 2017 Twentieth Century Fox Film Corporation. All rights reserved.