Skip to main content
"Oh I wish it could be Christmas eveerrrry day!" And with Sony Movies Christmas, that dream is very much a reality
Sony Movies Christmas (CH 424)
Supermarkets have been flogging crackers and tinsel since June, so talking about Christmas on the cusp of December is bordering on last-minute. Trees are up, festive lights have been switched on by a plethora of "thingy off that show" and all wine will now taste of cinnamon and burnt tongues until at least January. So, embrace it. And where better to do so than Sony Movies Christmas?
All day, every day, it'll be showing nothing but Christmas movies (the clue's in the title). And if you haven't yet submitted yourself to the glory of the made-for-TV Christmas film, can you categorically say you've lived your fullest life?
Don't worry, because help is at hand – and this week is the perfect jumping-off point into a world where magic is real, a cosy inn is basically like an olde world dating app, hot single dads are EVERYWHERE and, more often than not, it's up to a dog to save Christmas. Love will blossom, hearts will be mended, and you'll be addicted. Here's where you should start:
The one where dogs act as matchmakers
Love For Christmas, Friday 29 November, 1pm and 9pm
Bobby returns from a long stint in the Navy. Meanwhile, his old crush and local am-dram director Heather is engaged to someone who never seems to hear a word that comes out of her mouth. Two golden retrievers, Bobby's 11-year-old niece and a production of A Christmas Carol round out this love story.
The one where even more dogs act as matchmakers
A Golden Christmas, Friday 29 November, 7pm
As children, they buried a time capsule with the help of their beloved dog. As adults, when they return to their hometown looking for a fresh start, they don't recognise each other and instantly fall into a mutual dislike. Fortunately, another dog is on hand to remind them of their past and bring them together.
The one where a shop owner falls for a customer
Oh Christmas Tree, Saturday 30 November, 1pm
A woman who hates Christmas must run her dad's struggling tree lot when he breaks his leg. Soon, she's buzzing off Christmas – possibly because she starts to fall for a regular customer. She also has to save the family business, possibly because it doesn't do much trade between January and the end of November.
The one where a woman lives in a car
Home By Christmas, Saturday 30 November, 3pm
After her divorce, a series of events leaves Julie (Terminator's Linda Hamilton) homeless and sleeping in her car. But she begins to rebuild her life after meeting another homeless woman, and also meets Michael and begins to date him – but hides the fact she's homeless. Can everything be resolved before Christmas?
The one where a child acts as a matchmaker
Deck The Halls, Saturday 30 November, 5pm
There's nothing weird about being romantically set up with your neighbour by your eight-year-old son. IT'S FINE! In this one, a lonely widow – who has moved to take a job in her father's toy factory – is facing her first Christmas in a new town until she meets an eccentric marketing specialist (via said son).
The one where a range of animals help save Christmas
My Dad Is Scrooge, Saturday 30 November, 7pm
A boy discovers that his grumpy father has given a farmer an eviction notice days before Christmas. He wakes up one night to discover his room filled with the farmyard's animals, who can talk. They plot together – the animals and the boy, if that's not clear – to teach the dad the true meaning of Christmas.
The one where the transaction of renting a car acts as a matchmaker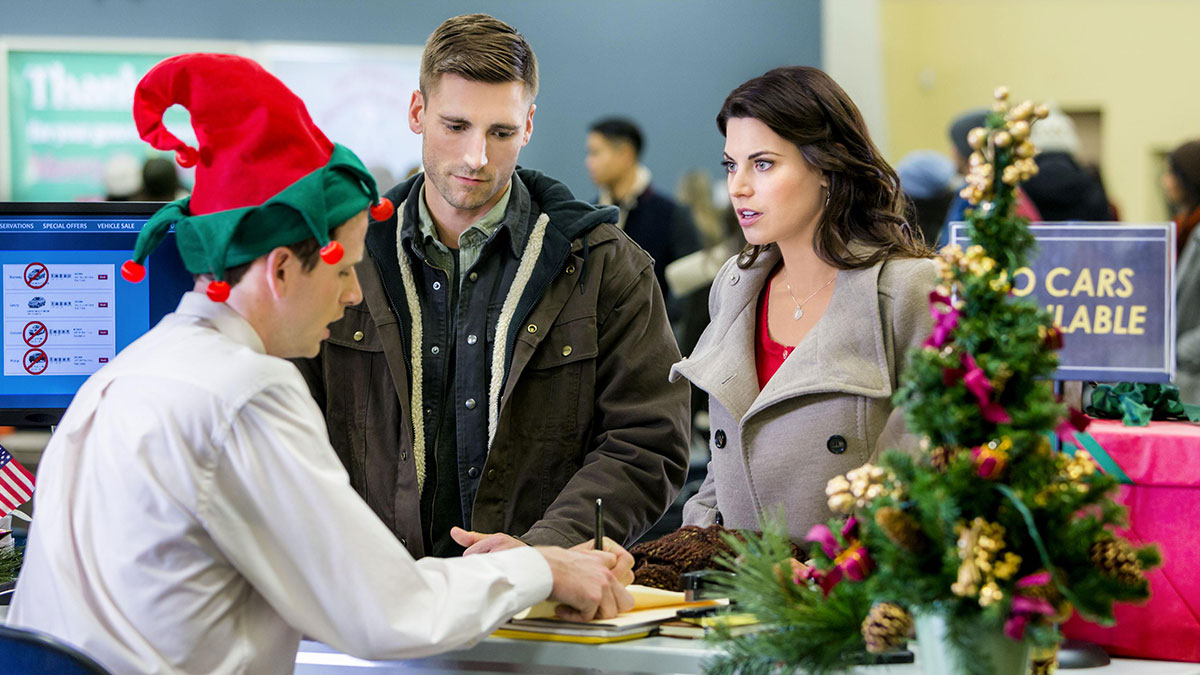 Dashing Through The Snow, Saturday 30 November, 9pm
Stranded at an airport at Christmastime, a pair are forced to share the last available car at the hire desk. Unlike Chris Rea – whose drive mostly featured traffic and staring at other drivers out of the window – they experience car trouble, adopting a puppy (NATURALLY), being tailed by federal agents and falling in love (OBVIOUSLY).
The one where a family decides to reward their children's bullies
The Christmas Project, Saturday 30 November, 11pm
The Buckley brothers are bullied by the Hagbarts, the meanest boys at their school. So, the last thing they'd probably want to do is willingly get them Christmas pressies. But when the Buckley family tradition is "elfing" – secretly giving gifts to a less fortunate family – well, you can probably guess what happens next…
The one where another shop owner falls for a customer
A Star for Christmas, Sunday 1 December, 3pm
Christmas Cupcakery owner Cassie's life is thrown into chaos by a break-up and her co-worker leaving during a busy period. Things perk up when she falls for a new customer (seriously, owning a shop at Christmas is total hunk-bait), who turns out to a be an action superstar in town to shoot a movie.
The one where Santa Claus is real
The Christmas Takeover, Sunday 1 December, 5pm
In this one, ruthless tycoon Tyler is out to dominate the toy industry – and that means going against his father: THE Santa Claus. He wants to put his old man out of business until a visit to the North Pole leads him to realise that he has more in common with his father than he wants to admit.
The one where an inheritance acts as a matchmaker
A Christmas Reunion, Sunday 1 December, 9pm
High-flying executive Amy (The World Is Not Enough's Denise Richards) inherits half of her aunt's bakery – the catch is the other half has been left to her former high-school sweetheart. The pair reunite, just in time to organise their home town's annual Christmas cookie contest.
May your telly days be merry and bright!
If you want to find the very best TV shows, festive specials and films this Yuletide, visit our Christmas hub for the latest news, listings and more.
TV channels: Channels, content and features available depend on your chosen package. Channel line-ups and content are subject to change at any time and to regional variations.