Skip to main content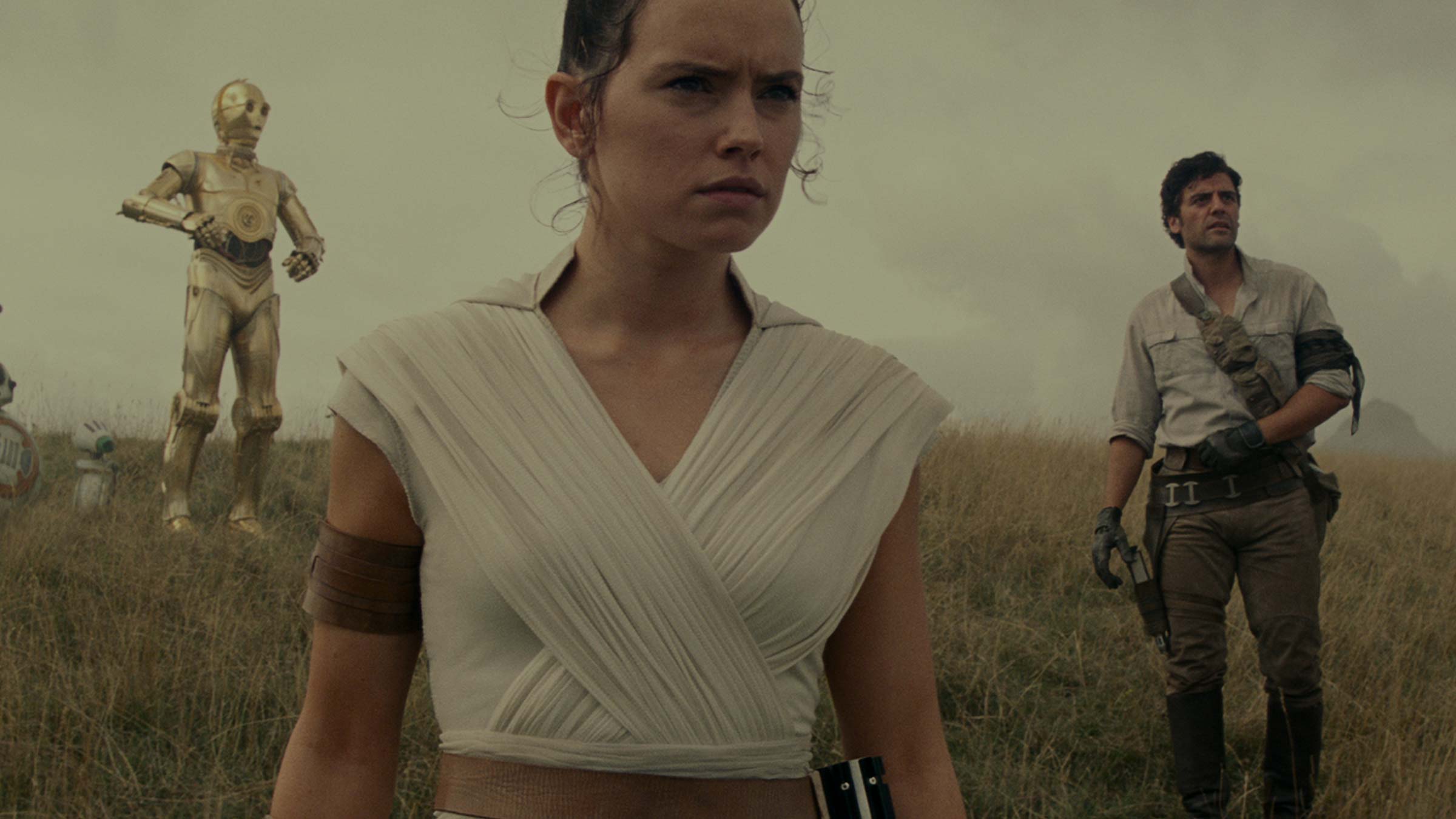 It's taken more than 40 years to see how the story ends, but now it's time for the final instalment!
Star Wars: The Rise Of Skywalker, available to pre-order now on the Virgin Media Store
Whether your first experience of Star Wars was seeing it at the cinema in the 1970s, watching a VHS recording of a Christmas TV broadcast or streaming the super-shiny digitally remastered version on your tablet, we know one thing for sure – you're as excited as we are for the imminent ninth chapter of the series, The Rise Of Skywalker.
Over the past few decades we've all followed the stories of Luke, Leia, Han, Anakin, Amidala, Rey, Finn and the rest, from the iconic original trilogy through to the incredible CGI visuals of the prequels to the latest breathtaking epics, The Force Awakens and The Last Jedi. There may have been some bumps in the road but if anyone tells us they don't have a tingle in their tummy in anticipation of this monumental climax, we just don't believe them.

The new film will see Rey (Daisy Ridley) face her destiny, as Adam Driver's Kylo Ren and the First Order try to crush the Resistance for good. The trailers have whetted our appetites for a showdown on a suitably grand galactic scale – but we're also looking forward to seeing beloved characters like Leia (Carrie Fisher), Lando (Billy Dee Williams) and C-3PO (Anthony Daniels) return for one final hurrah, as well as intriguing new ones like Zorri Bliss (Keri Russell) and General Pryde (Richard E Grant). And there are even hints that Emperor Palpatine is back… or is he?!
You can pre-order The Rise Of Skywalker on the Virgin Media Store as soon as it's released in cinemas, so it'll be yours to buy and keep the moment it's available.
But wait, there's more!
Just to ramp up the Force-related excitement further, the Virgin Media Store has a brilliant sale on the other movies in the series, with a whopping £5 off all Star Wars films from Monday 16 December until Sunday 5 January.
Star Wars: The Last Jedi
Available to buy on the Virgin Media Store for £8.99. Cert 12
Director Rian Johnson brings brains, heart and plenty of action to the series, as Luke (Mark Hamill) instructs Rey in Jedi craft, while Finn (John Boyega) and Poe (Oscar Isaac) get crash courses in leadership and power as the First Order forces the Resistance to retreat.
Star Wars: The Force Awakens
Available to buy on the Virgin Media Store for £8.99. Cert 12
Space battles, lightsaber fights and shocking plot twists abound in the first of the new trilogy, which welcomes back old favourites like Han Solo (Harrison Ford) and Chewbacca (Joonas Suotamo).
Rogue One: A Star Wars Story
Available to buy on the Virgin Media Store for £8.99. Cert 12
As the Empire works to complete the planet-destroying Death Star, a small band of rebels led by Jyn Erso (Felicity Jones) attempt to thwart their plans in this prequel set before the events of A New Hope.
Solo: A Star Wars Story
Available to buy on the Virgin Media Store for £8.99. Cert 12
This fun spin-off directed by Ron Howard follows the young Han Solo (Alden Ehrenreich) and reveals his role in the birth of the rebellion, with Phoebe Waller-Bridge on board as uproariously inappropriate droid L3-37.
Star Wars: A New Hope
Available to buy on the Virgin Media Store for £8.99. Cert U
The epic battle between Jedi and Sith begins, as Obi-Wan Kenobi (Ewan McGregor) tries to maintain peace in the Galactic Republic while training young Anakin (Jake Lloyd) in the ways of the Force. Also, there's an awesome pod race.
Star Wars: Attack Of The Clones
Available to buy on the Virgin Media Store for £8.99. Cert PG
Now a Jedi, Anakin (Hayden Christensen) is forced to defend the life of Padmé Amidala (Natalie Portman) and safeguard the galaxy against a sinister faction led by Count Dooku (Christopher Lee).
Star Wars: Revenge Of The Sith
Available to buy on the Virgin Media Store for £8.99. Cert 12
Anakin is torn between his loyalty to the Jedi and his love for Amidala as the Sith begin to show their strength. In grief, he's drawn to the Dark Side – and one of cinema's greatest villains of all time is created…
Not heard about the Virgin Media Store?
It's the place where you can buy the latest and greatest movies and TV Box Sets, yours to watch again and again, at home or on the go. Sign up now at virginmediastore.com, choose from hundreds of films and TV Box Sets and start watching instantly.
Enjoy your purchases on your Virgin TV Box (TiVo®/V6). Go to On Demand > Movies. Or you can access online and on your registered iOS and Android devices with the Virgin Media Store app.
Show me the latest releases on the Virgin Media Store.
You can also rent the latest films on Virgin Movies
Go to On Demand > Movies. Search for a title, or browse by categories such as Out This Week, Top Rentals or Box Office Hits. Once you've found the movie you want to rent, select Watch now to start watching instantly. Then, sit back and enjoy! You'll have up to 48 hours to finish watching your film.
Virgin Media Store: Separate terms and conditions apply to the Virgin Media Store service. Purchases must be made on the website or set top box. Virgin TV subscription and our latest Virgin TV V6 box required to buy and watch via set top box – Store is not available on other boxes. Compatible device & browser required. Max 5 registered devices. Max 2 devices can stream content simultaneously. Stream and download in UK only (or while temporarily in the EU).
Virgin Movies On Demand: Virgin Movies On Demand movies are pay by title. Once rented, content available for 48 hours.
Image credits: Star Wars: The Rise Of Skywalker © 2019 & ™ Lucasfilm Ltd. All rights reserved.