Skip to main content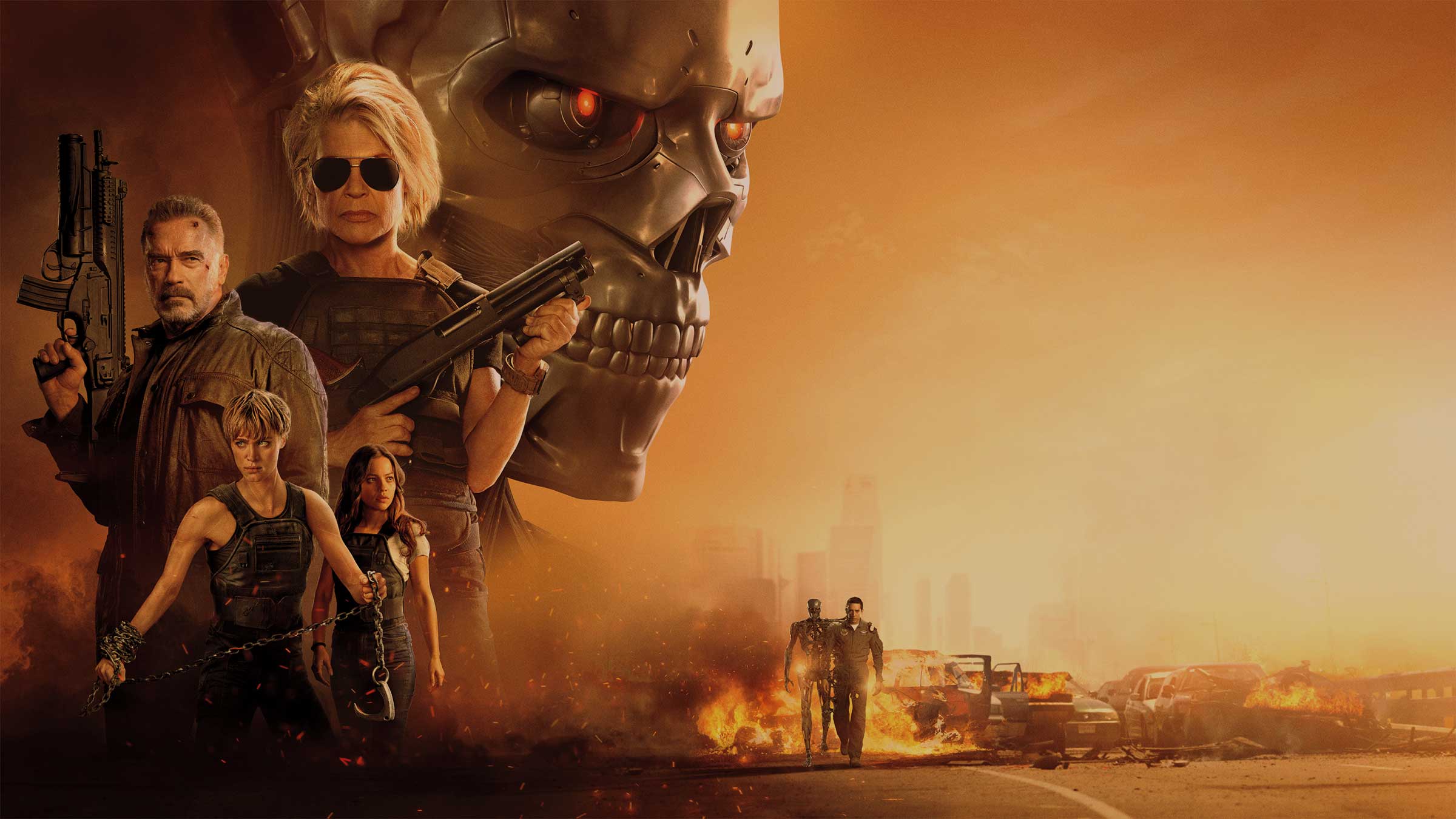 Welcome to the Long Story Short on Terminator: Dark Fate. Whether you have ten seconds to spare or a few minutes more, we'll turn you into an expert on the twisted timelines of the classic sci-fi series...
Terminator: Dark Fate, available to buy on the Virgin Media Store. Rent it on Virgin Movies from Monday 2 March. Cert 15
Got seconds to spare?
Terminator: Dark Fate brings back not just the titular T-800 Terminator (our old friend Arnie) but also the original badass Linda Hamilton as Sarah Connor. They've joined forces to face off against a whole new threat and their new rebooted robot overlords…
Have a minute more?
So, Arnie is the good guy again?
Yep, similar to the role reversal in Terminator 2: Judgment Day (and almost all subsequent Terminator movies he's been in), Schwarzenegger's T-800 is one of the good ones. Alongside Sarah Connor and new Terminator/human hybrid Grace, played by Mackenzie Davis, his mission is to protect Daniella Ramos (Natalia Reyes) from a new Rev-9 robot (Gabriel Luna), which has been sent back in time to kill Dani.

Wait, did Skynet send the Rev-9 back in time?
The same scenario exists in all the Terminator films: the advent of sentient AI will lead to the destruction of the world and the rise of machines to rule over what's left. It'll always happen, no matter who invents it or what they call it; all of this is inevitable and inescapable (in these films, at least). This time, the originators of this deadly sentient AI are known as Legion, and they seem to have a very similar MO to Skynet.
Where does this fit in with the original two films?
Well, the good news is that this is an official sequel to both the original Terminator from 1984 and 1991's Terminator 2, making the original James Cameron movies part of a trilogy. It picks up three years after the second film's "Judgement Day" event, which was successfully stopped. This movie's timeline effectively wipes out everything that happened in the very complicated chronology of sequels and reboots.
Wait, so none of what happens after Terminator 2 matters now?
That's right! Absolutely none of what went down in Terminator 3: Rise Of The Machines, Terminator Salvation and Terminator Genisys, is now considered canon. It might be a wee bit strong to say it doesn't "matter"… but it definitely doesn't affect anything in this new entry. You can simply sit back and enjoy.
Can't get enough?
Is James Cameron back too?
Kind of. He's not directing (as he did with the two original movies), but he is producing, which may explain why the movie chooses to ignore all the films in between. The director this time around is Tim Miller, who helmed the first Deadpool film, so we're in safe hands when it comes to all-out action!
Oooh, and what's the action like?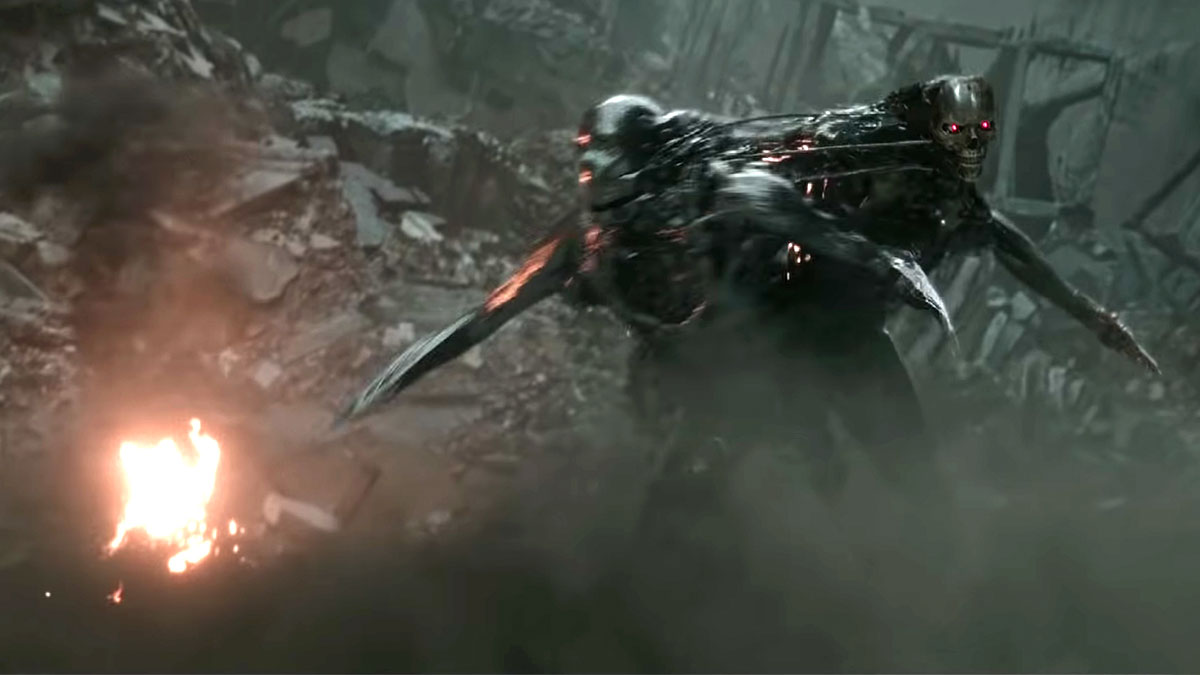 In a word: explosive. There's a whole load of action crammed into just over a couple of hours. There are car chases, guns, robotic rumbles and one incredible scene on an airstrip involving the open doors of a cargo aeroplane, an exploding helicopter and Arnie shooting the liquid metal face off the Rev-9. It's very cool, very ridiculous and very violent.
And the story?
If it ain't broke, don't fix it – just make it bigger and better. It's not just the returning Hamilton and Schwarzenegger that help make Terminator: Dark Fate feel familiar; it's the story and even the film's structure itself that make it easy to know what you're in for. And with lots of knowing nods to the previous two movies and some nice twists on classic lines, Cameron and Miller handsomely pay homage to what's come before while also remixing it for today. It also has a tantalising open ending…
So, will there be more in this new movie timeline then?
At the moment, the answer to that is, we don't know. Despite potentially setting itself up for another sequel, as with most movies now, the fate of a franchise is on its audience. So, if you want Arnie to be back… again, you'd be wise to forget everything the franchise has taught you and start demanding MORE. KILLER. ROBOTS!
Not heard about the Virgin Media Store?
It's the place where you can buy the latest and greatest movies and TV Box Sets, yours to watch again and again, at home or on the go. Sign up now at virginmediastore.com, choose from hundreds of films and TV Box Sets and start watching instantly.
Enjoy your purchases on your Virgin TV Box (TiVo®/V6). Go to On Demand > Movies. Or you can access online and on your registered iOS and Android devices with the Virgin Media Store app.
Show me the latest releases on the Virgin Media Store.
You can also rent the latest films on Virgin Movies
Go to On Demand > Movies. Search for a title, or browse by categories such as Out This Week, Top Rentals or Box Office Hits. Once you've found the movie you want to rent, select Watch now to start watching instantly. Then, sit back and enjoy! You'll have up to 48 hours to finish watching your film.
Virgin Media Store: Separate terms and conditions apply to the Virgin Media Store service. Purchases must be made on the website or set top box. Virgin TV subscription and our latest Virgin TV V6 box required to buy and watch via set top box – Store is not available on other boxes. Compatible device & browser required. Max 5 registered devices. Max 2 devices can stream content simultaneously. Stream and download in UK only (or while temporarily in the EU).
Virgin Movies On Demand: Virgin Movies On Demand movies are pay by title. Once rented, content available for 48 hours.