Skip to main content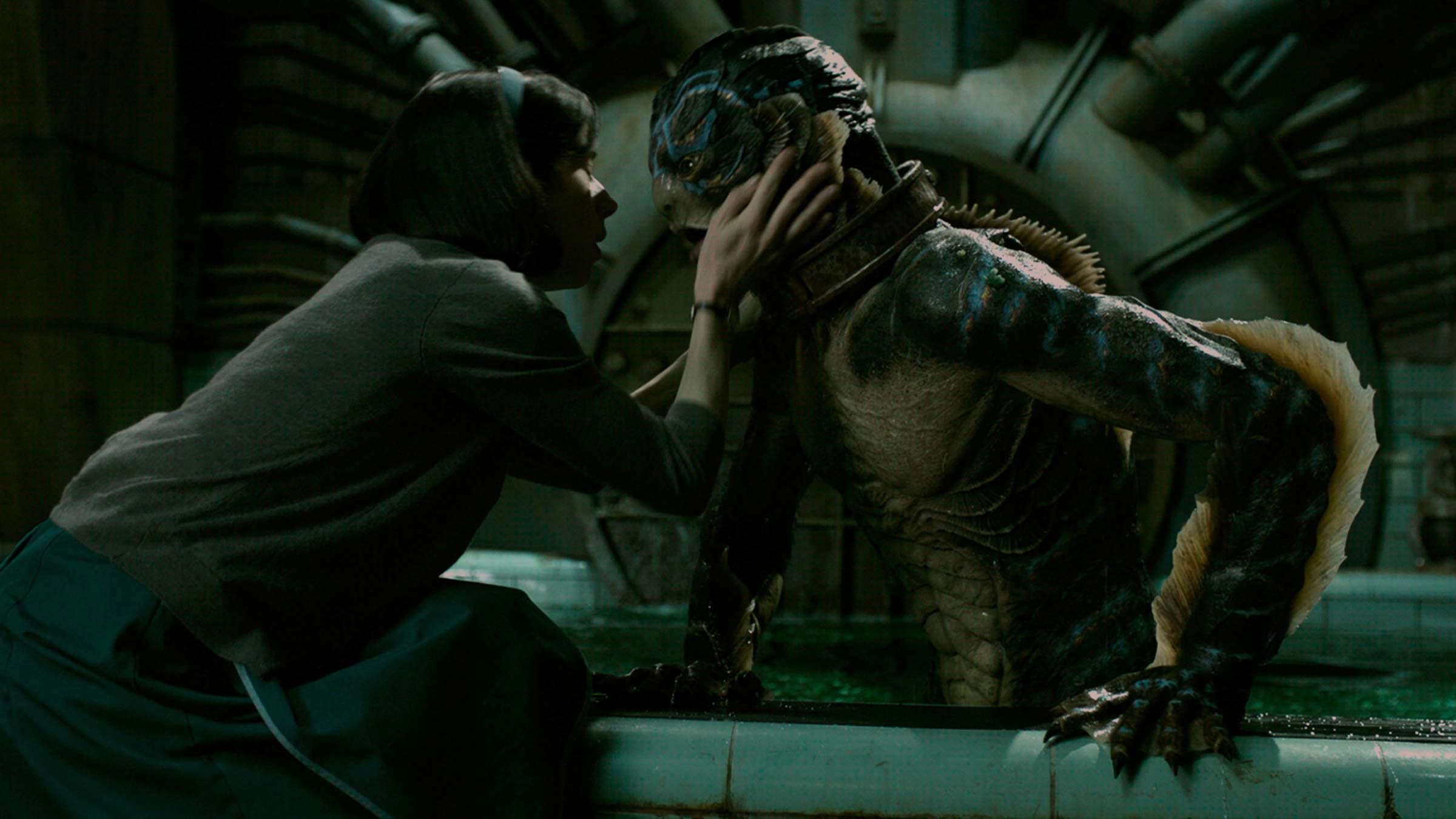 If you're apprehensive about getting your feet wet with this fantastical love story, we explain why you should take the plunge
Available from Friday 14 December in Sky Cinema on demand. Certificate 15
The Shape Of Water picked up accolades left, right and centre (it was nominated for 13 Oscars alone), but there's a chance you may have been put off by the premise. Admittedly, it's niche, and if it had been done badly, it could have gone very, very wrong. Rest assured, you're in safe hands with director Guillermo del Toro. From Pan's Labyrinth to Hellboy to Pacific Rim, everything he touches turns to gold, and this film is no exception. It's just your typical boy-meets-girl story, except in this case it's fish-man meets girl. But it's also much more than that.
Above all, the story is about accepting someone despite of their differences, or even because of them. In these divisive times, The Shape Of Water offers a wonderful chance to escape and let your mind swim away to a lagoon overflowing with empathy. By the end, you'll be bathing in a pool of your own tears (of joy, naturally).

Elisa Esposito (Sally Hawkins) is a mute cleaner who works at a top-secret government laboratory in Baltimore, Maryland in the 1960s. When she discovers the lab is housing an unusual scaled creature from South America (played by Doug Jones) in a water tank, they learn how to speak each other's language.
This mainly involves Elisa teaching him how to sign and bringing him eggs as he communicates non-verbally – which eventually leads to them falling in love. Meanwhile, the head honchos – particularly Colonel Richard Strickland (Michael Shannon) – have other, less innocent, intentions for him.
The Shape Of Water made waves for a reason – find out more below.

It's Del Toro's sixth collaboration with Doug Jones
The Shape Of Water is the sixth film Del Toro has made with Jones. You might recognise him (beneath layers of make-up and monster skin) as the Faun and the Pale Man in Pan's Labyrinth, and as another amphibian, Abe Sapien, in both Hellboy films.
The pair have struck up a strong working relationship. While guiding Jones for his role as Amphibian Man, Del Toro suggested he channel one of his previous characters, the Silver Surfer, with some matador thrown in for good measure. Jones drew on the heroic strength of the former and the hip movements of the latter, putting the advice to good effect.

"It takes a village to make a fish-man"
Jones said this in an interview when describing the arduous process involved in turning him into the leading man. It took four people three hours to help him put on his foam latex suit, glue his hands on and apply make-up to his face and neck. His eyes were enhanced with computer-generated imagery in post-production, while technicians controlled his animatronic gills remotely on set.
The stars were aligned from the very beginning
In a strange twist of fate, The Shape Of Water's leading lady Sally Hawkins had been writing a story about a woman who didn't realise she was a mermaid when Del Toro approached her about The Shape Of Water. The pair ended up including details from her story in the film. Coincidence? No such thing.
Some of the roles were written specifically for the actors, too: Elisa for Hawkins, Zelda (Elisa's friend and fellow cleaner) for Octavia Spencer and Giles (Elisa's artist neighbour) for Richard Jenkins.

You will fancy Amphibian Man
Don't fight it – just let it happen. It's exactly what Del Toro intended. For Elisa to make the leap from helping this unusual sea creature to actually falling in love with him, he would need to be one heck of a sexy fish. The director wanted to create the George Clooney of fish-men, with big eyes to gaze into, kissable lips, a strong jaw, a cleft chin, a slim waistline and broad shoulders – and he wouldn't be satisfied until he got it.
"Guillermo was very keen on making the creature have a nice butt," Mike Hill, the lead designer, said. Apparently, Del Toro carried around a photo of the creature's beautiful behind for weeks, thrusting it into the faces of friends and family as if it were a photo of his new-born baby. Jones confirmed that you could "crack an acorn" with that thing!

You'll be left craving Key lime pie
The Shape Of Water was filmed in Canada, and you can visit most of the film's locations in Toronto and Ontario. Most notable, perhaps, is Dixie Doug's diner where Elisa and Giles go for Key lime pie. You can try the same dish at The Lakeview Restaurant. Additional fun fact: the cinema that Elisa lives above, The Elgin, is where the film premiered during the Toronto Film Festival.
Find out what's on Sky Cinema
Get even more lights, cameras and action with our movie homepage, featuring all the daily premieres and more of the thousands of films available on demand on Sky Cinema.


Watch on the go
If you subscribe to Sky Cinema on Virgin TV, you can watch on the go with the Sky Cinema app on your mobile, laptop or tablet anywhere in the UK (or while temporarily in the EU) with a WiFi or broadband connection. Just download from the Apple app store, Google Play or the Amazon appstore and log into the app to start watching.
Upgrade to Sky Cinema now
Don't have Sky Cinema? You can find out about our Sky Cinema package and upgrade here.
TV channels: Channels, content and features available depend on your chosen package. Channel line-ups and content are subject to change at any time and to regional variations.
HD: HD TV required to view HD channels. Number of inclusive HD channels depends on package.
Premium channels (add-ons): 30 days' notice required to remove premium channels/packs. Sky Sports SD subscription required to take Sky Sports channels in HD.
Sky Cinema app: Only available via the Sky Cinema app (selected iOS and Android devices only) or website to customers who subscribe to these channels. Only available on iOS 8 and above, and Android 4.x. UK only (or while temporarily in the EU). Maximum 2 devices. Selected content may not be available to view. Separate End User Licence Agreements and terms and conditions apply to the Sky Cinema app and website.