Skip to main content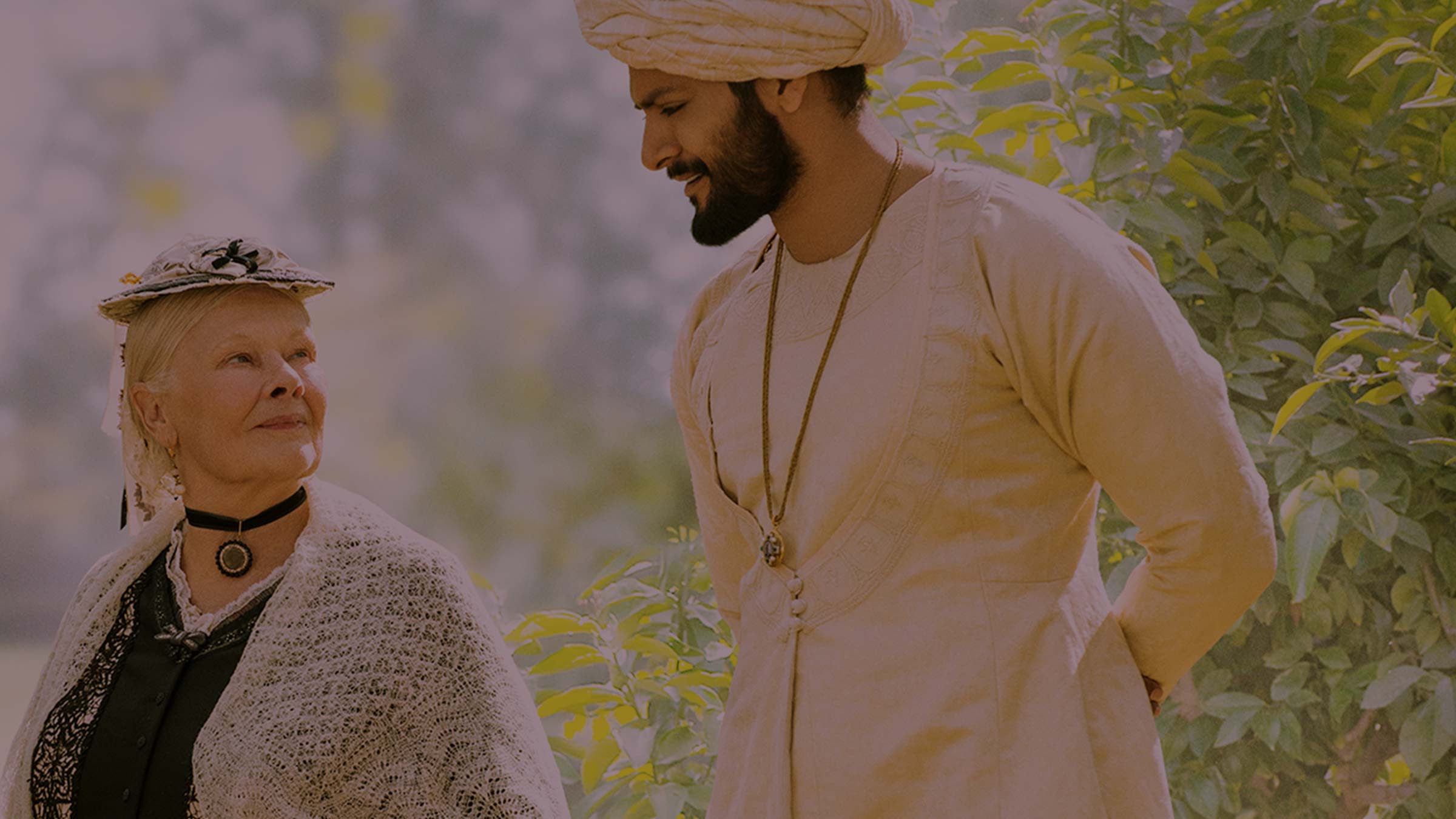 See Queen Victoria in a whole new light with this charming biographical drama

Victoria & Abdul, available from Friday 22 June in Sky Cinema on demand. Cert 12. Also available in HD
When one thinks of Queen Victoria, it's likely that her passionate love affair with Prince Albert, who she mourned for 40 years, comes to mind. Failing that, ascending to the throne at just 18, being mother to nine children and ruling over the world's largest ever empire are facts that many can recall from their schooldays.
But something far less widely known about Queen Victoria is that towards the end of her life she had a close friendship with a young servant from India. This relationship forms the basis of Victoria & Abdul, your Friday night premiere on Sky Cinema. It stars the inimitable Dame Judi Dench (Spectre) as a cantankerous Queen Victoria and Bollywood star Ali Fazal (Furious 7) as Abdul, as well as comedian Eddie Izzard, Michael Gambon (Harry Potter) and Adeel Akhtar (The Night Manager).
Watch the Dench-tastic trailer…

Victoria & Abdul tells the story of Abdul Karim, a young Muslim attendant who travels to England from Uttar Pradesh and finds himself at the heart of the royal court. Over the course of more than a decade, Karim became Victoria's "munshi" – a word of Persian origin meaning "teacher" – and a valued aide she showered with honours. Abdul even taught the Queen to write in his native Urdu, seemingly in a bid to connect the monarch with "the jewel in the crown".
But, as the film explores, Victoria and Abdul's friendship was a controversial one that provoked jealousy among her family and the royal household, with some criticising Victoria's affectionate relationship with her Indian servant as "munshi mania". When the Queen died in 1901, Abdul and the role he played in the monarch's life were scrubbed from the record books.
It was only in the mid-2000s, when historian and author Shrabani Basu stumbled upon Abdul Karim while researching a book on the history of curry, that the munshi's story was finally told. Basu's book, also called Victoria & Abdul, and director Stephen Frears' fantastic movie adaptation have shone a light on a fascinating figure almost forgotten by history.
Upgrade to Sky Cinema now
Don't have Sky Cinema? You can find out about our Sky Cinema package and upgrade here.
Watch on the go
If you subscribe to Sky Cinema on Virgin TV, you can watch on the go with the Sky Cinema app on your mobile, laptop or tablet anywhere in the UK (or while temporarily in the EU) with a WiFi or broadband connection. Just download from the Apple app store, Google Play or the Amazon appstore and log into the app to start watching.
Sky Cinema HD: Sky Cinema Premiere +1 not available in HD.
Sky Cinema app: Only available via the Sky Cinema app (selected iOS and Android devices only) or website to customers who subscribe to these channels. UK only. Maximum 2 devices. Selected content may not be available to view. Separate End User Licence Agreements and terms and conditions apply to the Sky Cinema app and website. Live streaming and On Demand available in UK (or while temporarily in the EU) with broadband, WiFi or 3G/4G only. Minimum 800 kbps recommended per device accessing the service.