Skip to main content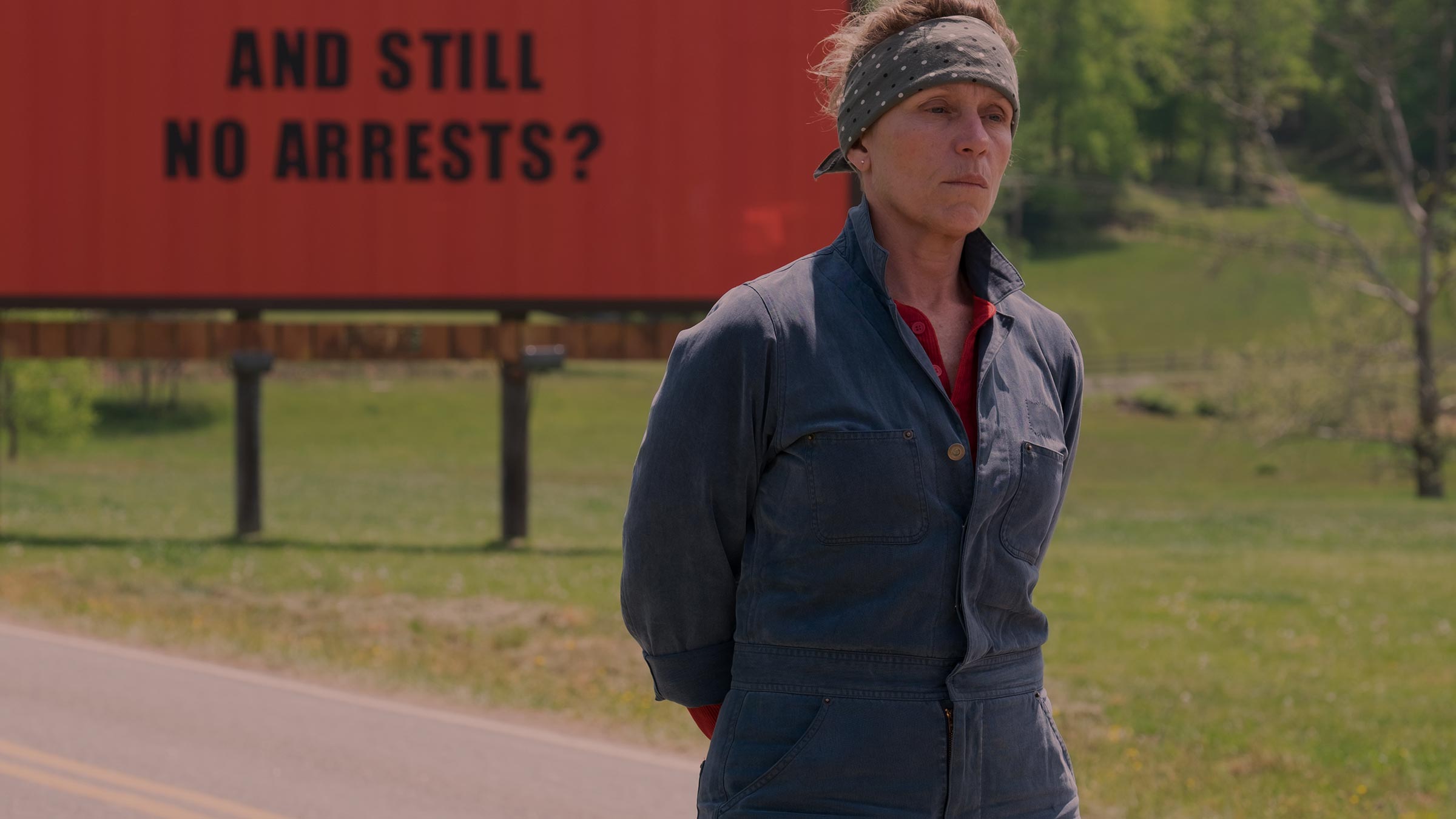 McDonagh obviously had the right idea, since the accomplished cast won numerous awards for the movie – so which of his films have you seen them in before?
Three Billboards Outside Ebbing, Missouri, available from Friday 2 November in Sky Cinema On Demand
Mildred Hayes (Frances McDormand) wants justice for her murdered daughter, whose killer was never caught. Blaming the police in the small town of Ebbing, Missouri, she tries to spark a reaction by renting three huge billboards and posting accusatory messages on them.
Despite opposition from locals including Jason Dixon (Sam Rockwell), an unpredictable police officer with a hot temper, Mildred refuses to back down. Throw in a drugs bust, a terminal illness, a dentist who ends up on the wrong end of a drill and a whole host of peculiar characters, and you've got a movie that says a whole lot more than what's on those billboards.

If you've seen any of the three other films McDonagh wrote and directed – In Bruges, Seven Psychopaths and the short Six Shooter – you'll have an idea of what to expect. For one thing, dark (very dark) humour. For another, some familiar names – McDonagh likes to work with the same people repeatedly. Even the musical scores for Three Billboards, In Bruges and Seven Psychopaths were all written by the same composer, Carter Burwell.
Although leading lady McDormand, who won the Best Actress Oscar, is a McDonagh first-timer, many other cast members have featured in his earlier (equally great) films. Check out our own billboards below for more information…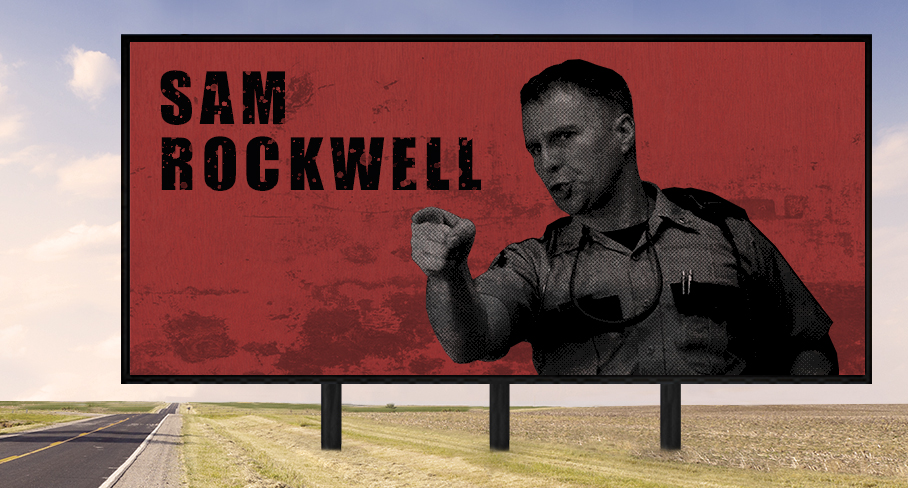 Sam Rockwell as Jason Dixon
McDonagh wrote the role of Dixon specifically for Rockwell. No one can play this kind of flawed, self-doubting hothead quite like Rockwell and the proof is in the awards – he earned a Golden Globe, a BAFTA and an Academy Award for Best Supporting Actor. Dixon is a crooked cop through and through, but… it's more complicated than that. Redemption, though, might just be out of his reach.
McDonagh also cast him in…
Rockwell played Billy Bickle in Seven Psychopaths, displaying behaviour that you can't quite condone but still enjoy watching. He steals dogs for a living and then returns them to their owners for a handsome reward. It's all fun and games until he steals a prized shih tzu from crime lord Charlie Costello. That brings us to…
Woody Harrelson as Bill Willoughby
Police chief Bill is a good guy, but he's tired. He placates Mildred as best he can, but it turns out he's got more important things on his mind than a few billboards. He has some killer one-liners, which Harrelson delivers with his trademark sarcastic drawl and twinkle in his eye (again, the role was created for him by McDonagh).
McDonagh also cast him in…
Harrelson was Charlie Costello in Seven Psychopaths and, like Rockwell, he has charisma that makes you warm to him instantly (psychopath or not). As Charlie, there's no denying he's dangerous, yet somehow you still like him – even if he does go to somewhat extreme lengths for that dog…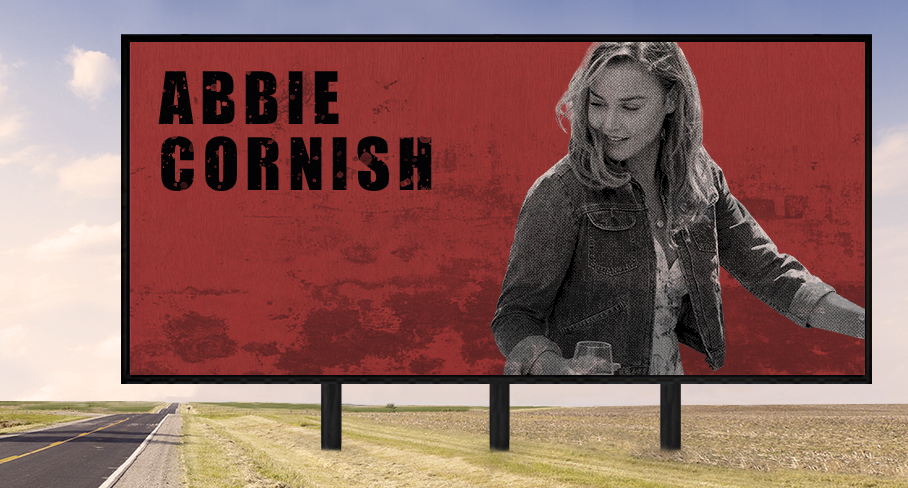 Abbie Cornish as Anne Willoughby
Being a police officer's wife means a lifetime of worry that one day you might get that fateful knock on the door. Anne stands by her man and their two daughters, even when the threat is no longer external.
McDonagh also cast her in…
Cornish had a minor role in Seven Psychopaths as Kaya, the long-suffering girlfriend of writer Marty Faranan (Colin Farrell). Farrell is another prominent actor in McDonagh's work, having also starred in In Bruges, as is fellow Irishman Brendan Gleeson (Six Shooter and In Bruges).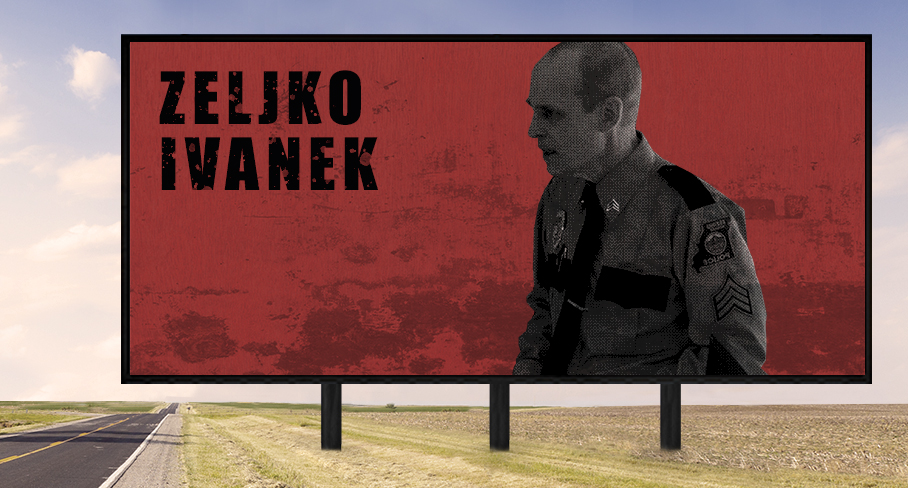 Željko Ivanek as Desk Sergeant
The Ebbing Police desk sergeant is a likeable, yet questionable, pawn of the police forces operating in the fictional Missouri town. He plods along at the whims of Willoughby but sometimes pipes up with a good idea or quip of his own.
McDonagh also cast him in…
In Seven Psychopaths Ivanek plays Paulo, the head of Costello's gang of thugs, who threatens Farrell's Marty with great relish. He clashes with the same actor in In Bruges, as a Canadian who complains about cigarette smoke in a restaurant and gets offended when Farrell's Ray calls him American.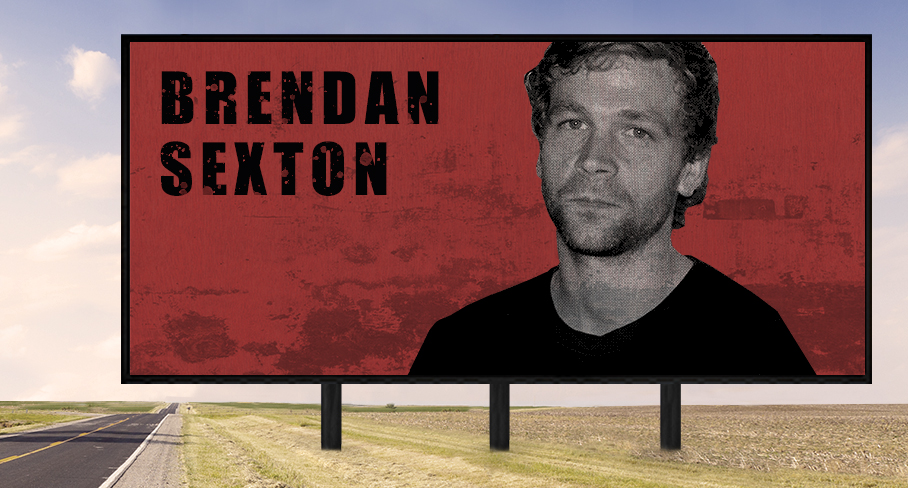 Brendan Sexton III as Crop-Haired Guy
Although he sounds like an irrelevant extra with no lines, Crop-Haired Guy is central to the plot of Three Billboards. Sexton tends to get typecast as bad guys, and this film is no different. With his steely stare and a mouth in overdrive, you wouldn't want to get as far as asking his name.
McDonagh also cast him in…
Sexton is the young version of Zachariah Rigby (Tom Waits) in Seven Psychopaths' flashback scenes, in which he and his wife Maggie go "around the country killing people who go around the country killing people". We'll have to wait and see if McDonagh casts Sexton as anything but a villain in future, but we're not holding our breath…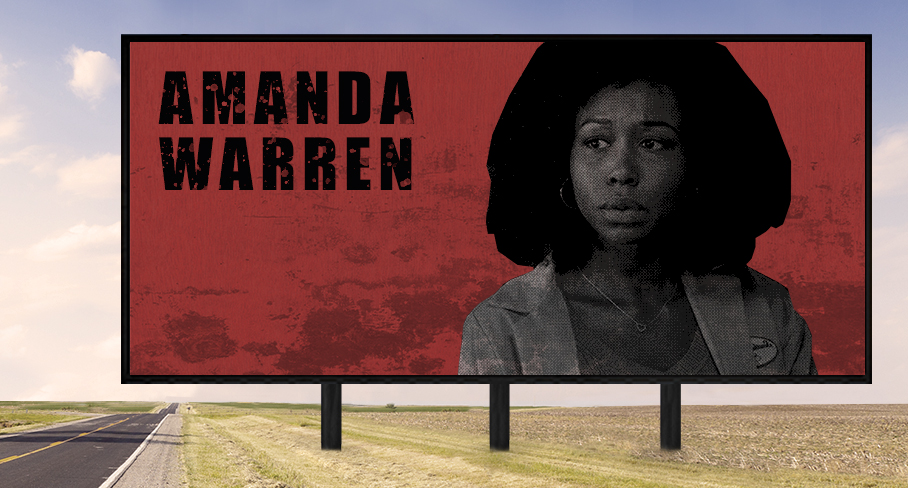 Amanda Warren as Denise
Denise is one of Mildred's few friends in Ebbing and her colleague at a gift shop. She's a straight talker who's determined to stand in Mildred's corner… until the police get involved.
McDonagh also cast her in…
Remember Maggie, one half of the murderous couple in Seven Psychopaths? That was Warren! And the McDonagh universe (McDonaghverse?) comes together.
Find out what's on Sky Cinema
Get even more lights, cameras and action with our movie homepage, featuring all the daily premieres and more of the thousands of films available on demand in Sky Cinema.


Watch on the go
If you subscribe to Sky Cinema on Virgin TV, you can watch on the go with the Sky Cinema app on your mobile, laptop or tablet anywhere in the UK (or while temporarily in the EU) with a WiFi or broadband connection. Just download from the Apple app store, Google Play or the Amazon appstore and log into the app to start watching.
Upgrade to Sky Cinema now
Don't have Sky Cinema? You can find out about our Sky Cinema package and upgrade here.
TV channels: Channels, content and features available depend on your chosen package. Channel line-ups and content are subject to change at any time and to regional variations.
HD: HD TV required to view HD channels. Number of inclusive HD channels depends on package.
Sky Cinema HD: Sky Cinema Premiere +1 not available in HD.
Sky Cinema app: Only available via the Sky Cinema app (selected iOS and Android devices only) or website to customers who subscribe to these channels. Only available on iOS 8 and above, and Android 4.x. UK only (or while temporarily in the EU). Maximum 2 devices. Selected content may not be available to view. Separate End User Licence Agreements and terms and conditions apply to the Sky Cinema app and website.
Image credits: Three Billboards Outside Ebbing, Missouri © 2017 Twentieth Century Fox Film Corporation. All rights reserved.