Skip to main content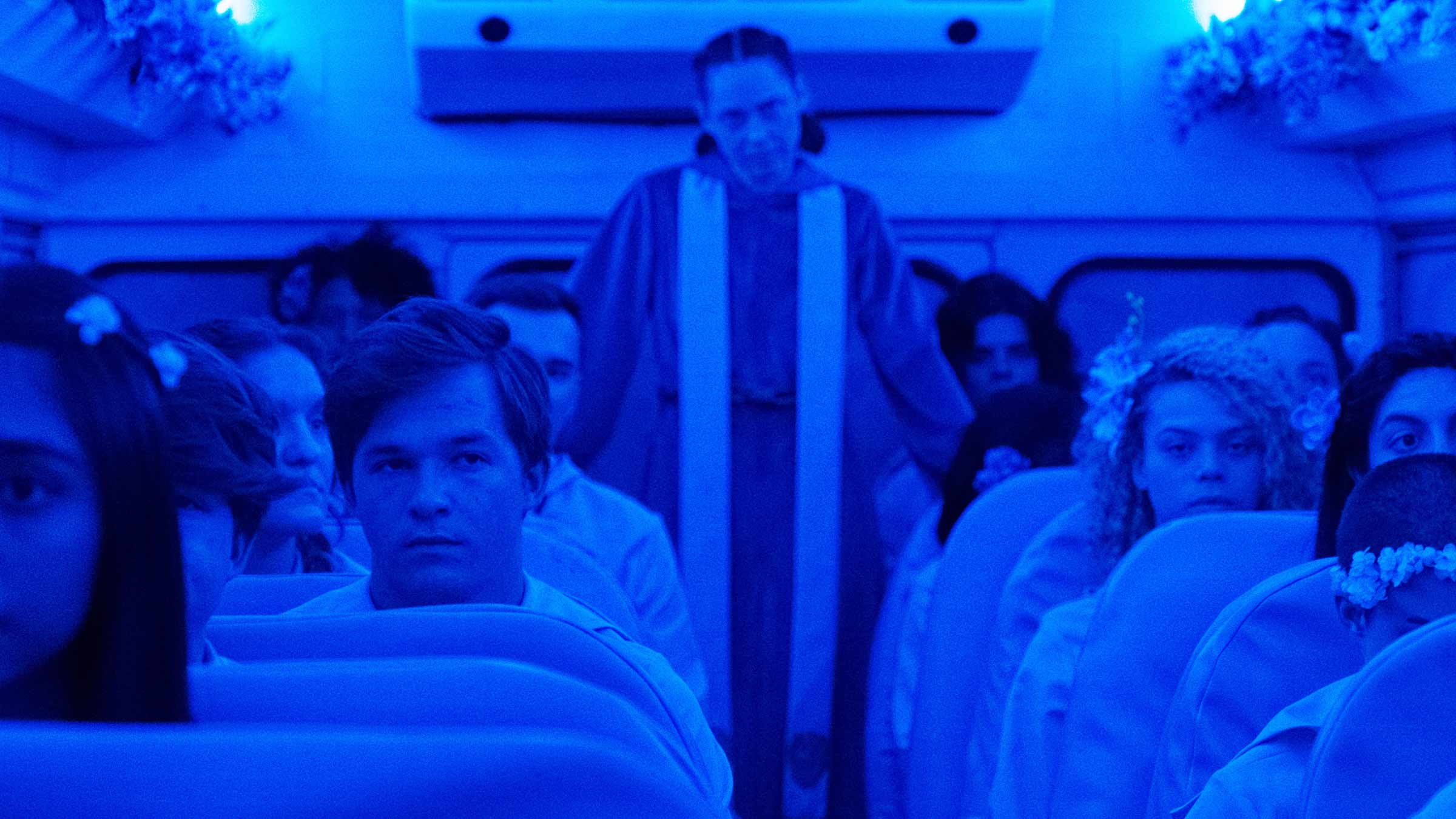 We scoured Twitter to find the best TV and film suggestions for Sunday 14 February
By Laura Rutkowski, Staff Writer
One of the saving graces of lockdown is that this year you won't have to see couples carrying flowers or balloons with a spring in their step, or pass restaurants with cosied up lovebirds in dimly lit corners feeding each other heart-shaped desserts.
Being single is something to be celebrated, especially right now! We know there are downsides (cuddles are nice, we guess), but can you imagine being holed up with someone for months and months with nowhere to really go?
It's been a testing time for people in relationships and for those not in them, but instead of sulking over the fact you won't be treated to an at-home fairy light/chocolate-covered strawberry surprise this V-day, we recommend treating yourself.
Check out what the lovely single people of Twitter are recommending you watch from the comfort of your own home (just think – you don't have to share any of your sweets). Some are romantic, some are incredibly… not, but however you spend the day, remember it is just one day. Take advantage of the fact it's on a Sunday and binge away!

The Old Guard
Find it in Apps & Games > Netflix
Andromache "Andy" of Scythia (played by a kick-butt Charlize Theron) is an immortal centuries-old warrior with regenerative healing abilities who works with three other mercenaries with the same powers. KiKi Layne and Chiwetel Ejiofor also star in this dynamic adventure that's got both style and substance.
Based on the 2017 comic book written by the Greg Rucka and drawn by Leandro Fernandez, The Old Guard also features a romance that is rarely shown in action movies. Joe (Marwan Kenzari) and Nicky (Luca Marinelli) aren't the main characters, yet their love story is allowed to shine.
They're proof that true love does exist (and quite literally lasts forever since they can't die). Move over Edward and Bella, if the love isn't like THIS, we don't want it:
Find it in Apps & Games > Netflix from Sunday 14 February
The name of this Nollywood-Bollywood romcom loosely translates to "Hello trouble." It tells the cross-cultural love story of Didi (Nigerian actor Ini Dima-Okojie) and Raj (Indian actor Ruslaan Mumtaz), who fall in love despite their differences and objections from their families.
This movie, which is mainly filmed in English with a mix of Hindi and Nigerian Pidgin, has it all – drama, belly laughs, misunderstandings, tears and big wedding energy. Writer, director and producer Hamisha Daryani Ahuja wished everyone a great Valentine's Day on her Instagram page and wrote that she knew what she would be doing on the occasion – why not join her?
The Invitation
Find it in Apps & Games > Netflix
We all know the loved-up ones get killed off relatively early on in horror flicks (usually after they wander off somewhere haunted for some alone time). If you really want to stick it to the day, immerse yourself in some good old-fashioned gore.
There's even a slasher called Valentine, where four friends receive the kind of cards you definitely wouldn't feel warm and fuzzy about. The Invitation is a clever psychological thriller where Will (Logan Marshall-Green) agrees to attend a dinner party with his girlfriend (Emayatzy Corinealdi) that is hosted by his ex-wife (Tammy Balnchard) and her new husband (Michiel Huisman). If you're looking for a sign, this is it – DO NOT text your ex.

The Devil Wears Prada
Find it in Apps & Games > Prime Video
We stan Stanley Tucci, and so does the rest of the world – we collectively slobbered over him making a Negroni, for heaven's sake. So of course we love the idea of a watch-a-thon made up exclusively of his films. Of all the ones we could choose, we've decided to go for The Devil Wears Prada, where he plays Runway magazine's art director Nigel Kipling.
As Andy Sachs (Anne Hathaway) navigates her career in journalism, the internet agrees that her selfish and unsupportive friends and boyfriend (Adrian Grenier) are "complete trash". The film serves as a reminder to go after what you want, and as you grow as a person, you might outgrow some people, but that's no bad thing.

The Notebook
Find it in Apps & Games > Netflix
The Notebook had to make it on the list! Sometimes all you want on this holiday is to hunker down with some blankets and some ice cream, to have a good little cry and imagine Ryan Gosling kissing you in the rain.
The love story of country boy Noah (Gosling) and rich city girl Allie (Rachel McAdams) is one for the ages and would melt even the most hardened of icy hearts. If it's your first time to the film, based on Nicholas Sparks' book, we won't spoil the twist for you in this tale that spans decades. We'll just leave you with this: are you team Noah or team Lon (James Marsden)?

To All The Boys: Always And Forever
Find it in Apps & Games > Netflix
This is the perfect choice for a watch party with your friends. The third film adaptation of Jenny Han's book series follows Lara Jean Covey (Lana Condor) as she nears the end of high school. With university on the horizon, she wonders whether her boyfriend Peter Kavinsky (Noah Centineo) features in her bigger life plan.
Although the first movie, To All The Boys I've Loved Before, was released in August 2018, the two sequels have both been released just a few days before Valentine's on 12 February 2020 and 2021. It's practically calling out to be watched on the 14th, where you can reminisce about puppy love, the innocence of youth and that butterfly feeling when you have a crush. Enjoy with lots of snacks and virtual chats!

Everton v Fulham
Sunday 14 February, 7pm, BT Sport
Whichever side you're on, football can be your Valentine this year. In fact, your unconditional love for the beautiful game can put you through just as many ups and downs as being in a relationship. You experience a range of emotions, varying from hope and disappointment, to joy and anger. Through the good and the bad times, you remain loyal and devoted. Shout at the telly all you like, but at the end of the day, your team will still be there for you – and this is a love that lasts a lifetime.

The Purge
Finds seasons 1 & 2 in Apps & Games > Prime Video
The film franchise revolves around a dystopian United States that allows for a 12-hour-period once every 12 months where all crimes, even murder, are legal. The first series is set in 2027, which places it between The Purge: Anarchy and The Purge: Election Year.
We like the idea suggested in this tweet, although we'd like to switch it so that single people can take out their frustrations (without violence of course) on smug couples in relationships for one night of the year (on Valentine's Day, naturally). That's the next Purge movie right there. Although, since lockdown and the introduction of masks, we've seen a lot less PDA, which we'll take as a small victory for single people.


How to watch Amazon Prime Video with Virgin TV
Prime Video is available to all Virgin TV customers with a V6 box, powered by TiVo®. Simply sign up to Amazon Prime Video via their website, and you can log in on the box. And because Prime Video is fully integrated into TiVo®, you can search without even going into the app. Just select Search & Discover from the Home menu and type in the name of the show or movie you're after.
How to watch Netflix with Virgin TV
If you have a TiVo® box or Virgin TV V6 box, powered by TiVo®:
Press home on your remote
Select Apps & Games
Select All Apps
Select Netflix
If you're already a Netflix subscriber, you can also access the app through Search & Discover or by pressing Red on channel 204. Just sign in with your existing login and start watching. And you'll only have to log in the first time you use it.
If you're new to Netflix, then you'll need to subscribe to use the app. The easiest way to do this is by going to netflix.com/virginmedia. You can also subscribe using the Netflix app in Apps & Games.
Amazon Prime Video: Amazon Prime subscription required at extra cost. 18+. Click here for T&Cs.
Netflix: Netflix subscription required at extra cost.