Skip to main content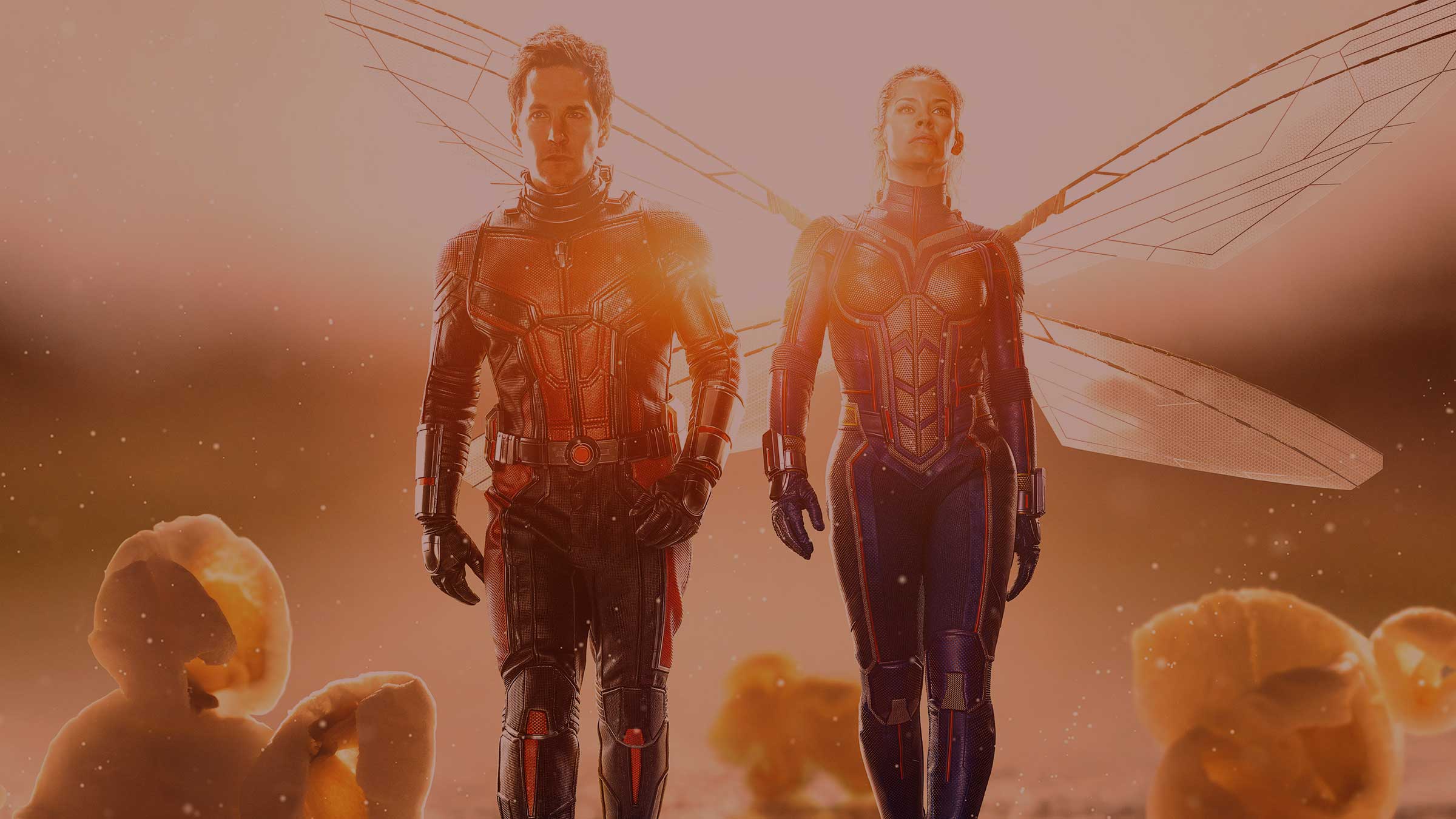 After the madness of Avengers: Infinity War this year, you may have lost track of where we are in the Marvel Cinematic Universe – so let us explain where the Ant-Man sequel fits in…
Buy Ant-Man And The Wasp on the Virgin Media Store now. Cert 12
As well as being a witty, fast-paced adventure in its own right, Ant-Man And The Wasp also does its bit to pull together some of the strands of the MCU – that sprawling inter-connected saga that now covers 20 films, numerous superheroes, multiple planets and several time periods.
This film takes place pretty much in parallel with the events of Infinity War and is well placed as a stepping stone towards the much-anticipated sequel to that. It also introduces new characters, villains and potentially very important plot points!

So now that this latest Marvel movie is available to buy and keep on the Virgin Media Store, what do you need to know before watching to avoid getting confused? Here's our spoiler-free guide to what's going on and how it all fits together…
The whole Ant-gang are back
In the first film, cat-burglar Scott Lang (Paul Rudd) was recruited by the orginal Ant-Man, former S.H.I.E.L.D. scientist Hank Pym (Michael Douglas), to be his successor. Both old and new Ant-Men are back for the sequel, along with Evangeline Lilly as Hank's daughter Hope and Michael Peña as Scott's scene-stealing best friend Luis. There are new cast members too, as we get to find out more about Hope's mum Janet (Michelle Pfeiffer), while Laurence Fishburne also makes an appearance – we won't say any more for fear of spoilers, but it's always good to see Morpheus in action.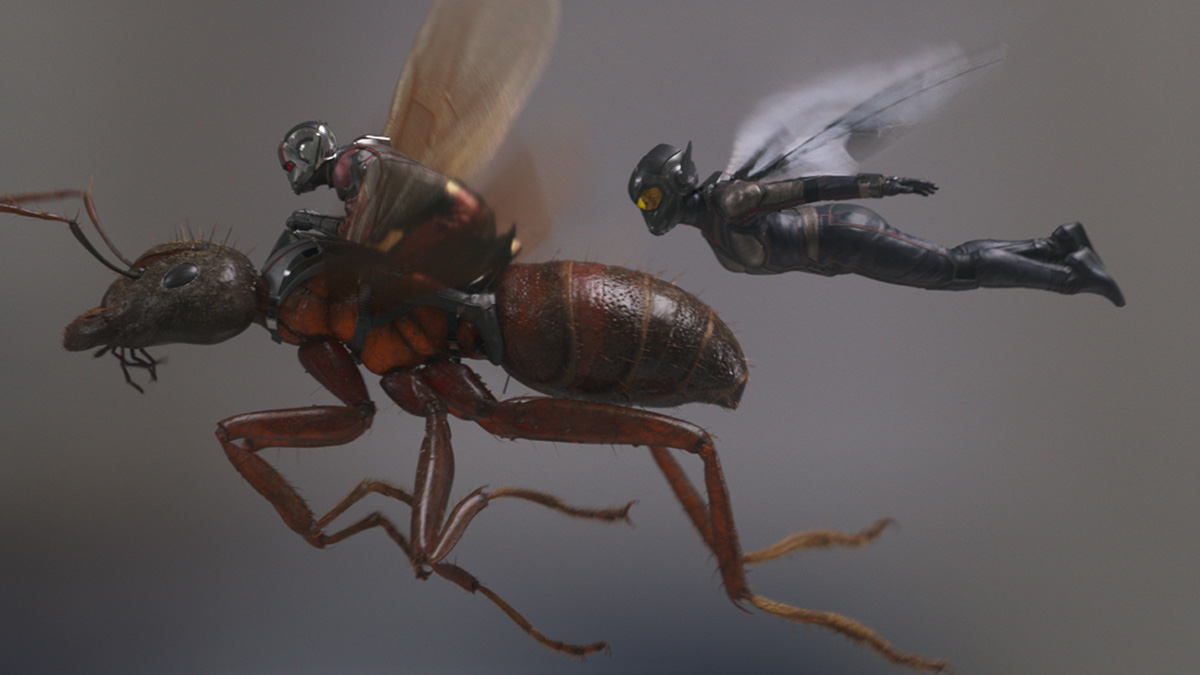 The Wasp is finally allowed to fly

Hope Pym spent most of the first film proving that she would make a better Ant-Person than Scott – but her dad didn't want her doing anything dangerous. Until, that is, she was presented with her very own winged Wasp suit at the end of the movie. Fact fans may also like to know that the Wasp is the MCU's first female title character, just ahead of next year's Captain Marvel.
We're going back into the Quantum Realm

The end of Ant-Man saw Scott shrinking beyond safe limits, ending up in the trippy Quantum Realm that claimed Janet – the original Wasp – years earlier. His successful visit sparks a whole new line of research for Hank and Hope, who realise that there might be a way to rescue her. It's a shame that none of them know Doctor Strange; he could probably have rescued her between jobs and still had time for a cuppa.
But it's not just science that stands in the way
There's another complicating factor in the shape of Ghost, a new super-suited character who seems able to move through solid objects, and who keeps crossing paths with Hope and Hank. Ghost is after the same sort of stuff that Hope and Scott need to rescue Janet, because sod's law always hits superheroes hard. And then there's the matter of Scott being under house arrest…
It explains what Ant-Man was up to during Infinity War
After the events of Captain America: Civil War, life on the run was too hard on Scott, who has a young daughter (Abby Ryder Fortson – adorable) at home. He took a plea deal and is spending two years under house arrest and FBI surveillance, something Black Widow (Scarlett Johansson) mentions briefly in Avengers: Infinity War – which makes sense since Ant-Man And The Wasp takes place concurrently with some of the events of Infinity War. And as with all MCU movies, you'll want to keep watching the credits to see how this all links up to the other films.
The film may be relevant to the next Marvel movie
It's not immediately obvious how this story will connect to Captain Marvel, due for release in March 2019, but there are a few hints. As we've seen from the trailers, Brie Larson's adventures take place in the 1990s, and there's some wibbly-wobbly-timey-wimey stuff going on here, if you don't mind us getting technical. And we're pretty sure that credits sequence is going to be very relevant to Avengers 4… Maybe just watch the film and all will become clear. Well, clear-ish.


Looking for more Marvel bargains on the Virgin Media Store?
Then you should catch up with the first thrilling Ant-Man film and more Marvel movies, because they're are available to buy, watch and keep for even less right now in the Virgin Media Store's Marvel Sale! This includes Black Panther, Thor: Ragnarok, Guardians Of The Galaxy Vol 2 and even more massive titles from just £10.99, so you can easily fill in any gaps in your MCU knowledge. Excelsior!

Not heard about the Virgin Media Store?
It's the place where you can buy the latest and greatest movies and TV Box Sets, yours to watch again and again, at home or on the go. Sign up now at virginmediastore.com, choose from hundreds of films and TV Box Sets and start watching instantly.
Enjoy your purchases on your Virgin TV Box (TiVo®/V6), online, or on your registered iOS and Android devices with the Virgin Media Store app.
Show me the latest releases on the Virgin Media Store.
Virgin Media Store: Separate terms and conditions apply to the Virgin Media Store service. DVD included for movie purchases only. Purchases must be made on the website or set top box. Virgin TV subscription and our latest Virgin TV V6 box required to buy and watch via set top box – Store is not available on other boxes. Compatible device & browser required. Max 5 registered devices. Max 2 devices can stream content simultaneously. Stream and download in UK only (or while temporarily in the EU).