Skip to main content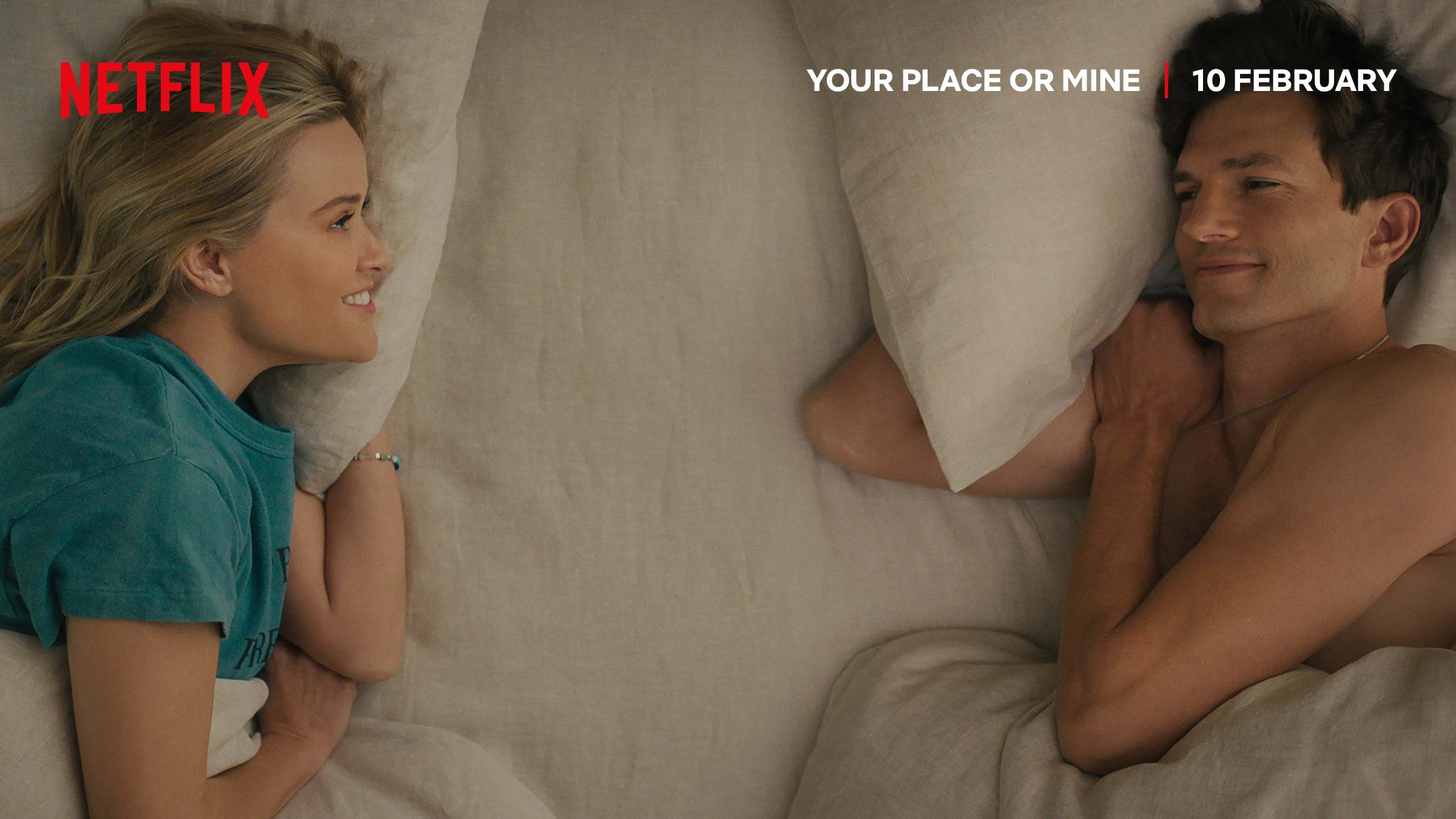 With Your Place Or Mine? landing just in time for Valentine's Day, we look at romcom's best leading ladies. But who are the queens of hearts? Let's find out...
By Charlotte Briggs, Writer
Get ready to swoon because Netflix's romcom of the year Your Place Or Mine? is finally hitting our screens. In addition to starring Reese Witherspoon (Legally Blonde) and Ashton Kutcher (No Strings Attached) as our leading love interests, it's the directorial debut of Aline Brosh McKenna (writer of 27 Dresses and The Devil Wears Prada), so has all the ingredients required for a perfect Valentine's Day watch.
So, what's all the fuss about? Well besties-since-forever Peter (Kutcher) and Debbie (Witherspoon) are total opposites. Debbie craves routine with her teenage son in Los Angeles, while Peter lives life in the fast lane in New York City. But when Debbie wants to pursue a lifelong ambition, they swap lives so she can embrace the chance of a lifetime. But what will happen to their friendship when Debbie's dreams start coming true?
Starring alongside Witherspoon and Kutcher is a stellar supporting cast that includes the likes of Steve Zahn (Dallas Buyers Club), Griffin Matthews (The Flight Attendant), Zoe Chao (Senior Year) and Jesse Williams (Grey's Anatomy).
Whether you're watching alone, with pals or a lover, it's bound to leave you feeling all warm and fuzzy. You can catch Your Place Or Mine? from Friday 10 February on Netflix (Apps & Games > Netflix).
And to help get you in the mood for love, we've rounded up the very best romantic movies to watch right now featuring the best in the business. Here they are, our Queens Of Hearts.
Reese Witherspoon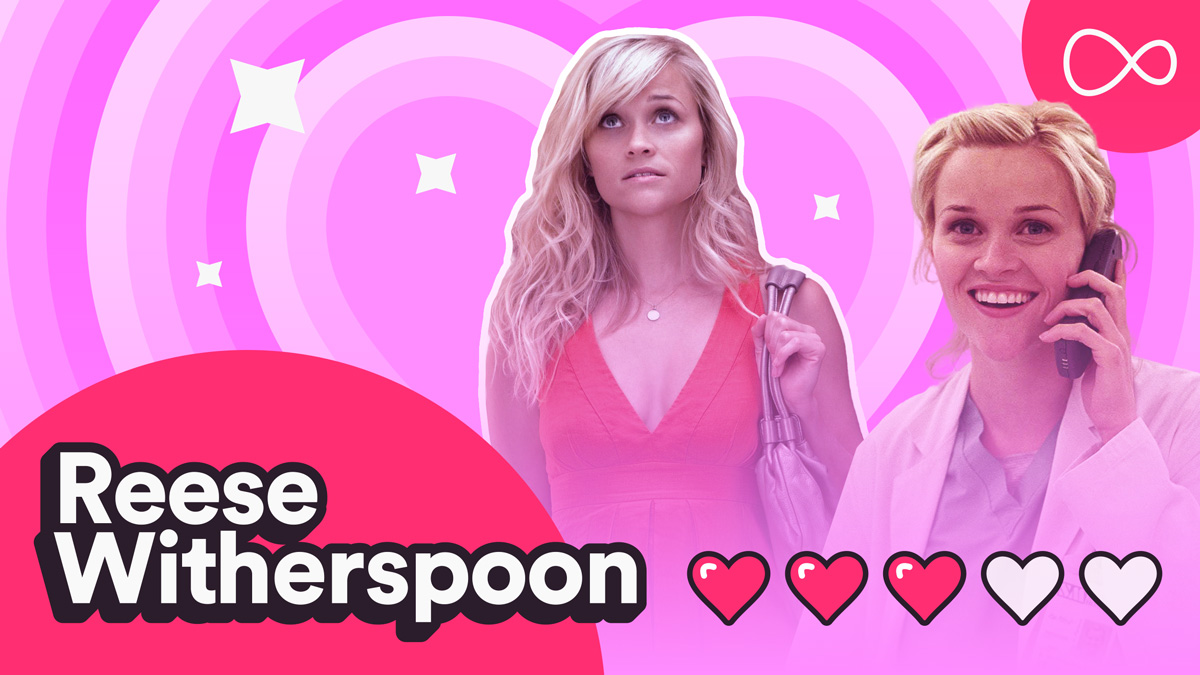 Starring in classics like Sweet Home Alabama and Cruel Intentions, her upcoming movie Your Place Or Mine? will only add to Witherspoon's reputation as a favourite leading lady. Here's where you can find her:
How Do You Know?
Find it in Apps & Games > Netflix
Freshly cut from the US team, softball player Lisa (Witherspoon) is feeling past her prime. But after a journey of self-discovery leaves her caught up in a messy love triangle with falsely accused fraudster George (Paul Rudd, Ant-Man) and charming baseball player Matty (Owen Wilson, Marry Me), she finds out the true meaning of love. Jack Nicholson also stars in his last film role as George's scheming father.
Just Like Heaven
Find it in Apps & Games > Netflix
Freshly widowed David (Mark Ruffalo, 13 Going On 30) has just moved into an apartment in the city to begin a new life… but there's a catch. It's haunted by former resident Elizabeth (Witherspoon), a high-flying doctor who had her whole life ahead of her. But can two people from different worlds live happily ever after? Guess you'll have to find out!
Jennifer Aniston
Following her gigantic success in Friends, Jennifer Aniston has an impressive Hollywood resumé with a whopping ten romcom titles under her belt (and no doubt more to come!). Here's where you can find her:
Along Came Polly
Find it in Apps & Games > Netflix
A quirky watch, the film begins with strait-laced Reuben (Ben Stiller, There's Something About Mary) getting dumped by his new bride on their honeymoon. His plans for life and outlook on love are turned upside down. But a chance encounter with his childhood friend, the salsa-loving and adventurous Polly (Aniston), teaches him to live in the moment. Aw!
He's Just Not That Into You
Find it in Apps & Games > Netflix
Based on the best-selling self-help book of the same name, this mid-00s staple follows the interwoven lives of nine people as they figure out their romantic problems and human behaviour. Aniston takes on the role of Beth, whose long-term partner Neil (Ben Affleck, Forces Of Nature) is refusing to propose after seven years. The all-star cast includes Drew Barrymore (50 First Dates), Scarlett Johansson (Scoop) and Jennifer Connelly (Career Opportunities).
Just Go With It
Find it in Apps & Games > Netflix
Adam Sandler stars as shallow plastic surgeon Danny, who pretends to be unhappily married to date women. But when the woman of his dreams Palmer (Brooklyn Decker, What To Expect When You're Expecting) finds his fake wedding ring and asks to meet his soon-to-be-divorced wife, Danny improvises and asks his long-suffering assistant Katherine (Aniston) to play along. But a family getaway to Hawaii changes everyone's lives.
Julia Roberts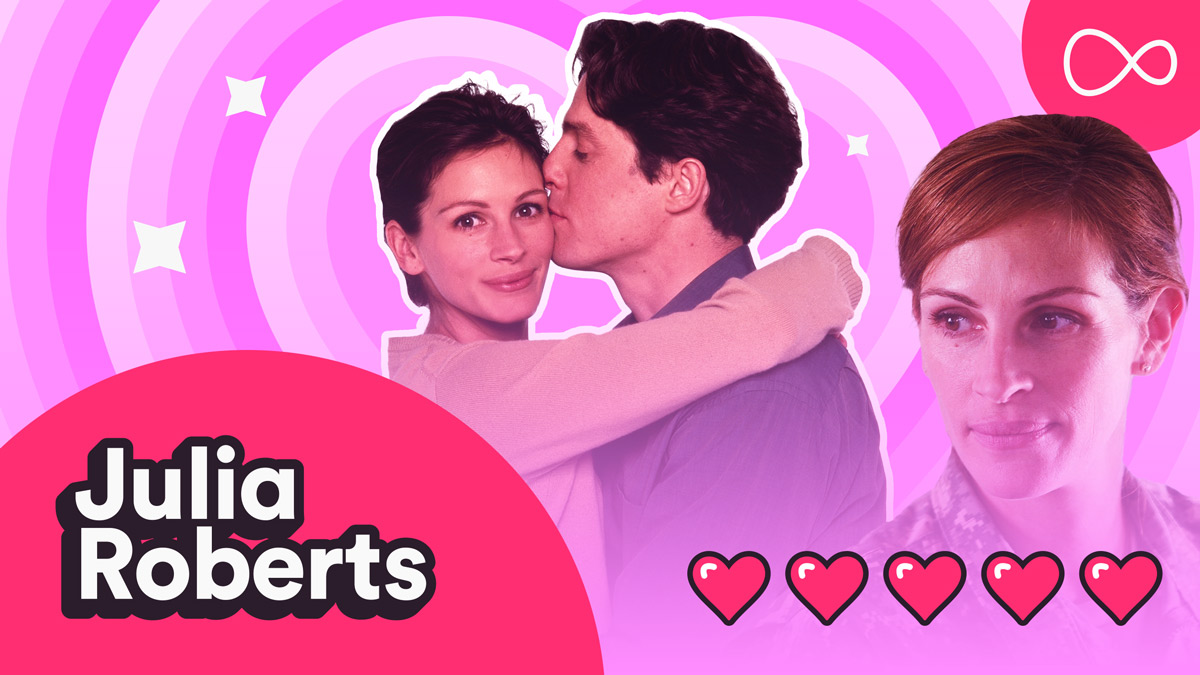 Julia Roberts created the blueprint for the romcom genre, with iconic performances in the likes of Pretty Woman launching her to global stardom. Here's where you can find her:
My Best Friend's Wedding
Find it in Sky Cinema on demand
Julianne (Roberts) and Michael (Dermot Mulroney, The Wedding Date) have been best friends since forever. But when he introduces his new fiancée Kimberley (Cameron Diaz, The Holiday), Julianne realises she's in love with the groom and does everything in her power to call off the wedding. Yikes! Full of twists and turns the romcom that put Cameron Diaz on the map will keep you guessing throughout.
Notting Hill
Find it in Apps & Games > Prime Video and in Sky Cinema on demand
Two worlds collide in this British 90s classic. Roberts stars as Anna Scott, the world's most-famous film star who meets dashing bookseller William (Hugh Grant, Love Actually). The pair form an improbable romance, but can they overcome their different social statuses to make it work? Watch out for some familiar faces in the outstanding supporting cast including Rhys Ifans (Harry Potter And The Deathly Hallows Part 1), Hugh Bonneville (Downton Abbey) and Emma Chambers (The Vicar Of Dibley).
Valentine's Day
Find it in Apps & Games > Prime Video
America's answer to Love Actually follows the interwoven lives of our ensemble cast navigating Valentine's Day. Roberts plays Kate who befriends Holden (Bradley Cooper, A Star Is Born) on a flight to her hometown. Love might just be on the cards for these two... also starring are Hollywood icons Queen Latifah (Just Wright), Anne Hathaway (The Devil Wears Prada), Jamie Foxx (Dreamgirls), Kathy Bates (Titanic), Jennifer Garner (13 Going On 30) and Patrick Dempsey (Bridget Jones's Baby). Phew!
Rachel McAdams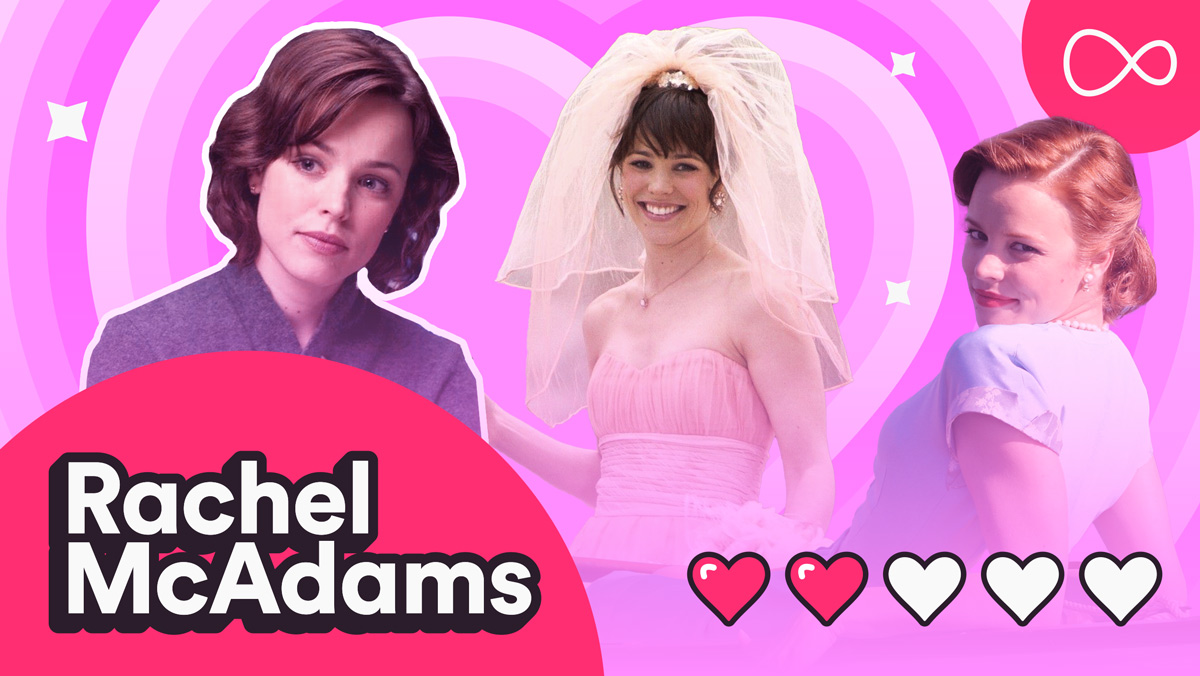 The Oscar-nominated Mean Girls star has proven her acting chops across multiple genres, including a portrayal in one of the most dramatic love stories in cinema history. Here's where you can find her:
Aloha
Find it in Apps & Games > Prime Video
Bradley Cooper stars as Brian, a military man who returns to his old stomping ground of Honolulu and bumps into his ex-girlfriend Tracy (McAdams). His arrival causes quite a stir, leaving Brian and the now-married Tracey wondering if time really does heal all wounds. Also starring are Emma Stone (La La Land), Bill Murray (Groundhog Day) and John Krasinski (Something Borrowed).
The Notebook
Find it in Apps & Games > Prime Video
In the present day Duke (James Garner, Murphy's Romance) reads a story to dementia patient Ms Hamilton (Gena Rowlands, Hope Floats) out of his notebook. The story itself follows the romance between lovers Noah (Ryan Gosling, Crazy, Stupid, Love) and Allie (McAdams), who are separated by social class and later fate. But when they find each other again years later, a heartbreaking twist is revealed.
The Vow
Find it in Apps & Games > Netflix
Inspired by the true story of Kim and Krickitt Carpenter, McAdams stars as Paige who's happily married to her husband Leo (Channing Tatum, Dear John). But after a life-changing accident leaves her with memory loss, their relationship is put to the ultimate test as Leo fights for a marriage that Paige doesn't remember. Can he rekindle their love before it's too late?
Taraji P Henson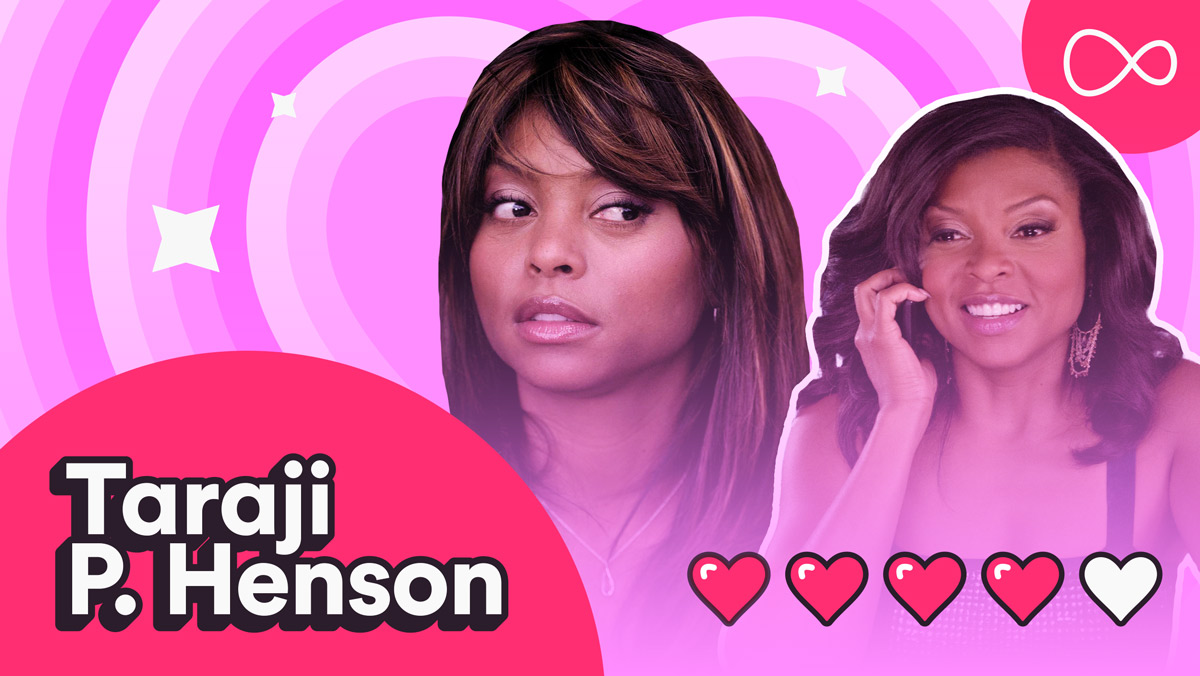 The entrepreneur, author and award-winning actress is walking proof that women can do it all, with a 20-year film career giving romcom lovers some of their favourite performances. Here's where you can find her:
Not Easily Broken
Find it in Apps & Games > Netflix
On the outside it looks like Clarice (Henson) and Dave (Morris Chestnut, The Best Man) have the perfect marriage, but in reality they're on the verge of breaking apart. After an accident leaves Clarice in a wheelchair, the couple must decide if they can honour their vows or navigate a new life apart. Also starring are funny man Kevin Hart (The Wedding Ringer) and Jenifer Lewis (Think Like A Man).
Something New
Find it in Apps & Games > Netflix
Taking on a supporting role in this mid 00s romcom Henson stars as Nedra, one of the protagonist's supportive besties. Kenya (Sanaa Lathan, Nappily Ever After) has the whole world at her feet as an accomplished accountant. Concerned that her personal life doesn't match up to her successful career, she agrees to go on a blind date with free-spirited Brian (Simon Baker, I Give It A Year) that changes her life forever.
Think Like A Man Too
Find it in Apps & Games > Netflix
Sequel to the wildly successful Think Like A Man, the film follows the trials and tribulations of five couples who are spending the weekend in Las Vegas for a wedding. But the romantic getaway soon goes awry, threatening to derail the big day entirely! Also starring are fellow romcom favourites Regina Hall (About Last Night), Meagan Good (35 And Ticking) and Gabrielle Union (Deliver Us From Eva).
Jennifer Lopez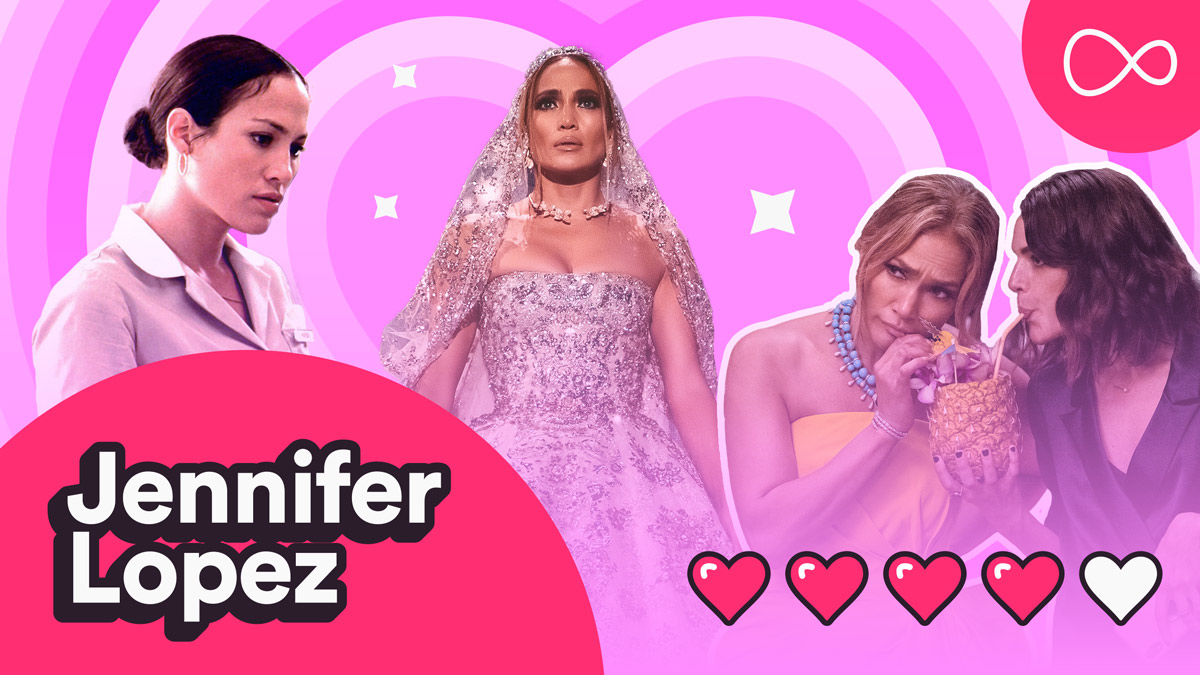 A talented woman both on and off the stage, international superstar Jennifer Lopez is the ultimate triple threat with her decades-long acting, singing and dancing career. Here's where you can find her:
Maid In Manhattan
Find it in Apps & Games > Netflix and in Sky Cinema on demand
Lopez stars as Marisa, a single mother who works as a maid at an upmarket hotel in New York. When she tries on a dress belonging to a wealthy socialite (Natasha Richardson, The Parent Trap) she bumps into hotel guest and politician Chris (Ralph Fiennes, Wuthering Heights). They fall in love, but the future looks uncertain when her true identity is revealed.
Marry Me
Find it in Sky Cinema on demand
Real-life pop stars Lopez and Maluma star as fictional superstar couple Kat Valdez and Bastian. Due to be married in front of a global audience, Valdez learns of Bastian's infidelity just moments before they say I do. In the heat of the moment, she chooses concertgoer Charlie Gilbert (Owen Wilson, Wedding Crashers) as her groom.The odds are against them in this modern-day romcom, but can they make it work?
Shotgun Wedding
Find it in Apps & Games > Prime Video
This 2022 romcom follows the events of the soon-to-be wedded Darcy (Lopez) and Tom (Josh Duhamel, When In Rome) at their destination wedding. Gathering with their families on a private island in paradise, what could possibly go wrong? Well, the pair start to get cold feet… and the entire wedding party is taken hostage by terrorists. Also starring Jennifer Coolidge (A Cinderella Story) and Lenny Kravitz (Zoolander), this romcom with a twist will keep you on the edge of your seat.
Your Place Or Mine? release date
Your Place Or Mine? will be released on Netflix on Friday 10 February. You can catch it on Apps & Games > Netflix.
How to watch Netflix with Virgin TV
If you have a Virgin TV 360 box or Stream from Virgin Media, there are four ways to navigate to the Netflix app:
1. Use your voice
A. Just press and hold the voice button and say "Netflix" to open the app.
2. Via the app section
A. Press Home.
B. Go to the right and select Apps.
C. Select Netflix in the Apps screen.
3. Via channel 204 if you're a Virgin TV 360 customer
A. Tuning to this channel automatically launches Netflix.
4. Navigating down to the Netflix icon in the homepage if you are a Stream customer
To search for Netflix content on your Virgin TV 360 and Stream from Virgin Media, select the Search icon from any full screen menu. Enter your Search term using the on-screen keyboard. Press back and then right to highlight the "All" filter. Press OK and select Netflix. You can now view and select from the Netflix results for your search term.
To access Netflix if you have a TiVo® box or Virgin TV V6 box, powered by TiVo®:
Press home on your remote
Select Apps & Games
Select All Apps
Select Netflix
Our Biggest TV, Biggest TV Volt and Ultimate Volt bundles already include Netflix in Full HD. You can also add Netflix to any other bundle that includes broadband and TV – just hit Customise your package to add it.
Already have a Netflix subscription? You can transfer your billing over to Virgin Media to keep everything together in one bill without changing your Netflix account! Learn more here.
TV channels: Channels, content and features available depend on your chosen package. Channel line-ups and content are subject to change at any time and to regional variations.
HD: HD TV set, V HD Box, TiVo box or Virgin TV V6 connected with HDMI cables required for HD channels. Number of inclusive HD channels depends on package.
Netflix: Netflix subscription required at extra cost.