Skip to main content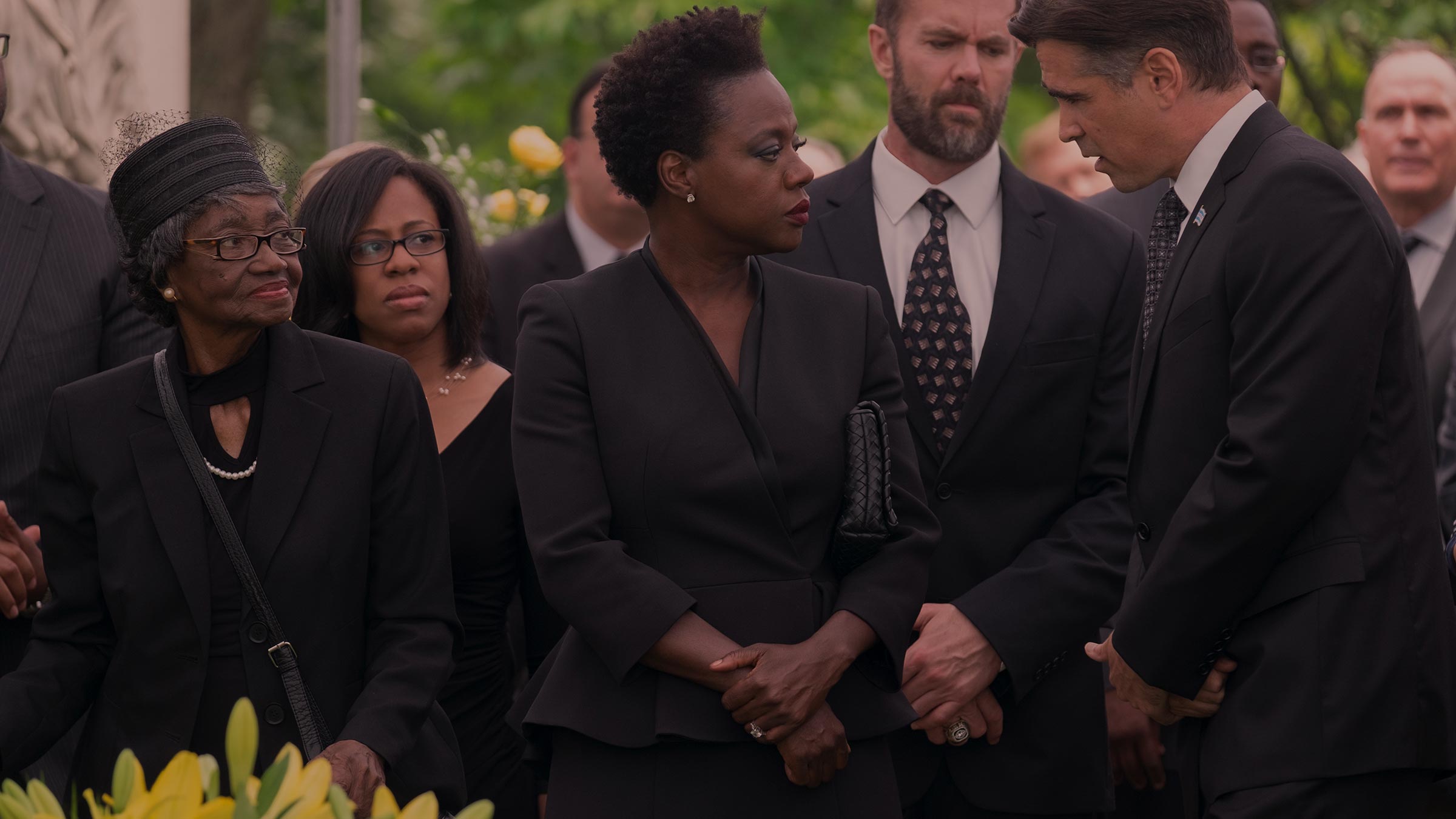 These widows don't have time to grieve, they're too busy getting even
Widows, available to buy on the Virgin Media Store. Cert 15
Steve McQueen's Widows is a rare thing – a socially conscious heist movie that's as good at pulling its punches as it is at delivering them. This is largely down to its fantastic script, co-written by McQueen and Gone Girl author Gillian Flynn. Not once do the characters trade their substance for style, even managing to keep their cool and sense of humour mid-robbery.
This adaptation of Lynda La Plante's British TV series from the 1980s is set in modern-day Chicago, amid a context of racially charged crime and prejudice. It focuses on four strong female characters played by similarly strong actors: Veronica (Viola Davis, How To Get Away With Murder) Linda (Michelle Rodriguez, The Fast And The Furious), Alice (Elizabeth Debicki, The Night Manager) and Belle (Cynthia Erivo, Bad Times At The El Royale).
When Veronica, Linda and Alice's husbands are killed during an attempted robbery, the women band together. But when Veronica is threatened by crime boss Jamal (Brian Tyree Henry, Atlanta), from whom her deceased husband (Liam Neeson, Taken) stole $2 million, the ladies begin planning another heist to help pay back the debt.
As for Belle's connection? She babysits Linda's children, but soon finds herself moonlighting as the group's getaway driver. Look out for another amazing turn from Daniel Kaluuya (Get Out), Colin Farrell dusting off his American accent, and Carrie Coon (The Sinner), who plays another widow.
But wait, there's even more on the Virgin Media Store!
All this thievery not your (swag) bag? Then consider cosying up with The Grinch (2018) or Captain Marvel. Whether you're looking for feel-good family fun or a superhero smash, the Virgin Media Store has your back.
The Grinch (2018)
The Grinch (2018), available to buy on the Virgin Media Store. Cert U
It's never too early (or late, depending on how you look at it) for a Christmas film. Benedict Cumberbatch provides the voice for the furry green Grinch, a performance that sparks tremendous joy in this familiar tale.
Alongside his trusty dog Max, the Grinch is back doing what he does best: dispiriting high spirits. There's a bevy of new characters, including a plump, happy-go-lucky reindeer, and a new spin on the classic songs from US rapper Tyler, The Creator.
Captain Marvel, in cinemas and available to pre-order on the Virgin Media Store from Friday 8 March. Cert 12A
Brie Larson (Kong: Skull Island) suits up as the titular superhero in Marvel's latest. It's 1995, which explains why she's seen crashing through the roof of a Blockbuster Video store in the trailer. But her fight isn't with that hallowed trove of rentable VHS tapes – she's landed on Earth slap-bang in the middle of a war between two alien worlds.
And those aliens could be hiding anywhere, which explains the scene with that seemingly innocent old lady on the subway. Samuel L Jackson, Ben Mendelsohn, Gemma Chan, Jude Law and Annette Bening also star in this booty-kicking action epic. Also, props to Larson for landing the role of a character who, according to popular opinion, is "the strongest Avenger" – you go girl!

Not heard about the Virgin Media Store?
It's the place where you can buy the latest and greatest movies and TV Box Sets, yours to watch again and again, at home or on the go. Sign up now at virginmediastore.com, choose from hundreds of films and TV Box Sets and start watching instantly.
Enjoy your purchases on your Virgin TV Box (TiVo®/V6), online, or on your registered iOS and Android devices with the Virgin Media Store app.
Show me the latest releases on the Virgin Media Store.
Virgin Media Store: Separate terms and conditions apply to the Virgin Media Store service. DVD included for movie purchases only. Purchases must be made on the website or set top box. Virgin TV subscription and our latest Virgin TV V6 box required to buy and watch via set top box – Store is not available on other boxes. Compatible device & browser required. Max 5 registered devices. Max 2 devices can stream content simultaneously. Stream and download in UK only (or while temporarily in the EU).