Skip to main content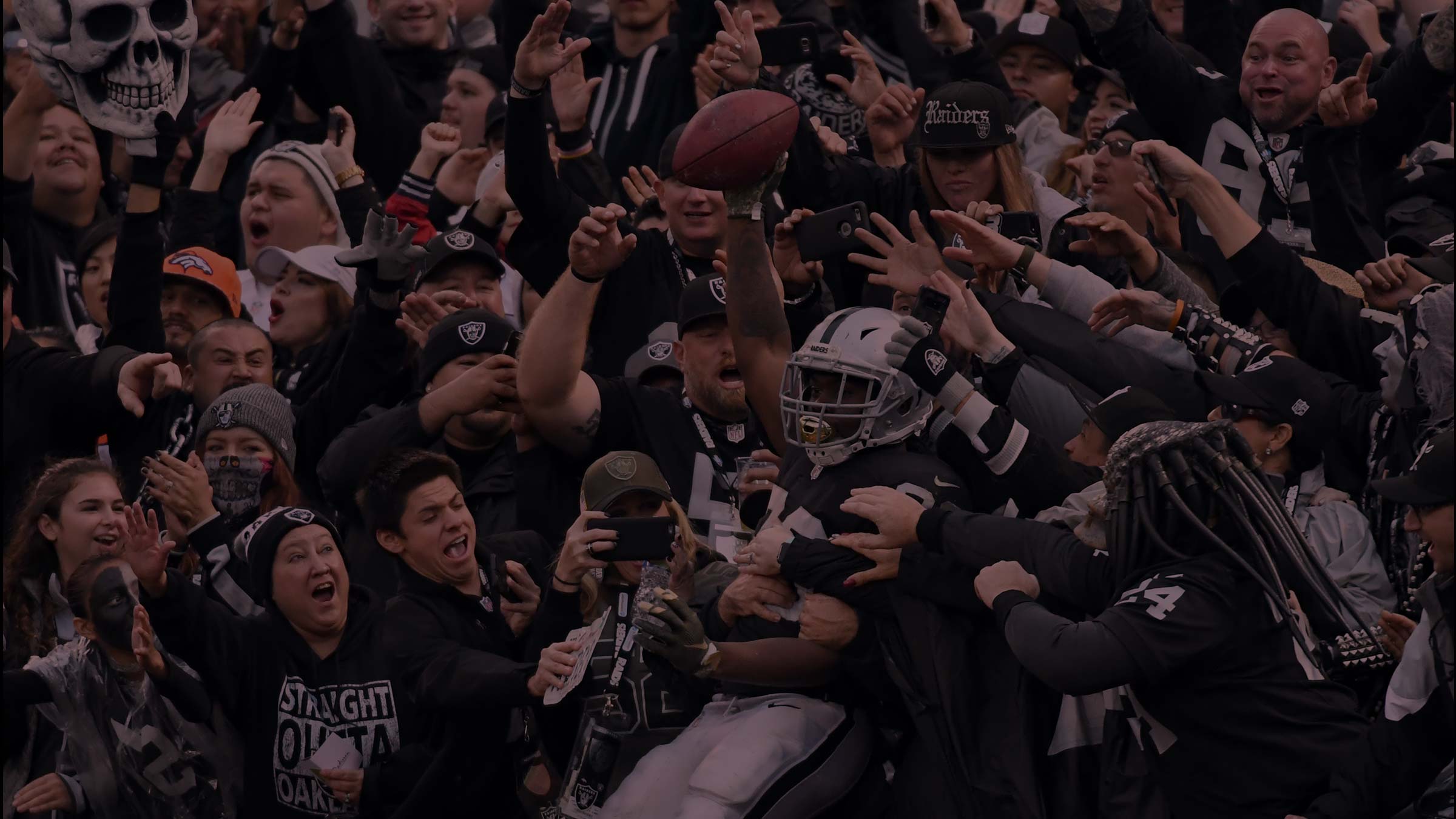 If you can't tell your knickers from your bean bags or your jammers from your punters, then fear not – our translator is on hand to ensure you have your lingo licked before the NFL returns to London…
NFL London: Seattle Seahawks v Oakland Raiders, Sunday 14 October, 6pm, Sky Sports Action/HD (CH 517/507) + 5.30pm, BBC Two/HD (CH 102/162), continues 7pm on BBC RB 1 (CH 991)
A swathe of brightly coloured banners, an uncharacteristic and oddly infectious sense of optimism, and a veritable army of oversized jerseys on the underground can only mean one thing… the NFL is back in London!
More than 70,000 American football fans are expected to pack into Wembley Stadium on Sunday, where 2014 Super Bowl champions the Seattle Seahawks will take on the Oakland Raiders in the latest International Series game to be played in the capital. And both teams will be looking to improve on their somewhat lacklustre starts to the season.

But with the hard-hitting, all-American action on show this weekend being accompanied by a (fried chicken) bucket-load of terms, it can be hard for us locals to stay on top of the game.
So, in order to avoid looking like a golden goose this weekend as NFL fans swarm the capital with their American footy chatter, check out our handy translator ahead of the game…

Your NFL jargon cheat sheet!

Snap
Tempting as it is to follow this up with "crackle" and "pop", this term doesn't refer to the delicious student lunchtime snack. In the NFL, the "snap" is the American equivalent of rugby's scrum, whereby one player crouches over the ball and, after yelling "Hike!", throws it backwards to the quarterback and starts an offensive play. Speaking of which…
Quarterback
This one you might have heard before. Offensive players (an attacker who can score points, not someone who's just plain rude) are often the most important players on any sports team. In the NFL, a quarterback's performance can win or lose their side a game. Put simply, they're not unlike Spanish footballer Andrés Iniesta – their looping throws enabling receivers to score touchdowns. Tampa Bay Buccaneers' Ryan Fitzpatrick has been particularly impressive this season, both for his unbelievable form and emphatic celebration style.
Punter
Alas for London's resident geezers, this term doesn't refer to Billy Bunters or customers cruising for the nuttiest deals in town. The punter is, in fact, the player who boots the ball hard into the opposing side's end of the field from a kick-off or scrimmage. Think of a burlier, helmeted Jonny Wilkinson, and you're on the right track.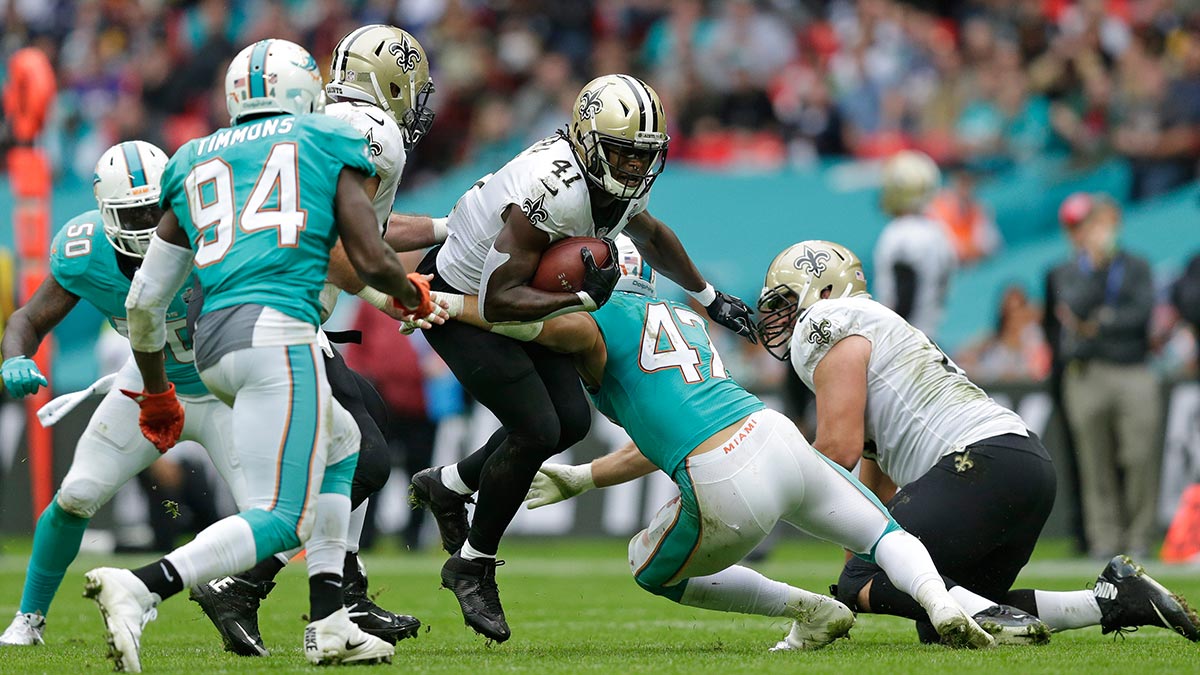 Lineman
Attackers are cool, but do you know who's cooler? That's right, the "absolute units" that are tasked with bringing those pesky, glory-hunting attackers down to Earth. Enter the lineman: a hulking, fleshy wall that can stop a tornado in its tracks (probably).
Gunners and jammers
To many a Londoner or English football fan, the term gunner will no doubt evoke images of those rampant Invincibles in red and white, and a large green dinosaur. To many an American football fan however, a gunner is the player who legs it up the field after a restart in order to tackle whichever opposing player catches the ball. The jammer is the player tasked with stopping the gunner in their tracks. If it sounds brutal, that's because it absolutely is.
Knickers
No, the players don't wear knickers. As amusing as that would be, it's actually the officials who wear knickers. No! Not like that! Unlike the officials in the Premier League, who are forced to spend the winter games shivering in their socks, their counterparts in the NFL are permitted to wear a pair of warming, baggy white trousers – or knickers – to stave off those chilling winter breezes. Speaking of officials…
Bean bag
While the image of a referee launching a bean bag onto the pitch to signify a foul is a hilarious one, the NFL unfortunately takes a much more sensible approach. Though they bear the same name as their larger, squishier counterparts, the bean bags used in the NFL as markers are significantly smaller. In other words, they're the NFL's version of the small cans of white foam used to mark a free-kick spot in the Premier League.

Upgrade to Sky Sports now
Don't have Sky Sports? You can find out about our Sky Sports package and upgrade here.
Watch on the go
Virgin TV customers who subscribe to Sky Sports can watch on the Sky Sports app, anywhere in the UK (or while temporarily in the EU) with a WiFi or mobile data connection. Not only will you be able to take your Sky packages with you, but you get in-depth sports coverage, as well as exclusive videos and interviews. And, also on iPad, you can access extra features, including Sky Sports' cutting-edge second-screen functions. Download from the Apple app store for iPad or iPhone, or from Google Play.
TV channels: Channels, content and features available depend on your chosen package. Channel line-ups and content are subject to change at any time and to regional variations.
HD: HD TV required to view HD channels. Number of inclusive HD channels depends on package.
Sky Sports: You must subscribe to Sky Sports in SD to take these channels in HD. Sky Sports News HD not included. Content available to view depends on TV package. Sky Sports available as an add-on for an additional monthly charge if not included in your package. Premium channels must be kept for at least 30 days.
Sky Sports app: Only available via the Sky Sports app (selected iOS and Android devices, on iOS 8 and above, and Android 4.x. UK only (or while temporarily in the EU) or website to customers who subscribe to these channels. Separate End User Licence Agreements and terms and conditions apply to the Sky Sports app and website. Selected content may not be available to view. Live streaming and On Demand available in UK (or while temporarily in the EU) with broadband, WiFi or 3G/4G only. Minimum 800 kbps recommended per device accessing the service. Maximum of 2 devices.