Skip to main content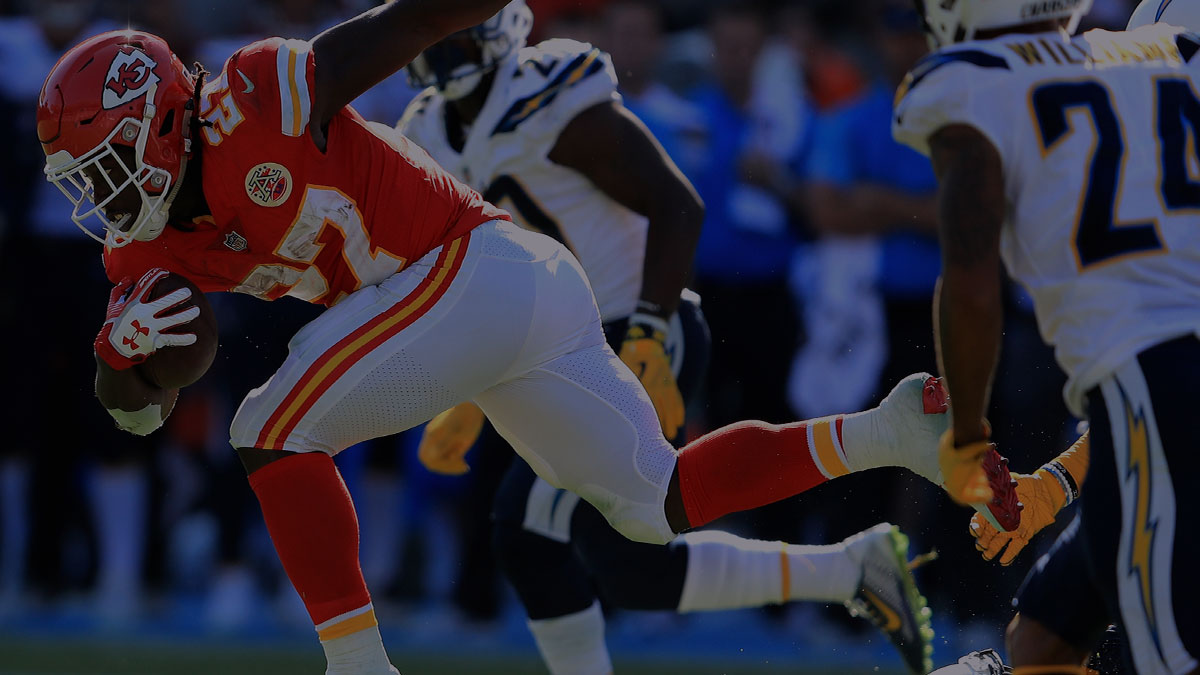 If you live you life by the mantra "bigger is better", we think you should get to grips with the fist-pumping drama of the NFL
From Friday 15 December, 12.30am Sky Sports Main Event/HD (CH 511/501) + Sky Sports Action/HD (CH 517/507)
About time you broadened your sporting horizons? Looking for something a bit different to fit in between all the football, rugby, cricket and boxing that you love? Then this weekend is the perfect time to plonk yourself down on the sofa, get the snacks in and sample the larger-than-life drama of American football with four huge NFL games live on Sky Sports!
Our dear friends across the pond just love their gridiron action, and with a handful of matches now played here in the UK every season, what better time to get acquainted with this most bombastic, outrageous and intense of sporting institutions. From the players brimming with personality to the fascinating tactics and, of course, the Super Bowl, we've got six sensational reasons why you should start tuning into the awesomeness that is American football!
1. A game lasts 4 hours
Despite what you may think, this is actually a good thing. In essence, a game of American football is only 60 minutes long, but its stop-start nature means that it can take up to 240 minutes before the result is settled. But don't think of it as a slow burn. With so much going on throughout a match – including on the touchline – there's always a story unfolding before your very eyes.
2. It's a mixture of rugby and chess
The rugby aspect is obvious. But this isn't a game purely for the burly. It's arguable that no other sport is so tactically astute. Action is drawn from playbooks long enough to make Tolstoy blush, while the clandestine code that players use to disguise what they're about to do is like a whole new language.
3. It's not just a sport, it's a lifestyle
From the tailgate parties in the car parks outside the stadium to the mascots and cheerleaders, American football is 100 per cent razzle dazzle. The players are even mic-ed on the sidelines so you can hear the arguments, the passion and the intensity. You'll be whoopin' and hollerin' in no time.
4. The Super Bowl is seriously HUGE
This annual end-of-season showdown determines the overall champion – and it's a pretty big deal. To get a feel for just how gigantic it is, various Super Bowls account for 19 of the 20 most-watched broadcasts in US television history (the other is the finale of M*A*S*H). The half-time show is all part of the fun, too, and has featured Bruce Springsteen, Madonna, Prince, The Who and the Rolling Stones in recent years. And there was that Janet Jackson 'wardrobe malfunction' as well. But we don't talk about that anymore.
5. Their nicknames are better than ours
Football has Wazza and JT. American Football has Doug "The Muscle Hamster" Martin and Darren "Run DMC" McFadden (think about it!). It's not even a contest.
6. It's a level playing field
America might worship at the altar of free-market capitalism, but in among the big bucks of the NFL you'll find a streak of socialism. The teams that are rubbish one season get the best players graduating out of college before the start of the next. The result is a league that is often close and extremely competitive. Because no one likes it when one team hogs all the glory.
Your fixtures this week
Denver Broncos @ Indianapolis Colts, Friday 15 December, 12.30am Sky Sports Main Event/HD (CH 511/501) + Sky Sports Action/HD (CH 517/507)
Chicago Bears @ Detroit Lions, Saturday 16 December, 9pm, Sky Sports Action/HD (CH 517/507)
Los Angeles Chargers @ Kansas City Chiefs, Sunday 17 December, 1am, Sky Sports Main Event/HD (CH 511/501) + Sky Sports Action/HD (CH 517/507)
Atlanta Falcons @ Tampa Bay Buccaneers, Tuesday 19 December, 1.15am, Sky Sports Main Event/HD (CH 511/501)
Watch on the go
Virgin TV customers who subscribe to Sky Sports can watch on the Sky Sports app, anywhere in the UK with a WiFi or mobile data connection. Not only will you be able to take your Sky packages with you, but you get in-depth sports coverage, as well as exclusive videos and interviews. And, also on iPad, you can access extra features, including Sky Sports' cutting-edge second-screen functions.
Upgrade to Sky Sports now
Don't have Sky Sports? You can find out about our Sky Sports package and upgrade here.
HD: HD TV required to view HD channels. Number of inclusive HD channels depends on package.
Sky Sports: You must subscribe to Sky Sports in SD to take these channels in HD. Sky Sports News HD not included. Content available to view depends on TV package.
Sky Sports available with subscription. Premium channels must be kept for at least 30 days.
Sky Sports app: Only available via the Sky Sports app (iOS and Android only) or website to customers who subscribe to these channels. Separate End User Licence Agreements and terms and conditions apply to the Sky Sports app and website. Subscription to Sky Sports required. UK only. Maximum 2 devices. Selected content may not be available to view.
Live streaming and On Demand available in UK Minimum 800 kbps recommended per device accessing the service. Maximum of 2 devices per account can watch TV. Customers also need an active 3G/4G or WiFi connection to use the app.