Skip to main content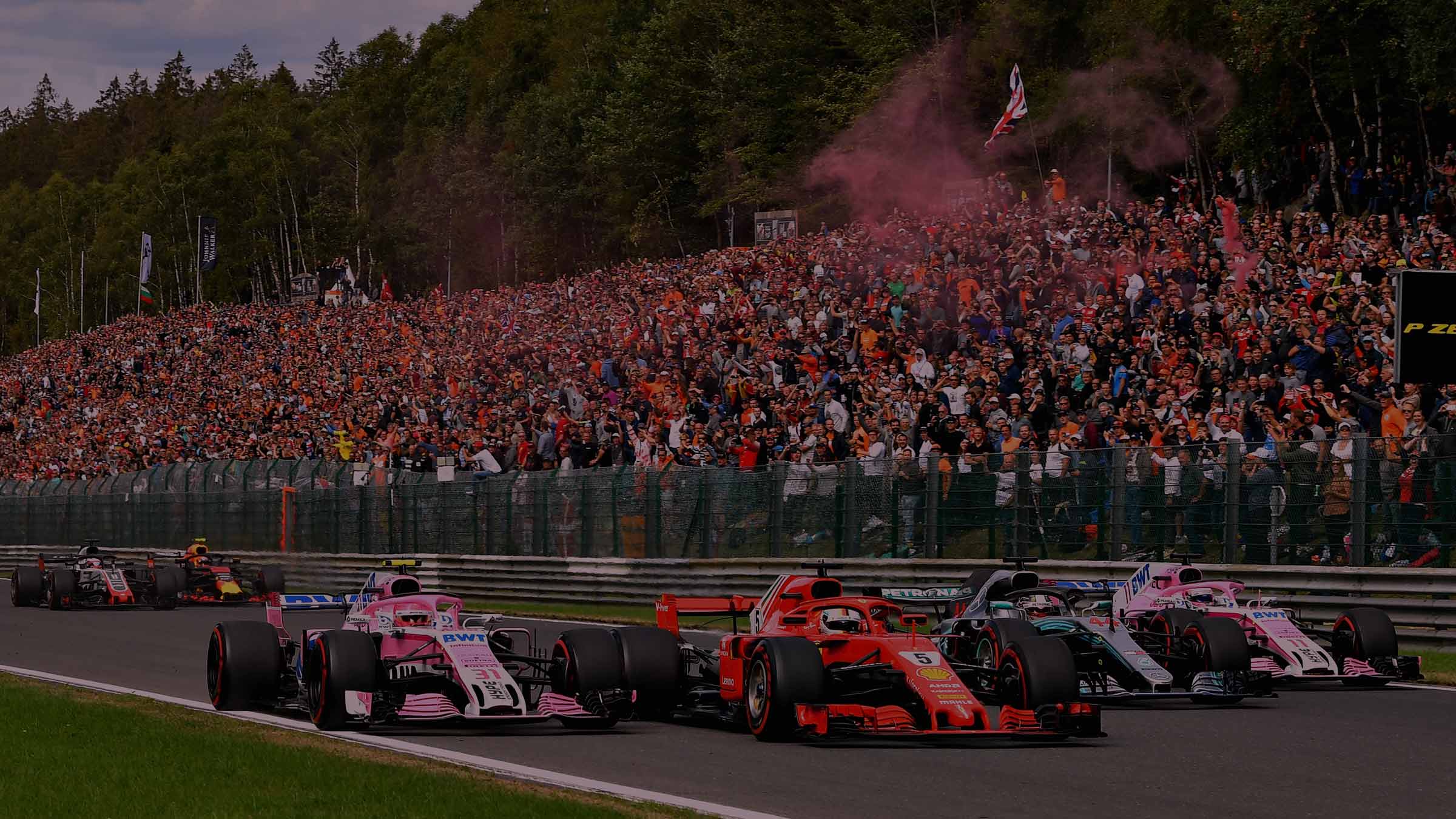 It's been a thrillingly unpredictable season so far, and the action is only going to heat up as the championship heads to Singapore…
FORMULA 1 2018 SINGAPORE AIRLINES SINGAPORE GRAND PRIX, Sunday 16 September, 12.40pm, Channel 4/HD (CH 104/141)
As harebrained as Bernie Ecclestone's idea to stage a night race on the streets of Singapore must have seemed way back in 2008, the event has become one of the most entertaining and dramatic races on the Formula One calendar.
And with this year's tantalising championship battle between four-time champions Lewis Hamilton and Sebastian Vettel adding another electrifying element to the mix, this weekend's 61-lap battle through the sweltering streets of the Marina Bay Circuit could well prove to be the most dramatic one yet.
Lit by thousands of floodlights, the circuit's streets have seen title-deciding crashes, countless flying cars and enough drama to fill a glamorous rooftop swimming pool. So, as the race draws near, revisit ten of the circuit's best (and worst) moments below…
1. "Crashgate"

As brilliant as Fernando Alonso's 2008 win initially seemed, the shine was tarnished following the revelation that his team cheated. Post-race investigations revealed that Alonso's teammate was instructed to crash; the ensuing safety car leapfrogging Alonso into the lead. Unsurprisingly, Renault's team principal Flavio Briatore was slapped with a life ban from all F1-related activities. Mio dio!
2. Taxi for Sutil
While we're by no means the foremost authority on race-winning F1 strategies, we're fairly sure that spinning, then driving into oncoming traffic and causing a massive pile-up isn't the best idea. Unfortunately for Adrian Sutil, he did just that in 2009, incurring a $20,000 fine as a result. Ouch.
3. Hamilton's title charge takes a serious hit
Going into 2010's night-time showdown, five drivers could have taken the championship lead. Of the fabled five, Lewis Hamilton was the one who flew home with his tail between his legs. An avoidable crash with Red Bull's Mark Webber ended his race and dealt his then-promising title challenge an irreparable blow.
4. Vettel's time to shine
Like an older brother dominating a cocky younger sibling at a computer game, Sebastian Vettel won 11 of the 19 races in 2011, and effectively sealed the title with his ninth win in Singapore. Energetic, merciless and utterly commanding, we haven't looked at a games console the same way since…
5. Another night to forget for Hamilton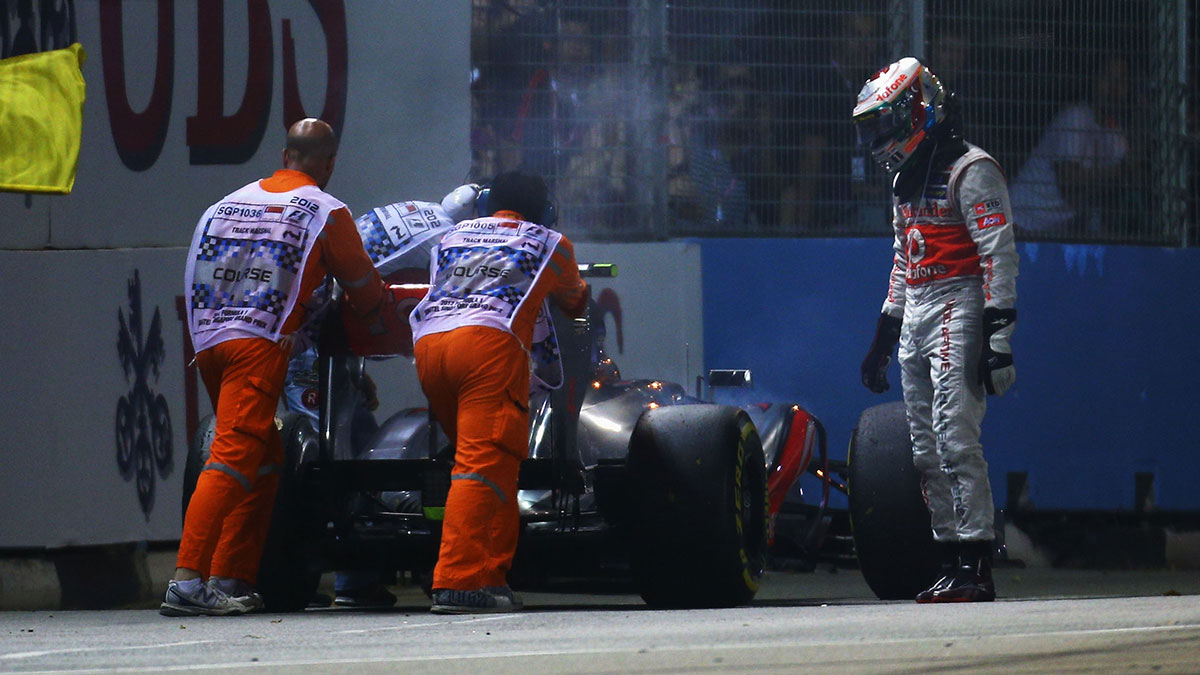 As the season progressed, a belief that 2012 would be the year Hamilton claimed his second title began to emerge. That is, until a pesky gearbox scuppered what was a near-certain race win, and ruined his title charge.
6. Farewell to the Singapore Sling
This sequence of corners quickly gained a reputation for throwing cars high into the air. But as thrilling as it was to watch high-speed machines gain some sweet air, unsurprisingly, the drivers weren't too keen. After years of complaints and countless crashes, the corners were ditched in 2013 and replaced with a smoother, less ramp-like layout.
7. Pérez's car eats its own front wing
In 2014, following an earlier collision with Marina Bay expert Adrian Sutil, Sergio Pérez had to contend with no front wing on his car – the piece disintegrated after disappearing under his front wheels in a spectacular shower of rather expensive carbon fibre.
8. The race that put Verstappen on the mappen
At age 18, most people can count making a mean bowl of cheesy pasta and wowing their younger cousins with a disappearing thumb trick among their highest accolades. At the same age, Max Verstappen was busy climbing from a lap down in dead last to finish eighth in an uncompetitive car at one the 2015 season's most gruelling races. Impressive? Sure, but can he do a kickflip? Probably.
9. Quick-thinking marshal
If there's one thing that will make anyone flee in fear, it's a field of F1 cars hurtling towards you at breakneck speed. This proved to be the case for one unfortunate race marshal in 2016, after race control authorised a restart before the poor man had left the track. Mildly amusing? Sure. Incredibly dangerous? Absolutely.
10. A title-changing crash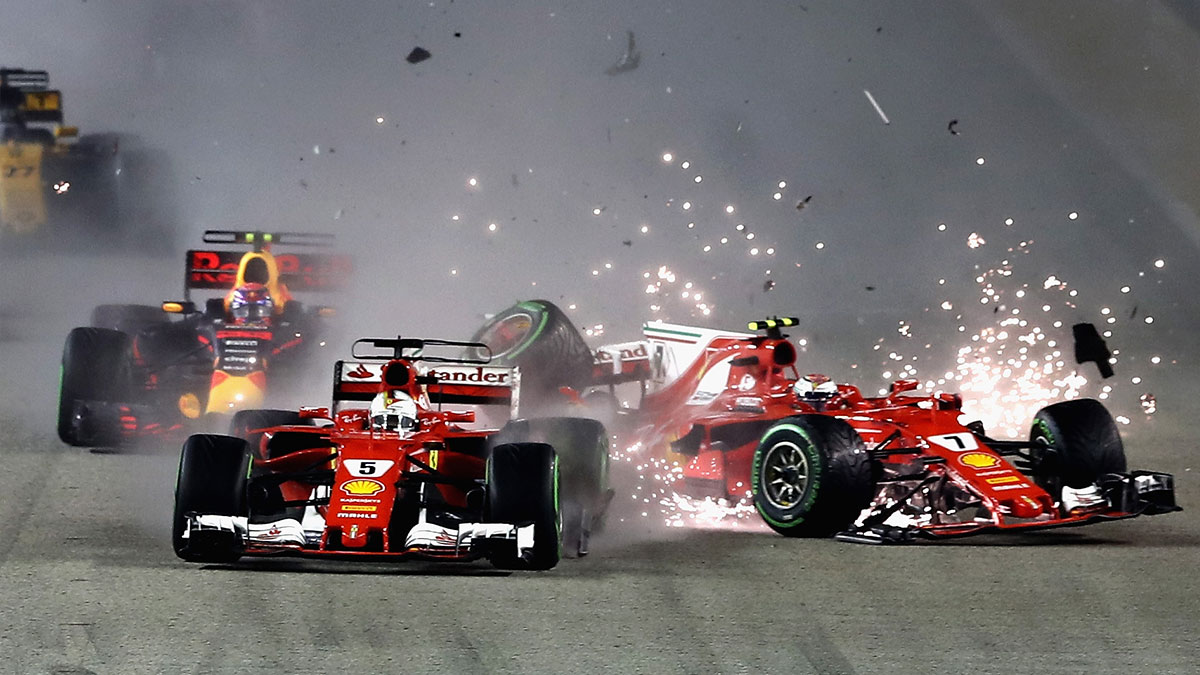 As tense as it was thrilling, 2017's title battle saw the lead constantly swinging from Hamilton to Vettel and back. In an improving Ferrari, Vettel swept to a dominant pole position. An easy, uncontested win was all but certain. That is, until he triggered a pile-up that not only wiped out a significant chunk of the grid, but also gifted Hamilton a significant lead in the championship standings that Vettel was unable to claw back.
Channels, content and features available depend on your chosen package.
TV channels: Channel line-ups are subject to change and regional variations. TV packs currently exclude some teletext services.
HD: HD TV required to view HD channels. Number of inclusive HD channels depends on package.
F1: The F1 Logo, F1, FORMULA 1, FIA FORMULA ONE WORLD CHAMPIONSHIP, GRAND PRIX and related marks are trade marks of Formula One Licensing BV, a Formula 1 company. All rights reserved.