Skip to main content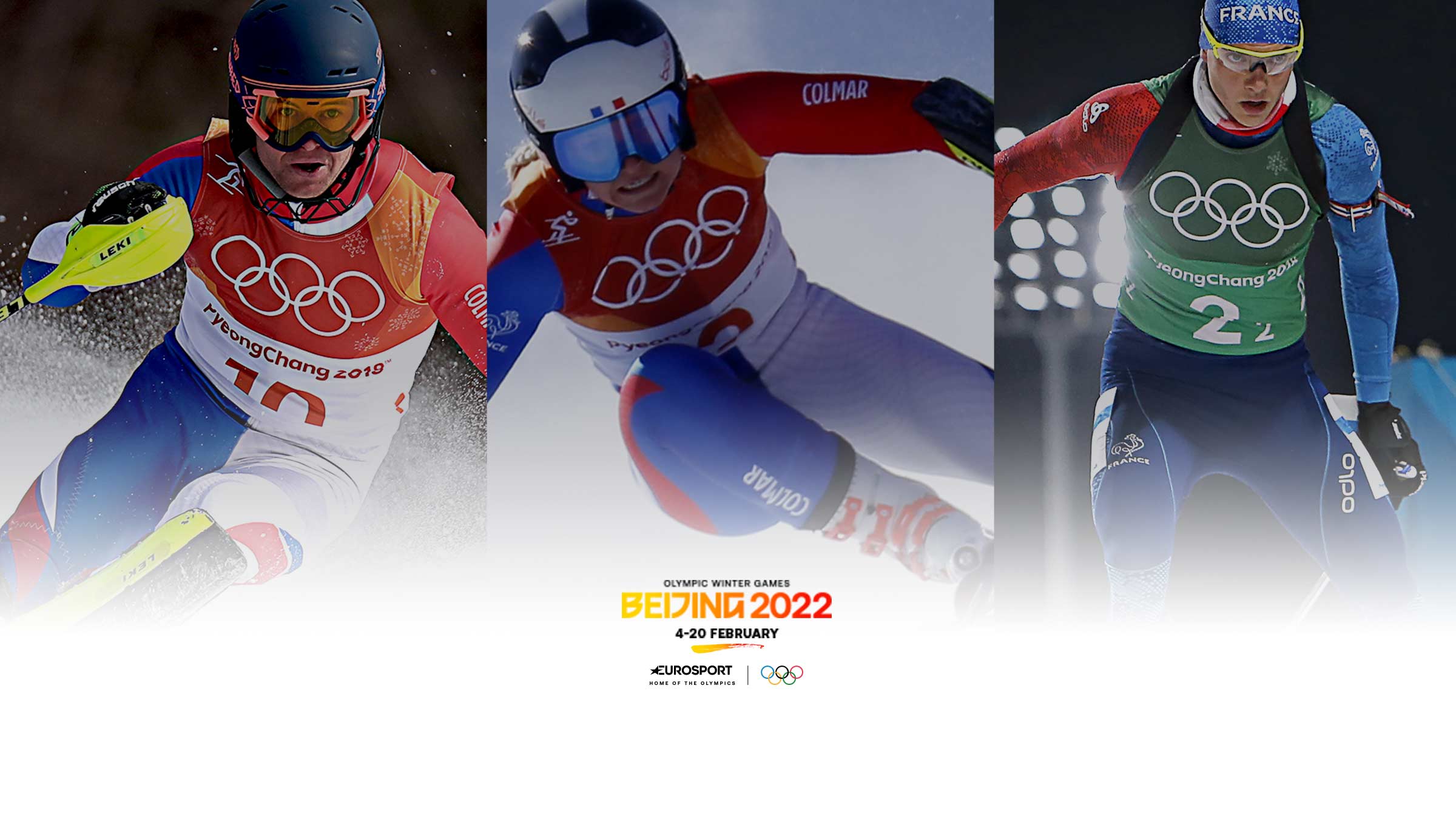 Your complete guide to the thrills, spills and chills of the Olympic Winter Games Beijing 2022, including the British athletes to look out for – and it's all live on Eurosport and the BBC

By Chris Miller, Writer
Some of the world's finest athletes gather in China this February for the quadrennial celebration of cold-weather sports that is the Olympic Winter Games. Held across three state-of-the-art venues in Beijing, Yanqing and Zhangjiakou, this promises to be a magnificent extravaganza of global sport as almost 3,000 competitors from 91 nations take to the snow and ice to demonstrate their amazing strength, speed and skill.
You can catch all the best live action and highlights every day on Eurosport (across Eurosport 1 and 2, three pop-up HD channels and a UHD pop-up channel), with limited coverage also available on the BBC. Click here to find out how to watch.
Looking for a local athlete to support? Britain isn't traditionally among the most successful nations at the Winter Olympics, with only 39 medals in total (for comparison, Norway has 368). However, Team GB had a pretty good showing at PyeongChang 2018 with five medals – and with a number of world title winners in the ranks for Beijing, they're on course for their most successful Games ever.
As with the Summer Games, the Winter Olympics is a perfect opportunity to get really invested in an esoteric sport you normally spend very little time watching. But if you're not a winter sports aficionado, it's not always easy to know what's going on. So here's our guide to all the sports, with some handy hints to help you pick the ones that might appeal to you the most…


This is the classic "speed down a slope fixed to two narrow planks" sport, the kind you've done if you've ever been on a standard ski holiday, albeit much, much faster. There are several varieties at the Winter Olympics: downhill, slalom, giant slalom, super giant slalom (aka super-G) and combined. Downhill is all about speed, with skiers reaching speeds of over 80mph, while the slaloms are more technical as competitors weave through gates.
Who are the favourites? Where do you find the best Alpine skiers? Not a trick question. Switzerland won the team event in 2018, while Austria took three golds. The US's Mikaela Shiffrin, a double medallist last time, looks best placed to break the central European stranglehold.


Any British medal hopes? Dave Ryding won a surprise slalom gold at the recent World Cup and he'll hope to carry that momentum into the Games.

When is it on? 6-11, 13, 15-17 and 19 February.

Perfect for fans of… rugby, where you can also watch athletes weave from side to side at speed while laser-focused on reaching the goal.


The Norse god Ullr was the god of both skiing and hunting, and he is honoured in this sport that originated in Scandinavia and involves travelling on skis with breaks where competitors shoot at targets. The 11 disciplines include sprint, pursuit and relay events.
Who are the favourites? Germany's Laura Dahlmeier and France's Martin Fourcade, who dominated in PyeongChang, have both retired, leaving the field wide open. Norway expects great things from Tiril Eckhoff, Johannes Thingnes Bø and the star of last year's world championships, Sturla Holm Lægreid.

Any British medal hopes? Nope, no biathletes in Team GB this time.

When is it on? 5, 7-8, 11-13, 15-16 and 18-19 February.

Perfect for fans of… cricket, a sport that requires superb hand-eye coordination and also has long periods where not much appears to be happening.


In this thrilling high-speed event, athletes use phenomenal leg strength to get their bobsleigh going then jump in and hang on as it whizzes down an icy track at death-defying speeds. There are four disciplines: four-man, two-woman and two-man bob and – new for 2022 – women's monobob (one-person bobsleigh).
Who are the favourites? Yes, it's the one from Cool Runnings. No, Jamaica are not among the favourites. Germany tend to dominate bobsleigh, although the main monobob contenders are the American trio of Kaillie Humphries, Nicole Vogt and Elena Meyers Taylor.

Any British medal hopes? London 2012 long jump hero Greg Rutherford may not have made the team but Brad Hall and Nick Gleeson are a high-class duo in the two-man bob, with Greg Cackett and Taylor Lawrence joining them in the four.

When is it on? 13-15 and 18-20 February.

Perfect for fans of… Formula One – with high-tech aerodynamic vehicles zooming along the track at barely believable speeds, it's definitely the F1 of winter sports.


Also known as Nordic skiing, this is a straightforward race where competitors strive to get to the finish line first. There are 12 different disciplines, but that's the essence of it.
Who are the favourites? Norway owned PyeongChang with seven golds but Sweden will be mounting a serious challenge, with strong contenders from veteran Charlotte Kalla – the most decorated Swedish Olympian ever – to 22-year-old up-and-coming star Frida Karlsson.

Any British medal hopes? Andrew Musgrave achieved GB's best ever cross-country placing in 2018 with seventh in the skiathlon (in which athletes switch between classical and "skate" skiing), and he returns for another shot at the podium.

When is it on? 5-6, 8, 10-13, 16 and 19-20 February.

Perfect for fans of… long-distance running events that let you pop to the kitchen to make multiple cups of tea without missing much.


"SWEEP!" It's bowls on ice, characterised by the frantic scrubbing employed to speed up the competitor's stones as they slide towards the target, and it's the only sport at the Winter Olympics that was invented in the UK (dating back to 16th-century Scotland).
Who are the favourites? World champions Sweden are the favourites in the men's, while the women's and mixed events are more open. Canada and the US look strong.

Any British medal hopes? The all-Scottish pair Jen Dodds and Bruce Mouat are the current mixed-doubles world champions, making them genuine contenders in Beijing.

When is it on? Every day from 2 February (before the opening ceremony) to 20 February.

Perfect for fans of… indoor sports that required supreme concentration, like darts and snooker. Also housework.


Arguably the most dramatic of all the sports at the Games and certainly the longest established, the eye-catching costumes, gasp-inducing manoeuvres and occasionally volatile rivalries of figure skating are unlike anything else.
Who are the favourites? Japan's Hanyu Yuzuru is going for his third consecutive singles gold, while his teammates Satoko Miyahara and Rika Kihira are likely to be prominent in the women's competition. In the pairs, France's four-time world champions Gabriella Papadakis and Guillaume Cizeron are the couple to beat.

Any British medal hopes? Lilah Fear and Lewis Gibson are four-time national champs, but they're not at Torvill and Dean level yet.

When is it on? 4, 6-8, 10, 12 and 14-20 February.

Perfect for fans of… actually, you don't even need to like sport to appreciate the skill, athleticism and artistry shown by figure skaters. They're a blummin' marvel.


The gnarlier side of skiing, where instead of speeding down a mountain, competitors tackle challenges including moguls, halfpipes and slopestyle (rails, jumps and the like). At Beijing this includes, for the first time, big air, which means shooting off a ski jump to perform frankly bonkers aerial tricks.
Who are the favourites? King and queen of the moguls are Mikael Kingsbury of Canada and France's Perrine Laffont, both of whom will expect to defend their 2018 titles. The Canadian and American teams are strong throughout, although our money's on Alex Fiva (geddit?!) of Switzerland in the men's ski cross.

Any British medal hopes? Very much so. James Woods, the 2019 slopestyle world champ, will compete in both that discipline and big air. In the same events Izzy Atkin will look to add to her 2018 bronze – if she recovers from injury in time – while her sister Zoe will have an eye on the halfpipe podium. Gus Kenworthy, having switched his allegiance from US to GB, has a good chance in the men's halfpipe too.

When is it on? 3, 5-10 and 13-20 February.

Perfect for fans of… sports that involve throwing yourself up in the air in a theatrical style, then making sure you hit the ground without really hurting yourself. Insert your own football joke here.


Everyone's favourite rough-and-tumble ice-based sport in which some well-padded skaters try to smack a small disc of vulcanised rubber into a goal and everyone secretly hopes for a fight.
Who are the favourites? In women's ice hockey, every final at the Winter Olympics except one has been contested by the USA and Canada. Men's has had a little more variety in medallists but if one of those two doesn't win this year, we'll be amazed.

Any British medal hopes? GB haven't entered a team since 1948.

When is it on? Every day from 3 to 20 February.

Perfect for fans of… basketball, another end-to-end North American indoor team sport in which the action can be almost too fast to follow. Especially if you always thought that what basketball really needed was a few more punch-ups.


These are similar to bobsleigh but the sled is flatter and more basic, with steering done using the legs. The main difference is that athletes lie face up on the luge and go feet first, while on the skeleton sled they're face down and head first. Luge also has a doubles category.
Who are the favourites? In the luge, Germany: they won half of all the medals on offer in 2018, and champions Felix Loch and Natalie Geisenberger return in superb form. Skeleton is harder to call, not least because Lizzy Yarnold – Britain's most decorated Winter Olympian – has retired since her PyeongChang gold.

Any British medal hopes? Laura Deas looks a good bet to equal or better her 2018 bronze in the skeleton, where Marcus Wyatt will also target a medal.

When is it on? The luge runs from 5-10 February, with the skeleton following on 10-12.

Perfect for fans of… MotoGP racing – the high-speed thrills of motor racing, but with the racers more exposed and liable to fly off on the bends.


A two-for-one event: a spot of ski jumping (see below) followed by a bit – well, 10km – of cross-country skiing (see above). It was invented by the Norwegians, who often have to ski for miles and jump off a big hill just to get to the shops.
Who are the favourites? Norway dominated for years, but these days Austria, Germany and Japan have strong teams too. This is the sole event that is contested only by men, which is expected to change by the next Games.

Any British medal hopes? No – GB haven't entered this event.

When is it on? 9, 15, and 17 February.

Perfect for fans of… multi-skilled competitors like pentathletes, heptathletes, decathletes and Dame Sarah Storey.


Slide down a slope, fly off a ramp, land. It's arguably the purest of all the Winter Olympics sports, although being judged for style adds some intrigue. There are five golds awarded across the large and "normal" hills.
Who are the favourites? Could Germany's Andreas Wellinger become the first ever man to defend the Winter Olympics normal hill title? His teammate Karl Geiger will be among those trying to stop him. World champion Ema Klinec of Slovenia may well add Olympic gold to her medal haul.

Any British medal hopes? There are no GB athletes in this event.

When is it on? 5-7, 11-12 and 14 February.

Perfect for fans of… sports that involve gravity-defying audacity, like diving and gymnastics.


The cool kids of the Winter Olympics suit up to compete in slopestyle, parallel giant slalom, snowboard cross, halfpipe and big air. One thing you get with snowboarding that you don't see elsewhere on the slopes is head-to-head racing, which is always fun with its added element of risk.
Who are the favourites? Shaun White, probably the biggest global name in winter sports, is back for his fifth Games and will have a good chance of defending his halfpipe title. Other athletes to look out for include the US's Jamie Anderson in women's slopestyle, Ester Ledecká of the Czech Republic in women's parallel giant slalom, and Spain's Lucas Eguibar in men's snowboard cross.

Any British medal hopes? Charlotte Bankes has represented France at previous Olympics but the Hertfordshire-born boarder is now turning out for GB and, as snowboard cross world champion, is the clear favourite in Beijing.

When is it on? 5-12 and 14-15 February.

Perfect for fans of… skateboarding, because it's that, but, y'know, on snow.

There are 23 speed skating events at Beijing 2022, covering both short and long track versions, ranging from 500m all the way up to 10,000m. If you're a fan of spectacular wipeouts on the ice – and let's face it, who isn't – you'll find a fair few here.
Who are the favourites? Fun fact: 23 different speed skaters have won the Netherlands' male or female Athlete of the Year title. The Dutch are seriously into their speed skating, and have the Olympic medals to prove it. Irene Wüst (11 medals) and Sven Kramer (nine) return to defend their long course titles, while Suzanne Schulting won every short course event at last year's world championships. Other contenders include short track legend Arianna Fontana of Italy and South Korea's Choi Min-jeong.

Any British medal hopes? A five-strong team includes Ellia Smeding and Cornelius Kersten (both have Dutch fathers), the first long track skaters to compete for GB in decades. They'll face tough competition.

When is it on? 5-13 and 15-19 February.

Perfect for fans of… cycling, another sport that involves racing at high speeds over long and short courses while wearing sleek suits and helmets that are both aerodynamic and extremely natty.
Where can I watch the Olympic Winter Games Beijing 2022 on TV?
There's absolutely loads of live coverage across Eurosport and the BBC. The opening ceremony will air at 11.30am on Eurosport 1 HD and BBC One HD on Friday 4 February.
You'll then be able to watch all the best live action and highlights every day on Eurosport's channels: Eurosport 1 HD (CH 521) is focusing on the traditional events like Alpine skiing, ski jumping and curling, while Eurosport 2 HD (CH 522) puts the emphasis on newer sports like snowboarding, freestyle skiing, speed skating and the sledding events. There are also three dedicated HD pop-up Eurosport channels – Eurosport 3 HD (CH 523), Eurosport 4 HD (CH 524) and Eurosport 5 HD (CH 525) – as well as a UHD pop-up channel, Eurosport UHD (CH 532).
Both Eurosport 1 HD and 2 HD are broadcasting live from 2am every night, with coverage continuing uninterrupted into the following afternoon. There's a daily highlights show on Eurosport 1 HD at 4pm, with more chances to see the action on Eurosport channels every evening.
The BBC is also showing daily live action, switching between BBC One HD (CH 101/108) and BBC Two HD (CH 102). There are highlights round-ups on BBC Two HD and BBC Three HD (CH 107/157) as well as some coverage on BBC iPlayer (find it in Apps & Games > BBC iPlayer) and the Red Button.
TV channels: Channels, content and features available depend on your chosen package. Channel line-ups and content are subject to change at any time and to regional variations.
HD: HD TV set, V HD Box, TiVo box or Virgin TV V6 connected with HDMI cables required for HD channels. Number of inclusive HD channels depends on package.
Catch Up TV: Catch Up TV content available for up to 7 days or up to 30 days after broadcast, depending on content.
On Demand: Content available to view depends on TV package. Time limits apply for viewing chargeable On Demand content – see virginmedia.com. Once purchased, all chargeable On Demand content must be viewed within 48 hours. Premium channels and upgrades must be kept for at least 30 days.