Skip to main content
Easy ways to update your account, manage your package or snap up a deal, whenever you want. Here's how to access all our online features for your broadband or telly
By Virgin Media
We know that life is busy, and getting your to-do list ticked off during business hours isn't always possible. That's why Virgin Media's easy-to-use online features can really come in handy.
Keep reading for a tour of the digital services designed for you to manage your account whenever and wherever it suits you – whether you're paying a bill, checking for broadband service updates or changing your package. And even better, we'll show you how you can find fantastic, money-saving personalised offers in our online stores.
How to manage your account online 24/7
If you're a customer, you can register for My Virgin Media services online and get access to a whole wealth of information whenever you want. Check in to your account to pay bills or set up a direct debit straight from you laptop, or get real-time service updates or the information you need to diagnose a fault. You can also see if you're making the most of what's included in your package.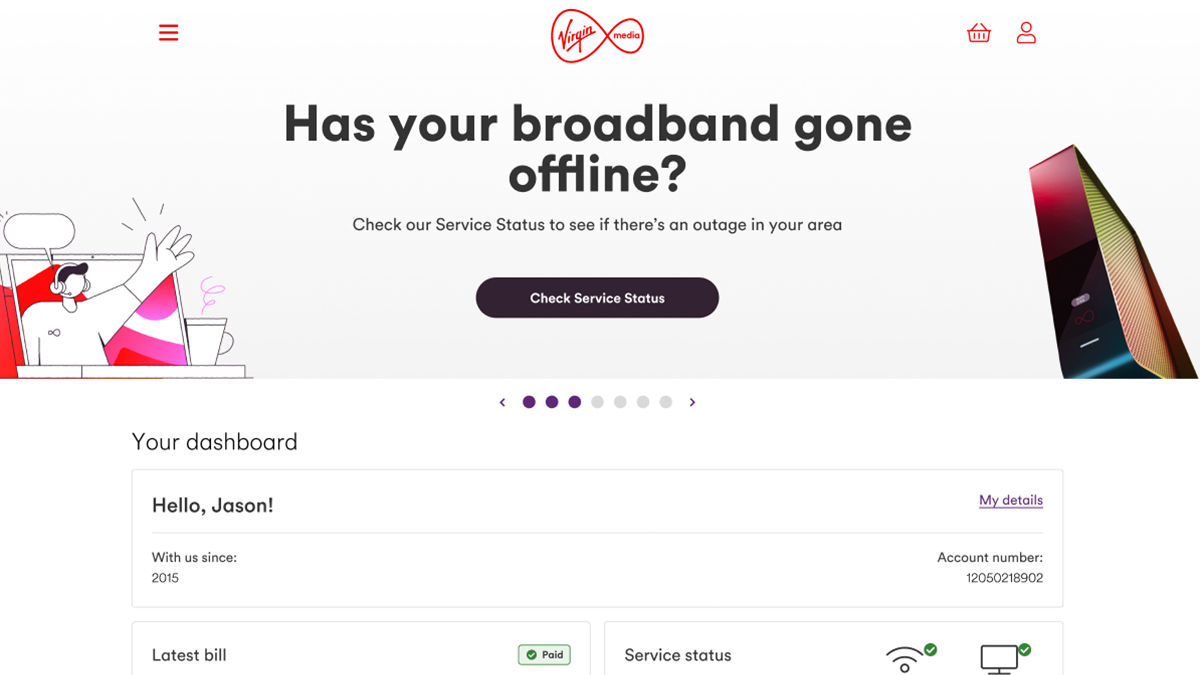 The My Virgin Media homepage, guiding you where you may need to go

Prefer to do all of this on the go? It's free to download this mighty, time-saving bit of kit to your mobile. Click here to download the My Virgin Media App on both Android (Android 6.0 or above) and iOS devices (iOS 11 or above) or visit here for more information.
How to find the best deals online
Personalised offers are another great reason to use My Virgin Media. Based on your package and the way you use your account, we'll deliver bespoke offers that are guaranteed to bring you the best boost to your broadband or the perfect upgrade to your TV viewing experience.
Also, once you're registered, we can let you know when our Black Friday deals are going live. Just keep checking in because we'll be dropping exclusive new offers for our existing customers for a limited time – and you'll receive deals personalised to you.
How to snap up exclusive benefits with Volt
Beyond these services, we've got a few other tricks up our sleeve that will help you reap the benefits of being a Virgin Media customer. Now that we've joined forces with O2, there's a chance to supercharge your world with Volt: the exclusive benefits you get when your household's with both Virgin Media and O2.
If you're already a Virgin Media broadband customer, visit our online shop to snap up a Black Friday deal, whether it's a bundle offer or a brilliant-value O2 sim. And once you become both a Virgin Media and O2 customer, it means you'll be eligible for exclusive Volt benefits.
For example, if you're already a broadband customer with us and you purchase an O2 sim, you'll be showered with upgrades, including the chance to boost your Virgin Media broadband speed to the next available level and to double the mobile data on every eligible O2 Pay Monthly plan in your household. The WiFi guarantee is included in the same deal, plus you'll be able to use your O2 phone or sim in 75 destinations at no extra cost with O2 Travel Inclusive Zone. Quite simply, it's a win-win.