Skip to main content
It's set to be to the biggest game of 2020. Here's what we know about Marvel's Avengers so far…

Marvel's Avengers game
We're counting down the days (or minutes in most cases) until we host the UK first play of Marvel's Avengers at EGX 2019 as part of our new partnership with video game giant Square Enix. You'll be able to play as Earth's Mightiest Heroes and enjoy more than a few big surprises.
As one of the biggest and most secretive games on the planet, everyone is searching for answers about it. Well, help is at hand. We've answered some of the internet's most-asked questions. Read on to find out more. Plus, keep returning to this page for regular intel drops in the lead-up to the game's release.
When can I first play Marvel's Avengers?

Virgin Media and Square Enix have teamed up to host the UK's first play exclusively at EGX at ExCel London from 17-20 October 2019. Gamers and Marvel fans will have the chance to play the opening section, featuring Iron Man, Captain America, Thor, Hulk and Black Widow, months before the game is released!
What is Marvel's Avengers about?
According to the official synopsis, Marvel's Avengers begins at A-Day, where the Avengers are unveiling a high-tech headquarters in San Francisco, along with a new helicarrier powered by an experimental energy source. But the celebration turns deadly when a catastrophic accident results in devastation. Blamed for the tragedy, the Avengers disband. Five years later, with all Super Heroes outlawed and the world in peril, the only hope is to reassemble Earth's Mightiest Heroes.
Which characters have been confirmed for Marvel's Avengers?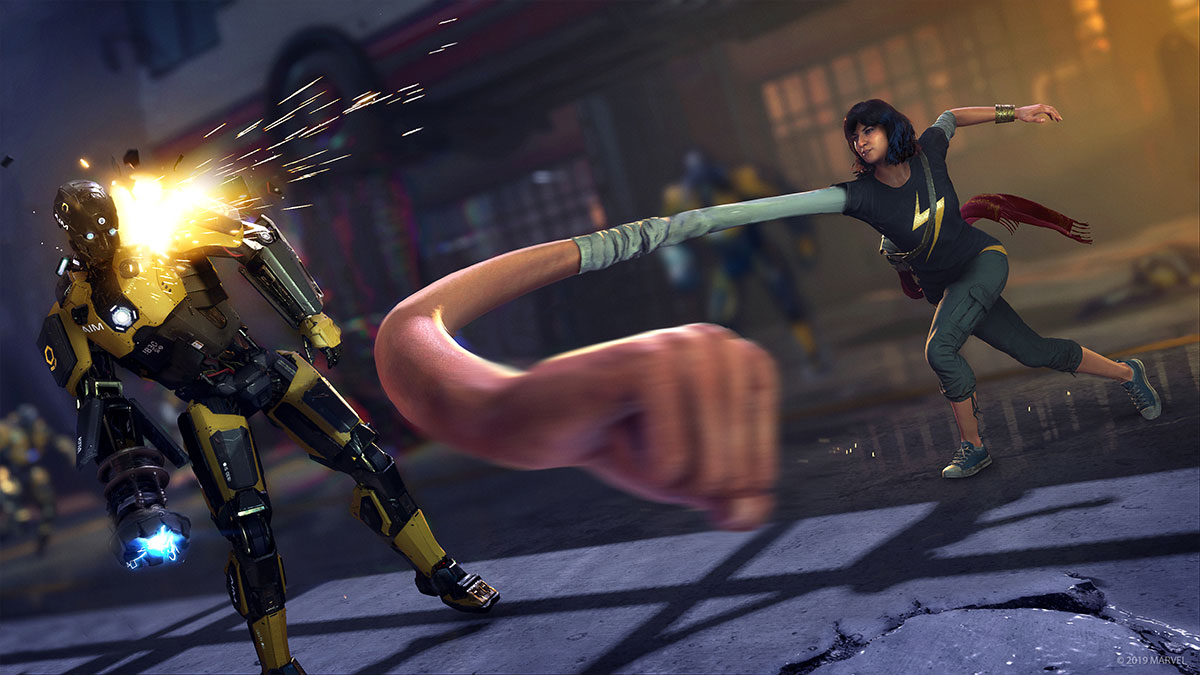 Alongside the five core heroes – Captain America, Iron Man, the Hulk, Black Widow and Thor – Taskmaster has also been confirmed as a villain and will feature in the playable demo at EGX in October. Ms. Marvel Kamala Khan was confirmed as the latest playable Super Hero in October 2019. More will be announced soon.
Who are the voice actors for Marvel's Avengers?
The game's creators have assembled a similarly all-star team of voice actors. The main cast includes Nolan North as Iron Man, Jeff Schine as Captain America, Travis Willingham as Thor, Troy Baker as Bruce Banner and Laura Bailey as Black Widow. Sandra Saad was introduced as the voice actor for Kamala Khan in October 2019.
Will there be multiplayer in Marvel's Avengers?
The game combines cinematic storytelling with single-player and co-operative gameplay. Stay tuned for more updates about multiplayer in the coming weeks and months.
Will Marvel's Avengers feature downloadable content (DLC)?
The game will feature regular content updates and will take players on an epic journey delivered over multiple years. Stay tuned for more updates about DLC in the coming weeks and months.
Who is developing Marvel's Avengers?
Developed by Crystal Dynamics (the long-term developer behind the award-winning Tomb Raider series) in association with acclaimed Deus Ex developer Eidos-Montréal, the game is being published by Square Enix in close collaboration with Marvel Entertainment.
When was Marvel's Avengers first revealed?
Originally called The Avengers Project, it was revealed to the world on 26 January, 2017. The world got its first look at the game proper during the live Square Enix presentation at E3 2019 in Los Angeles, which showcased stunning in-game footage and a look at the game's story.
Where can I watch the latest gameplay footage?
New gameplay footage was released on Tuesday 20 August, 2019. Watch it here:

The trailer for fan favourite Kamala Khan as the latest playable Super Hero was released on Friday 4 October, 2019. Watch it here:

When is the Marvel's Avengers game coming out?
The game will be released on 4 September, 2020. It will be available on PlayStation 4, Xbox One, Google Stadia and PC.
But that's not all, true believers!
Stay tuned for more announcements, plus keep your eyes firmly fixed on the Marvel's Avengers hub for the latest news, trailers and updates.
Get gaming as fast as lightn-ing
With ultrafast and reliable broadband, Virgin Media gives gamers everything they need to make the most of Marvel's Avengers – whether that's downloading the latest content at lightn-ing speed, enjoying hassle-free online play or streaming gameplay live to an army of viewers.
And now you can embrace the power of M500 Fibre Broadband, the UK's fastest widely available connection, exclusive to the Unlimited Oomph bundle. Even the busiest households can play and stream on multiple devices at the same time. It's all delivered by our mighty Hub 3, our most powerful Hub yet! And with our clever Virgin Media Connect app, you can scan your home for WiFi blackspots and order a WiFi Booster at no extra cost, should you require one.
Give it some Oomph now
Ready to enjoy all this? Get the best of everything for less by calling our dedicated team on 0800 052 0782, visiting in store or chatting to us online by visiting here.
© 2019 MARVEL
Broadband: Our ultrafast speeds are anything over 100Mbps. Speeds referred to are download speeds. Speed assumes equipment is at optimum speed & capacity, device limitations apply. External factors may impact speed. Our ultrafast speeds are 100Mbps and above. Home environment, device limitations, number of users and time of day may affect WiFi performance. Acceptable use policy applies. Speed achievable by 50% of customers at peak times (8pm–10pm, Monday–Sunday). Actual speeds may vary.
Unlimited Oomph bundle: £99 a month for 12 months then £139 per month. Includes mobile SIM with unlimited minutes, texts and data. Full House TV, Sky Cinema and Sky Sports (including in HD), M500 fibre broadband (average download speed 516Mbps) (available with M350 or 200 where M500 is not available) and Talk More Anytime. M500 only available as part of a package. Price includes line rental (£19 per month). Premium add-ons are available at extra monthly cost. If you cancel your service during your minimum term an early disconnection fee may apply. Downgrading a service in your bundle may result in loss of bundle discount and/or boosted speeds. If you upgrade any part of the service, standard pricing will apply to that upgrade but we will discuss this with you at the time. Virgin Media may withdraw or amend the pricing if you change any part of your package. This offer maybe withdrawn at any time and cannot be used in conjunction with any other offer unless stated by Virgin Media.
Virgin Media Connect App: Requires iOS 9 or later and Android 5 or later. Virgin Mobile customers: the app will work in a device where a Virgin Mobile SIM is present and setup has been completed. Virgin Fibre customers: the app will work on a device where setup has been completed using My Virgin Media account details. Virgin Fibre customers can use up to 7 devices on Virgin Media WiFi at any one time. For setup: Mobile data connection required for Virgin Mobile customers. Internet (Mobile data or WiFi) connection required for Virgin Fibre customers. UK only. Experience varies by location and number of users. It is not always possible to guarantee that we will be able to offer this app on every device, platform and operating system version or variant. Terms and conditions apply.