Skip to main content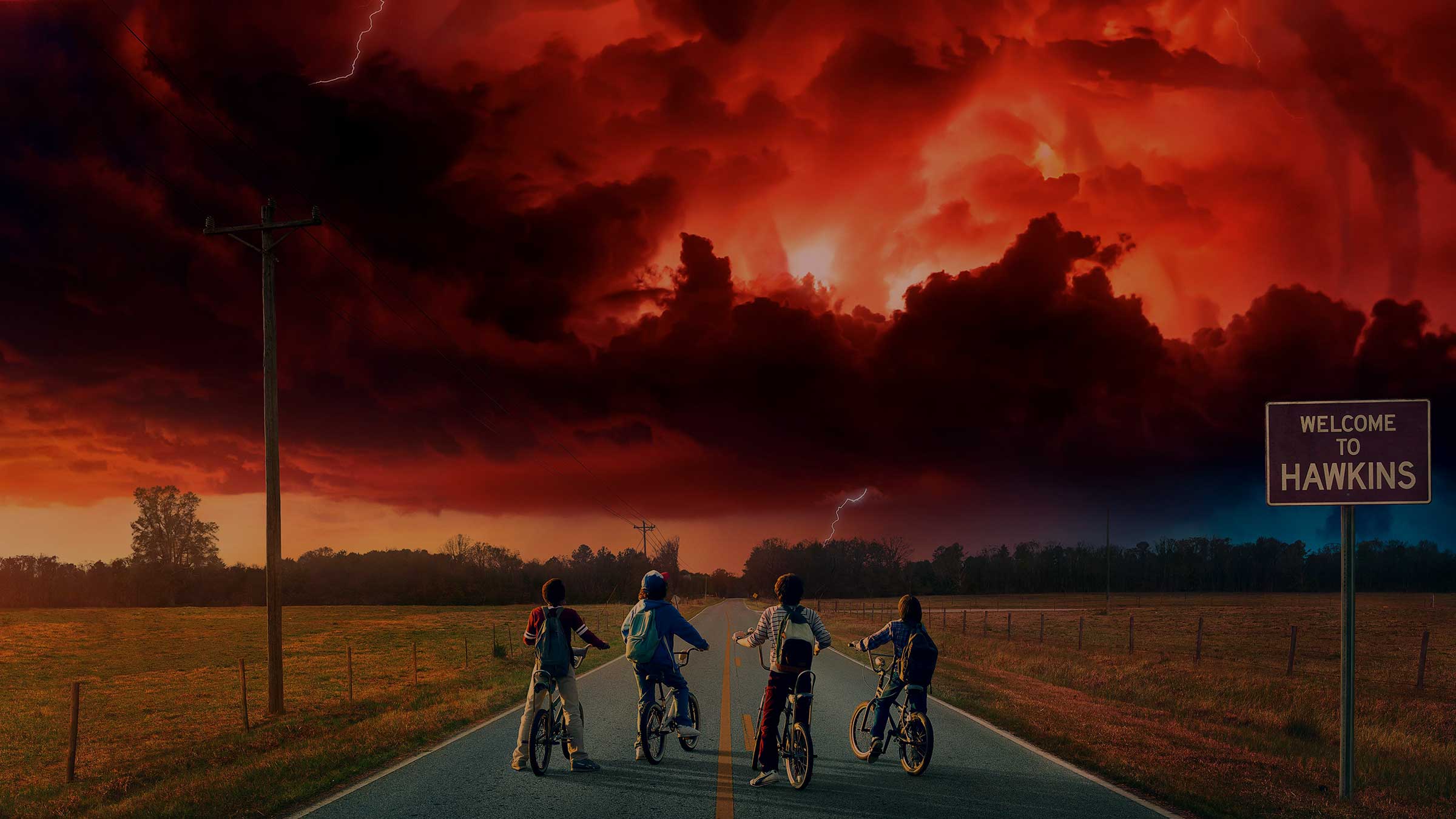 Allow us to introduce you to your new TV obsessions…
On Demand, Amazon Prime Video and Netflix round-up
Pick a platform, any platform. That's easier said than done when there are dozens of different ways to stream top telly. But what if we told you that you didn't have to choose? With Virgin TV, you can access everything with just the click of a button.
Whether you want to tuck into a brilliant Box Set or see what's available on Netflix or Amazon Prime Video, you can do it all from the comfort of your sofa. All you need is a subscription to one or both of the platforms and you're ready to roll. For more detailed information on how to access both these services on Virgin TV, simply scroll to the end of the page.
All set? Great! We've got 15 smashing shows across On Demand, Amazon Prime Video and Netflix you NEED to know about…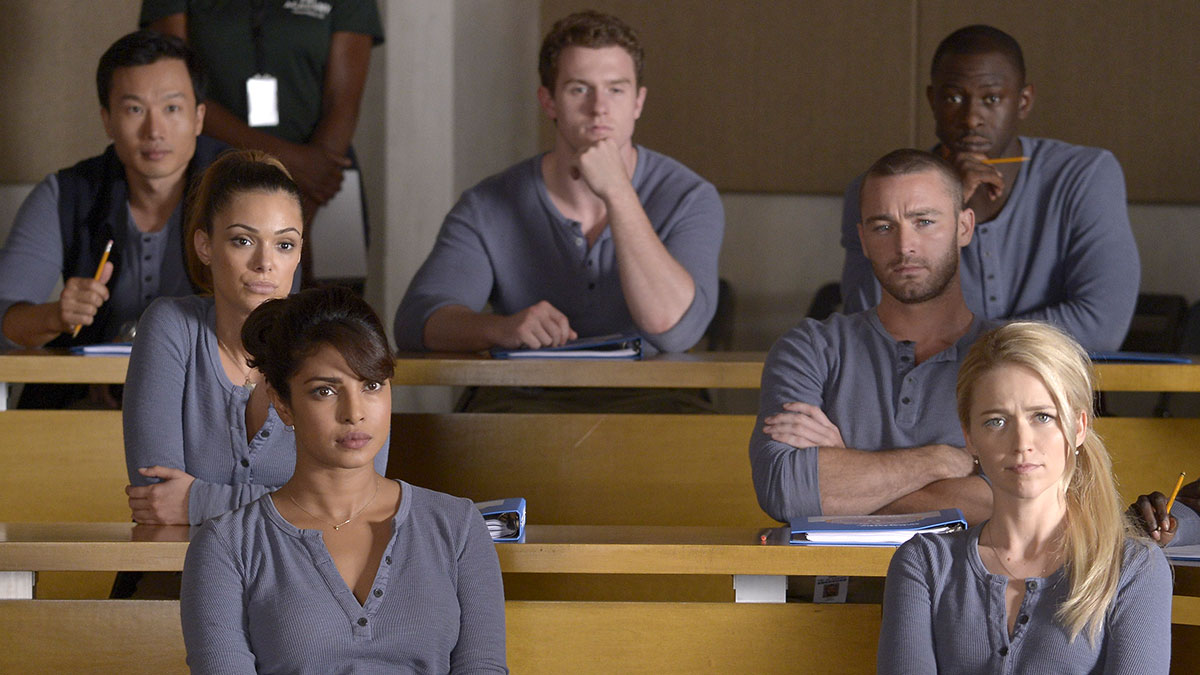 Find seasons 1-3 in On Demand > Box Sets
Virginia's Quantico base is where FBI recruits go to train as special agents. Recent graduate Alex Parrish (Priyanka Chopra, Isn't It Romantic) finds herself in hot water when she's suspected of involvement in a terrorist attack on Grand Central Terminal.
Deep State
Find series 1 & 2 in On Demand > Box Sets
Mark Strong (Tinker, Tailor, Soldier, Spy) plays a retired MI6 agent brought out of retirement for one last job in this tense spy drama. Combine the creeping tension of The Night Manager with the all-out, bone-crunching action of the Bourne series, and you've got a pretty good idea of what Deep State is all about.
Joel & Nish Vs The World
Find series 2 in On Demand > Box Sets
Comedians Joel Dommett and Nish Kumar take on – you guessed it – the world as they travel to six different communities. Their goal, however, is not to sightsee, but to learn how their Western lifestyle and fitness regimens stack up next to ancient ways and wisdom. Settle in for a wild ride as the pair test their strength against some of the fittest people in the world. We hope they forked out for travel insurance!
UFOs: The Untold Stories
Find season 1 in On Demand > Box Sets from Thursday 15 August
As a species, humans have always been fascinated by the weird and wonderful. Just take all the talk of raiding Area 51 as an example – it seems everyone and their dog has a burning desire to see what's in there. UFOs: The Untold Stories shines a spotlight on one such phenomenon, with alleged video footage, radar evidence and eyewitness accounts of UFO sightings. Beaming yourself up (or tuning in at least) should be a no-brainer!
Year Of The Rabbit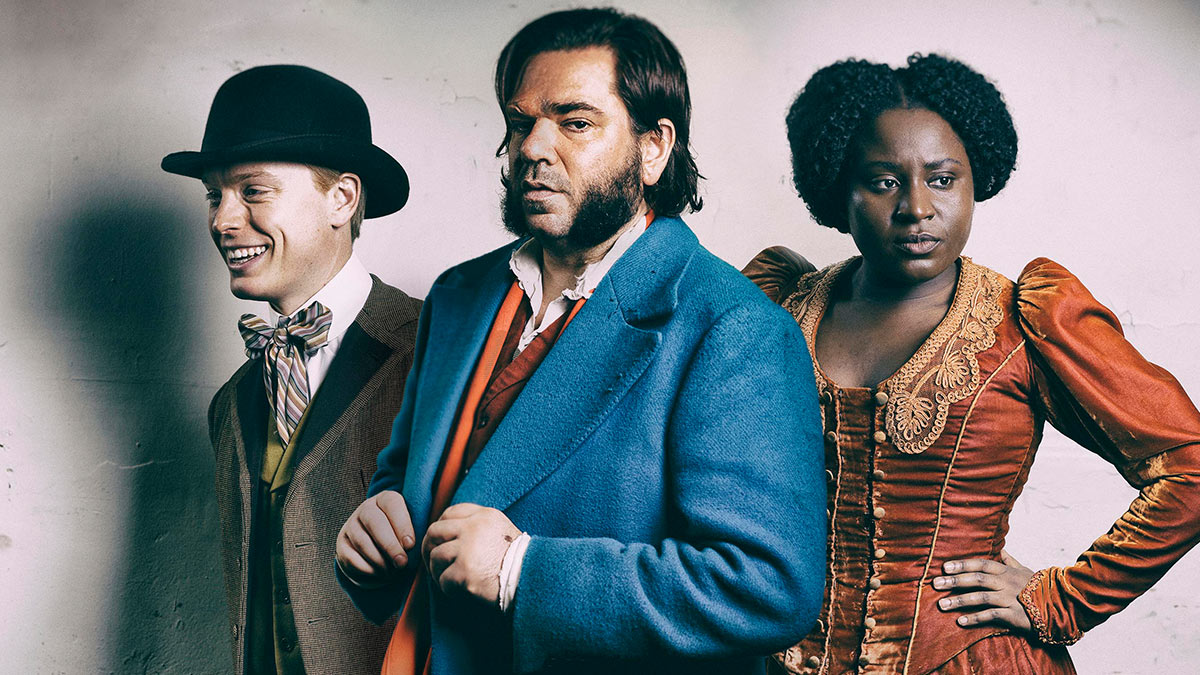 Find series 1 in On Demand > Box Sets from Monday 19 August
Detective Inspector Eli Rabbit (Matt Berry, What We Do In The Shadows) heads up a team that also includes hapless rookie Wilbur Strauss (Freddie Fox, The Riot Club); and Mabel Wisbech (Susan Wokoma, Chewing Gum), the brilliant but underappreciated daughter of Rabbit's boss. Set in Victorian-era London, the show is a profanity-strewn, historically inaccurate laughfest of the highest order!
Catch-22
Find it in On Demand > Box Sets from Monday 26 August
This dark comedy is based on the classic 1961 book by Joseph Heller, who we have to thank for inventing the titular term. John Yossarian (Christopher Abbott, The Sinner) is a bombardier in World War II who finds himself in, well, in a bit of a catch-22 situation. George Clooney executive produces and even directs some of the episodes, and stars alongside a brilliant cast that includes Kyle Chandler (Bloodline) and Hugh Laurie (House).
Copper
Find seasons 1 & 2 in On Demand > Box Sets from Thursday 29 August
Irish immigrant Kevin "Corky" Corcoran (Tom Weston-Jones, Warrior) returns from fighting in the American Civil War only to find his daughter murdered and his wife missing. He begins working as a policeman in the violent Five Points neighbourhood in New York City, while simultaneously trying to locate those responsible. BBC America's first scripted series is a gritty take on a tumultuous era in American history, but there's plenty of heart to be found amid the hard times.
The Boys
Find season 1 in Apps & Games > Prime Video
Imagine a world where superheroes actually exist. Pretty cool, right? Well, what if those caped crusaders were controlled by a massive (and massively shady) corporation? Starring Karl Urban (Star Trek Into Darkness), this Amazon Original series from Supernatural creator Eric Kripke is as gritty as it is violent. Urban heads up a group of vigilantes who set out to take down "supes" who abuse their powers. Unmissable.
The Marvelous Mrs. Maisel
Find seasons 1 & 2 in Apps & Games > Prime Video
This award-winning Amazon Original series follows Miriam "Midge" Maisel (Rachel Brosnahan, House Of Cards) as she breaks free from the trappings of her domestic life to try her hand at stand-up comedy in 1950s New York. Written by Gilmore Girls' Amy Sherman-Palladino, this playful, refreshing tale of starting over is well worth your time.
New Amsterdam
Find season 1 in Apps & Games > Prime Video
Based on the book Twelve Patients: Life And Death At Bellevue Hospital, drama series New Amsterdam follows Dr Max Goodwin (Ryan Eggold, The Blacklist), the new medical director of America's oldest public hospital. Good-natured, headstrong and ambitious, can he deliver on his promise to shake up the understaffed, bureaucratic institution? If you like Grey's Anatomy, you need to get this show on your radar.
Hanna
Find season 1 in Apps & Games > Prime Video
In this thrilling TV adaptation of the 2011 action film, 15-year-old Hanna (Esme Creed-Miles, Dark River) goes on a journey of self-discovery. She was raised in a remote forest in Poland by a man by Erik Heller (Joel Kinnaman, House Of Cards), a man with a mysterious past. But when his past begins to catch up with him, both he and Hanna are forced to go on the run to evade a ruthless CIA agent who'll stop at nothing to track them down. Don't miss this intense Amazon Original series.
Orange Is The New Black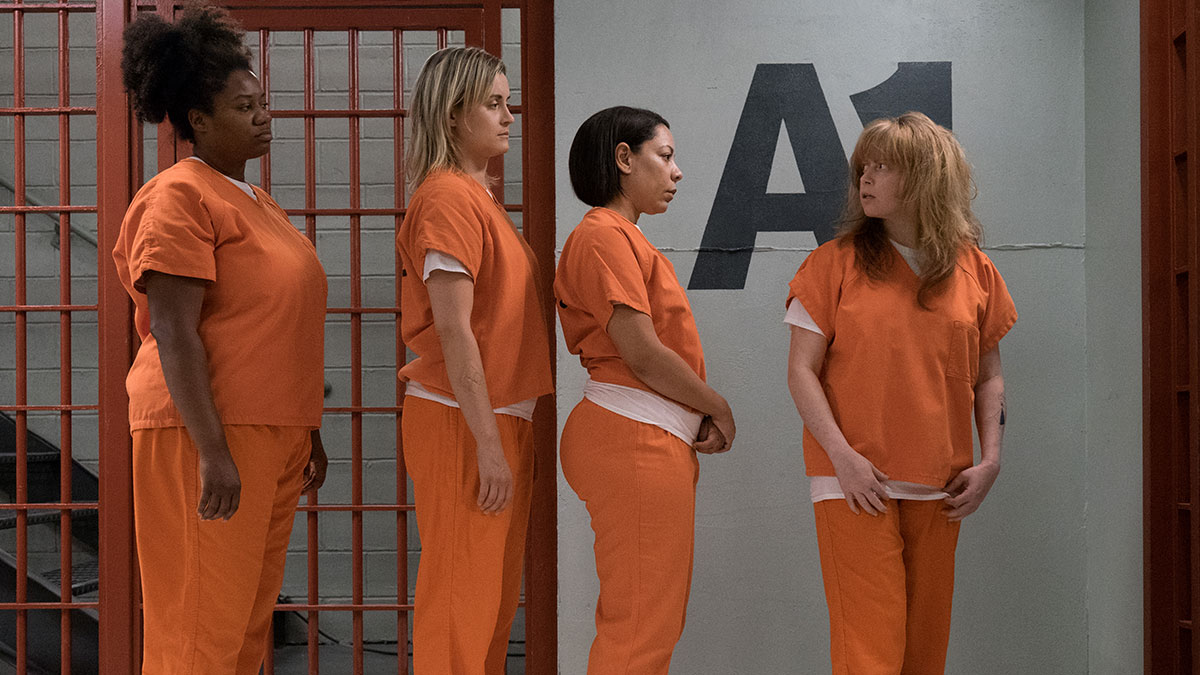 Find season 1-7 on Netflix
Piper Chapman (Taylor Schilling) has come a long way since season 1. Season 7 of the award-winning comedy drama finds her adjusting to life outside the walls of Litchfield Penitentiary. This whip-smart show isn't afraid to tackle difficult issues, from racial inequality to the immigration crisis, but it also shows humanity at its best (and most hilarious!). Lock yourself in with this TV treat, you won't regret it.
Mindhunter
Find season 1 on Netflix. Find season 2 on Netflix from Friday 16 August
FBI agents Holden Ford (Jonathan Groff, Glee) and Bill Tench (Holt McCallany, Fight Club) make it their mission to understand and catch serial killers by getting inside their minds. They're based on real-life FBI agents John Douglas and Robert Ressler, who were among the first to psychologically profile violent criminals – a fascinating process explored in detail in the show. Look out for the second season, which features a terrifying turn from Damon Herriman (Once Upon A Time In Hollywood) as former cult leader Charles Manson.
Stranger Things
Find season 1-3 on Netflix
The gang returns for a third season to take on the Mind Flayer, a horrifying, otherworldly being with a knack for demonic possession. Highlights include Eleven (Millie Bobby Brown) getting a whole new wardrobe, some truly banging 80s tunes, a hilarious scene featuring some seriously strong "truth serum", blossoming romances ("Suzie, do you copy?") and the ever-immaculate quiff of Steve Harrington (Joe Keery, Molly's Game). Is there anything these precocious teens can't conquer? #SquadGoals.
The Dark Crystal: Age Of Resistance
Find season 1 on Netflix from Friday 30 August
This original series, brought to life with a stunning mix of puppetry and visual effects, is set before the events of Jim Henson's 1982 fantasy adventure, The Dark Crystal. The Crystal of Truth lies at the heart of the world of Thra, but it's purity is tainted by the influence of the evil Skeksis. It's up to three Gelflings (a sentient species native to Thra) to try and restore the balance. Keep your ears peeled for the stellar voice cast, which includes Taron Egerton, Helena Bonham Carter, Natalie Dormer, Eddie Izzard, Alicia Vikander and Mark Hamill, to name a few.
How to watch Amazon Prime Video with Virgin TV
Prime Video is available to all Virgin TV customers with a V6 box, powered by TiVo®. Simply sign up to Amazon Prime Video via their website, and you can log in on the box. And because Prime Video is fully integrated into TiVo®, you can search without even going into the app. Just select Search & Discover from the Home menu and type in the name of the show or movie you're after.
How to watch Netflix with Virgin TV
If you have a TiVo® box or Virgin TV V6 box, powered by TiVo®:
Press home on your remote
Select Apps & Games
Select All Apps
Select Netflix
If you're already a Netflix subscriber, you can also access the app through Search & Discover or by pressing Red on channel 204. Just sign in with your existing login and start watching. And you'll only have to log in the first time you use it.
If you're new to Netflix, then you'll need to subscribe to use the app. The easiest way to do this is by going to netflix.com/virginmedia. You can also subscribe using the Netflix app in Apps & Games.
On Demand: Content available to view depends on TV package. Time limits apply for viewing chargeable On Demand content – see virginmedia.com. Once purchased, all chargeable On Demand content must be viewed within 48 hours. Premium channels and upgrades must be kept for at least 30 days.
Amazon Prime Video: Amazon Prime subscription required at extra cost. 18+. Click here for T&Cs.
Netflix: Netflix subscription required at extra cost.