Skip to main content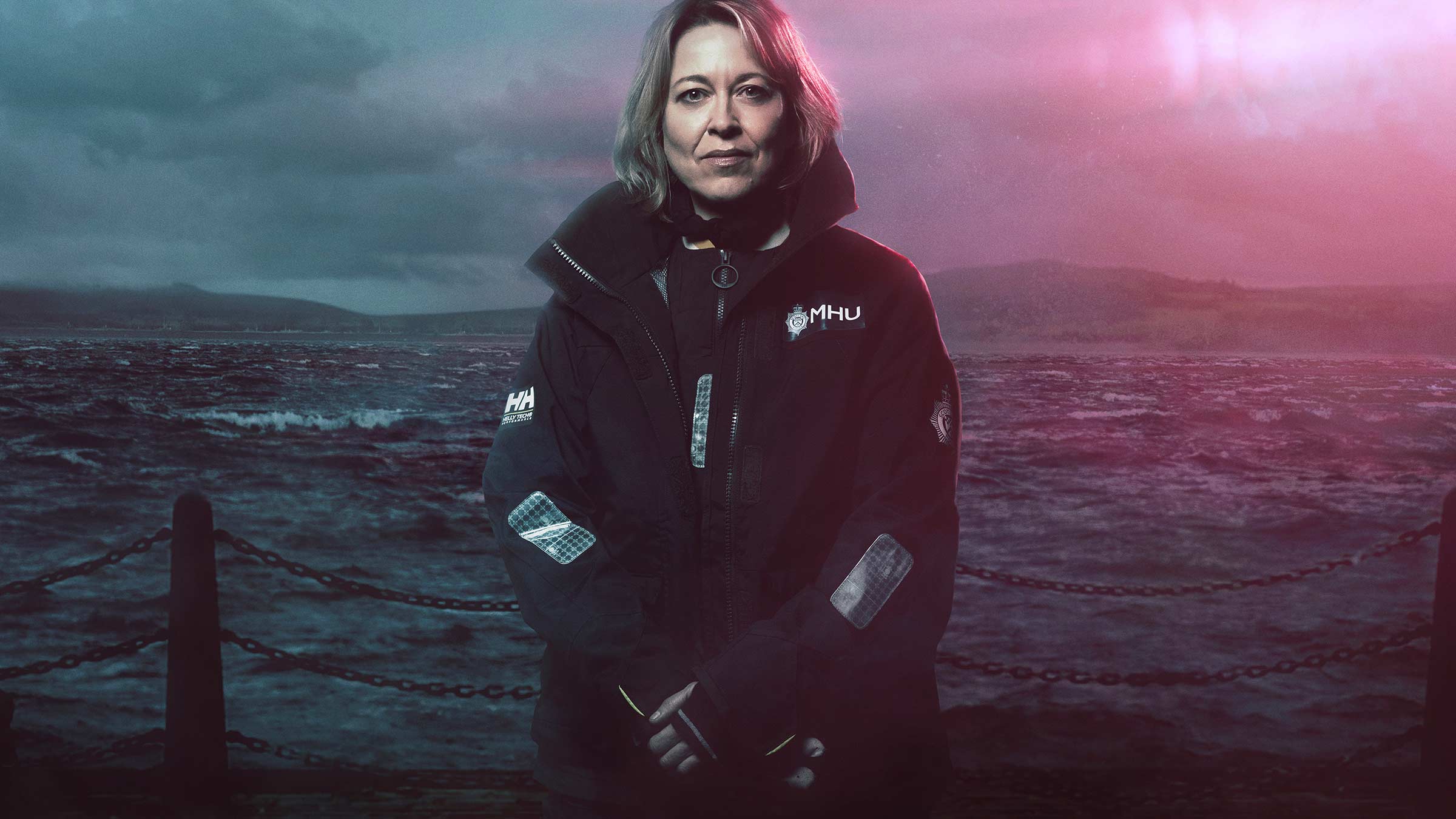 The Unforgotten actor wades in on her role in Alibi's new crime drama
By Laura Rutkowski, Staff Writer
Based on the BBC Radio 4 drama Annika Stranded, Annika the series tests the TV waters to bring DI Annika Strandhed to life. Both are created by Nick Walker (the male writer), with Annika played (and voiced by) Nicola Walker (the female actor – to avoid any name confusion).
The Scandinavian detective, who is normally based in Oslo, Norway, heads up the new Marine Homicide Unit in Scotland, where she's bound to rock the boat. All the murders are connected to the waterways, whether its Glasgow's Clyde River, the Isle of Bute or Loch Katrine acting as the backdrop to a crime (someone is killed by er… harpoon in the first episode).

The series, filmed in Glasgow, features a raft of top Scottish talent, including Jamie Sives (Guilt), Katie Leung (The Nest), Kate Dickie (The Nest), and Silvie Furneaux (Limbo) as Annika's teenage daughter Morgan, as well as British actor Ukweli Roach (Blindspot).
DS Michael McAndrews (Sives) trained with Annika and feels that she's taken the job that was rightfully his. Will Annika sink or swim as the boss of her specialist team? Will anyone eat her Norwegian salted liquorice or laugh at her off-kilter jokes? And will Morgan adjust to the move north of the border?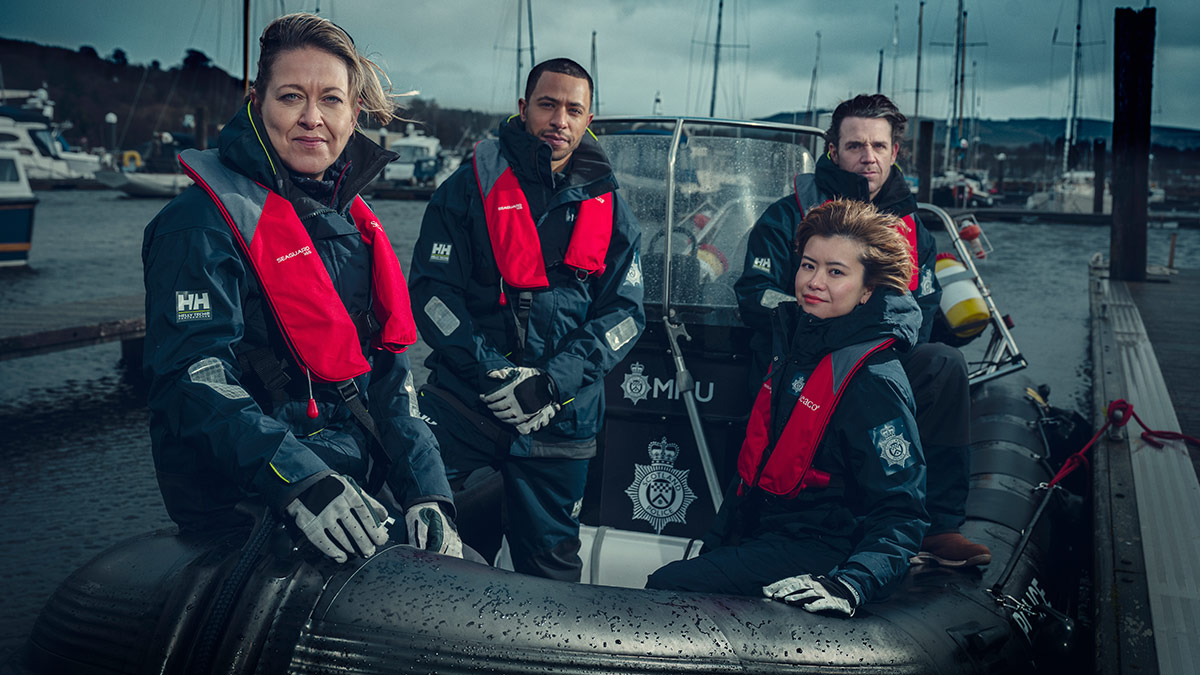 From left: Nicola Walker (DI Annika Strandhed), Ukweli Roach (DS Tyrone Clarke), Jamie Sives (DS Michael McAndrews) and Katie Leung (DC Blair Ferguson) work their best windswept looks

During a press event (held at a boating base, no less!), Nicola dialled in on Zoom and opened the floodgates on the new series and bringing the character of Annika to the screen. Here's what we found out.

On Annika Stranded…
"We have a very loyal fan base for that. For people that know her [Annika] from the radio, there are significant changes. She has a new team. She has a daughter; she has a son on the radio. It is still absolutely Annika the character from the show – transposed to Scotland."
On Annika breaking the fourth wall…
"On the radio, obviously you've got that intimacy with the listener. To get that intimacy on this new TV series, they came up with the idea of breaking the fourth wall, which works really well. Annika has a direct line to you down the barrel of the lens. I imagined talking to someone sitting at home on their sofa as if they were my silent partner-in-crime and I reveal stuff to them, I hold stuff away from them.
"The first day I did it, it was so, so weird. Suddenly it's the opposite of everything you're meant to do. I've become slightly obsessed with it. I'm filming something else at the moment and I keep getting told off for looking down the barrel. It's completely ruined me."

On Annika's eccentricities…
"She would probably really dislike being called quirky – she's idiosyncratic. She's an outsider, because she still has these Norwegian roots, even though she grew up in Scotland. I have a very good friend from Norway, and she's very direct. That is the key to Annika. She's direct with the team. She's direct with her daughter and she's very direct with you [the audience].
"She has her own unique process of drawing on stories, whether they're [from] Chaucer or Ibsen or Shakespeare. [She references Herman Melville's Moby-Dick in episode 1]. She has a reputation for getting results with this way of investigating."

On her and Jamie Sives receiving their boat licenses…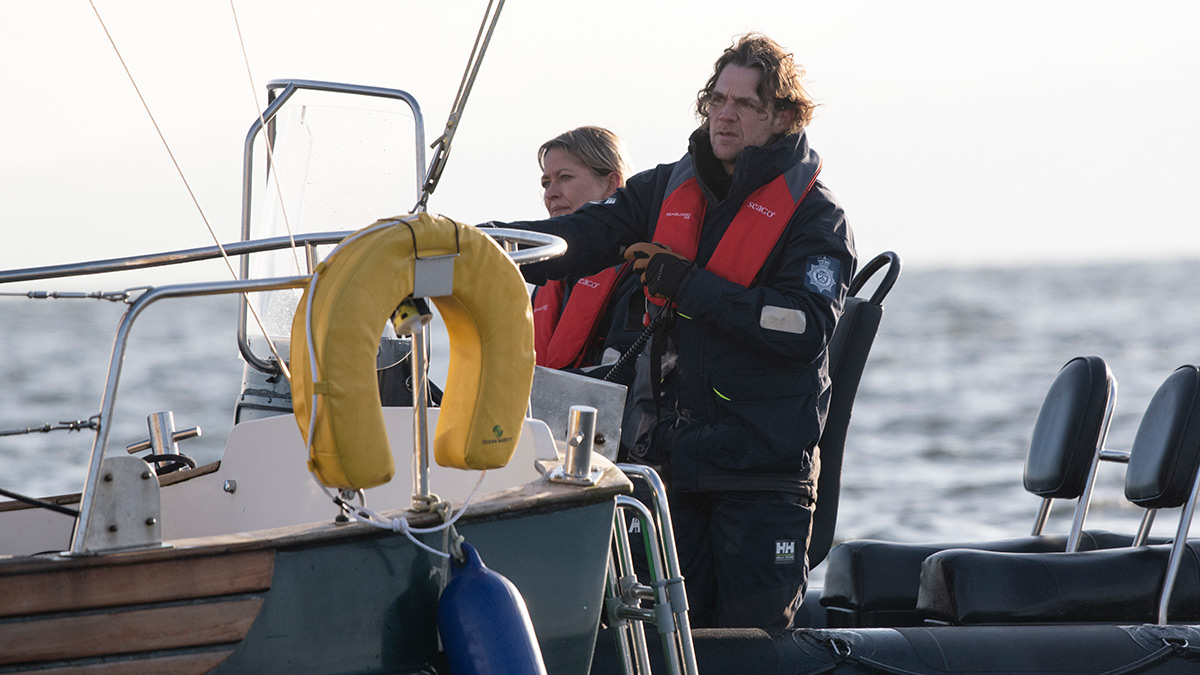 "Does that look like the Loch Ness Monster up ahead?"

"We can drive them quite safely now, we had to do man overboard procedure and navigate lights and buoys. Normally when you're an actor, you have someone following you, [even] when you go to the loo, so it was really freeing because we were answerable to no one for large chunks of the day when we were on the water. Jamie and I were just doing quite fast figures of eight until someone on a walkie-talkie told us to get back into position."
On the Scottish weather…
"In your head, you think you look really glamorous and amazing, but I didn't factor in how freezing it was going to be in Scotland in January. Normally when it's cold and you're filming, your vanity as an actor says, "No, no, I won't take the extra layers, because I want my costume to look nice." Scotland made me want every single item of thermal and want to wear 72 layers. I don't look as glamorous as I imagined, because I look like I can barely move I'm wearing so many clothes."
On speaking Norwegian…
"I've been in Annika's head for a number of years. Nick has done so many trips over to Norway. I've never been, I'd love to go. There's an episode where Annika is talking to her father. That obviously had to be in Norwegian. My Norwegian friend helped me with that. It basically involved doing Zoom and her laughing at me and saying how terrible I was."

When is Alibi's Annika on TV?
Annika airs on Alibi/HD (CH 126/212) on Tuesdays at 9pm, with the first episode screening on August 17th. It is also available for 30 days in Catch Up > Channels > Alibi.
The six-part series will subsequently air every week until Tuesday 21st September.
TV channels: Channels, content and features available depend on your chosen package. Channel line-ups and content are subject to change at any time and to regional variations.
HD: HD TV set, V HD Box, TiVo box, Virgin TV V6 box or Virgin TV 360 box connected with HDMI cables required for HD channels. Number of inclusive HD channels depends on package.
Catch Up TV: Catch Up TV content available for up to 7 days or up to 30 days after broadcast, depending on content.
Interviews: Any opinions expressed in interviews are those of the interview subject and not those of Virgin Media.
Image credits: Annika © UKTV / Graeme Hunter