Skip to main content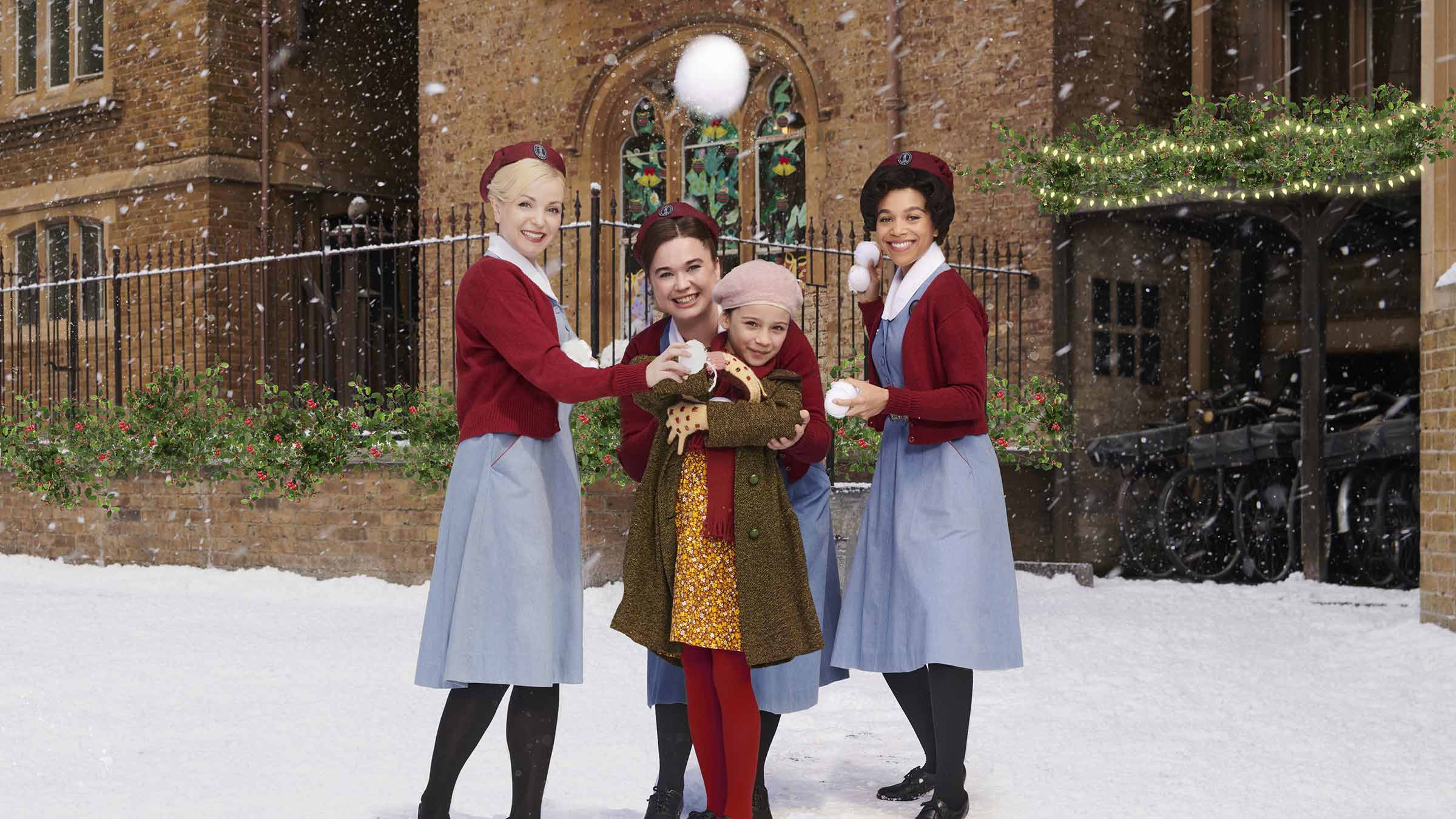 From a semi-scientific investigation into the Home Alone boobytraps to plenty of festive quizzes and giggles, there's lots to enjoy this Christmas
By Virgin TV Edit
Whether you're keeping half an eye on Strictly while wrapping presents or curling up in front of a Dickens adaptation after eating your bodyweight in roasties, festive telly is a key part of what makes Christmas feel like Christmas.
This year, there's something for everyone – including raucous topical comedy, feelgood festive contests and poignant animations to delight kids and grown-ups alike. Plus, 2022 brings the return of some festive staples as well as some brand-new shows that'll inspire your own Christmas crafty creativity.
As an extra special festive treat, we will be showcasing Kinky Boots: The Musical on Virgin Media Previews (CH 100) in HD, at no extra cost. Tune in on Boxing Day at 9pm and it will be available for all customers with a TiVo® box, Virgin TV V6 box, powered by TiVo® or a Virgin TV 360 box. Find out more here.
Read on for our pick of what else to put on during the festive season.
1. Mayflies
Wednesday 28 + Thursday 29 December, 9pm, BBC One HD (CH 101)
Line Of Duty's Martin Compston returns to his real accent in this adaptation of Andrew O'Hagan's bestselling novel about male friendship. He's Jimmy, a successful author who gets a call out of the blue from his oldest friend Tully (Tony Curran, known for This Life, Gladiator and memorably playing Vincent van Gogh in Doctor Who). Tully is dying, and he wants Jimmy by his side to make sure his final days aren't filled with depressing sentiment. With flashbacks to the pair's youth in the 1980s, it promises to be a moving and nostalgic drama, playing over consecutive evenings on BBC One.
2. Call The Midwife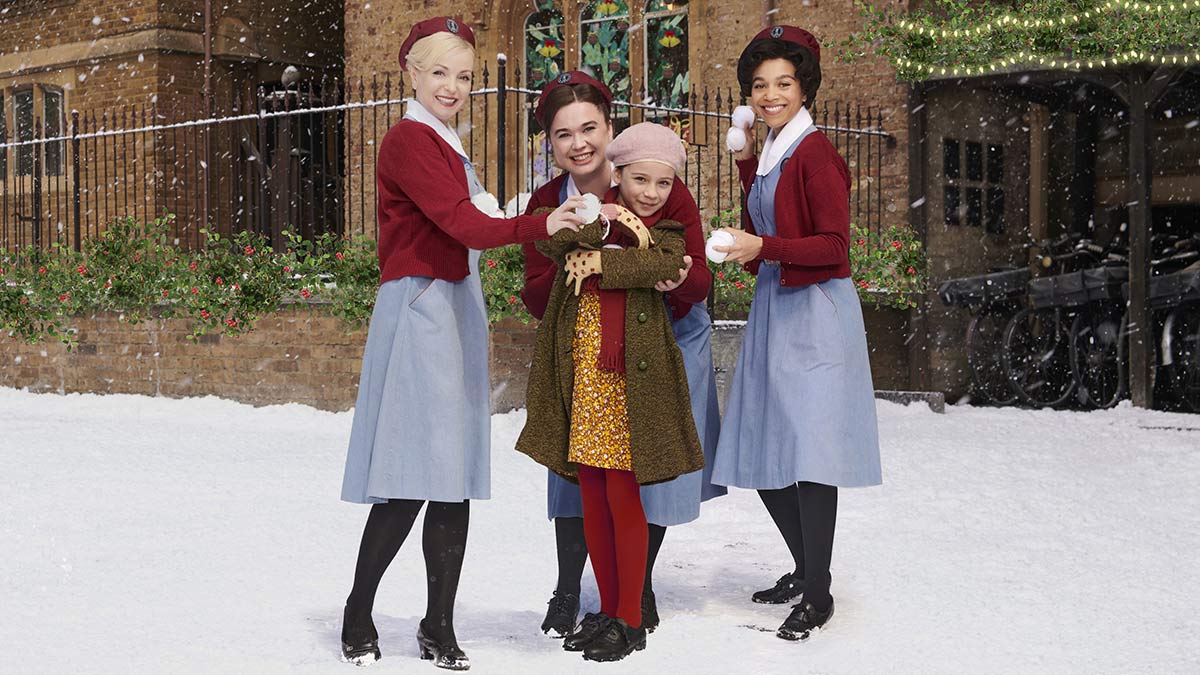 Christmas Day, 7.55pm, BBC One HD (CH 101)
We love a CTM Christmas special. This year's looks set to be a corker, as Lucille, Trixie and Nancy return to our screens ahead of the arrival of series 12 next year. With Christmas 1968 approaching, the midwives move to their maternity clinic and see a familiar face among their patients. Stephen McGann is also reprising his role as Dr Turner, on his way to recovery after series 11's tragic train crash. And there's a festive talent show – delightful.
3. Christmas Carole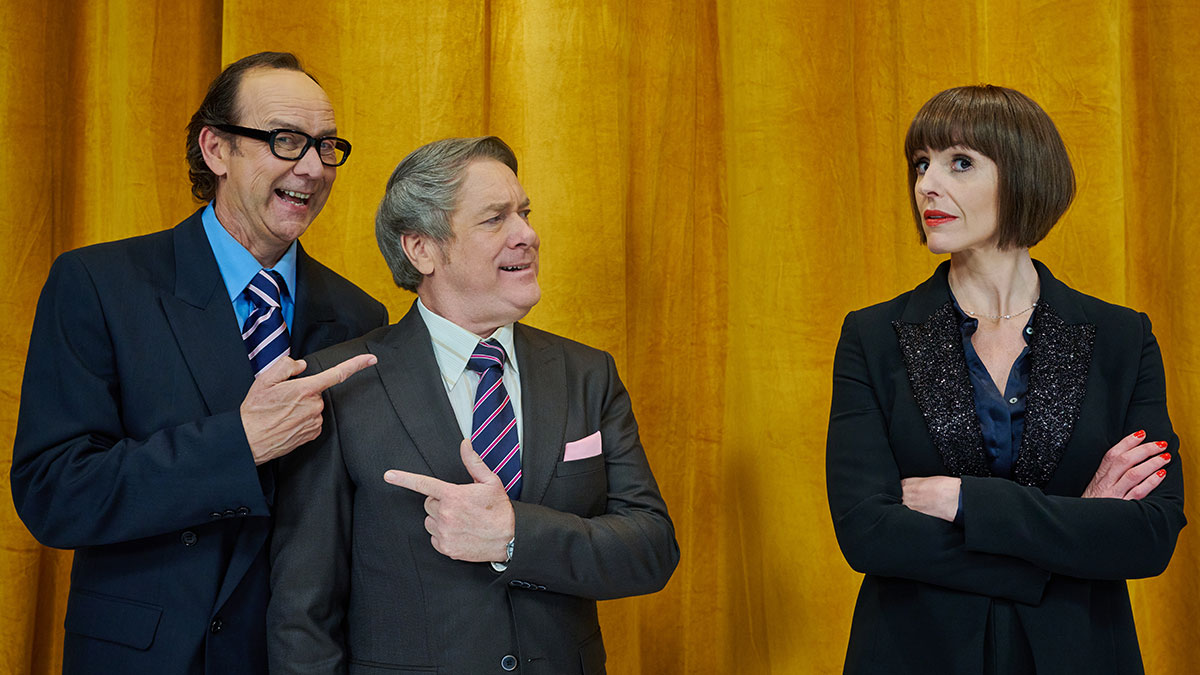 Christmas Eve, 8pm, Sky Max/HD (CH 121/122)
BAFTA-winning TV legend Suranne Jones (Doctor Foster) stars in this new take on Dickens' classic festive tale. She plays Carole Mackay, an outspoken, wealthy and heartily disliked entrepreneur, who made her fortune selling festive trinkets and decorations but embodies none of the true spirit of Christmas. One night, Carole is visited by three sets of comedy ghosts: Morecambe and Wise (played by Jonty Stephens and Ian Ashpitel), Jo Brand, and Nish Kumar. Can they convince her to change her ways?
4. The Boy, The Mole, The Fox And The Horse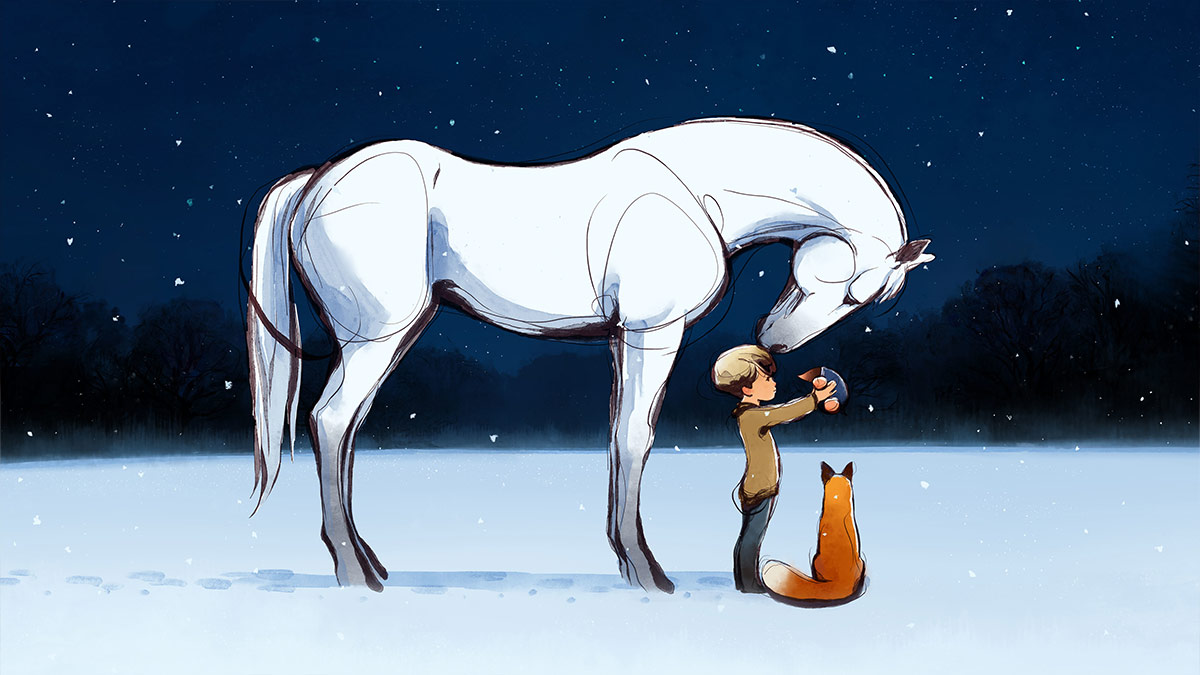 Christmas Eve, 4.55pm, BBC One HD (CH 101)
Charlie Mackesy's illustrated book about the power of friendship, became an international bestseller after its release in 2019 – gaining extra poignancy during the loneliness of lockdowns. This Christmas, an animated short based on Mackesy's book is coming to BBC One and iPlayer, and it's set to be a modern classic.
5. Big Fat Quiz Of The Year
Boxing Day, 9pm, Channel 4 HD (CH 104/141)
Somewhere along the way, Big Fat Quiz Of The Year became a baked-in part of the UK's annual entertainment calendar. You know – there's Love Island in the summer, Bake Off in the autumn, Strictly takes you up to Christmas and then BFQOTY rounds things off with a bang. Jimmy Carr will be back at the helm, with an as-yet-unknown panel of hilarious guests.
6. Strictly Come Dancing Christmas Special
Christmas Day, 5.10pm, BBC One HD (CH 101)
This dazzling one-off programme on Christmas Day marks the end of series 20 (20!) of Strictly Come Dancing, with six new celebrities taking to the floor to compete to become the show's Christmas champion 2022. Get ready to make cutting observations about celeb footwork while you lie on the sofa surrounded by Quality Sweet wrappers.
7. Ghosts Christmas Special
Christmas Day, 7.25pm, BBC One HD (CH 101)
Hit BBC comedy Ghosts returns for its third Christmas special. The gang is expected to be back in full force, including Alison (Charlotte Ritchie), Mike (Kiell Smith-Bynoe), Kitty (Lolly Adefope), Thomas (Mathew Baynton) and Julian (Simon Farnaby). Dead scoutmaster Pat (Jim Howick) will be taking a trip down memory lane, while the other ghosts try to cheer Alison up on Christmas Day.
8. The Great Christmas Bake Off
Christmas Eve, 8.25pm, Channel 4 HD (CH 104/141)
To paraphrase Jo in Little Women, Christmas wouldn't be Christmas without a Bake Off special. Paul, Prue, Noel and – for the last time! – Matt are back in the tent with some celebrity guests to whip up some festive bakes and cakes. There will also be some easy-to-follow recipes so you can make your own treats at home.
9. Gangsta Granny Strikes Again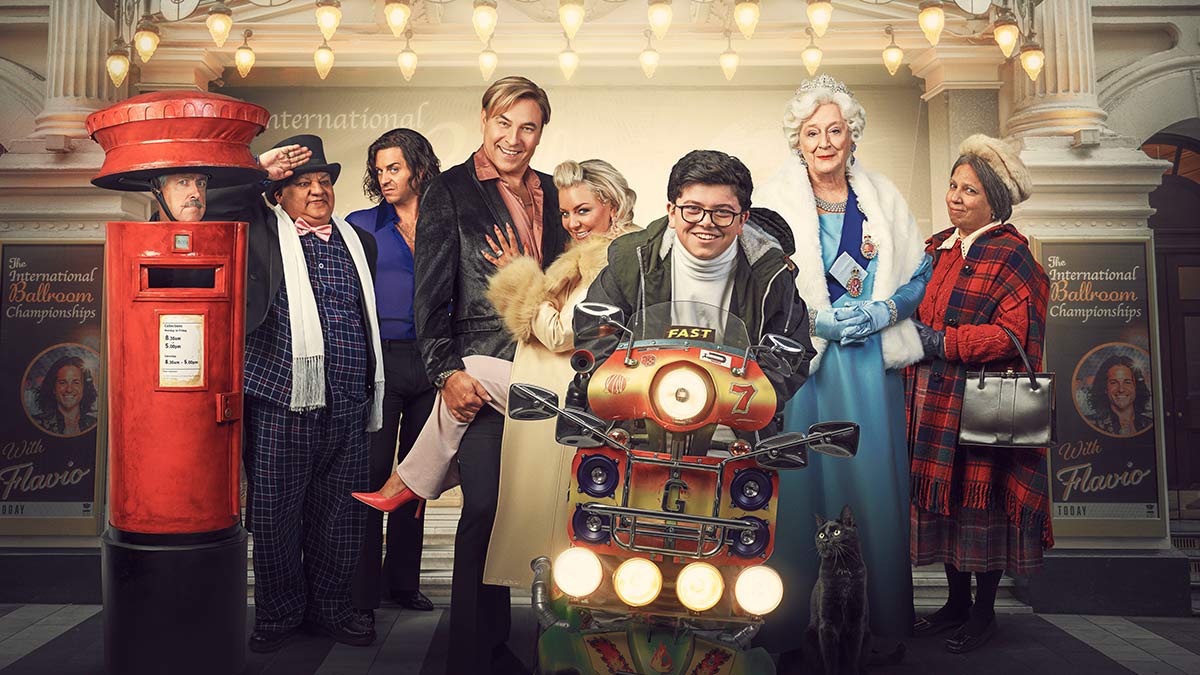 Monday 19 December, 4.15pm, BBC One HD (CH 101)
In this adaptation of David Walliams' wildly successful children's book, schoolboy Ben (Archie Yates) is grieving the death of his beloved Gran. When he hears of thefts that have the pawprints of The Black Cat – Gran's criminal pseudonym – all over them, he's astonished. Could Gran be back to her old tricks? And how? Walliams co-stars as Ben's dad Mike, while Sheridan Smith plays mum Linda.
10. Joe Lycett v David Beckham: A Got Your Back Christmas Special
Thursday 15 December, 9pm, Channel 4 HD (CH 104/141)
He may have got some people's backs up with his viral appearance on Sunday with Laura Kuenssberg, but comedian Joe Lycett is broadly adored thanks to his unexpected evolution into a consumer champion. Per the show's producers: "This Christmas special sees Joe take on some of his biggest targets yet, as he aims to right some final wrongs before the year is out."
11. Britain's Got Talent: The Ultimate Magician
Sunday 18 December, 8pm, ITV1 HD (CH 113/103)
If you've ever got stuck watching Uncle Alan attempt card tricks after several Baileys, you'll know that magic and Christmas are natural bedfellows. The calibre of magic will (hopefully) be significantly higher in this new showcase, hosted by Stephen Mulhern and featuring some of the world's most astonishing magicians. Penn Jillette of Penn and Teller fame will pop up as a guest judge, too.
12. In For A Christmas Penny
Monday 19 December, 2pm, ITV1 HD (CH 113/103)
Stephen Mulhern's been busy, hasn't he? This time, he's hosting another Christmas special episode of his game show In For A Penny. He'll be hitting the streets of UK towns and helping unsuspecting members of the public win big cash prizes – all with a festive feel, of course.
13. The Unofficial Science Of Home Alone
Monday 19 December, 9pm, Sky Max/HD (CH 121/122)
Home Alone is the best Christmas film of all time – at least, according to comedians James Acaster, Guz Khan and Alex Brooker. In this hilarious programme, they set out to recreate the dastardly and inventive traps set by Kevin McAllister (Macauley Culkin) in the 1990 movie, in the hope of finding out whether they work in real life. Alex also heads to the US to meet some of the cast and stuntmen involved in the film and visit some of its iconic locations.
14. Detectorists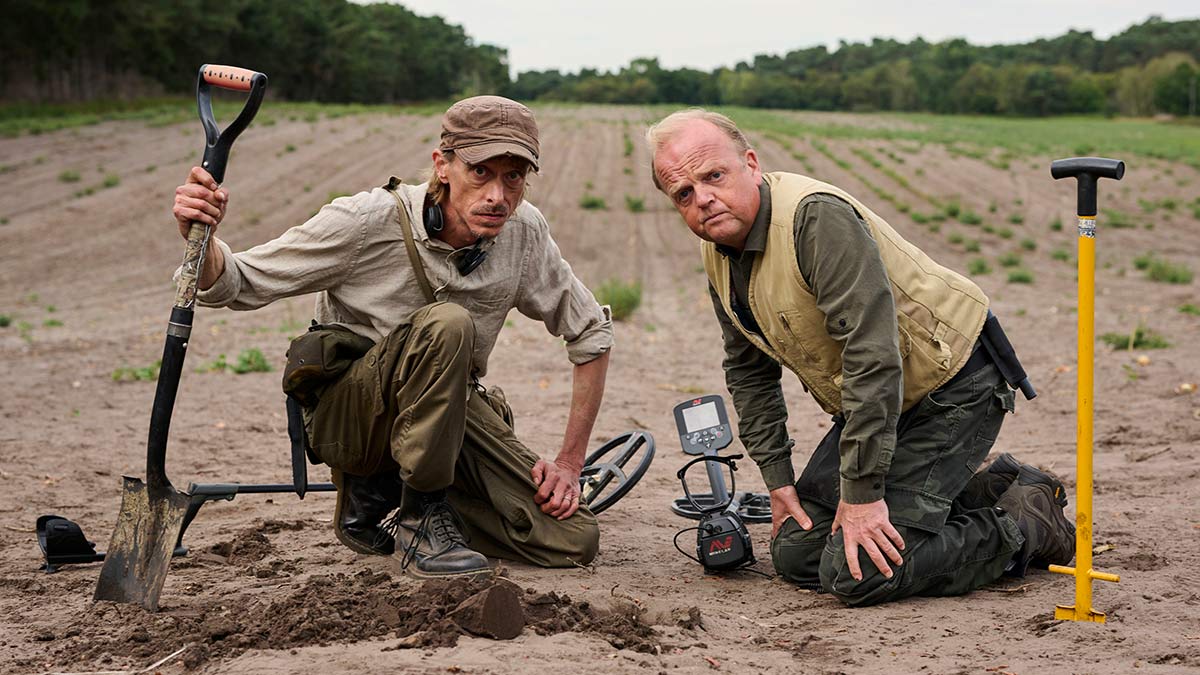 Boxing Day, 9pm, BBC Two HD (CH 102)
Mackenzie Crook's BAFTA-winning comedy about the lives and loves of an Essex metal detecting club, which ended its three-series run in 2017, is back for a feature-length special this Christmas. Crook and Toby Jones will be reprising their roles as best friends Andy and Lance, with Crook saying: "I've had a story percolating for a while and I thought it was worth getting Lance, Andy and the rest of the band back together for."
15. Two Doors Down
Friday 23 December, 10pm, BBC One HD (CH 101)
Hugely popular suburban Glasgow comedy Two Doors Down returned for a sixth series this autumn, which is being capped off with a Christmas special. Details of what exactly the special will involve are thin on the ground, but we're guessing that Eric (Alex Norton) and Beth (Arabella Weir) may find their neighbours getting in the way of their plans for a nice, relaxing Christmas.
16. All Creatures Great And Small Christmas Special
Friday 23 December, 9pm, Channel 5 HD (CH 154/105)
The cosy period drama about Yorkshire vet James Herriot (Nicholas Ralph) returns for another Christmas special. This time around, James and Helen (Rachel Shenton) will be spending their first Christmas together as a married couple, although things aren't so rosy for Mrs Hall (Anna Madeley) whose son has been sent away to war. Expect appearances from beloved characters like Tristan, Siegfried and Mrs Pumphrey.
17. The Greatest Snowman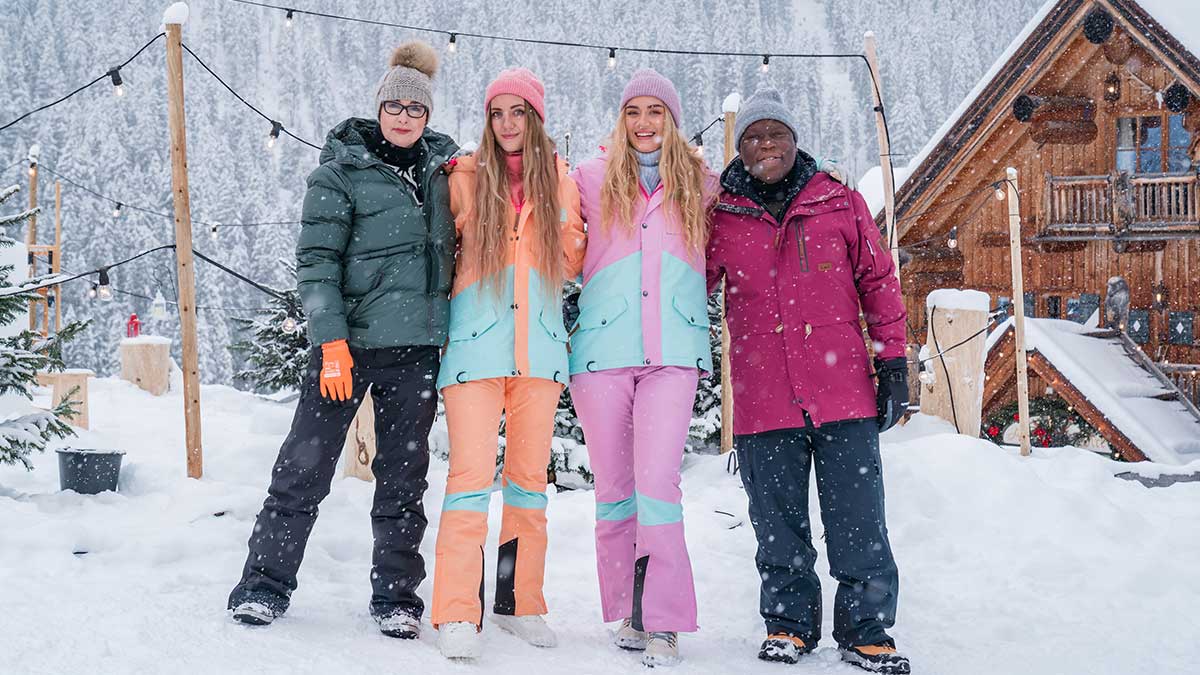 Boxing Day, 7.30pm, Channel 4 HD (CH 104/141)
Glassblowing, baking… snowman-making? Truly, there is no creative talent that can't be gamified for the purposes of comforting reality TV. This very likeable programme sees Sue Perkins preside over a bunch of celebrities as they compete to build the best snowman on a blustery mountaintop, with judges including last year's winner Laurence Llewelyn-Bowen. That's basically it, and very nice it is too. Also, I think we can all agree, a 10 out of 10 show name.
18. The Smeds And The Smoos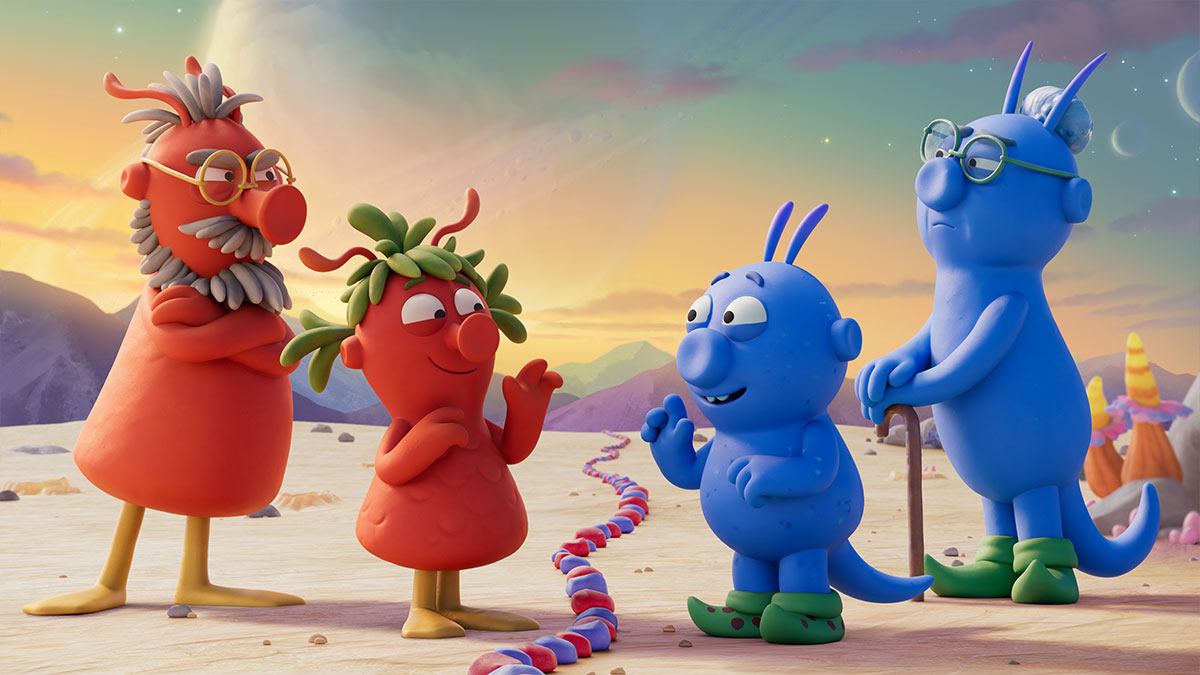 Christmas Day, 2.35pm, BBC One HD (CH 101)
One way to get parents on board with kid-focused Christmas specials? Pack the cast with actors they love. Bridgerton's Adjoa Andoh and comedian/Strictly winner Bill Bailey provide voices for this animated adaptation of a book by Julia Donaldson and Axel Scheffler (The Gruffalo), which sees red Smeds and blue Smoos overcome prejudice and come together to find two lost children. Donaldson and Scheffler's books have become a Christmas staple, and this looks just delightful.
19. The John Bishop End Of The Year Show
Tuesday 27 December, 9.30pm, ITV1 HD (CH 113/103)
It's fair to say that quite a lot happened in 2022 (to be even fairer, sometimes quite a lot happened in 48 hours), and the ever-affable John Bishop will be taking a deep breath and a big look back at the year that was in this one-off special. We think it's safe to bet that it'll be supremely watchable and very funny.
20. Taskmaster's New Year Treat
New Year's Day, 9pm, Channel 4 HD (CH 104/141)
Greg Davies and Alex Horne will be kicking off 2023 with a third New Year Treat special episode. Five new celebrity guests including Greg James and Carol Vorderman will be taking part. So, bask in all the usual easy-watching merriment and mayhem while you recover from New Year's Eve festivities.
21. Never Mind The Xmas Buzzcocks
Thursday 15 December, 9pm, Sky Max/HD (CH 121/122)
Britain's favourite musical quiz show is back for another festive edition with host Greg Davies (Taskmaster). Along with fellow comics Noel Fielding, Daisy May Cooper and Jamali Maddix, this special will see a trio of very special guest stars joining the mayhem including Steps singer Claire Richards, comedian Tom Allen and musician Pete Doherty.
22. The Nation's Favourite Christmas Carols
Thursday 22 December, 8pm, Sky Arts/HD (CH 165/140)
'Tis the season to be jolly and joyous with this concert at the London Coliseum. Join the English National Opera's Chorus and Orchestra as they perform the nation's best-loved Christmas carols. Some famous faces will be joining the celebrations as they reflect on their own personal favourites.
23. Portrait Artist Of The Year Christmas Special
Wednesday 21 December, 8pm, Sky Arts/HD (CH 165/140)
This Christmas special will see six celebrities take on the ultimate creative challenge as they paint under the watchful eyes of expert judges award-winning artist Tai Shan Schierenberg, independent curator Kathleen Soriano and art historian Kate Bryan. But there's a special surprise for the celebrities as the subject of their creations are Slade's Noddy Holder, interior designer Lawrence Llewelyn-Bowen and singer Mica Paris.
24. Little Red Riding Hood: After Ever After
Friday 23 December, 8pm, Sky Max/HD (CH 121/122)
This classic fairytale has been given a modern update. Fifty years after the original adventure in the woods, the now grown-up Red Riding Hood has established a reputation as a deadly Wolf Buster. Her granddaughter Red Riding Boots wants to follow in her grandmother's footsteps hunting wolves, but after a series of events leads Boots into the forest herself, she learns that the natural order is out of balance and instead tries to save the wolves from extinction.
25. Predators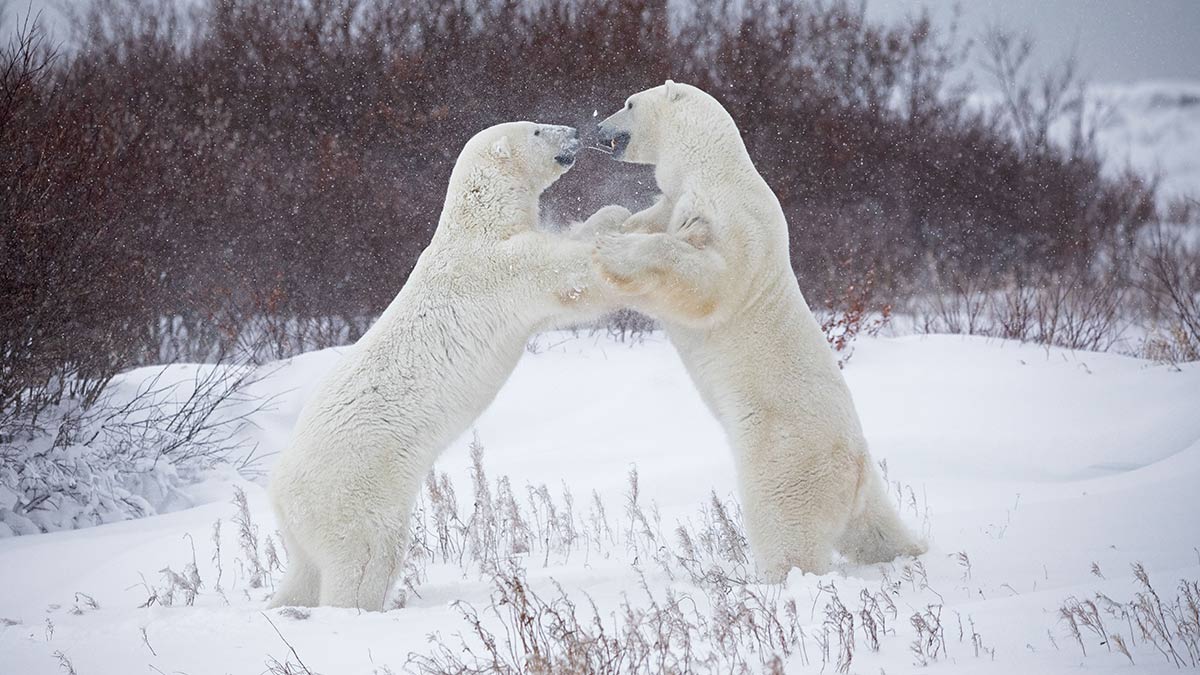 9pm, Sunday 11 December, Sky Nature/HD (CH 279/280)
Narrated by actor Tom Hardy, this nature series follows five deadly predators who must adapt to survive in a rapidly changing world. As we follow polar bears in Canada, wild dogs in Zimbabwe, pumas in Chile, lions in Botswana, and cheetahs in Tanzania, the predators must overcome unprecedented challenges in ever-changing landscapes. But who will continue to rule the wild kingdoms and who will be left defeated?
26. Mary Berry's Ultimate Christmas
Monday 19 December, 8pm, BBC One HD (CH 101)
Dame Mary Berry gives her ultimate masterclass in creating a delicious Christmas dinner – a real feast for the eyes (and the stomach too, of course). Get ready to impress with her traditional Christmas dinner of lemon and herb roast turkey with all the trimmings. Plus, friends and fellow chefs Angela Hartnett and Monica Galetti cook up a storm of their own festive favourites, while Mary and TV presenter Rylan Clark visit a vegetable farm to create a special sprout dish. Sounds delicious!
27. Rosie Molloy Gives Up Everything
Wednesday 7 December, 10pm, Sky Comedy/HD (CH 135/123)
Comedy Queen Sheridan Smith (Two Pints of Lager and A Packet of Crisps) is Rosie Molloy – a woman who is addicted to everything from smoking and booze to Terry's Chocolate Oranges and caffeine. After an embarrassing incident at her brother Joey's wedding that leaves her in hospital, she decides to give up everything for good. As she juggles her father's ill health, potential job loss and her failing relationships perhaps it isn't the addictions that are the problem after all...
28. Rob And Romesh Vs Christmas On Ice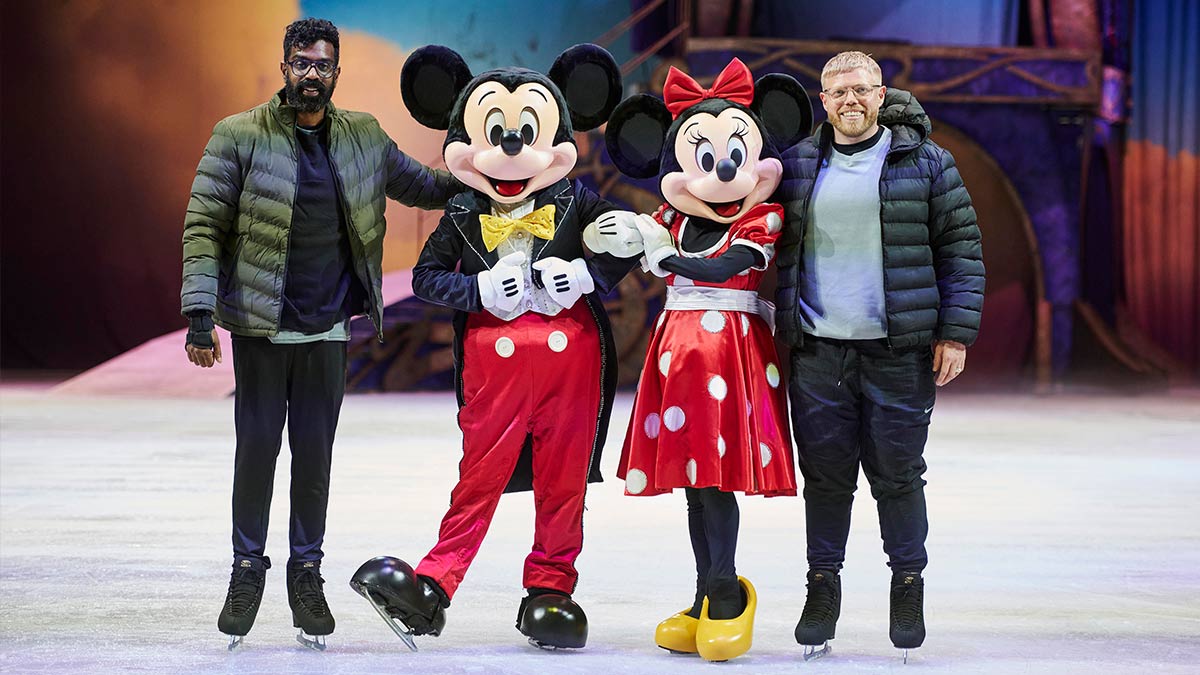 Wednesday 21 December, 9pm, Sky Max/HD (CH 121/122)
For this year's Christmas special, fans of Rob And Romesh Vs… have been asked what challenge they'd love to see the comedy duo take on. The votes are in and it looks like they'll be ice skating... at a performance of Disney On Ice. No pressure then. Their journey will begin with gruelling rehearsals, as they boys put their best blade forward with Mickey, Goofy, Moana and the rest of the gang.
29. A League Of Their Own Christmas Special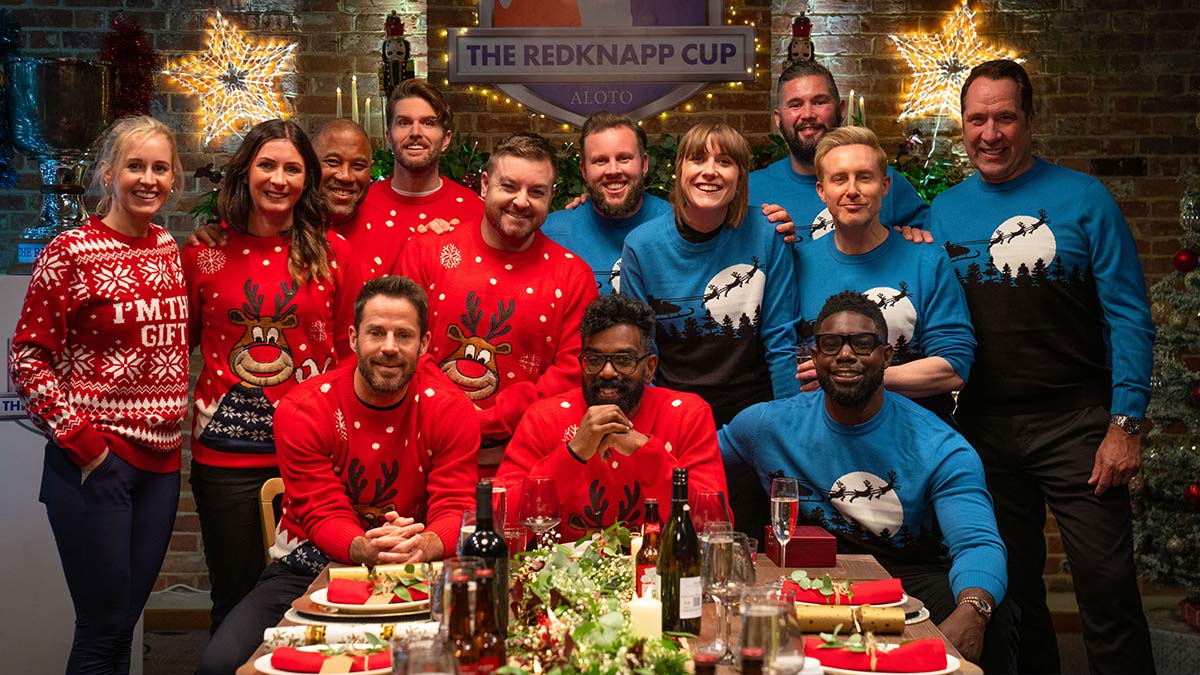 Monday 12 December, 9pm, Sky Max/HD (CH 121/122)
The boys are back in town for this year's festive special. While looking back at some of the series favourite moments from 2022, the cast will be competing in a special celebrity golf tournament – The Redknapp Cup. Joining the festivities are comedians Joel Dommett, Maisie Adam and Alex Brooker, boxer Tony Bellew, Olympian Eve Muirhead, H from Steps and two former footballers John Barnes and David Seaman.
30. Christmas In Ireland With Imelda May And Friends
Christmas Eve, 9.30pm, Sky Arts/HD (CH 165/140)
Musician Imelda May welcome friends and family in this spectacular Christmas event at Pepper Canister Church. The songstress will be joined on stage by special guests as they celebrate the very finest of Irish music and culture across generations, from traditional songs to new sounds and voices.
31. Death In Paradise Christmas Special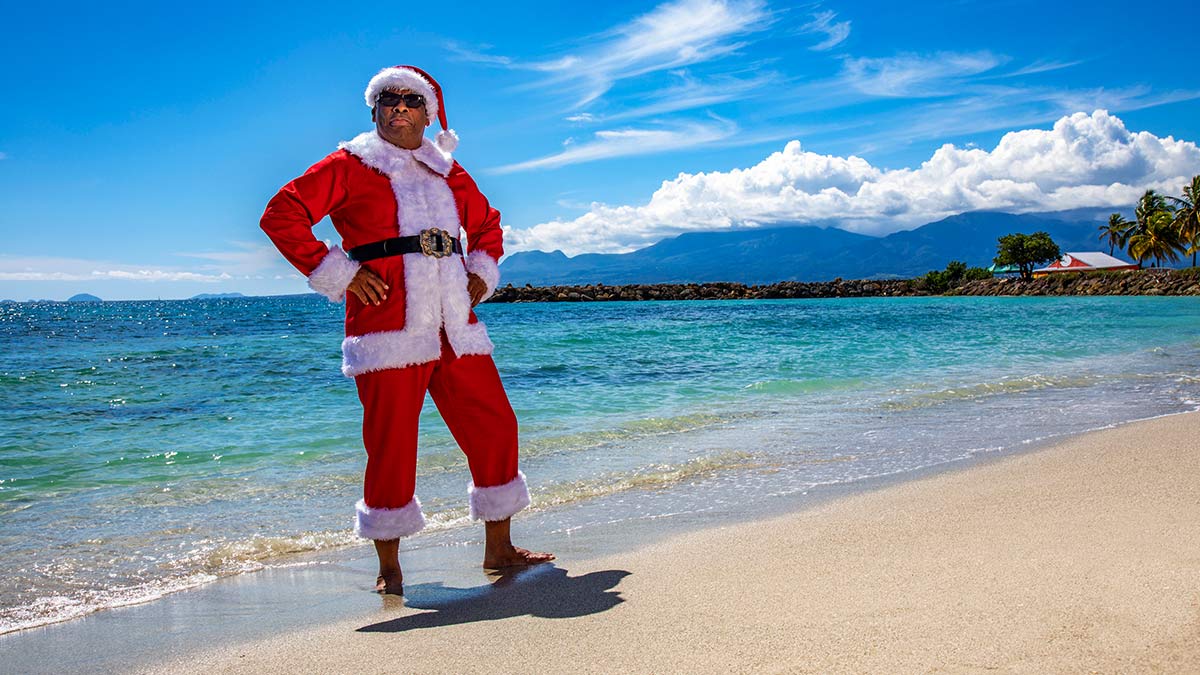 Boxing Day, 9pm, BBC One HD (CH 101)
There's good news for fans of this crime comedy series – not only has a twelfth season been announced but once again there will another feature-length festive special to enjoy. The official synopsis from the BBC reads: "Christmas in Saint Marie takes a spooky turn this year when an old case of Selwyn's comes back to haunt him following the murder of a true crime podcaster on the hunt for a missing child." Guest stars including Les Dennis and Siobhan McSweeney will join Ralf Little and Don Warrington.
32. Mrs Brown's Boys Christmas Specials
Christmas Day, 10.25pm + New Year's Day, 10pm, BBC One HD (CH 101)
It wouldn't be Christmas Day without Mrs Brown's Boys, starring Brendan O'Carroll as aged housewife and sweary pensioner Mrs Brown. She's back on New Year's Day to entertain us again – plus, fans can look forward to a brand-new four-episode mini-series airing in the new year. Yippee!
33. Christmas Comedy Club With Lost Voice Guy
Christmas Eve, 10.30pm, ITV1 HD (CH 113/103)
Britain's Got Talent winner Lee Ridley and his new Geordie accent will be returning to screens to make the nation laugh for a second Christmas stand-up special. Joining him on stage are ventriloquist Paul Zerdin, comedians Josie Long and Dara Ó Briain and freestyle rapper and comedian Abandoman.
34. Doc Martin Christmas Special
Christmas Day, 9pm, ITV1 HD (CH 113/103)
The nation's favourite medic is returning to Portwenn in this one-off festive special that's also – sob! – the long-running show's last ever episode. The titular doc (Martin Clunes) dampens the locals' spirit after shutting down the grotto fearing that Father Christmas, aka Leonard (Ron Cook, Hot Fuzz) has caught something contagious. Festive fun and chaos soon follows, as Leonard tries to spread Christmas cheer despite his diagnosis.
35. Riches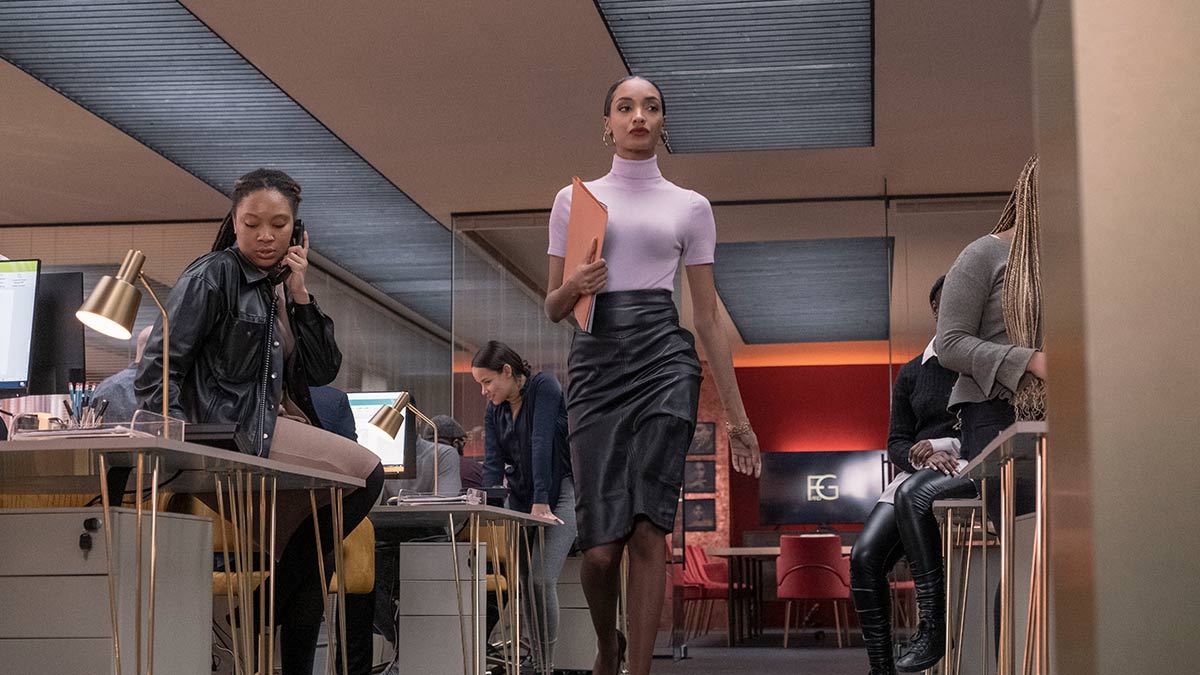 Thursday 22 December, Apps & Games > ITVX
Highly anticipated series Riches will be making its debut just before the big day. From the mind of acclaimed screenwriter Abby Ajayi (Inventing Anna and How to Get Away With Murder) this six-episode drama will follow the exploits of the super-privileged Richard's family. With the family suddenly at war following the sudden death of business mogul and family member Stephen Richards (Hugh Quarshie), it's bound to be a scandalous watch.
36. Without Sin
Wednesday 28 December, Apps & Games > ITVX
This dark psychological drama with Line of Duty's Vicky McClure (Stella Tomlinson) as its lead should be on your watchlist. The four-part thriller follows the grief of mother Stella after her 14-year-old daughter was found dead with a bloodied Charles Stone (Johnny Harris) standing over her body. Three years later and Stella who is still reeling from her loss visits murderer Charles in prison, where she makes a shocking discovery.
37. Litvinenko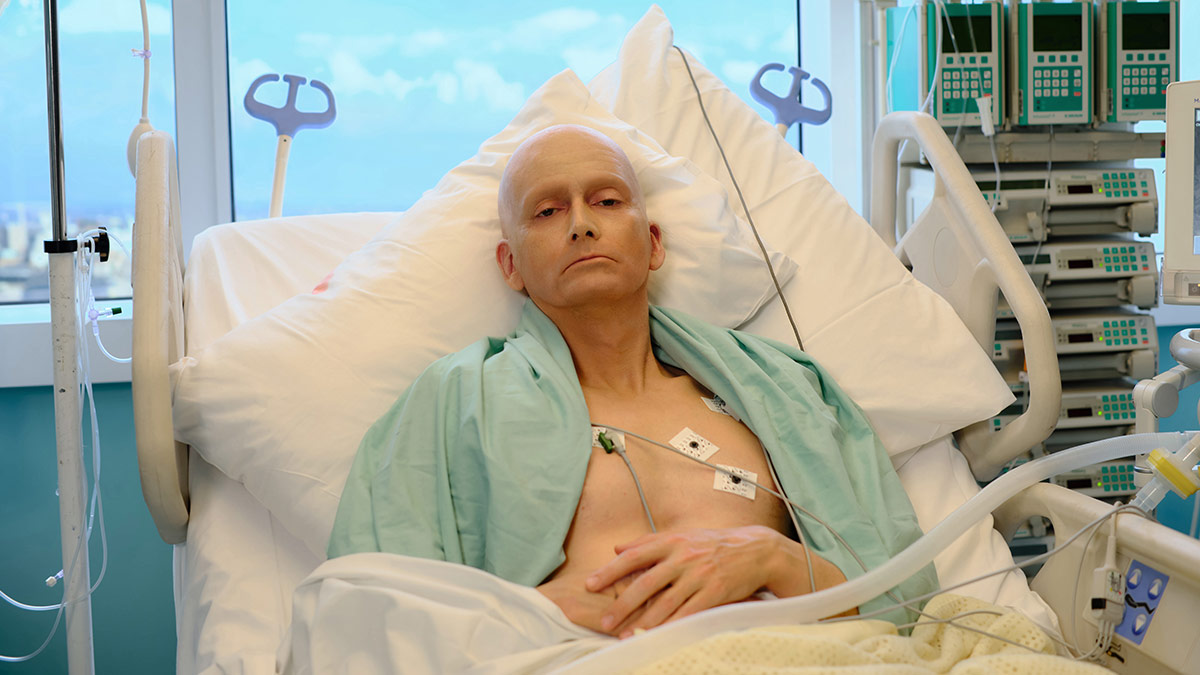 Thursday 15 December, Apps & Games > ITVX
If you're after something a bit less festive, then David Tennant is back on our screens to portray the real-life story of Alexander Litvinenko, a former Russian Federal Security Services and KGB officer who was poisoned and died in London. The 2006 incident was one of UK police force's most famous cases, and has been adapted into a big-budget drama series by George Kay, the writer behind Netflix's crime series Lupin.
38. Bad Education Christmas Special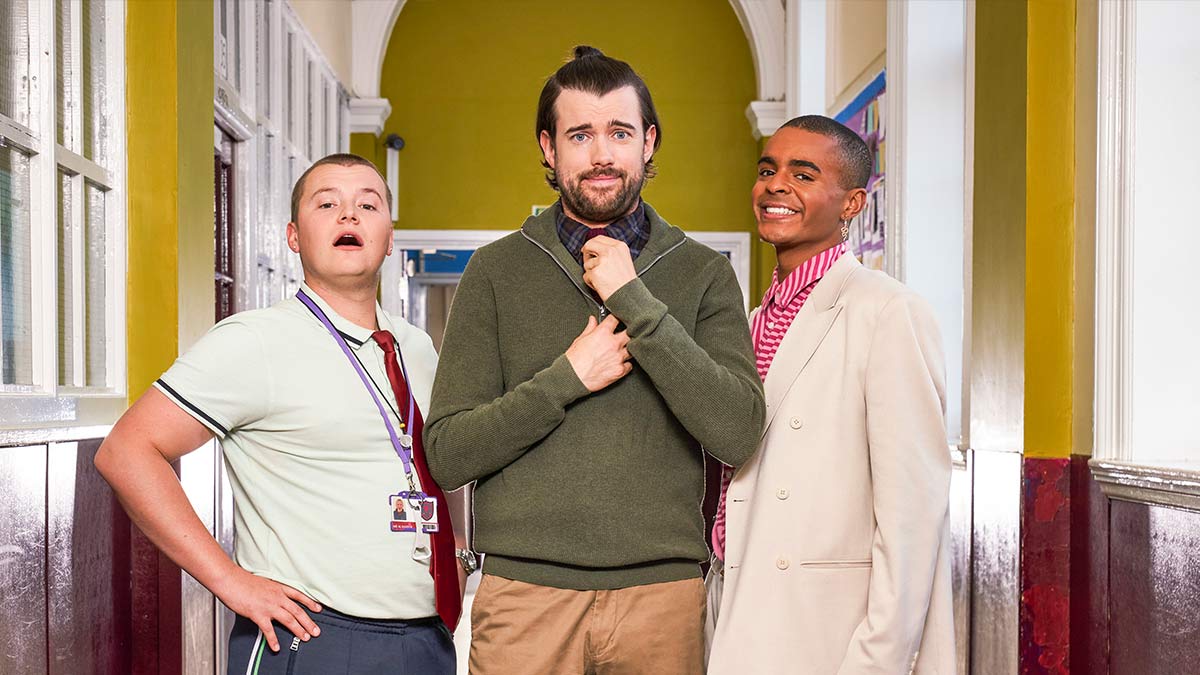 Thursday 15 December, 9pm, BBC Three HD (CH 107/157)
Christmas has come early for Bad Education fans, as viewers head back to Abbey Grove School in this festive special, marking the sitcom's return for a fourth series in 2023 after more than eight years away. Jack Whitehall stars as bumbling teacher Alfie Wickers, and there'll also be a few other familiar faces.
39. HM The King's Speech
Christmas Day, 3pm, BBC One HD (CH 101)
It wouldn't be Christmas Day without a speech from the royal household, and this year marks a historic occasion as King Charles III addresses the nation for the first time as monarch.
40. Married At First Sight UK: Christmas Reunion
Sunday 11 December, 9pm, E4/HD (CH 106/145)
Some of the nation's favourite Married At First Sight UK brides and grooms are reuniting for a festive special. Set in a swanky holiday hideaway that's been transformed into a winter wonderland, there's a touch of magic and sprinkle of drama in the air as contestants past and present reunite in the name of love. But will any new connections be made under the mistletoe?
41. Kirstie's Handmade Christmas
From Monday 12 December, 5pm, Channel 4 HD (CH 104/141)
Get into the holiday spirit with Kirstie Allsopp as talented crafters go head to head at Christmas HQ. Across five festive episodes – Cake, Decoration, Gift, Gingerbread and Wreath – a team of esteemed judges will be on hand to declare the winners of each category while sharing industry tips and tricks. Plus, Kirstie shares her own merry makes that'll inspire you to get crafty at home.
42. Stacey Solomon's Crafty Christmas
Thursday 15 December, 8pm, BBC One HD (CH 101)
Look no further for some crafty inspiration that would even impress Father Christmas' elves, as presenter and mum-of-four Stacey Solomon spreads family festive cheer in this one-off special. Join Stacey as she shares clever ways to cut costs and upcycle at home to help you save money over the holidays.
43. Big Narstie Show: Xmas Special
Friday 16 December, 11.05pm, Channel 4 HD (CH 104/141)
It's Christmas time on The Big Narstie Show! Big Narstie and Mo Gilligan host a special festive episode of their hit show, with guests including comedian Thanyia Moore, rapper Headie One, singer Jada Kingdom, and entrepreneur Steven Bartlett.
44. The Snowman: The Film That Changed Christmas
Saturday 17 December, 5pm, Channel 4 HD (CH 104/141)
A timeless classic capturing the hearts across the nation every Christmas, this special documentary celebrates the 40th anniversary since Channel 4 first broadcast the adaption of Raymond Briggs' beloved picture book The Snowman. Including exclusive interviews with composer Howard Blake, and Hilary Audus and Joanna Harrison of the animation team, plus commentary from a famous fan or two. It's followed, of course, by a screening of the beloved film itself, as well as its sequel The Snowman And The Snowdog.
45. Lighting Up Christmas
Sunday 18 December, 6pm, Channel 4 HD (CH 104/141)
Join Channel 4 at some of Britain's best and brightest festive light displays to find out what magic goes on behind the scenes, including visits to John Lewis, Kew Gardens, Longleat Safari Park and Blackpool.

46. Sandi Toksvig's Tiny Christmas Challenge
Sunday 18 December, 7pm, Channel 4 HD (CH 104/141)
Sandi Toksvig presents this one-off Christmas competition, as eight crafters from across the UK put their miniature-making skills to the test by transforming an empty doll's house-sized wooden cabin into a festive winter retreat. And the results will leave you wondering if those North Pole elves lent a helping hand!
47. Miriam's Dickensian Christmas
Tuesday 20 December, 9pm, Channel 4 HD (CH 104/141)
Self-confessed Scrooge Miriam Margolyes hosts her first-ever Christmas party, taking on challenges from making her own festive feast to creating her own decorations, with the help of some Christmas historians. Plus, she meets with Charles Dickens' great great great granddaughter to discover the charitable spirit behind the famous festive tale.
48. Vardy v Rooney: A Courtroom Drama
Wednesday 21 + Thursday 22 December, 9pm, Channel 4 HD (CH 104/141)
Nothing says Christmas like warring clans, right? Add a bit of ultra-modern celebrity glitz and you're away! This compelling two-part courtroom drama is based on the real-life events of the "Wagatha Christie" case, a 21st century social media scandal which saw Coleen Rooney (wife of footballer Wayne Rooney) accuse Rebekah Vardy (wife of footballer Jamie Vardy) of selling false stories to the press. Starring Chanel Cresswell (This Is England) as Coleen and Natalia Tena (Harry Potter) as Rebekah.
49. Celebrity MasterChef Christmas Cook Off
Friday 23 December, 8pm, BBC One HD (CH 101)
Pop open the Christmas bubbles because the Celebrity MasterChef Christmas Cook Off is here. Hosted by judges Gregg Wallace and John Torode, eight familiar faces will be stepping into the kitchen as they compete for Celebrity MasterChef Golden Whisk trophy.
50. The Festive Pottery Throwdown
Christmas Day, 7.50pm, Channel 4 HD (CH 104/141)
Returning to screens for a 2022 Christmas Special, celebrity contestants Jamie Laing, Sunetra Sarker, Jenny Eclair and James Fleet channel their inner creativity in this festive pottery challenge. First up they'll create an illuminated Christmas scene before seeing who can throw the most mulled wine tumblers.
51. Kinky Boots: The Musical
Boxing Day, 9pm, Virgin Media Previews (CH 100)
If you happened to get a pair of red sparkly boots in your stocking this year, then this is the show for you. In this musical adaptation of the feel-good comedy classic Kinky Boots, we follow the story of factory owner Charlie who forms an unlikely friendship with wild entertainer Lola. It will be available for all customers with a TiVo® box, Virgin TV V6 box, powered by TiVo® or a Virgin TV 360 box. The event will not be repeated, but it can be recorded, in case 9pm is too late after the Boxing Day feasting.
52. Jon & Lucy's Party Of The Year
Wednesday 28 December, 9pm, Channel 4
Married comedians Jon Richardson and Lucy Beaumont of Meet The Richardsons are hosting a boozy get together to reflect on the year gone by with some special guests including Romesh Ranganathan (Rob and Romesh Vs), Tom Allen (The Great British Bake Off: An Extra Slice) and Judi Love (Loose Women). It sounds a lot like the infamous Alan Partridge Christmas special, so we are absolutely here for this one!
Shake up your Christmas
Since Virgin Media and O2 joined forces, our broadband customers get exclusive access to Priority from O2. We're shaking things up this year with 25 days of festive treats on Priority. Find out more below, plus check out all your Christmas TV, movie and sports listings.
TV channels: Channels, content and features available depend on your chosen package. Channel line-ups and content are subject to change at any time and to regional variations.
HD: HD TV set, V HD Box, TiVo box or Virgin TV V6 connected with HDMI cables required for HD channels. Number of inclusive HD channels depends on package.
Catch Up TV: Catch Up TV content available for up to 7 days or up to 30 days after broadcast, depending on content.
On Demand: Content available to view depends on TV package. Time limits apply for viewing chargeable On Demand content – see virginmedia.com. Once purchased, all chargeable On Demand content must be viewed within 48 hours. Premium channels and upgrades must be kept for at least 30 days.
Priority from O2: O2 customers and Virgin Media broadband customers only. 18+. Internet access and registration required. Offers subject to eligibility criteria and availability. Terms apply, see the Priority from O2 app or go to o2.co.uk/terms. To claim/enter, download the Priority app, register or sign in with your My Virgin Media details. For full terms see o2.co.uk/terms.