Skip to main content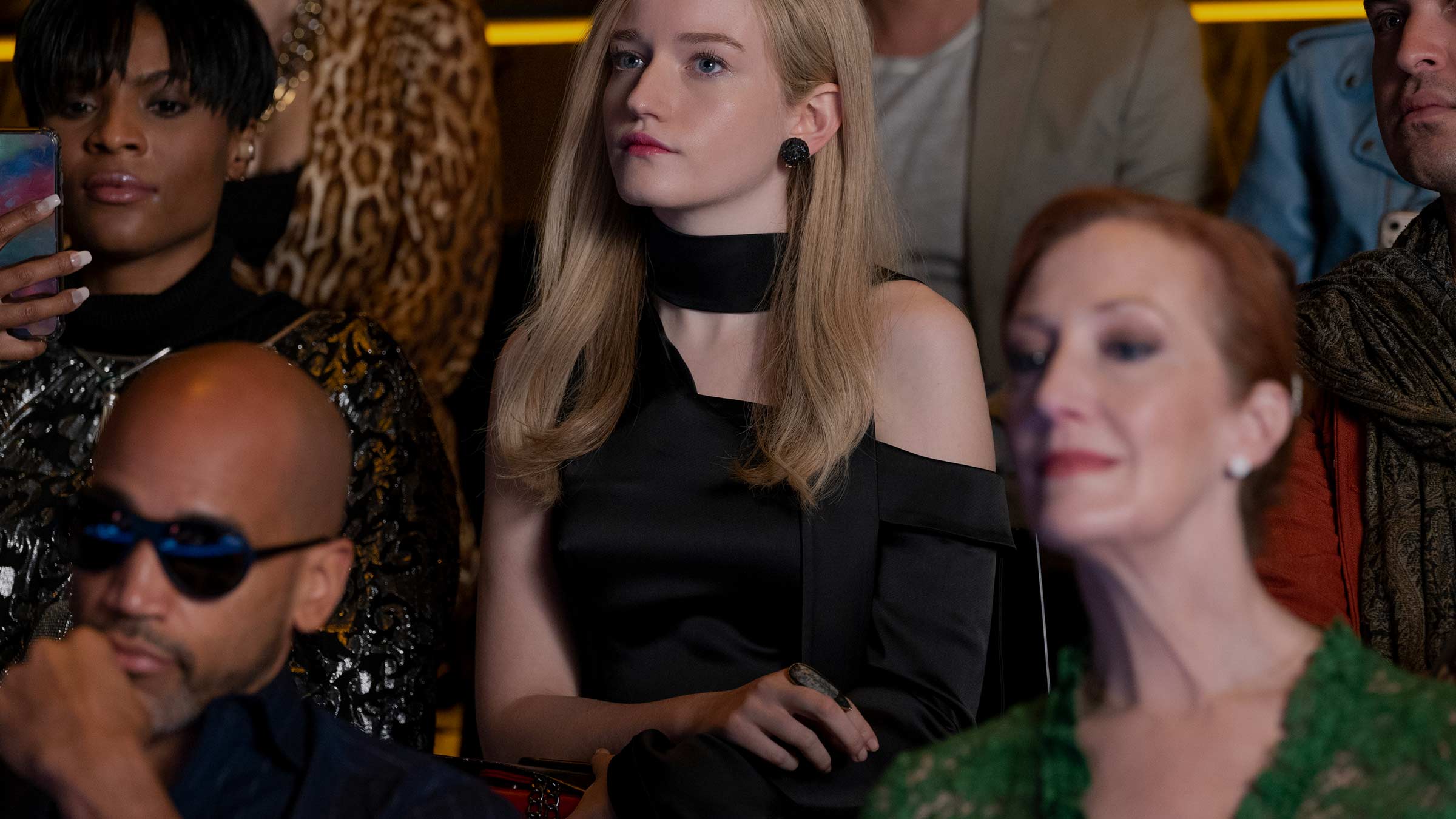 Treat yourself to the best binge-worthy Box Sets released in 2022, from Inventing Anna to Sherwood
By Kat Romero, Writer
From beautiful depictions of young love to tawdry tales of royal scandal, 2022 has certainly delivered some incredible telly.
But if you missed any of the most talked about shows or simply want to revisit one of your favourites, Virgin TV can offer you access to some of the best Box Sets to binge while you've (hopefully) got a bit of time off over the Christmas period.
Take a look at some of our picks that you can watch right now across BBC iPlayer, Netflix, Prime Video and more…
Find season 1 in Apps & Games > Netflix
This brilliant comedy drama, based on the graphic novels of the same name, follows high schooler Charlie (Joe Locke) who develops feelings for school jock Nick (Kit Connor, Rocketman). An instant hit on its release in April, Heartstopper provided a truly positive and joy-filled depiction of what LGBTQ+ love could be like for young people and has already been renewed for two more seasons.
2. The Serpent Queen
Find it in Box Sets > LIONSGATE+
Samantha Morton (Harlots) is mesmerising in this historical drama, playing the lead role of Catherine de' Medici, who marries into the French Valois court at just 14. On her wedding night, she learns that her husband is in love with another woman and must learn quickly who she can and cannot trust as she seeks to gain influence.
3. This Is Going To Hurt
Find series 1 in Apps & Games > BBC iPlayer
Starring Ben Whishaw and based on the best-selling book by Adam Kay, This Is Going To Hurt took us inside the NHS like never before. It was, at times, a brutal series and less funny than Kay's hilarious diaries. But it's a show that will stay with you for a long time and make you think about the lives of the people who care for us in a completely different way. Unmissable.
4. Inventing Anna
Find it in Apps & Games > Netflix
This drama created by Bridgerton's Shonda Rhimes depicts the insane true story of Anna Sorokin, who under the assumed name Anna Delvey conned the New York social scene into believing she was a German heiress and received hundreds of thousands in cash, goods and services… and very nearly got away with it. Julia Garner (The Assistant) transforms for this lead role and gives an eye-catching performance.
5. The Terminal List
Find season 1 in Apps & Games > Prime Video
Chris Pratt (Jurassic World) plays the lead role of James Reece, a Navy SEAL who suspects foul play after the rest of his team are killed in an ambush. While dealing with the aftermath and the suicide of a friend, the case comes closer to home than Reece could ever have expected – with tragic results. Pratt also serves as a producer on this intense thriller series.
6. Paper Girls
Find it in Apps & Games > Prime Video
The day after Halloween in 1988, four girls find themselves suddenly transported to the year 2019 and faced with their adult selves. They'll each learn their own strengths and weaknesses while trying desperately to get back to the past in this wildly inventive and visually arresting series based on an equally brilliant graphic novel.
7. The Lord Of The Rings: The Rings Of Power
Find season 1 in Apps & Games > Prime Video
JRR Tolkien's world was brought to life in a truly epic fashion in The Rings Of Power – rumoured to be the most expensive TV series of all time. The show, like all of Tolkien's work, started off slowly, setting up the chess pieces and the characters… before literally blowing everything up. Big reveals. New and old characters. And enough to keep even the most seasoned scholars of the Second Age of Middle-earth's history guessing. It was a wild ride – roll on season 2.
8. Derry Girls
Find series 1-3 in Apps & Games > All 4
The hilarious show focuses on the highs and lows of five school friends and how they navigate teenage life during the Troubles of the 1990s in Northern Ireland. The third and – sob! – final series was released in spring 2022. If you can make it to the end of that feature-length finale without blubbing like a newborn, then catch yourself on!
9. Sherwood
Find it in Apps & Games > BBC iPlayer
In the 1980s, an already fractured Nottingham mining village is torn farther apart after two shocking deaths. David Morrissey (Britannia) plays DCS Ian St Clair, who investigates the case and finds unexpected connections. James Graham, who was also behind the ridiculously good Quiz, gives us a series that is both deeply unsettling and utterly gripping.
10. Wednesday
Find season 1 in Apps & Games > Netflix
Idiosyncratic director Tim Burton (and the writers behind Smallville) breathes fresh life into The Addams Family franchise with this new series that focuses on daughter Wednesday and her love for all things macabre. Jenna Ortega (The Fallout) is outstanding in the leading role, while Catherine Zeta-Jones (Chicago) and Luis Guzmán (Narcos) are the perfect pairing as Morticia and Gomez.
11. The Crown
Find seasons 1-5 in Apps & Games > Netflix
Netflix's royal gem returned for its fifth season this year, exploring the 1990s which included Queen's self-proclaimed "annus horribilis", when three of her children's marriages ended in divorce and a fire blazed through her beloved Windsor Castle. The series generated almost many headlines as it explored, and Imelda Staunton stepping into the role as the late Queen Elizabeth II was nothing short of sensational casting.
12. Dead To Me
Find seasons 1-3 in Apps & Games > Netflix
The dark comedy showcasing the strength of the friendship between Jen (Christina Applegate, Anchorman: The Legend Of Ron Burgundy) and Judy (Linda Cardellini, Bloodline) after they are brought together by death returned for its third and final season. After everything they've survived together, this season brings devastating news and an emotional finale.
13. Bridgerton
Find seasons 1 & 2 in Apps & Games > Netflix
The Shonda Rhimes creation had us all hot under the collar when it first aired in 2020, but the second season was less steamy and more romantic as we got caught up in the twists and turns of the love affair between Kate Sharma (Simone Ashley, Sex Education) and Anthony Bridgerton (Jonathan Bailey, Crashing). With a third season on the horizon soon, now is the perfect time to get stuck into the Ton.
14. Better Call Saul
Find seasons 1-6 in Apps & Games > Netflix
The sixth and final season of this outstanding show – a prequel to Breaking Bad, beginning six years before that show's first episode – aired in two parts this year. A profound drama about moral corruption, it certainly added a great deal to the show that spawned it and arguably even surpassed it, thanks largely to Bob Odenkirk's oustanding central performance. The finale that brought together the two series was one of the great pieces of TV in 2022, and worthy of both shows.
15. Stranger Things
Find seasons 1-4 in Apps & Games > Netflix
The 80s-set supernatural high-school drama returned to Netflix for its fourth series in 2022 and boy, did it deliver. The kids navigating their way through the dramas of teen life also have to battle the wrath of the evil Vecna. Millie Bobby Brown (Enola Holmes) gives an incredible performance as Eleven, whilst Max's (Sadie Sink) edge-of-the-seat graveyard scene introduced a whole new generation to Kate Bush's "Running Up That Hill".
16. Top Boy
Find seasons 1 & 2 in Apps & Games > Netflix
This British crime drama was given a fresh start by Canadian rapper turned producer Drake in 2019 and the big-budget production, which returned for a second Netflix season in 2022, brought the stories of gang members Sully (Kano) and Dushane (Ashley Kane) to life like never before. Based in the fictional Summerhouse estate in Hackney, the show is an unfiltered and often horrifying depiction of gang life in London. Money talks, but snitches get far more than stitches.
17. Uncoupled
Find season 1 in Apps & Games > Netflix
How I Met Your Mother star Neil Patrick Harris plays Michael, a newly single Manhattanite who is trying to navigate the modern dating scene after his partner of 17 years walks out on him. The show was co-created by Darren Star, who brought us Emily In Paris and Sex And The City, and Jeffrey Richman, who is responsible for Modern Family, so you know you're in good hands. As a bonus, Michael's BFF is played by the hilarious Tisha Campbell, known for playing Jay in My Wife and Kids.
18. Trigger Point
Find series 1 in Apps & Games > ITVX
Vicky McClure is no stranger to high drama thanks to her starring role in Line Of Duty. And after the latter show (seemingly) ended in 2021, fans can get their Vicky fix with this brilliant new series that centres around bomb disposal experts during a terror campaign in London. Lana (McClure) is pushed to breaking point by the intensity of her job and when she starts to suspect that the bomber is deliberately targeting her unit, she has to take big risks to uncover their identity.
19. Am I Being Unreasonable?
Find series 1 in Apps & Games > BBC iPlayer
This Country's Daisy May Cooper showcases her comedic genius once again in this comedy thriller co-written with real-life best friend Selin Hizli. Cooper plays Nic, a mother whose marriage is struggling. She's supported by her son Ollie (Lenny Rush), who she adores. When Jen (Hizli) arrives in her life, armed with gin tinnies and a sympathetic ear, Nic sees her as a kindred spirit – but it soon emerges that both women are hiding dark secrets.
20. The Curse
Find it in Apps & Games > All 4
This six-part crime comedy drama flew somewhat under the radar when it aired in February 2022 but it's definitely worth seeking out. Created by and starring Tom Davis (King Gary) and People Just Do Nothing's Hugo Chegwin, Allan Mustafa and Steve Stamp, it's about a gang of inept small-time crooks who inadvertently get caught up in a huge gold heist.
21. Marriage
Find it in Apps & Games > BBC iPlayer
Stefan Golaszewski, the writer behind Mum and Him & Her, went more dramatic for his latest series, exploring the life of a long-term married couple in all its normality. Nicola Walker and Sean Bean were a dream pairing, and this four-part series was a triumph. Most surprising was how the series looked at aspects of toxic masculinity, which at times was hard to watch, although it left us with a warm feeling in the end.
22. Four Lives
Find it in Apps & Games > BBC iPlayer
This series aired back in January 2022, and we've been thinking about it ever since. It's unlike any true crime drama about a serial killer (and there have been a lot of them), because the murderer is secondary to the story. Instead, it's about the men he killed. The lives he ruined. A police investigation that didn't go far enough, and the reasons why. Sheridan Smith once again shows why she's one of the UK's greatest acting talents, while Stephen Merchant is chilling as Stephen Port.
23. The Boys
Find seasons 1-3 in Apps & Games > Prime Video
We normally like to write paragraph after paragraph explaining why you should watch something: its merits, the people who star in it, the awards it'll probably win. And there's plenty of that on this list. But for season 3 of The Boys, which was truly excellent again, we can sum up why you'll probably end up watching it in a single word (or rather, an episode title): "Herogasm". We'll leave it there...
24. The Witchfinder
Find series 1 in Apps & Games > BBC iPlayer
We fear this is a show that will be filed under "cult classic", because whenever we talk about it, people look at us blankly. But that's madness, because this series from the writers behind This Time With Alan Partridge and starring Daisy May Cooper and Tim Key was one of the best comedies of the year. Kay plays a wannabe witchfinder, while Cooper is the accused. It's a buddy comedy at its heart, with a lot of laughs. Trust us, seek it out on BBC iPlayer.
25. Reacher
Find season 1 in Apps & Games > Prime Video
Lee Child's bestselling novel series, Jack Reacher, had been deemed unfilmable because the hero barely says anything, with most of the books taking place in his internal monologue. Then Tom Cruise had a crack at movie adaptations, and after two films everyone agreed: "Yeah, we shouldn't have filmed these." But this Prime Video series starring real-life hulk/hunk Alan Ritchson absolutely nailed it. Following the plot of Child's first novel, it begins as former military police investigator Reacher (Ritchson) arrives in a small town and is immediately accused of murder. The victim? His brother. Things escalate from there.
26. The Thief, His Wife And The Canoe
Find it in Apps & Games > ITVX
Apart from having the best title of any show in 2022, this was the real-life story about how a prison officer (Eddie Marsan) faked his own death – with the help his wife (Monica Dolan) – to claim the insurance money and avoid bankruptcy, even keeping the truth from their adult sons. The series was a huge hit when it aired in April, especially for the work of scene-stealing Karl Pilkington as the bobby on the couple's tails.
27. The Lazarus Project
Find season 1 in On Demand
Joe Barton might just be the most exciting TV talent we've had in years. The writer followed up the multiple-award-winning, somehow cancelled Giri/Haji with The Lazarus Project, a deeply clever sci-fi thriller starring I May Destroy You's Paapa Essiedu. It has time travel. Secret organisations. Mass extinction events. All the elements of great sci-fi. But it's unlike anything you've seen on television.
28. The Responder
Find series 1 in Apps & Games > BBC iPlayer
Here's the amount of time you'll be thinking about Martin Freeman doing a Scouse accent: the time it took to read that sentence. Because while you might go into The Responder wondering if Stephen Graham had too much on (after all, if you Google "Scouse actor", he's all the suggested results), you'll be instantly pulled into not only one of the best cop shows we've had in years, but possibly Freeman's best performance. Gripping and gritty. Please give us a series 2.
29. Anne
Find it in Apps & Games > ITVX
Much has been written, said and even dramatised about the 1989 Hillsborough disaster, but not like this. Maxine Peake, in a startling performance, plays Anne Williams, a Hillsborough campaigner who spent years battling for justice following the death of her son in the tragedy. It's a hard watch but an important one, as the series paces past the headlines, showing why these families had to fight for so long against the institutions that kept trying to deny them – or worse, call them liars. Unmissable.
30. Taskmaster
Find series 1-14 in Apps & Games > All 4
Well, if you're really looking to get stuck into a Box Set, then there are 14 series (plus some specials) of Taskmaster. This year, we had a lot of Taskmaster, including two full series, a New Year edition and a Champion of Champions. That might seem like a lot – in fact it might seem like so much of a show would start to make the format go a little bit stale. Boy, you couldn't be more wrong.
Shake up your Christmas
Since Virgin Media and O2 joined forces, our broadband customers get exclusive access to Priority from O2. We're shaking things up this year with 25 days of festive treats on Priority. Find out more below, plus check out all your Christmas TV, movie and sports listings.

TV channels: Channels, content and features available depend on your chosen package. Channel line-ups and content are subject to change at any time and to regional variations.
HD: HD TV set, V HD Box, TiVo box or Virgin TV V6 connected with HDMI cables required for HD channels. Number of inclusive HD channels depends on package.
Catch Up TV: Catch Up TV content available for up to 7 days or up to 30 days after broadcast, depending on content.
On Demand: Content available to view depends on TV package. Time limits apply for viewing chargeable On Demand content – see virginmedia.com. Once purchased, all chargeable On Demand content must be viewed within 48 hours. Premium channels and upgrades must be kept for at least 30 days.
Prime Video: Amazon Prime subscription required at extra cost. 18+. Click here for T&Cs.
Netflix: Netflix subscription required at extra cost.
LIONSGATE+: LIONSGATE+ is a premium On Demand service available on Virgin Media. It costs £5.99 a month to subscribe.