Skip to main content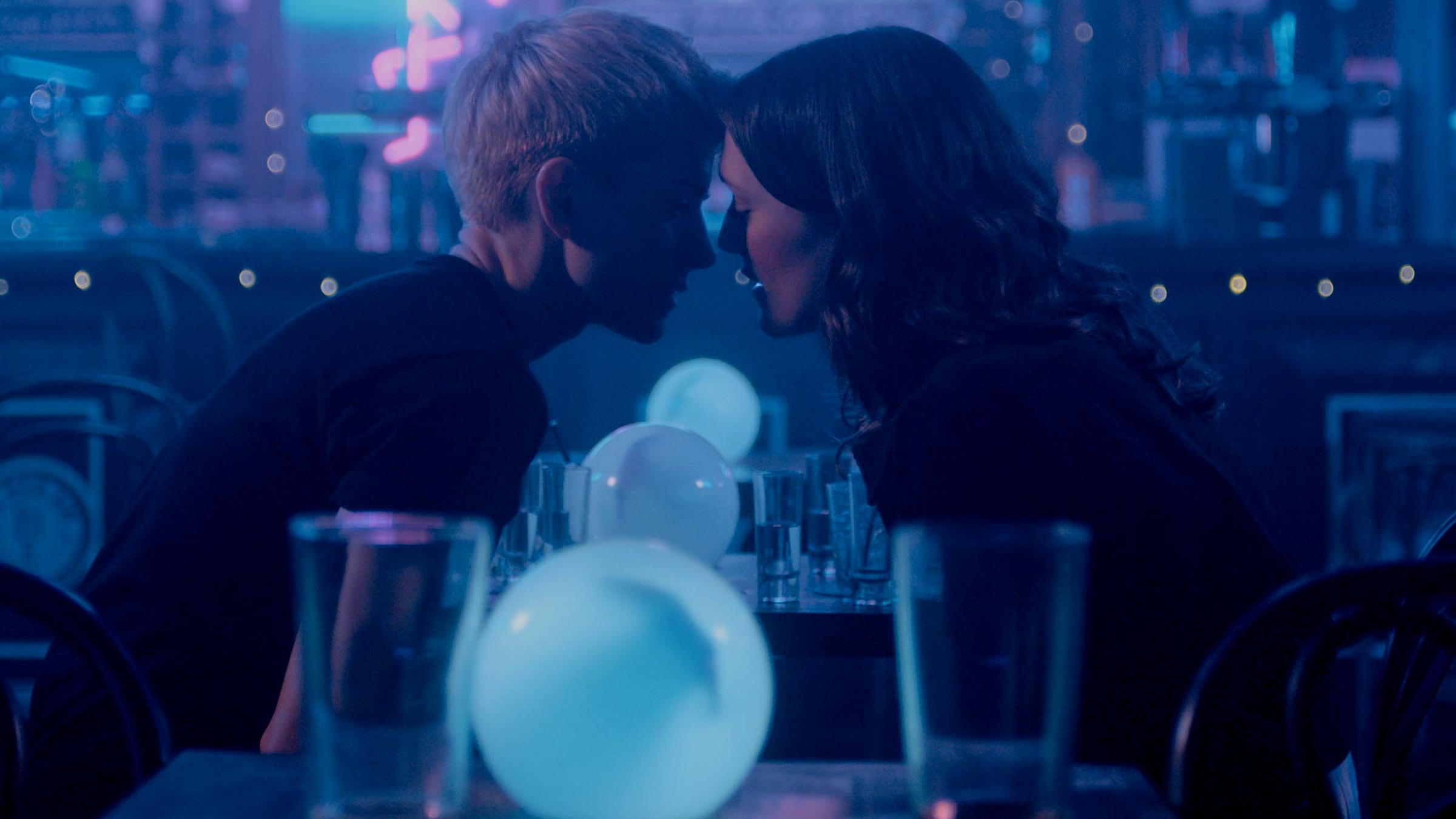 We've all become addicted to watching TV – and Feel Good is no exception. So how should we get our fix? Mae Martin can confirm, "It's best binged. Definitely."
By Laura Rutkowski, Staff Writer
As far as acting jobs go, playing yourself is not a bad first gig. Canadian comedian Mae Martin stars as… Mae Martin in Feel Good, a new series she wrote and created with her best friend Joe Hampson (Skins).
Mae is an up-and-coming comic and recovering addict who falls in love with teacher George, or Georgina (Charlotte Ritchie, Call The Midwife). Or, as Mae likes to describe them: "She's like dangerous Mary Poppins and I'm like Bart Simpson."

George has only ever dated men, but she's head over heels too. It's not long before the pair move in together and consume each other's every waking thought. Mae re-joins Narcotics Anonymous (NA) and tries to navigate staying sober with the heady infatuation (and new addiction) she feels in her new relationship.
The show itself is not easily categorised or boxed into a corner. "It was always important to us that it was truly a comedy drama," says Mae. "It's not just a drama that's a bit funny or a comedy that can be a bit sad. We wanted it to be both – even within a scene that could flip."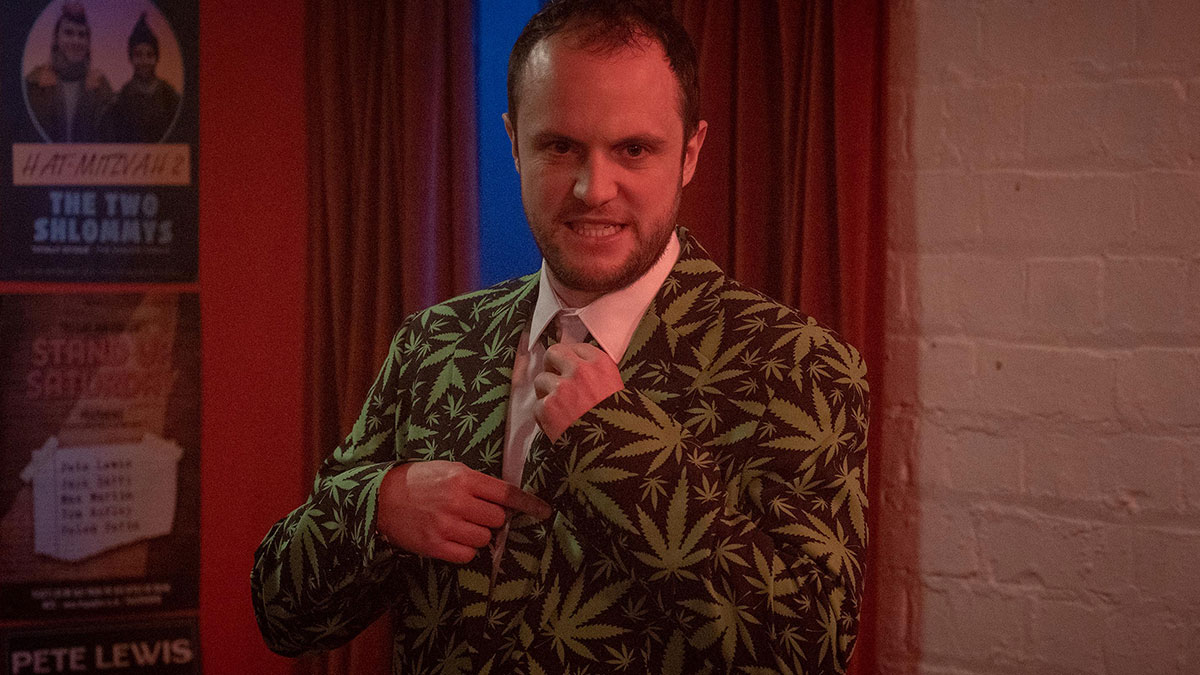 Comedian Jack Barry stars as Jack, a comedian whose act revolves around… well, you can probably guess what.

In this series packed with intimate, quirky, gut-wrenching, awkward and endearing moments, you'll fall hard for the cast, which also includes Sophie Thompson (Harry Potter And The Deathly Hallows: Part 1) as Mae's sponsor Maggie, Ramon Tikaram (The Victim) as NA group leader David, a variety of real-life comedians, and a very special guest as Mae's mother (more on that below).
We sat down with Mae, Joe and Charlotte to find out why this new series will make you Feel (really, really, really, REALLY) Good…
The series is semi-autobiographical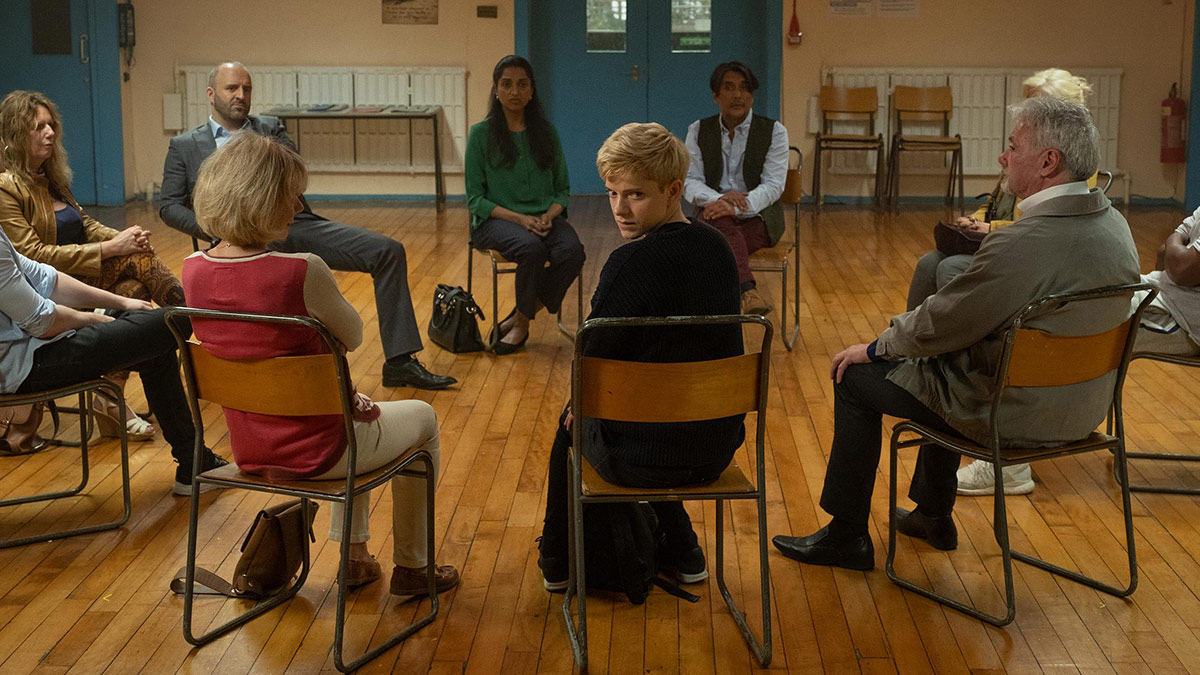 Everyone in the NA group finds David's devilled eggs very offensive.

Mae Martin: The character Mae has all my same issues – intense romanticism, sobriety issues, family relationships and gender stuff, but dialled up to like 120%. I have a pretty good grasp on my life. She's kind of where I was ten years ago.
I've been doing stand up for 20 years. I started when I was 13. It was a very male environment and all of my best friends were straight male comedians. I wanted to show how great that can be, but, also at times, that has been an environment of threat for me, especially as an addict. That's where I got into drugs in my teens.
It's representative of the LGBTQ+ experience
MM: Everyone carries around pain and feelings and stuff in their brains, am I right? That's why representation is so important. Because if you don't see those things represented on screen you can feel isolated from the world. It was exciting to see my sex life and things like that that you don't often see [on Feel Good].
I remember when Willow on Buffy The Vampire Slayer got a girlfriend. I was so pathetically grateful. Even though I didn't relate to those characters at all, [it was] any morsel I could get. Ellen DeGeneres was the only person that looked like me. That meant so much.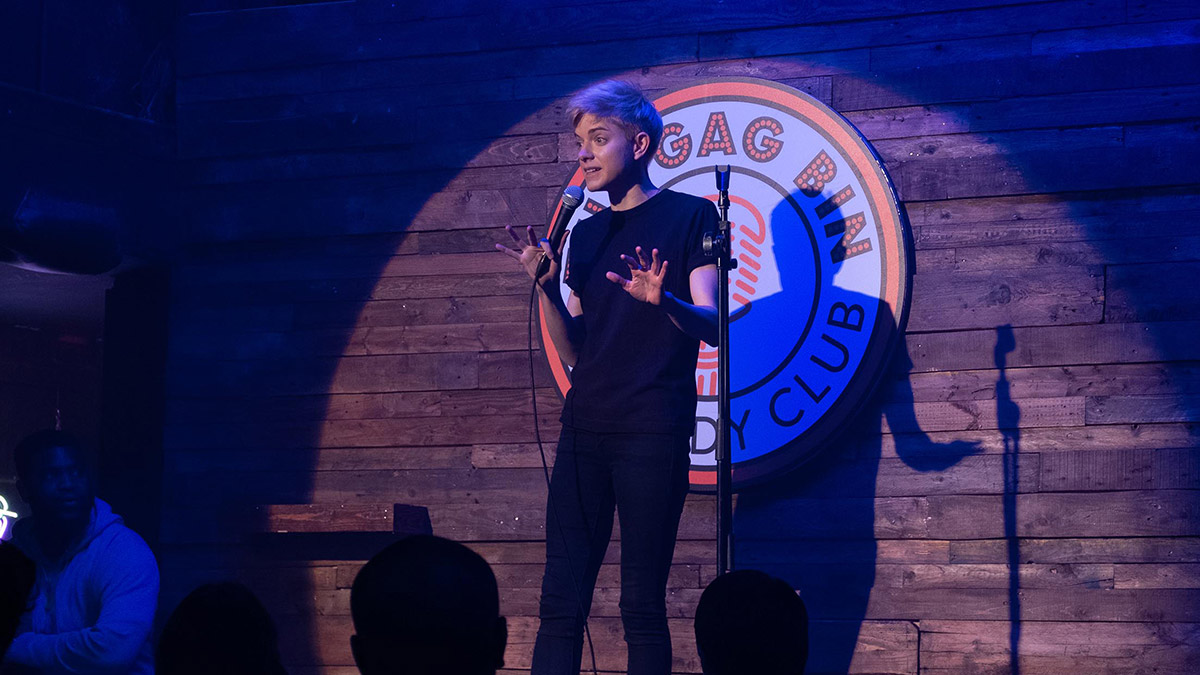 Mae Martin describes performing stand-up in the show as "very surreal". "It goes against every instinct you have to do the same thing six times in a row and then also to be keeping in mind the narrative [and] where the character is when doing the stand-up."

Joe Hampson: I'd like people to see this as a universal experience and not go, "Oh, this is an LGBT show", or, "This is a show specifically about people who are struggling with addiction". We all have those feelings of craving – I'm just quoting Mae's stand-up act – withdrawal and relief in varying degrees.
It's stuff that we can all relate to. This is a same-sex relationship, but it's kind of every relationship. I would want people to look at this and go, "I see myself in those characters."
Lisa Kudrow plays Mae's mother Linda
MM: I'm a huge fan of The Comeback. She was a fantasy casting, but it was just a daydream, and then we sent them [the scripts] to her as a joke.
JH: When you're casting and you talk about characters with the casting director, they go, "What kind of person is this?" and you're like, "Oh, it's John Travolta." You don't actually think John Travolta's going to do it.
MM: She [Lisa] went to Blackpool for a week and was riding around on the ghost train. It was just so embarrassing. Our craft services table was like digestive biscuits. She's used to an organic… they'll make you an omelette in two seconds.
But she was so nice and she was like, "I love these biscuits." And she now orders them to LA. She sent a photograph – she has 12 tubes. She was like, "I have them with tea in the morning."
There was a long rehearsal process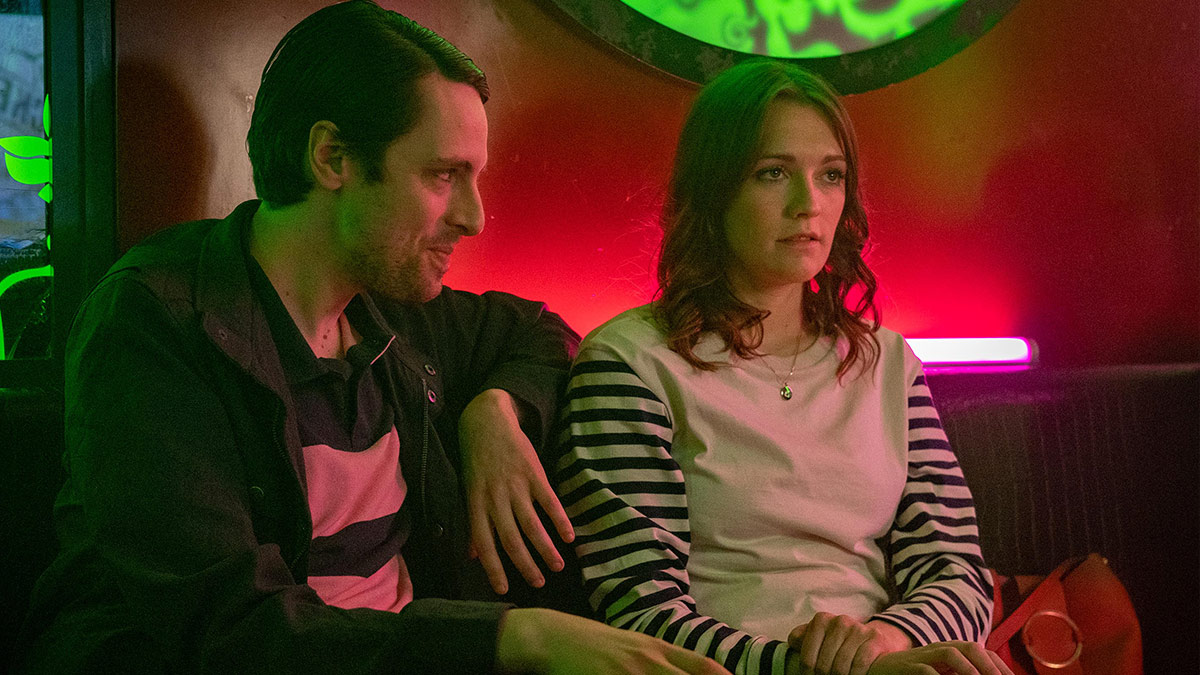 George has had it up to here listening to Jared (Al Roberts, Stath Lets Flats) drone on about ham…

MM: We did it like a play. We've done it chronologically the entire series, all six episodes, a couple of times. So then you have the whole emotional arc in your head.
Charlotte Ritchie: Remember us having to sit on the sofa together? I was trying to find a good position to sit with my legs, your legs.
MM: They were like, "Just sit naturally, like how you would sit with someone you're dating." It's useful because we're friends, so that's a shortcut to intimacy when you already care about the person and feel protective of them.
When is Channel 4's Feel Good on TV?
Feel Good airs on Channel 4/HD (CH 104/141) on Wednesdays at 10pm, with the first episode screening on March 18th. All episodes will be available in Catch Up > Channels > All 4 from Wednesday 18th March.
The six-part series will subsequently air every week until Wednesday 22nd April.
TV channels: Channels, content and features available depend on your chosen package. Channel line-ups and content are subject to change at any time and to regional variations.
HD: HD TV set, V HD Box, TiVo box or Virgin TV V6 connected with HDMI cables required for HD channels. Number of inclusive HD channels depends on package.
Catch Up TV: Catch Up TV content available for up to 7 days or up to 30 days after broadcast, depending on content.
Interviews: Any opinions expressed in interviews are those of the interview subject and not those of Virgin Media.