Skip to main content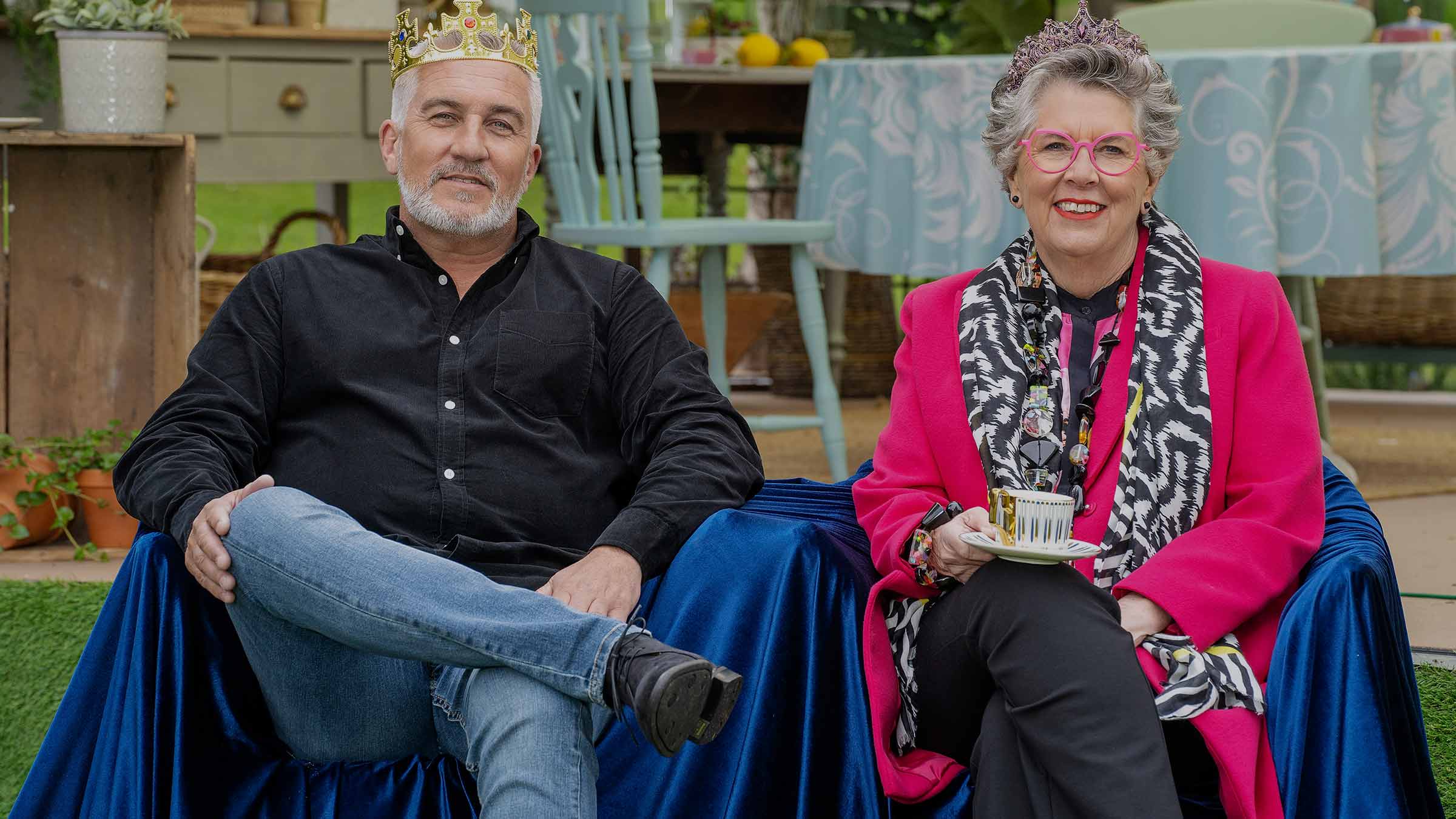 We've crunched the numbers behind 12 series of Channel 4's The Great British Bake Off ahead of its return to Tuesday nights to find out how to spot a future champion
By Virgin TV Edit
Like the first golden leaf floating down to the pavement, the start of The Great British Bake Off signifies that summer is drawing to a close and autumn is on its way. The show's 13th series kicks off on 13 September, with judges Prue Leith and Paul Hollywood returning alongside presenters Matt Lucas and Noel Fielding. And in what feels like an anxious time, we're even keener than usual to watch eager amateur bakers attempt increasingly elaborate choux, sponges, bread rolls and more.
As ever, this series of Bake Off will see 12 contestants compete over the course of 10 themed weekly episodes. And while we wait impatiently – not to mention hungrily – for the new series to start, we thought we'd take a look at what it takes to win GBBO.
Because while one of the show's joys is its low-stakes unpredictability (you just never know which unassuming contestant will become a fan favourite or when the next #BinGate will arise), some intriguing patterns have emerged over the last 13 years. And that's particularly true when it comes to the winners.
Below, we've crunched the numbers of every GBBO winner since the show began in 2010 – analysing everything from Star Baker stats to the most-used finale flavours – to identify what makes someone likely to lift the glass cake stand. Here are the conclusions we've drawn on how you can spot your cake-making champion…


The X Factor's hideous "Overs" category might have made contestants feel decrepit if they had passed the age of 25, but GBBO is a TV talent show where thirtysomethings can thrive. Six of the show's winners – a solid 50% of the total – have fallen into this demographic, more than any other age group.
In contrast, there have been three twentysomething GBBO winners (25% of the champions), two in their 40s (big up Jo Wheatley from series 2 and Giuseppe Dell'Anno, the show's most recent winner), and just one in their 60s: Nancy Birtwhistle, who won series 5 with her Moulin Rouge-inspired pièce montée.
Overall, these stats aren't unexpected, given that most of GBBO's bakers are in their 20s and 30s (the average age of a GBBO contestant is 37.6). Perhaps series 13 will deliver us another victor who remembers life before dial-up internet.




Is there something in the water there? Northern England has produced five out of 12 GBBO champions – more than any other UK region. We've had four from Yorkshire alone: series 1's Edd Kimber is a Bradford boy, while series 10 winner David Atherton is from Whitby.
Series 6 star Nadiya Hussain was based in Leeds at the time of her win, and series 9's Rahul Mandal – who grew up in India and came to the UK to study – was living in Rotherham when he entered GBBO. Representing Lancashire is series 3 winner John Whaite, who currently runs a cookery school near his hometown of Wigan.
South-east England has turned out three winners and the Midlands has produced two, while Scotland and south-west England have given us a winner each. In 12 series, we've never had a Welsh or Northern Irish winner – perhaps Antrim-based Rebs could change that this year…


Of all the past Bake Off winners, only one had an explicitly creative job. That would be Frances Quinn, who worked as a children's clothes designer before emerging victorious at the end of series 4.
Instead, winners are most likely to have backgrounds in engineering (Giuseppe and Rahul) or healthcare (Nancy and David), or be stay-at-home parents (Jo and Nadiya). Other champs have included law and accounting students, trainee stuntwomen and PE teachers. So we suggest keeping an eye on contestants whose occupations suggest a keen analytical mind, discipline and/or serious organisational skills…


In the technical challenge segment of each episode, contestants have to produce a specific bake, all using the same (often minimal) instructions. The task is designed to test the depth and breadth of bakers' knowledge, but coming out on top straight out of the gate isn't a strong predictor of who will eventually win.
In fact, only two contestants have ever won GBBO after winning their first technical challenge: Edd in series 1, who wowed the judges with his Victoria sandwich, and Nancy in series 5, thanks to her seriously impressive cherry cake.
Overall, more GBBO winners have come 10th, 11th or 12th in their first technical challenge than have come first, second or third. So watch who makes a pig's ear of their inaugural attempt – you could be looking at a future champion.


OK, so the first technical challenge is pretty meaningless when it comes to spotting winners. But do pay attention to who's consistently performing well in this segment, even if they're not taking the top spot week after week. Winners were most likely to come second in technical challenges throughout all series of GBBO, with the 12 champions taking the silver medal a total of 29 times between them.
If they weren't scoring second place, winners were almost as likely to come first (an achievement they collectively unlocked 26 times). Third place was their third most common ranking, a spot they occupied in 16 episodes. Overall, someone who reliably turns out solid performances in the technical challenge category is a good candidate for an eventual win.


In every episode of GBBO, the judges pronounce one contestant that week's "Star Baker". Intriguingly, however, eventual GBBO champions usually aren't regularly selected as Star Baker. From a narrative point of view, this makes sense: there's not much excitement seeing someone win if they've routinely been winning throughout the series.
Since the concept was introduced in series 2, the average GBBO winner has clinched the title of Star Baker just 1.6 times throughout their competition. And in seven out of 11 series, the contestant most frequently named Star Baker has not gone on to win.
Series 7's Candice Brown is the only winner to top her competition's Star Baker league table outright, having the title bestowed on her three times. In contrast, David managed to triumph at the end of series 10 without being Star Baker once – the first and only champion to do so.


As long-time fans will know, every episode of GBBO has a different theme, ranging from seemingly straightforward dishes (pies) to bygone eras (the Roaring Twenties) and foreign cuisines (Japanese bakes). And according to our analysis, Cake, Bread and Patisserie Week are the episodes in which future winners are most likely to be made Star Baker.
Almost two-thirds (64%) of winners from series 2-12 have been chosen as Star Baker in at least one of these categories. This could be because these categories have appeared in every or almost every season (compared with a theme such as vegan baking, which has only been rolled out once). But Biscuit Week has taken place in every series of GBBO since 2010, yet Candice remains the only winner to be Star Biscuit Baker and her series' ultimate winner.
Our theory is that skills with cakes, bread and patisserie can help predict victory; biscuits, not so much.


Beyond the technical challenge, GBBO contestants usually make their own choices about the flavours and ingredients used in their bakes. We analysed all the recipes chosen by the 12 winners in their series finales, noting the main ingredients that added key flavours (as opposed to base ingredients such as flour, butter or sugar).
We found that finale contestants who went on to win were most likely to choose recipes featuring the classic baking flavours of chocolate or lemon. These were key ingredients in six winning bakes, from Edd's chocolate and ginger tarts in series 1 to Sophie Faldo's entremet with lemon curd and honey custard in series 8.
The third most popular flavour is perhaps more unexpected. Raspberries have appeared in five finale recipes by winners over the years, including Jo's raspberry and blueberry mille-feuille in series 2, Nancy's raspberry and almond croissants in series 5 and Peter's cranachan custard slice in series 11. Would a contestant stand the best chance of triumph if they combined chocolate, lemon and raspberries into one delicious bake? Something to think about…
When does The Great British Bake Off start?
The Great British Bake Off series 13 begins at 8pm on Tuesday 13 September on Channel 4 HD (CH 104/141). Each episode will also be available in Apps & Games > All 4.
TV channels: Channels, content and features available depend on your chosen package. Channel line-ups and content are subject to change at any time and to regional variations.
HD: HD TV set, V HD Box, TiVo box, Virgin TV V6 box or Virgin TV 360 box connected with HDMI cables required for HD channels. Number of inclusive HD channels depends on package.
Catch Up TV: Catch Up TV content available for up to 7 days or up to 30 days after broadcast, depending on content.