Skip to main content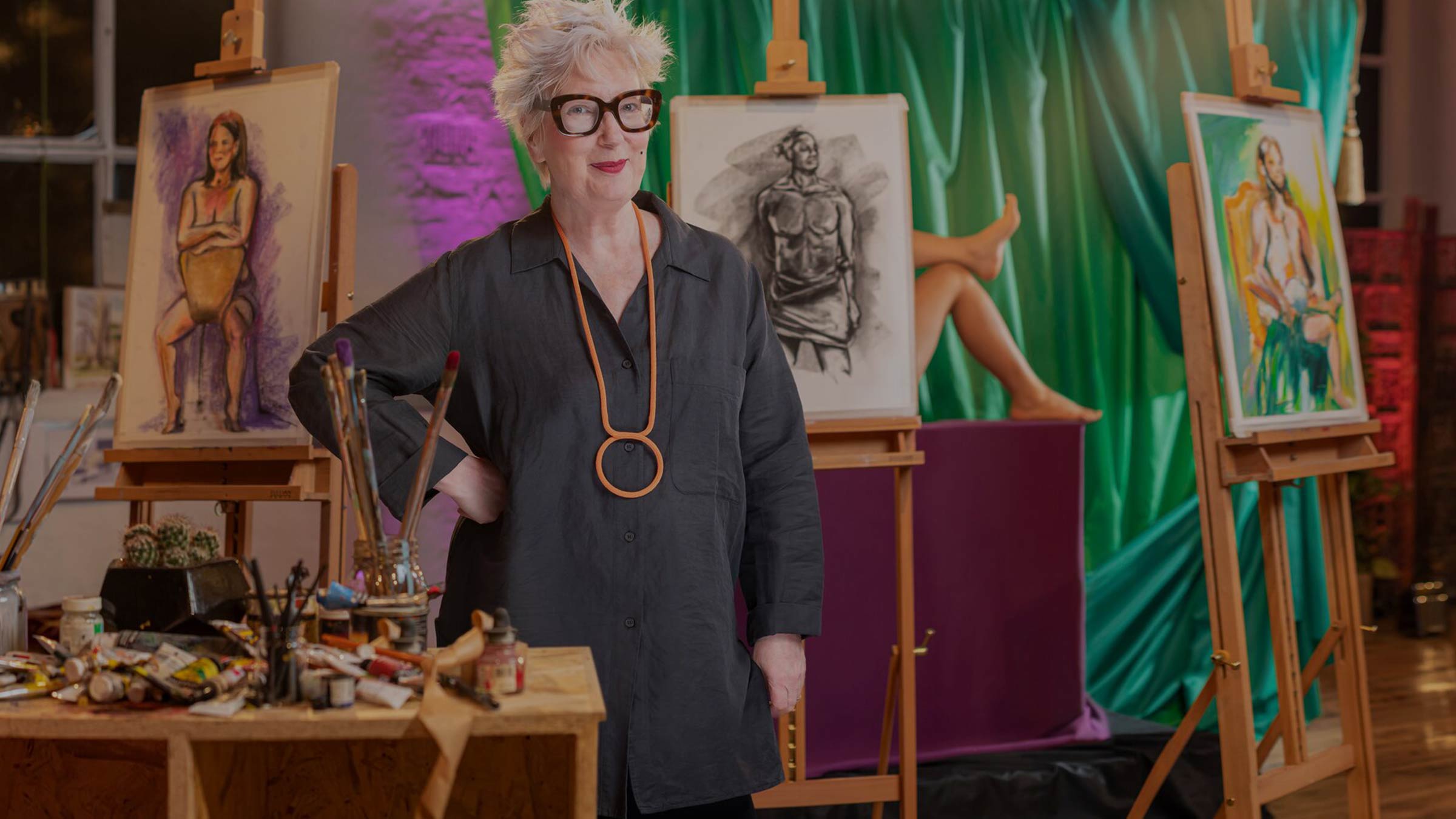 Paintbrushes out, robes down? As life drawing contest Drawers Off comes to Channel 4, we explore the uptick in online sessions
By Laura Rutkowski, Staff Writer
Life drawing has become one of the biggest virtual trends during lockdown, but it shouldn't surprise us. Although we are all living through the same thing, we are all experiencing it and reacting to it differently – just as we can all view the same nude model, but draw them completely differently.
In the new Channel 4 series Drawers Off, presented by comedian Jenny Eclair, five amateur artists take turns modelling for and drawing each other, with the chance to bag a £1,000 prize. The individuals then choose their favourite image of themselves, without knowing the artist.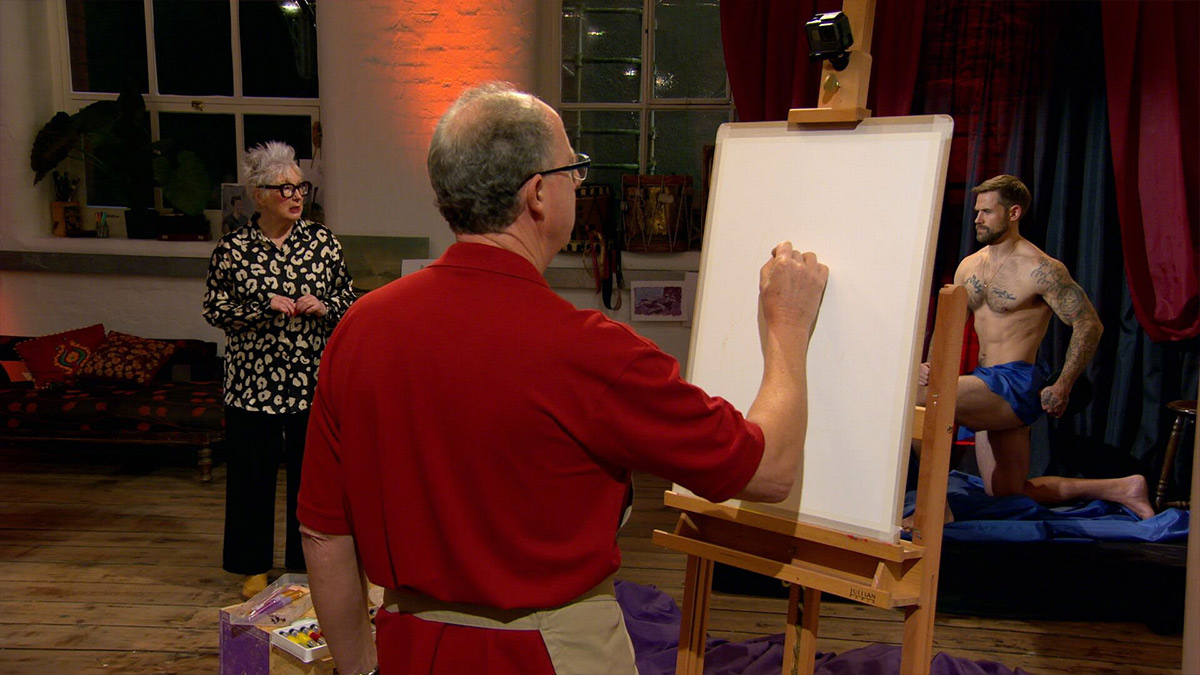 Strike a pose!

"Humans are curious about humans and we love to people watch. Ultimately, we're missing each other," says visual artist Diana Ali. "We're missing human contact and interacting. That's why life drawing is really trendy at the moment."
Diana provides support as the show's art mentor, advising contestants on technique and when to push their work further, as well as celebrating their talent and individual expression, both as artists and life models.
"It's amazing the positions the body can do," Diana explains. "The tricky thing is to hold that pose – and to be watched."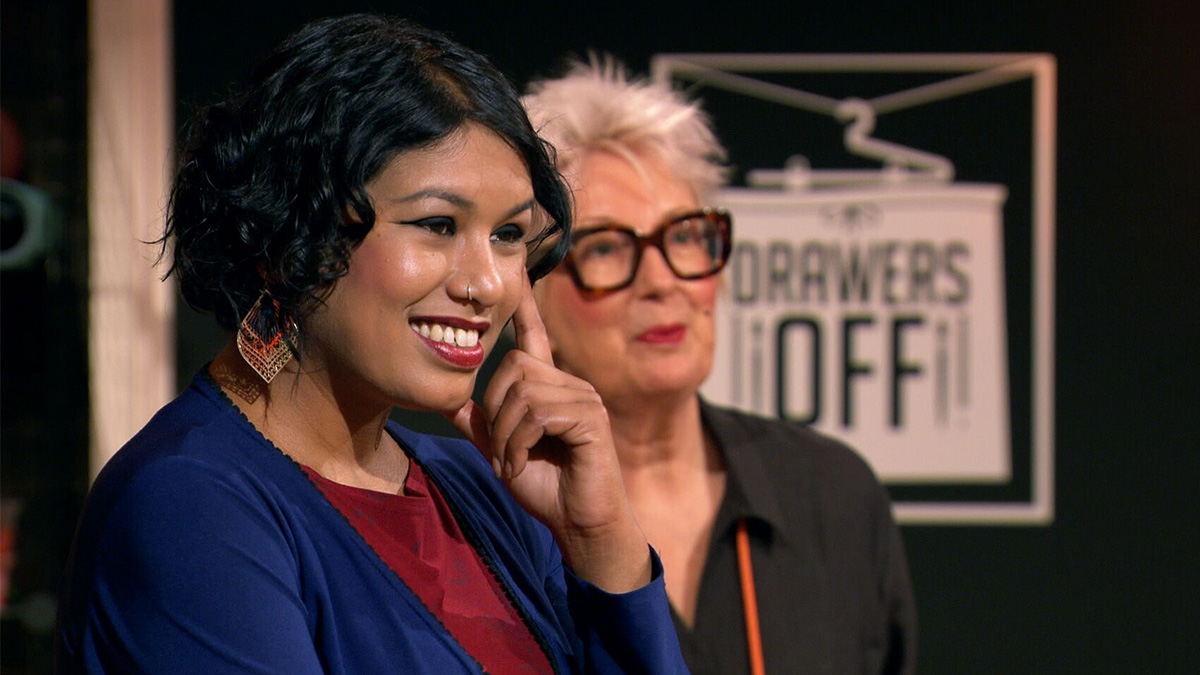 Art mentor Diana Ali (left) and host Jenny Eclair (right) lend a hand in Drawers Off, which is full of tips and tricks, whether you're new to life drawing or want to hone your skills

In a typical life drawing class, the model is in a standing pose, because "you see the shape of the body as a block, as a rectangle, so that's easiest", Diana says. Then the poses become more complex, with the model sitting down, then lying down, then crouching.

The participants come up with the poses and Diana helps bring them to life. "If you look up, you look proud. If you're looking down, you might look a bit sad. It allows them to engage in their body and their gestures." In the series, the props that represent the artists are strategically placed so their intimate areas aren't completely on show. This is daytime television, after all!
Shevon Burrows, a 34-year-old from Hemel Hempstead, is the first to drop her drawers on the show. By day, she's a graphic designer, but by night, she hosts themed Outside The Box Life Drawing sessions, which have moved online for lockdown. Some of her fellow contestants have even joined her since doing the show together!

"I was worried I wasn't going to be able to hold my pose for the hour. I kept my grin the whole time, even though it's so hard to draw teeth and the mouth," she says. Shevon, who loves burlesque and accessories, chose a showgirl pose as a nod to her mum, who performed in Las Vegas.
"It was quite painful at times, but it was thrilling. In life drawing, you see all different shapes and sizes and it normalises all of our lumps and bumps. It's great for body image and promoting body positivity."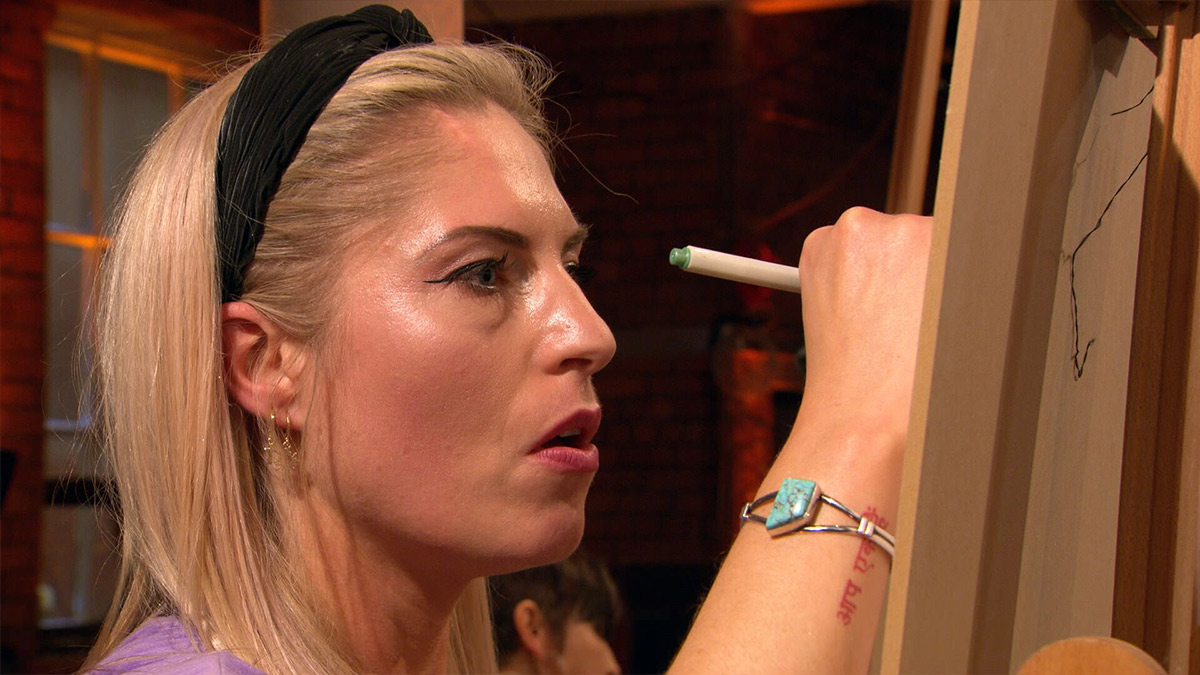 Drawers Off contestant Shevon Burrows describes her artistic style as "abstract" and "experimental"

Drawers Off is the latest in a growing trend of art shows that have inspired the Great British public to get creative, ranging from Grayson's Art Club all the way up to Portrait Artist Of The Year. But with embarrassment practically a national pastime, why – of all things – are we suddenly drawing models in the nude?
Well, because we can.

Life drawing is no longer just for advanced artists or giggling hen parties. Anya Gomulski, who set up Brixton Life Drawing with her friend Bex Dagless, says that since taking their classes online they've seen numbers grow from a venue maximum of 50 to hundreds and even thousands of people from all over the world.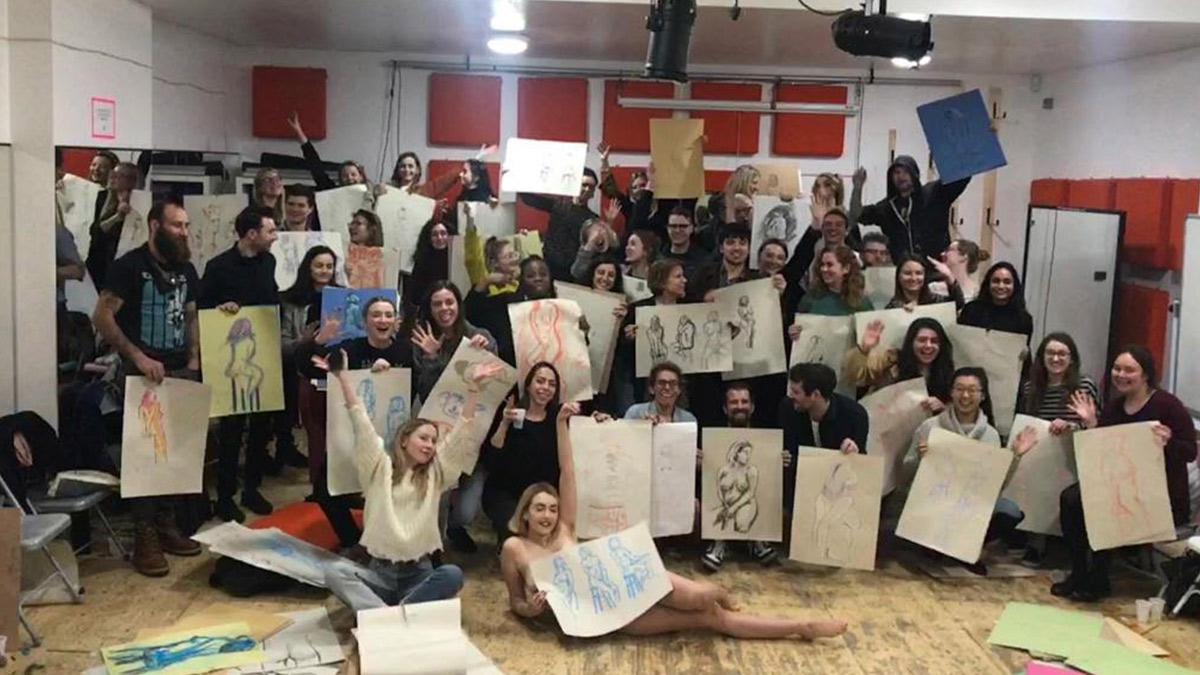 Before lockdown, Brixton Life Drawing's in-person sessions frequently sold out

Anya mentions one of their attendees, who's registered blind, who could never have joined in person, but now she can sit with a specialist screen and see the model up close. One of the models, Sam, who recently came out of rehab, credits Brixton Life Drawing for "keeping him on the straight and narrow".
She adds: "People in wheelchairs that couldn't access a venue or people with chronic illness or social anxiety can now take part behind the screen. It's more inclusive, and people that have been limited in the past are now able to get involved, which is really lovely, isn't it?"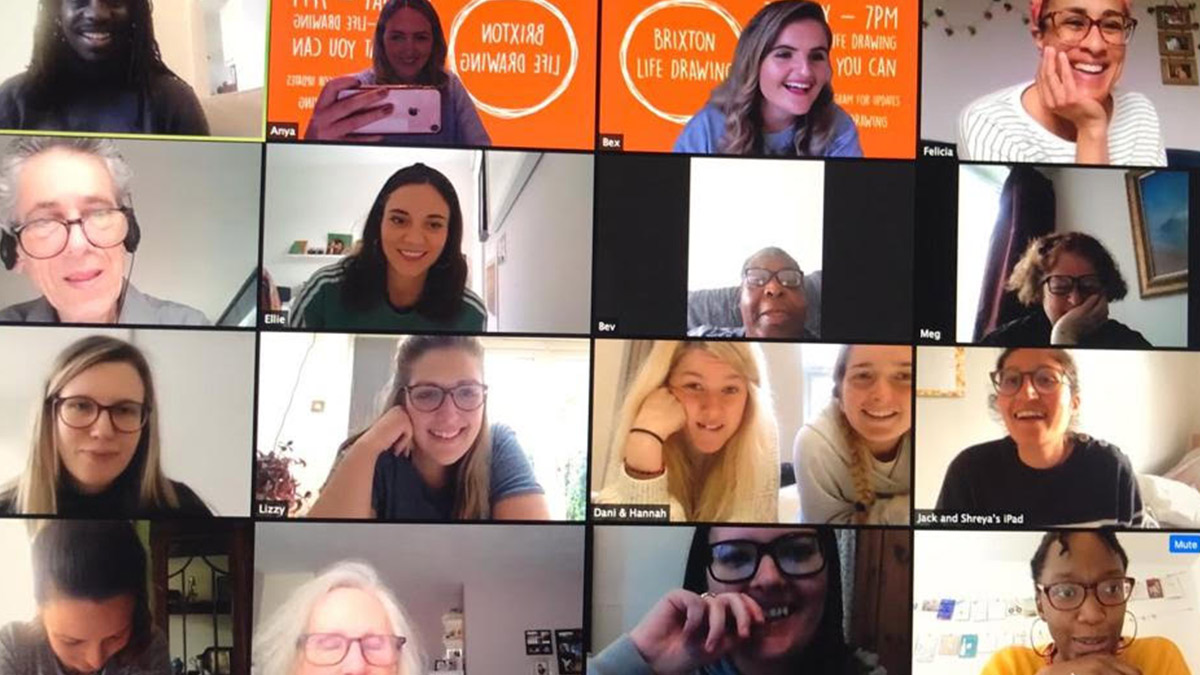 Brixton Life Drawing founders Anya Gomulski (left with orange background) and Bex Dagless (right with orange background) have fostered a great sense of community with their online sessions

Some models run sessions from their homes or pre-record their poses, which can then be live streamed for classes. The Dulwich Art Group, meanwhile, operates its online life drawing sessions with models who pose in a studio in real time, with everyone required to have their camera on while drawing.
But in all scenarios, safety is of the utmost importance, which means secure booking systems and policies of no recording.
Simon Dunstan, who co-runs the Dulwich Art Group, believes the reason life drawing has taken off during lockdown is due to its mindfulness. "If you give your attention to something that is not word-based, something rather peaceful happens – you remember who the bloody hell you are," he says. "People need to know what it feels like to draw from the heart rather than the head."

Or is the appeal even simpler than that? Do we just like looking at naked bodies? After all, for single people or those not living with their partners, a life drawing class may be the closest thing some people have come to seeing another human's naked body in about a year.
For environmental psychologist and wellbeing consultant Lee Chambers, it's a far deeper experience than that. "At the minute, we all feel exposed and there's a level of comfort and connection seeing someone who's also willing to be vulnerable," he says.

Lee describes life drawing as a powerful tool to prevent loneliness and isolation, because there's a strong sense of peer support and it allows people to express both negative and positive emotions in a healthy way.
It's also the perfect activity to overcome screen fatigue. "So much of our digital interaction is timed," he explains. "A lot of digital entertainment doesn't allow you to take a step back and craft at your own pace. Zoom activities, like quizzes, are about answers and about scores. For work, you have to be here for this meeting between these times and bash out this agenda.
"Life drawing takes a step back from that enforced time element. It brings people together, because it's a shared human experience, and everyone's expression is individual – there is no right answer."
When is Channel 4's Drawers Off on TV?
Drawers Off airs on Channel 4 HD (CH 104) from Monday to Friday at 5.30pm for four weeks, with the first episode screening on Monday 1 March. It is also available in Apps & Games > All 4.
TV channels: Channels, content and features available depend on your chosen package. Channel line-ups and content are subject to change at any time and to regional variations.
HD: HD TV set, V HD Box, TiVo box or Virgin TV V6 connected with HDMI cables required for HD channels. Number of inclusive HD channels depends on package.
Catch Up TV: Catch Up TV content available for up to 7 days or up to 30 days after broadcast, depending on content.
Interviews: Any opinions expressed in interviews are those of the interview subject and not those of Virgin Media.