Skip to main content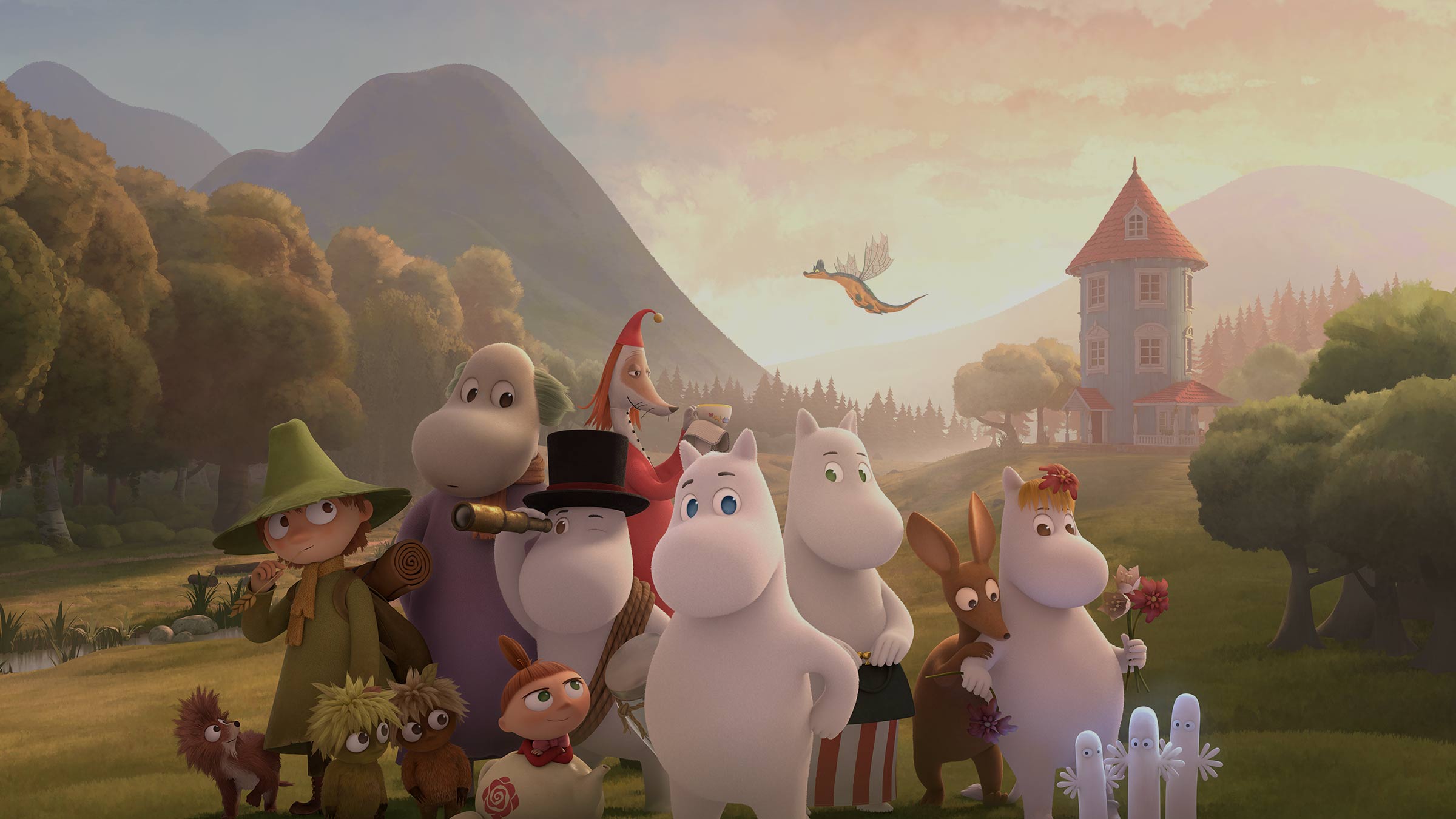 Sky Kids launches on Virgin TV packed with loads of new titles that young 'uns will love, all ad-free and at no extra cost
By Virgin TV Edit
There's a whole new world of entertainment awaiting the younger members of your household with the exciting launch of the Sky Kids channel on Virgin TV. From Monday 13 February, kids can catch the latest cartoons and shows at Sky Kids HD (CH 707) or on the Virgin TV Go app to stay entertained wherever they are – with all their favourite shows, all in one place. Awesome!
And it gets better. This exciting new HD channel bursting with family favourites is available at no extra cost for Mix and Full House customers, or customers with a Kids Pick subscription. Plus, new channels are automatically added to existing packages, meaning you don't have to lift a finger to enjoy some fantastic kids' telly.
Not on one of those packages? It's super-simple to add Sky Kids to your package. Simply subscribe to Kids Pick for £5 a month via the upgrade app (please note, Stream customers cannot get Sky Kids as a channel but it will be available on Virgin TV Go).
Sky Kids also has its own brilliant area available now in our On Demand service, allowing your wee ones to access their favourite shows at a moment's notice. With more than 1,000 episodes available in On Demand, it comes at no extra cost to your existing package. Even better, it's also ad-free, so you can be sure your child's screen time is safe and secure without any unnecessary distractions.
Customers armed with a TiVo® box or a V6 box, powered by TiVo® can find this dedicated On Demand section at On Demand > Kids > Sky Kids, while customers with Stream from Virgin Media or a Virgin TV 360 box can go to Box Sets & Movies > Kids > Sky Kids.
Sky Kids will also be available on the Virgin TV Go app, so kids can stay entertained on the move and watch their favourite shows wherever there's WiFi, 3G or 4G in the UK. Find out more about this brilliant app here.
Young viewers will be spoiled for choice. But if you need even more inspiration, why not check out some of Sky Kids shows coming up on this new channel, all suitable for kids under seven. Then scroll on to discover some of the treats for a wider age group that await in On Demand.
Dino Club
Watch it daily at 2.25pm and 4.35pm on Sky Kids HD (CH 707)
Rare is the child who isn't a little bit fascinated by dinosaurs. This series gives kids the chance to discover the strangest and most surprising truths about the prehistoric giants, as young hosts Ayo and Harriet take them on a tour through a fantastic virtual land filled with dinos.
Clifford
Watch it daily at 5pm and 5.10pm on Sky Kids HD (CH 707)
A reboot of the iconic 2000 kids' TV series Clifford The Big Red Dog (which was itself based on beloved children's books), animated series Clifford follows eight-year-old Emily Elizabeth Howard and her affable, overlarge pet. Together, Emily and Clifford embark on gentle adventures as they explore their home of Birdwell Island.
Mia's Magic Playground Sing-A-Long
Watch it daily at 6.30am and 10am on Sky Kids HD (CH 707)
Suitable for little ones aged three and over, this Nordic animation revolves around Mia and her best friends Tilly and Oskar as they visit an imaginary world full of creativity, fun challenges and discovery. The series aims to help develop children's emotional intelligence, self-confidence and problem-solving skills through watching the playful adventures of Mia and co.
Zoonicorn
Watch it daily at 4.45pm on Sky Kids HD (CH 707)
This sweet new animated series is set in a magical dreamland where four unicorns and their animal friends take on challenges and learn new skills. Optimism and resilience are the key themes of the "Zooniverse", which was developed with educators, and different storylines tackle additional social-emotional issues and subjects.
Pooch Mooch
Watch it daily at 1.20pm on Sky Kids HD (CH 707)
Few relationships are as precious as that between kids and their pets. Pooch Mooch (aimed at kids three and over) celebrates the special bond between real children and their dogs, seeing life from pooches' perspectives and giving viewers the chance to see what they get up to with their young owners while out and about around the UK.
But wait! That's not all! Watch all these shows right now in On Demand
Beep And Mort
Find it in On Demand > Kids > Sky Kids
Beep, a robot from the stars, and Mort, a cuddly creature from the leafy town of Mollyvale, couldn't be more different – but that doesn't stop them becoming firm friends. Based on an award-winning Australian theatrical production, this action-packed puppet-based series celebrates the magic of technology and nature alike.
In The Night Garden
Find it in On Demand > Kids > Sky Kids
This iconic British kids' series was created by the same team as Teletubbies, and the two shows share a certain soothing surrealism. A mix of live actors in costumes, stop-motion, puppetry and CGI animation bring the characters of Igglepiggle, Upsy Daisy, Makka Pakka and more to life in a magical, flower-filled forest that feels like a childlike dreamworld.
BooSnoo!
Find it in On Demand > Kids > Sky Kids
Developed with the National Autistic Society, this new Sky Kids Original is a meditative watch aimed at engaging children – including those with learning difficulties and children who may be on the autistic spectrum – in a calming, captivating way. Kids will follow the journey of a red ball as it moves through fantastic landscapes and machines filled with music, art, space, water and more. Stressed-out adults may find it strangely soothing, too.
The Brilliant World Of Tom Gates
Find it in On Demand > Kids > Sky Kids
In this adaptation of the wildly successful books by Liz Pichon, Tom (voiced by Logan Matthews) is a boy who is less concerned with his schoolwork and more excited by doodling and eating biscuits. Let's face it, your average kid. He lives a quirky and colourful life alongside his long-suffering mum Rita (Catherine Tate), and under the watchful eye of his strict teacher Mr Fullerman (Mark Bonnar).
The Epic Adventures Of Morph
Find it in On Demand > Kids > Sky Kids
The beloved Plasticine dude returns to our screens in a new series that reunites Morph and sidekick Chas with old friends Delilah, Grandmorph and the Very Small Creatures after 40 years apart. They're still up to the same style of mischief but now they've left their home desk for adventures in the big wide world.
Madagascar: A Little Wild
Find it in On Demand > Kids > Sky Kids
This computer-animated series, a spin-off from the series of hit films, follows the early lives of Madagascar heroes Alex the Lion, Marty the Zebra, Melman the Giraffe and Gloria the Hippo as they grow up in a rescue habitat located within New York's Central Park Zoo.
Find it in On Demand > Kids > Sky Kids
The latest TV adaptation of the classic books and comics by Tove Jansson features famous voices includingTaron Egerton (Rocketman), Rosamund Pike (State Of The Union), Matt Berry (Toast Of London) and even Oscar-winning megastar Kate Winslet. Moomintroll is kind and curious, your classic coming-of-age hero. He lives happily with his Moominmamma and Moominpappa and is joined on his adventures by friends Snufkin, Little My, Snorkmaiden and Sniff.
The Slow Mo Guys' Big Adventures
Find it in On Demand > Kids > Sky Kids
YouTube stars Gavin Free and Daniel Gruchy, aka The Slow Mo Guys, set out to uncover mysteries of the past in this science and history series. Taking viewers on a journey back through history, the guys will attempt to recreate contraptions, experiments and inventions of the past.
Trolls: TrollsTopia
Find it in On Demand > Kids > Sky Kids
Following on from the movie Trolls World Tour, Queen Poppy decides to encourage Trolls from six different tribes to live together in harmony within the Troll Forest. Fearing that the Trolls are becoming mere acquaintances, she hopes that banding together as a village will lead to strong friendships and promote happiness for all.
My Little Pony: Friendship Is Magic
Find it in On Demand > Kids > Sky Kids
Twilight Sparkle is a unicorn pony and a student of Princess Celestia, who rules over the magical land of Equestria. After giving Twilight Sparkle the task of learning about friendship, Princess Celestia sends her and her assistant, a baby dragon named Spike, to Ponyville. Here, they meet Rainbow Dash, Rarity, Applejack, Fluttershy and Pinkie Pie and the gang go on adventures together. A true modern classic to be enjoyed by all ages.
Pokémon The Series: Black & White
Find it in On Demand > Kids > Sky Kids
In this 14th series of the Japanese animated fantasy show, Ash and Pikachu set out once again on an adventure. This time they head for Unova, where they encounter new trainers Iris and Cilan, and face battles and various other shenanigans. Naturally, Team Rocket are lurking in the shadows.
Where's Wally
Find it in On Demand > Kids > Sky Kids
The much-sought-after book character comes to life on our screens in this animated series. Wally and his dog Woof travel to distant lands and help to solve mysteries or lend a helping hand as and when they can. Plus, Wally's magic walking stick allows the pair to travel through space and time…
Channel changes
For more information on all the channels you can watch and where to find them, plus news about channel moves, click here to check out your channel guide.
Not heard of the Virgin TV Go app?
This brilliant app is available to all Virgin TV customers to register on up to five devices (and view on two devices simultaneously) at no extra cost, allowing you to watch TV wherever you are. It's available for iPhone, iPad, Android mobile or tablets, and Windows and Mac laptops and desktops.
Download the Virgin TV Go app from the Apple app store
Download the Virgin TV Go app from Google Play
And what's more, Virgin TV 360 customers can also manage their recordings or stream their recordings around the home with the Virgin TV Go app. Find out more about managing your Virgin TV Go app here:
Sky Kids is an On Demand service where content will be available in the Kids area within Box Sets to Virgin TV customers at no extra cost.
Customers will have access to over 1,000 episodes at launch which will increase to over 4000 throughout 2023. Programmes will be HD where available.
Sky Kids will also be available to watch on Virgin TV Go.
On TiVo and V6 go to: On Demand > Kids > Sky Kids
On Virgin TV360 and Stream go to: Box Sets & Movies > Kids > Sky Kids