Skip to main content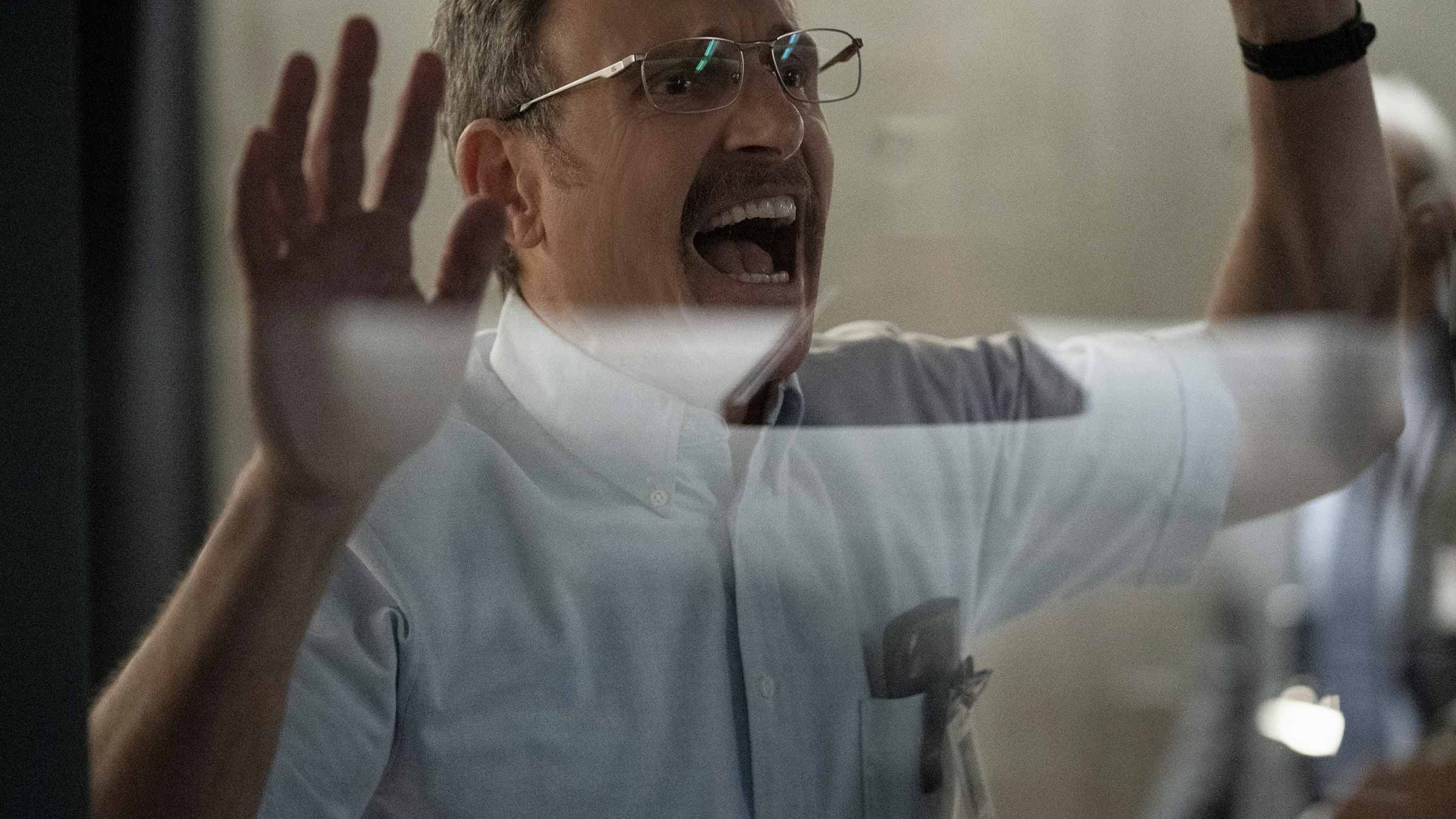 The second season of Nat Geo's real-life drama about alarming disease outbreaks focuses on the 2001 anthrax attacks in the US. We meet star Tony Goldwyn to find out more
By Chris Miller, Writer
The first season of National Geographic's The Hot Zone, which starred Julianna Margulies and focused on an Ebola outbreak in the US in 1989, premiered in 2019 and became the channel's most-watched scripted drama ever.
So it's no surprise to see the arrival of a second season, this time telling the gripping story of the lethal anthrax attacks – when spores were sent in the mail to journalists and politicians – that terrified millions of Americans in the weeks after the attacks of 11 September 2001.


But when the producers made the decision to turn The Hot Zone into an anthology series after the success of the first instalment, they couldn't have known that the next season of their drama about the spread of a deadly disease would be filmed during the spread of a deadly disease.
"It was surreal," says star Tony Goldwyn, who plays microbiologist Dr Bruce Ivins, about making the show during the Covid-19 pandemic. "We shot this in Toronto, which was completely shut down. The protocols were super-strict: we were constantly masked, and face shields – this was pre-vaccine.
"The feeling of being under siege by a public health crisis was real. It was very bizarre to be reinvestigating what we went through with the anthrax attacks in the middle of a global pandemic."
In the show, it's FBI agent Matthew Ryker (Daniel Dae Kim, Lost) who first suspects anthrax as the cause of a mysterious death in the south-eastern US. Before he can investigate, he must convince his superiors – understandably preoccupied with the 9/11 attacks – that this threat is real and potentially devastating.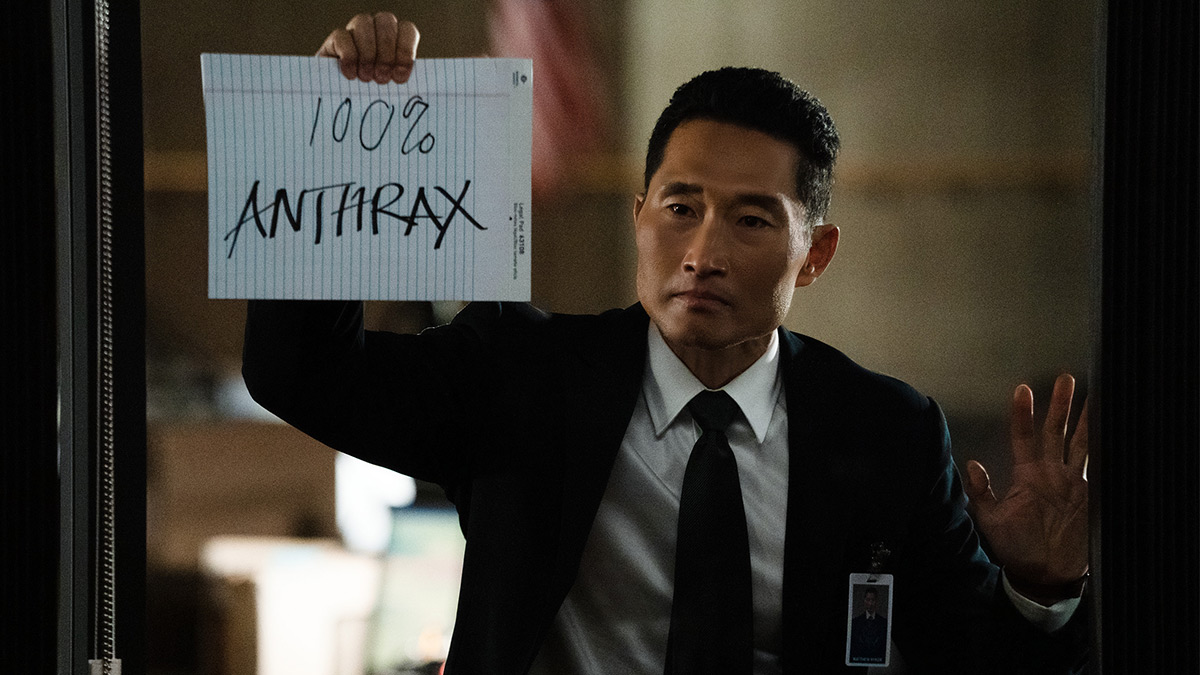 Agent Matthew Ryker (Daniel Dae Kim) has to convince his superiors that the anthrax threat is real
Once he manages to do so, he turns to Ivins, an experienced and brilliant biodefence researcher for the US Army, for expert assistance. However, Ivins' growing instability and paranoia disrupt the investigation and lead to unnerving discoveries.
While Ryker is a fictionalised amalgam of various real agents, Ivins is a real person. And although Goldwyn is probably best known for playing the fictional US president Fitzgerald Grant in the preposterously entertaining drama Scandal, he's no stranger to playing real-life people, including astronaut Neil Armstrong, disgraced FBI agent Ed Miller, and tennis coach Paul Cohen in the new movie King Richard. So researching the real people he portrays is second nature to him.
"I started online with everything I could read about him and about the attacks," Goldwyn says. "I found a wonderful biography called The Mirage Man, written by David Willman, an LA Times reporter who was one of the journalists following the investigation. It had a tremendous amount of information about Bruce and his early childhood, his relationship with his mother, which was deeply traumatic, and his early life. That was a bible for me."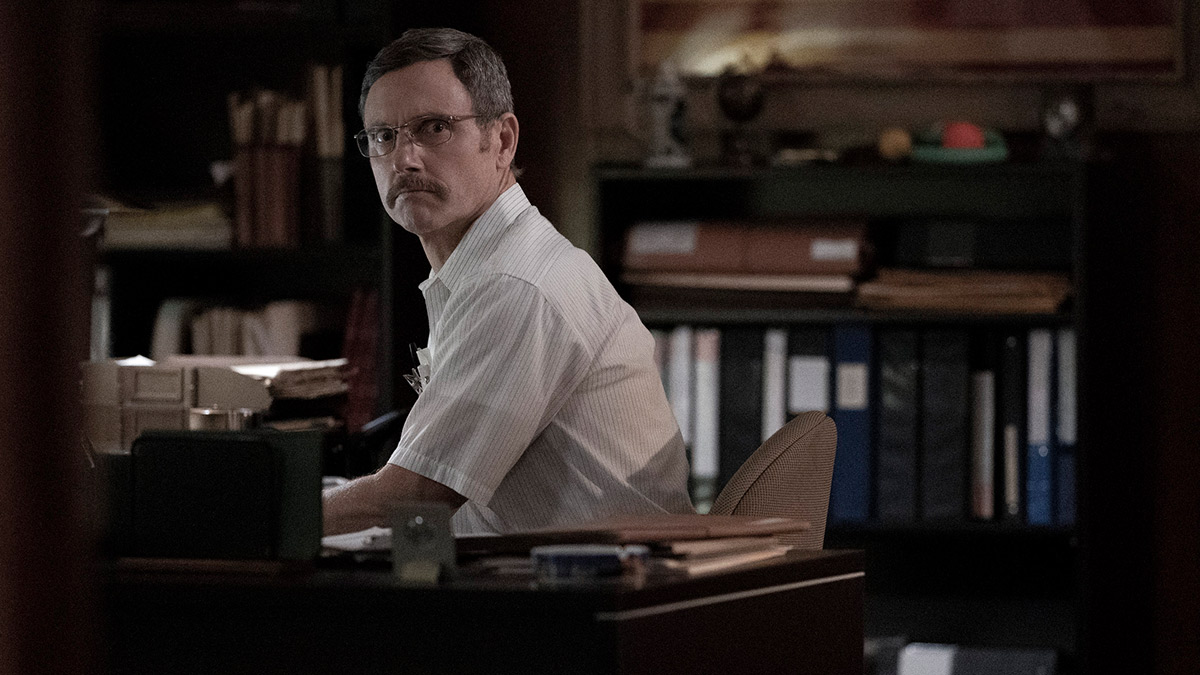 Tony Goldwyn plays Dr Bruce Ivins, a brilliant government scientist who is plagued by self-doubt and paranoia
Goldwyn also had to master the science-speak and seem completely at home in a lab. "We had a technical advisor on the show, a microbiologist, who helped me make sure anything I was doing in the lab was accurate, and felt relaxed and routine."
But it was the darker aspects of Ivins' personality that proved the key to the character. "I spent some time talking to a friend of mine, a distinguished psychiatrist, about Bruce's mental illness and the medications that he was on," Goldwyn says.
"Bruce was a complicated guy, extremely bright, and believed deeply in the work that he was doing. But he was deeply insecure and obsessed with the fact that he wasn't sufficiently appreciated for it. At the same time he was this incredibly generous person who wanted everyone to like him and wanted to entertain everybody. And people loved him. The dark side of himself, he compartmentalised and hid. Even from himself."
Ivins was diagnosed with a dissociative personality disorder which, Goldwyn says, means the scientist "put up a wall in his psyche… those aspects of him that he couldn't manage, his rage and anger, he just walled off. He had blackouts and would do things and literally was not aware of them. And as he started to realise that, it frankly terrified him. And it was obviously exacerbated by all the medication he was on."
Goldwyn and The Hot Zone's showrunners, Kelly Soudars and Brian Peterson, agreed that the script should not judge Ivins for his behaviour. "That was very important to us," he says. "When we first meet Bruce we want to love him. So when things become darker we really want to see it through his lens, even if you're horrified and shocked by his behaviour."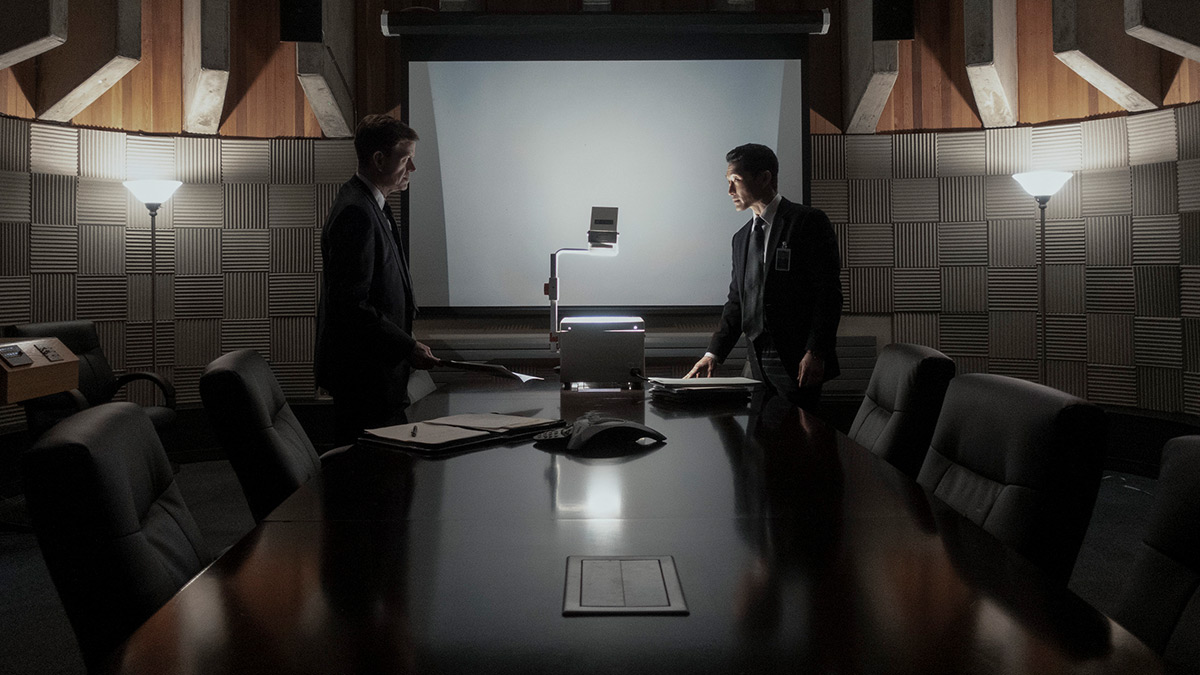 The FBI's Ed Copak (Dylan Baker, left) and Ryker soon find their investigation leads them down some surprising paths
As the investigation progresses, Ryker starts to suspect that the increasingly erratic Ivins – who, after all, knows an awful lot about anthrax – is hiding something. Of Ivins' potential involvement in the attacks, Goldwyn says: "Honestly I think Bruce didn't know. He wasn't sure. Because he had blocked off this part of his psyche."
One thing that is clear is that Ivins' mental health problems were underestimated – not least because he was reluctant to reveal them. It's a situation that Goldwyn hopes would not arise today, thanks to a better understanding of mental illness. "Twenty years on this may never have happened, because Bruce might have gotten the treatment that he needed," he says.
"The biological unit of the defence department [where Ivins worked] didn't even do psychological evaluations of their scientists. So how was anybody to know? And he knew that if he admitted that he was struggling, it could have been career suicide. I think those things are changing and need to continue to change, so that mental illness is destigmatised and things don't get to a crisis point as they did with Bruce Ivins."
Goldwyn himself isn't sure about Ivins' actions and motives, which makes the drama more unsettling – "a great deal of uncertainty remains in the audience's mind," he says – and made it easier for him to play the role without passing judgment.
But there's one aspect of Ivins that Goldwyn knows he disliked: his signature moustache. The actor decided to forgo a false one and grew the lip furniture himself. After filming, "that came off immediately," he says with a laugh. "I found it very uncomfortable…"
When is The Hot Zone: Anthrax on TV?
The Hot Zone: Anthrax premieres on National Geographic/HD (CH 266/268) on Wednesday 1 December at 9pm with the first two episodes, with weekly episodes until Wednesday 29 December. It will also be available in Catch Up > Channels > National Geographic.
TV channels: Channels, content and features available depend on your chosen package. Channel line-ups and content are subject to change at any time and to regional variations.
HD: HD TV set, V HD Box, TiVo box, Virgin TV V6 box or Virgin TV 360 box connected with HDMI cables required for HD channels. Number of inclusive HD channels depends on package.
Catch Up TV: Catch Up TV content available for up to 7 days or up to 30 days after broadcast, depending on content.
Interviews: Any opinions expressed in interviews are those of the interview subject and not those of Virgin Media.
Image credit: The Hot Zone: Anthrax © National Geographic