Skip to main content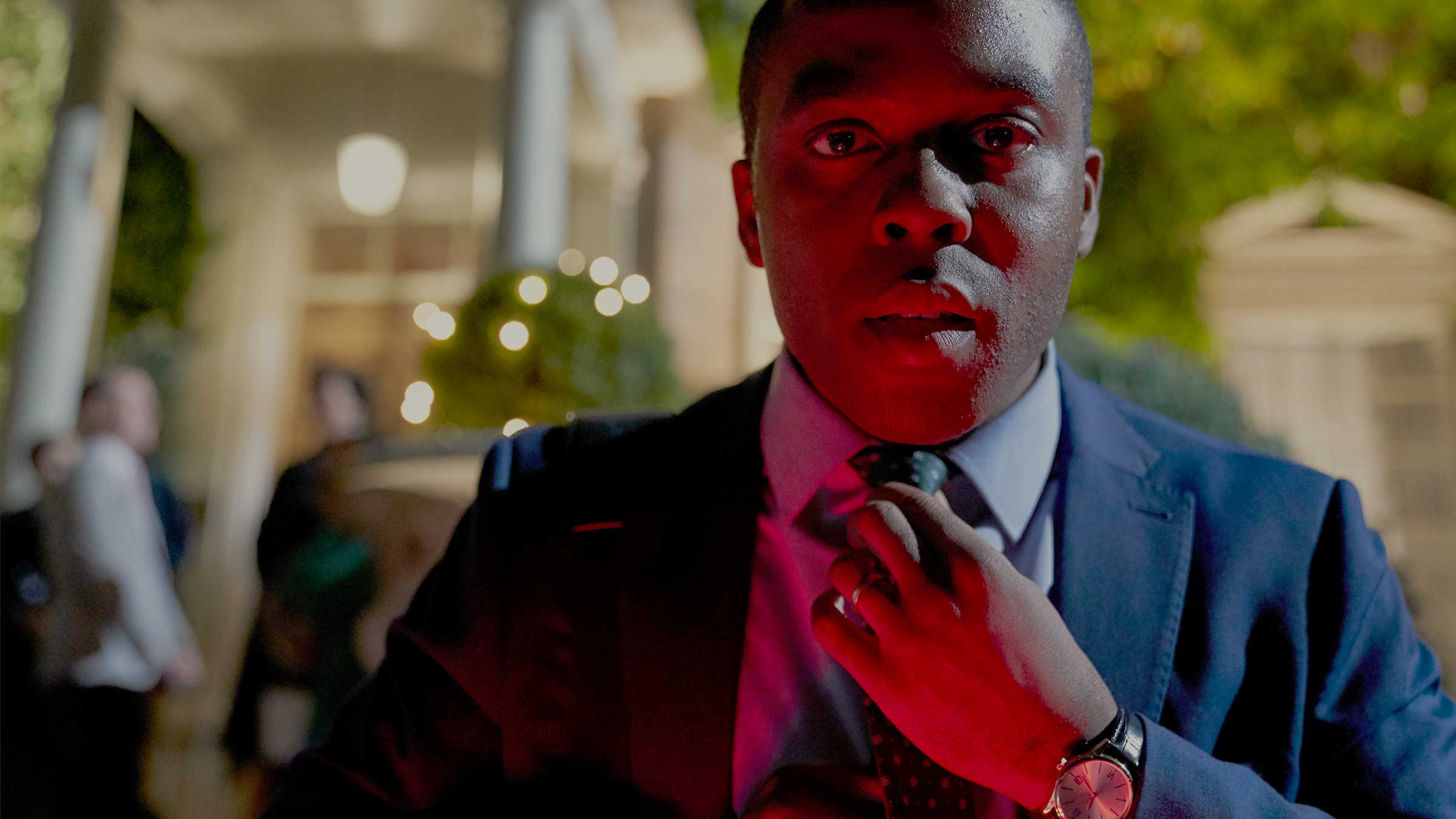 Sticks and stones may break our bones, but words will never harm us. At least, that's what we're taught…
Monday 16 December, 9pm, ITV/HD (CH 103/113). Also available for 30 days in Catch Up > Channels > ITV Hub
Written by Mike Bartlett (Doctor Foster, King Charles III), Sticks And Stones explores the grey area between banter and bullying across three consecutive heart-pounding nights. Ken Nwosu (Killing Eve) plays Thomas Benson, an ambitious team leader in office space sales. During an important pitch, he faints, losing the client and – importantly – the commission.
His teammates, Andy Stocks (Sean Sagar, Our Girl), Becky Mills (Ritu Arya, Last Christmas) and Isobel Jones (Susannah Fielding, This Time With Alan Partridge), appear to be supportive… at first.
Thomas becomes caught in what's known as "the grip", a phenomenon whereby a person who's messed up attempts to prove themselves, but ends up making more mistakes due to the pressure put on them. A vicious cycle ensues and Thomas becomes an easy target for bullying, growing increasingly paranoid about his colleagues' words and actions, while his boss, Chris Carter (Ben Miller, Death In Paradise) remains oblivious. With jobs on the line, Thomas has to watch his back (there might be a Post-it stuck to it).
We sat down with the cast and creative team, who revealed all about their fictional (and actual) workplace environment…
1. Sticks And Stones is (intentionally) very, very stressful
"Sorry, I know that sounds really unkind to the audience," says executive producer Catherine Oldfield.
Bartlett adds: "If you're being bullied, it feels absolutely horrific. It drives people to the worst lengths. You've got all the time from when you leave the workplace in the evening to when you have to go back in the morning to do a lot of work in your head about what happened, analysing the previous day and fearing the day to come."

2. It's based on Mike Bartlett's play Bull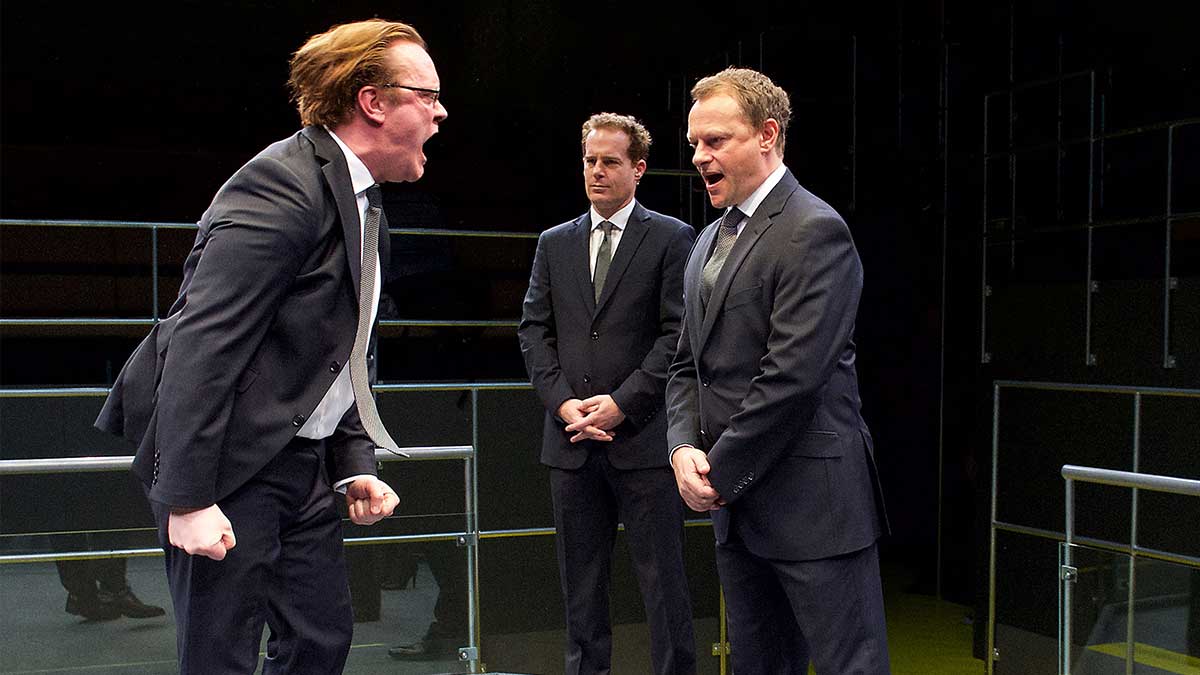 Things get heated during Bull, which could be short for bullying, or perhaps bullhorn if we're going by facial expressions…

"The play was 55 minutes and it couldn't have been any longer, because we'd have all spontaneously combusted," says Oldfield. "It was set in a boxing ring and it literally felt like a sparring match. We were really interested in power and how it affects everyone. Most people have some experience of bullying – [they've] either witnessed [it], been bullied or maybe been the bully. It seemed right to give it a bigger canvas and explore it more."
3. Research revealed a shocking reality
"When we were doing Bull, we had someone come in from the City to talk to us about the environment. It sounds brutal, cutthroat and sort of thrilling. They would put sandwiches on a table, but you would not touch the sandwiches, because that shows you're human and you should have sorted your nutritional needs elsewhere. If you take a sandwich, you're completely out of control – you're not the person you want to be. Compassion and humanity is great, but probably best left for the evenings because you're at work now," says Bartlett.
Oldfield adds that for Sticks And Stones, "Jess, who did the costumes, spent a lot of time in Reading in offices talking to the men that worked there. They had long discussions with her about how the way you tie your tie declares who you are".

4. This is Ken Nwosu's first leading role in a television series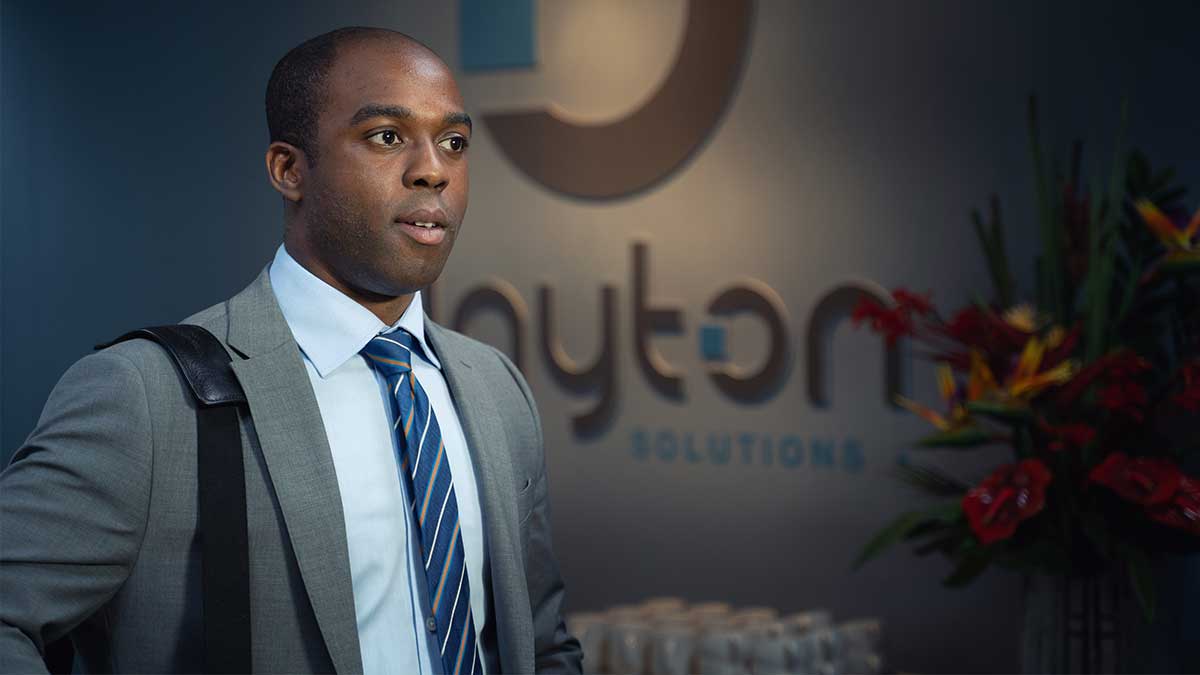 So, what does Thomas' tie say about him?

Nwosu is best known for his stage work, including Three Sisters and An Octoroon at the National Theatre, with the latter earning him a part in Killing Eve after Phoebe Waller-Bridge saw him in it. On getting his first lead part, however, Nwosu was "terrified". "I bought a book on screen acting. I read that book, I listened to the audiobook of the book! I thought I had a lot of catching up to do and I did. When I got to set, I was doing things I'd never experienced. It is hard work. It's differently difficult to stage acting and I had to learn really fast!"
5. Everyone made sure to be EXTRA nice to each other on set

"Everyone was going to outrageous lengths to be as polite and as considerate as possible to everyone else because of what the story is," says Miller. "If there was even any slight subtle twist to what you were saying, people were saying, "of course I didn't mean..." The darker and weirder the show you're doing, the lighter and more straightforward it is off set, funnily enough."
6. There are multiple layers of bullying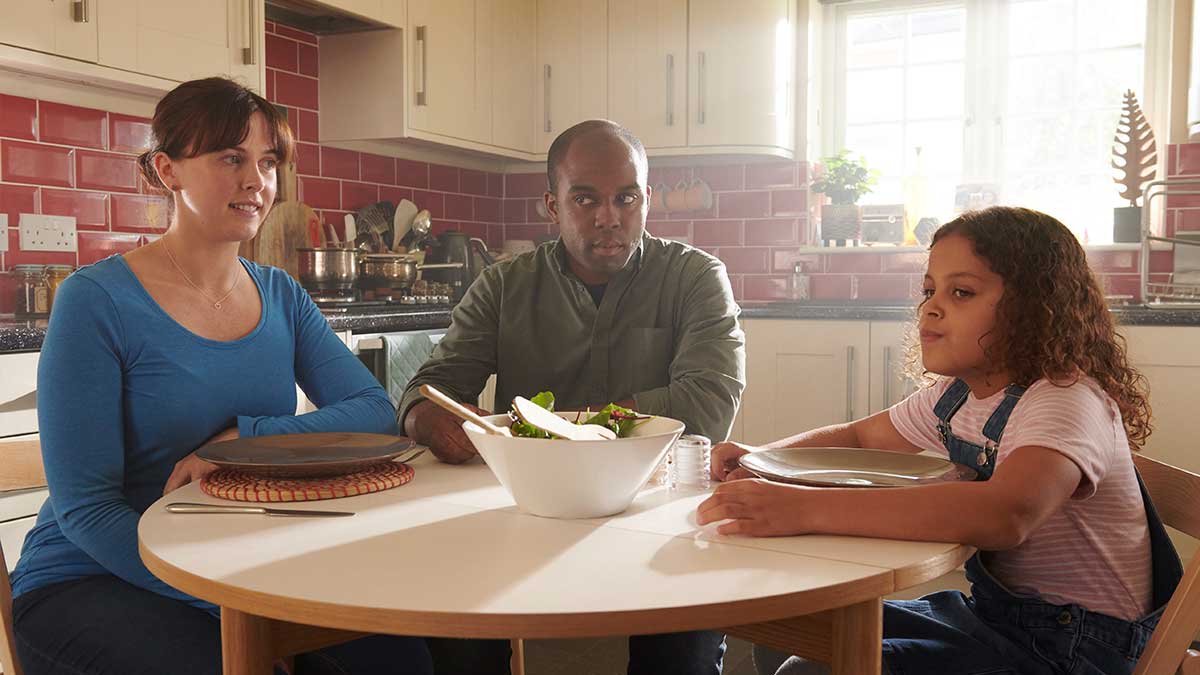 The ultimate family man: Thomas (Ken Nwosu) with his wife Jess (Alexandra Roach, Black Mirror) and daughter Millie (Daisy Boo Bradford).

We learn that Thomas was bullied as a child and that his daughter (who's deaf) is being bullied at school. "At points he feels like he's being bullied by life. It's like, why hasn't he progressed? In the adult world, you almost feel ashamed to say that you're being bullied because it's so associated with being a child," says Nwosu, who learned sign language for the role. "When you're a child, you had adults that were able to help you, but as an adult you have to deal with it yourself. Now he's a parent, he's the protector, and he has to give advice to his little girl, yet he is finding it difficult to protect and advise himself."
7. It highlights the harmful effects of toxic masculinity
"Thomas has such a strong view on the kind of man he should be, the kind of businessman, father and husband he should be. I imagine a lot of men end up isolated within the construct of who they should be, how they should act. Seeking help is often seen as displaying weakness and vulnerability. You end up suffering internally until something happens that you don't want to happen – until you faint," Nwosu says.
"It's heartening to feel that we're talking about men's mental health more openly and that there isn't now that idea of having to "man up"," Fielding adds. "I hope it will open people's eyes to the possibility of it happening in any scenario. It's not just women, it's not just people who appear to be weak and not very good at their jobs. It could be anyone."
When is Sticks And Stones on TV?
The three-part series starts at 9pm on Monday 16 December on ITV/HD (CH 103/113).
TV channels: Channels, content and features available depend on your chosen package. Channel line-ups and content are subject to change at any time and to regional variations.
HD: HD TV set, V HD Box, TiVo box or Virgin TV V6 connected with HDMI cables required for HD channels. Number of inclusive HD channels depends on package.
ITV HD is subject to regional variation. ITV HD is not available where STV HD or UTV HD is available.
Catch Up TV: Catch Up TV content available for up to 7 days or up to 30 days after broadcast, depending on content.
Interviews: Any opinions expressed in interviews are those of the interview subject and not those of Virgin Media.