Skip to main content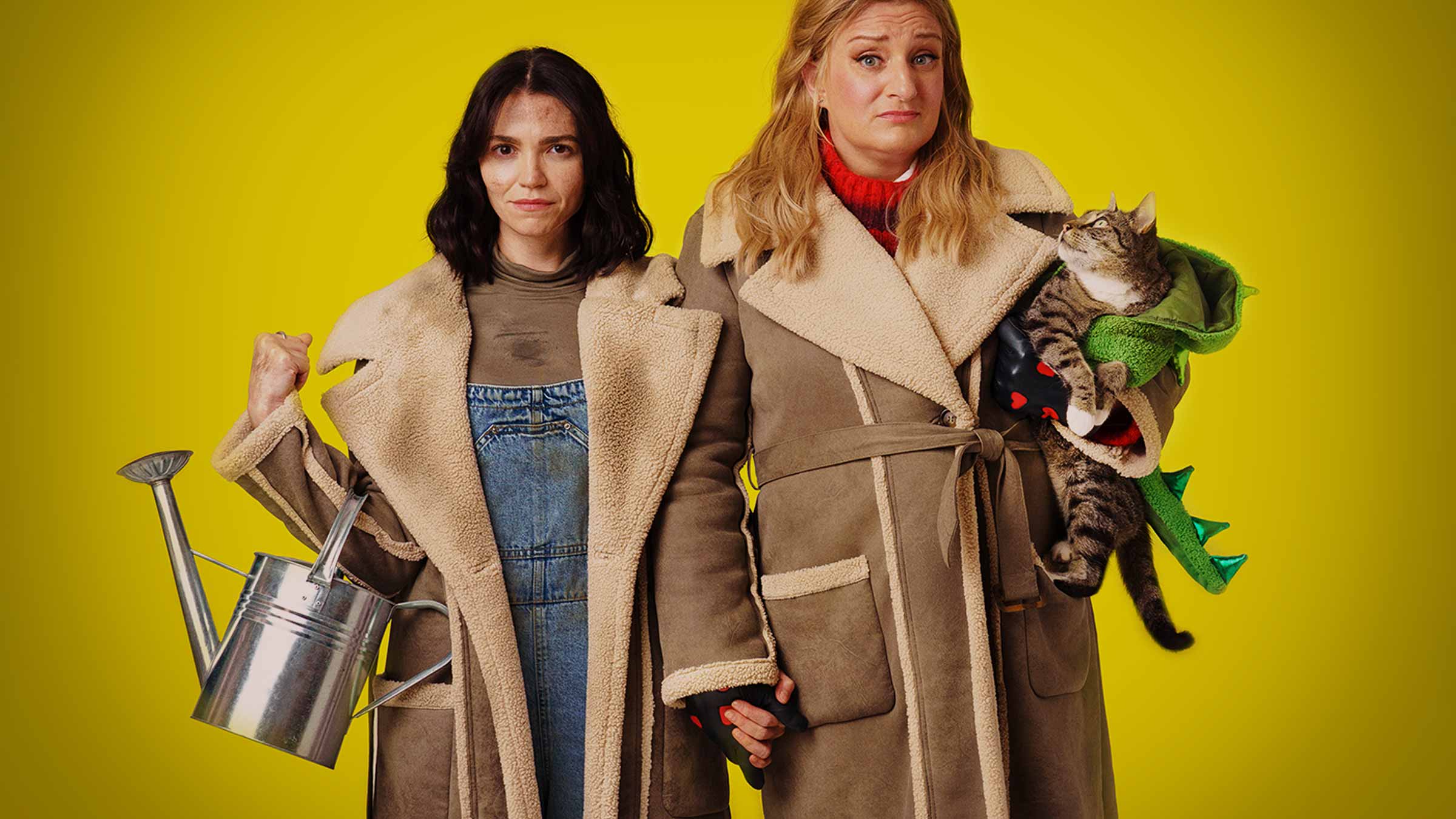 Ahead of Daisy May Cooper's dark new BBC One comedy, we take a look at other brilliant shows to make you laugh in the BBC iPlayer archives

By Virgin TV Edit
Note: TV channels are currently subject to wholescale schedule changes.
We think it's fair to say we could all do with a laugh at the moment. So we're very excited at the prospect of a new comedy from Daisy May Cooper, the co-creator and star of This Country (aka one of our favourite sitcoms of recent years).
Her forthcoming six-part series Am I Being Unreasonable? is billed as a warped and twisty comedy thriller about obsessive friendship and maternal paranoia – one that explores how quickly life can unravel.

Cooper plays Nic, a lonely mother grieving a secret loss and feeling stifled in her unhappy marriage. When she makes a new friend in the form of Jen (Cooper's real-life best mate Selin Hizli, who also co-wrote this series), her world lights up. But as their intoxicating friendship develops, Nic's buried secret comes to the surface – and she starts to question whether Jen is really who she seems.
Executive produced by Jack Thorne (His Dark Materials), Am I Being Unreasonable? starts on BBC One HD (CH 101) at 9.50pm on Friday 23 September. You can watch it live or catch up via Apps & Games > BBC iPlayer.
Can't wait until then to get your funny fix? We've rounded up some of the best comedies on BBC iPlayer – from modern mockumentaries to classic sitcoms.
1. This Country
Find it in Apps & Games > BBC iPlayer
We couldn't mention Daisy May Cooper and not give a shout-out to the mockumentary that made her name. You don't get many TV shows set in rural Gloucestershire, which is perhaps one of the reasons why This Country – created by Cooper with her brother Charlie – shone so brightly. It follows the Mucklowe cousins Kerry (Daisy May) and Lee, aka Kurtan (Charlie), as they deal – often ineptly – with the boredom and social claustrophobia of life in a sleepy Cotswolds village.
The Coopers' performances are deeply silly yet utterly believable, the writing is note-perfect (see Kerry describing her purchase of an alpaca as "physically my largest mistake"), and the tone is often genuinely poignant; this is a show that never punches down at its characters. Prepare to shed actual tears when saying goodbye to Kerry and Kurtan at the end of series 3.
2. The Witchfinder
Find series 1-3 in Apps & Games > BBC iPlayer
More Daisy May Cooper in this period comedy from the writers behind This Time with Alan Partridge (another great comedy available on BBC iPlayer). While the show is called The Witchfinder – titularly played here by the phenomenal Tim Key (a long-term Partridge associate) – it's very much a two-hander as Cooper's accused "witch" forms an unlikely double act with her capturer.
The performances from Cooper and Key are outstanding and their interplay and chemistry reward whoever had the genius idea of putting these two great comic actors together on screen (as well as the audience). The script, as you'd expect from the men behind Partridge, delivers a big laugh roughly every 30 seconds.
3. Mum/Him & Her
Find them in Apps & Games > BBC iPlayer
Stefan Golaszewski's new hit show Marriage being dubbed as one of the year's best dramas, so it's a perfect time to revisit the writer's earlier sitcom work. While both Him & Her and Mum are traditional sitcoms with larger-than-life characters, like Marriage they revel in the mundanity of ordinary life. Him & Her, starring Russell Tovey and Sarah Solemani, is about a twentysomething couple who share a flat and the people who interrupt their lives, culminating in a five-episode series set during a chaotic and eventful wedding day.
Mum, meanwhile, is a touching exploration of grief and finding love in later life, fuelled by terrific central performances from Lesley Manville and Peter Mullan. Both sitcoms, like the great Only Fools and Horses, are hilarious but deeper, richer and altogether tearier than you'd expect from this well-worn format.
4. The Fresh Prince of Bel-Air
Find seasons 1-6 plus the special in Apps & Games > BBC iPlayer
Will Smith's star-making 90s sitcom, in which he plays a street-smart Philadelphia teen sent to live with obscenely wealthy relatives in a swanky part of LA, remains one of the most lovable in TV history. So how delightful that all six series (plus the 2021 reunion special) are available on BBC iPlayer! Like most sitcoms of the era, The Fresh Prince's style isn't naturalistic; the humour is quick, bright and quippy, with pauses for laughter from the live studio audience. But beneath the bouncy, gag-a-minute surface, profound themes of race, class and familial love are explored with precision and nuance.
5. Better Things
Find seasons 1-5 in Apps & Games > BBC iPlayer
The fifth and final series of this critically acclaimed comedy-drama recently concluded, and we highly recommend gobbling up every single delicious episode on iPlayer. It's loosely based on the life of the actor and comedian Pamela Adlon, who co-created and wrote the series – and who was twice nominated for an Emmy for her starring performance as Sam Fox, a jobbing actor and single mother in LA.
Sam's three daughters (Mikey Madison, Hannah Riley and Olivia Edward) are exhausting and brattish in brilliantly distinct ways, while Celia Imrie (dinnerladies) is a delight as Sam's needy, unpredictable mother Phyllis. This is a pitch-perfect, routinely hilarious exploration of motherhood and middle age that will make you laugh, wince and weep.
6. The Office
Find series 1 + 2 plus the specials in Apps & Games > BBC iPlayer
The Golden Globe-winning mockumentary sitcom that catapulted Ricky Gervais into national (then international) consciousness still feels astonishingly fresh, more than two decades after its first series aired on BBC Two. You know what it's all about: the poor suckers stuck working at Wernham Hogg, the Slough paper company presided over by manager and "chilled-out entertainer" David Brent (Gervais). An American remake starring Steve Carrell became an Emmy-winning smash hit in its own right, launching the careers of stars including Mindy Kaling – but if we're honest, we'll always prefer the dingier, nastier British original.
7. Love Life
Find seasons 1 + 2 in Apps & Games > BBC iPlayer
Like sitcoms, romantic comedies have adapted and evolved throughout the years to stay fresh and relevant to new audiences. This American romantic comedy anthology series looks at the age-old quest to find love through the prism of modern dating, following the lead character from their first romance to their last.
In the first season we meet Anna Kendrick's Darby, while season 2 tracks Marcus, played by William Jackson Harper (The Good Place). While the light and breezy narration (Lesley Manville in season 1, Keith David in season 2) gives the show a traditional romcom feel, it's never afraid to tackle big issues such as race, domestic abuse, alcoholism and infidelity.
8. Ladhood
Find series 1-3 in Apps & Games > BBC iPlayer
Even in its third series, which recently landed on BBC iPlayer, it's still fair to call Ladhood an undiscovered gem. But hopefully, the "undiscovered" part will soon be a thing of the past because it is truly one of the best comedies of the past five years. Writer and star Liam Williams looks back (as a character also called Liam) on his adolescence. Literally. Because the show's clever conceit means that adult Liam can walk through and narrate his memories as they come to life in front of his eyes.
Throughout the series, Liam explores how his experiences (and mistakes) as a boy have subsequently formed the man. A show bound by the universe to be compared to The Inbetweeners, it's a much more thoughtful, realistic look at that time in our lives.
9. The Cleaner
Find series 1 in Apps & Games > BBC iPlayer
Greg Davies' sitcom Man Down was brilliant. Surreal, silly and very, very funny, it's inconceivable it wasn't renewed for a fifth series. But that loss meant Davies was able to give us The Cleaner. It's based on the German show Der Tatortreiniger (The Crime Scene Cleaner), and each episode deals with a grisly murder and the man who needs to clean it up (Davies).
Doesn't sound like a comedy? It's dark, sure – but like Man Down, it mixes the slapstick, the surreal and the sweet, with the murder itself just acting as a backdrop for the real story to take place. It also features Helena Bonham Carter in the most incredible toilet performance of her career.
10. Here We Go
Find series 1 in Apps & Games > BBC iPlayer
"Broad" is often a dirty word when it comes to TV comedy, but Here We Go is a broad TV comedy in the best sense of the word. Set up as a documentary of family life "filmed" by the youngest son, it's the freshest and funniest take on the well-worn mockumentary format in years. The series stars big hitters in Katherine Parkinson (The IT Crowd), Jim Howick (Ghosts) and Alison Steadman (Gavin & Stacey) and cements all three as some of this country's finest comic talent. Keep an eye out for Freya Parks' direct looks to camera – they're probably the most devastating since Martin Freeman's in The Office.
11. People Just Do Nothing
Find series 1-5 in Apps & Games > BBC iPlayer
Just like The Office, this is a BAFTA-winning mockumentary that revolves around confident men who are utterly delusional about their charm and abilities. Rather than a paper company, it's set inside Kurupt FM, a pirate radio station pumping out UK garage and drum and bass from a flat in Brentford, west London. MC Grindah (Allan Mustafa), DJ Beats (Hugo Chegwin), DJ Steves (Steve Stamp) and their manager Chabuddy G (Asim Chaudhry) are convinced that global musical success is within their reach; the show's hilarious pathos comes from the fact that it is almost certainly not, but you root for them anyway. A modern classic.
12. Avoidance
Find series 1 in Apps & Games > BBC iPlayer
This new six-part comedy-drama co-created by Romesh Ranganathan joins a growing pantheon of excellent comedies exploring facets of modern British masculinity. It centres around Jonathan (Ranganathan), a self-effacing and "conflict-avoidant beta male" who, in the words of his sister Danielle (Mandeep Dhillon), "just kind of falls through life". Driven mad by his endless passivity, Jonathan's partner throws him out – forcing him to grow up, stop burying his head in the sand and (attempt to) take control of his own life. Bittersweet and funny, Avoidance is also genuinely insightful about the problems caused by people trying to ignore their problems.
13. Two Doors Down
Find series 1-5 plus the special in Apps & Games > BBC iPlayer
Have you watched this wonderful Scottish comedy about a suburban Glasgow street and the couples who live on it? If not, why not? Because it's possibly the finest Scottish sitcom since Rab C Nesbitt (there's even some connective tissue between the two, with Elaine C Smith appearing in both).
Eric (Alex Norton) and Beth (Arabella Weir) dream of a quiet life, but cannot escape the neighbours who continue to drop into their house unannounced and uninvited. The show takes the idea that you can never choose your neighbours to the extreme: Doon Mackichan's Cathy is one of the great sitcom beasts, while Smith's life-force-draining Christine is equally iconic.
14. Blackadder
Find series 1-4 in Apps & Games > BBC iPlayer
One of the joys of BBC iPlayer is going deep into the archives of British comedy. The four series of Blackadder originally aired in the 1980s, and the period comedy is as fresh today as it has ever been – and it remains consistently hysterical. Created by and starring some of the biggest names in British entertainment (including Stephen Fry, Richard Curtis, Ben Elton, Hugh Laurie and Tony Robinson), it follows the devious Edmund Blackadder (Rowan Atkinson) throughout multiple historical eras spanning the 15th century to the 20th.
Blackadder usually seeks to exploit his connections with royalty – but in the more sombre final series, set in the trenches of the First World War, his one goal is to avoid being killed. Unquestionably one of the best British sitcoms of all time.
15. Bad Education
Find series 1-3 in Apps & Games > BBC iPlayer
With a new series on the horizon, it's time to revisit Jack Whitehall's school-based sitcom. Whitehall, who co-writes and stars, plays Alfie, a newly qualified history teacher whose efforts at teaching mainly involve getting his class involved in whatever activity he thinks will impress his crush, Rosie (Sarah Solemani, her second appearance on this list).
Watch out for two of the original class, Stephen (Layton Williams) and Mitchell (Charlie Wernham), in particular – the new six-part series will follow the pair becoming teachers themselves. Although considering it's still called Bad Education, we're guessing they'll be teaching with similar levels of aplomb as Alfie.
16. Inside No. 9
Find series 1-7 in Apps & Games > BBC iPlayer
What more can be said about Inside No. 9 that hasn't already been said? The dark comedic anthology series from Reece Shearsmith and Steve Pemberton has reached its seventh series and shows no signs of slowing down. It's endlessly creative without any limits to the style or substance of an episode; from downright terrifying horror (The Harrowing) to comedy caper (Wuthering Heist) to family drama (Last Night of the Proms).
There tend to be only two rules: the action needs to take place inside something that has a number nine on it, and there needs to be a twist. The show's live Halloween special is probably the scariest thing on TV since Ghostwatch.
17. The Young Ones
Find series 1 + 2 in Apps & Games > BBC iPlayer
Rik Mayall appeared in Blackadder as the irrepressible Flashheart, but it was this gleefully chaotic 1980s sitcom that made his name. Across two series, he stars as Rick, a self-proclaimed anarchist and sociology student at Scumbag College. Rick shares a grotty London flat with three other undergrads: violent punk medical student Vyvyan (Adrian Edmonson), paranoid hippie Neil (Nigel Planer) and cool, charming straight man Mike (Christopher Ryan).
Interrogating the culture and politics of early 1980s Britain via violent slapstick, surrealism and fourth-wall-breaking, The Young Ones also features regular live performances from bands including Madness and Motörhead. We've still never seen anything quite like it.
18. Detectorists
Find series 1-3 in Apps & Games > BBC iPlayer
A gorgeous sitcom that makes you think that this crazy world of ours might actually be OK (deep down, obviously). Created, written and directed by Mackenzie Crook (who also stars, because he wasn't busy enough with all the other jobs – he probably does the catering, too!), it's a comedy about two metal-detecting hobbyists who dream of finding gold.
Co-starring Toby Jones, it's a series that wears its heart on its sleeve without an ounce of cynicism: something that's rare in comedy, and even rarer in a show that puts a pastime that is – let's be honest – quite silly at its centre. The series wrapped in 2017, but it's returning for a one-off Christmas special. The perfect excuse to catch up or reacquaint yourself with the Danebury Metal Detecting Club.
19. State of the Union
Find series 1 + 2 in Apps & Games > BBC iPlayer
State of the Union is so good that it's puzzling we haven't seen a raft of 10-minute TV shows since it first hit our screens in 2019. Each super-short episode follows a couple immediately before their marital therapy session: in the first series, it's youngish pair Louise (Rosamund Pike) and Tom (Chris O'Dowd) meeting in a pub, while series 2 introduces the older Scott (Brendan Gleeson) and Ellen (Patricia Clarkson) who meet in a café.
Written by the great Nick Hornby and directed by the equally great Stephen Frears, who previously collaborated on the movie adaptation of Hornby's novel High Fidelity, each episode packs more in 10 minutes than most sitcoms do in an entire series.
20. Fleabag
Find series 1 + 2 in Apps & Games > BBC iPlayer
No BBC iPlayer comedy round-up would be complete without Phoebe Waller-Bridge's groundbreaking series, based on her one-woman play of the same name. Its deep dive into the psyche of a seemingly brazen and breezy millennial woman is dark, sharp and constantly surprising – and nobody captures the joy and agony of familial and romantic relationships like Waller-Bridge. Fleabag's influence is already clearly visible in other films and TV series, from She-Hulk on Disney+ to the recent adaptation of Jane Austen's Persuasion on Netflix; its legacy will be an enduring one.
When is Am I Being Unreasonable? On TV?
Am I Being Unreasonable? starts on BBC One HD (CH 101) at 9.50pm on Friday 23 September. You can watch it live or catch up via Apps & Games > BBC iPlayer.
TV channels: Channels, content and features available depend on your chosen package. Channel line-ups and content are subject to change at any time and to regional variations.
HD: HD TV set, V HD Box, TiVo box, Virgin TV V6 box or Virgin TV 360 box connected with HDMI cables required for HD channels. Number of inclusive HD channels depends on package.
Catch Up TV: Catch Up TV content available for up to 7 days or up to 30 days after broadcast, depending on content.
Image credits: Am I Being Unreasonable © Boffola Pictures / Lookout Point / James Pardon