Skip to main content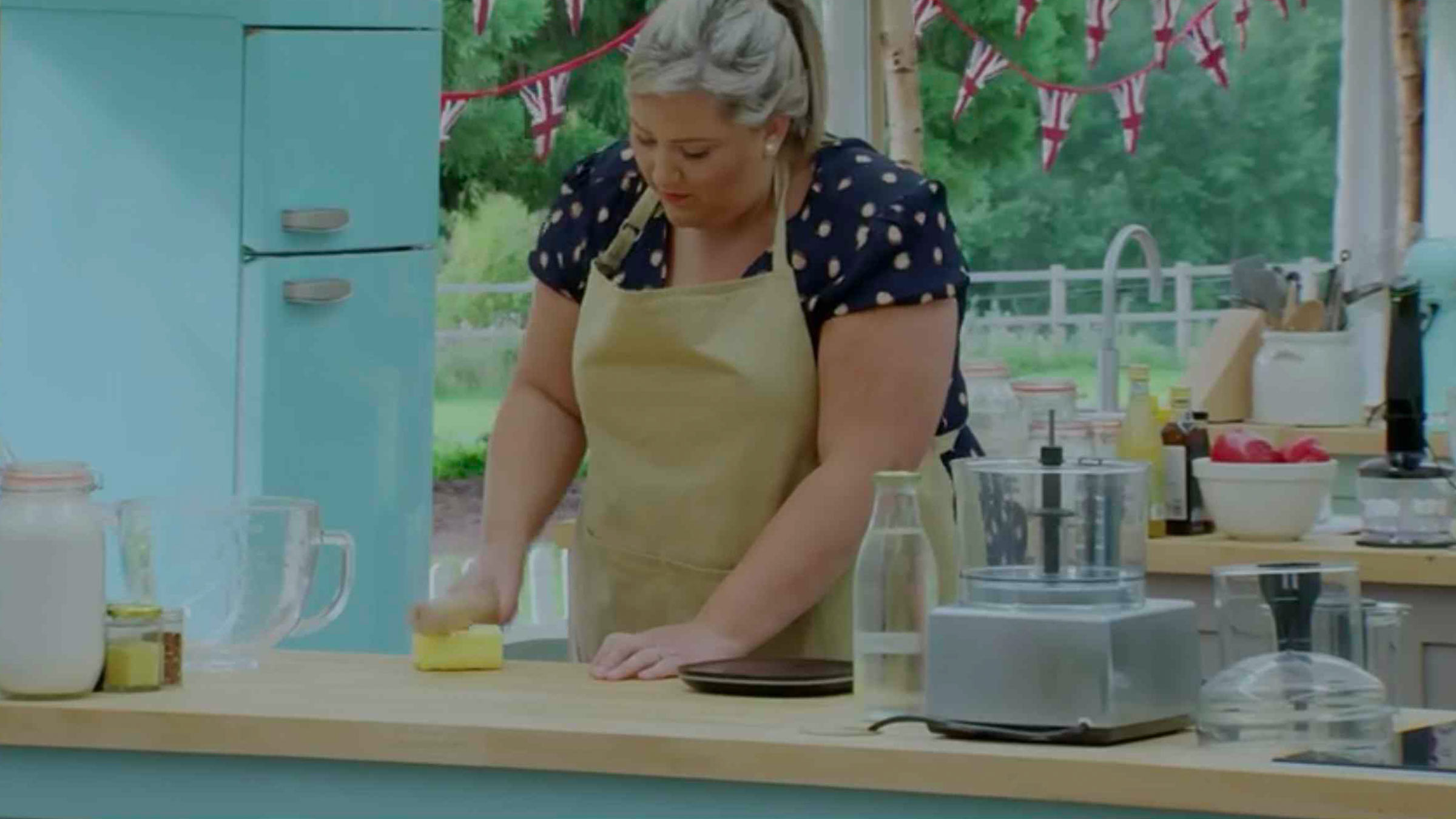 Channel 4's biggest show is back, so we'

re recapping the best moments from every episode
By Simon Ward, Content Editor
Warning: this story contains spoilers for episodes 1-5 of The Great British Bake Off. Find it in Apps & Games > All 4
There are scholars and poets trying to find the words to describe 2020, and all of them are coming up short – so we're not going to take a stab at it here. But the one thing you can say about this year is it has been crying out for The Great British Bake Off. Finally, that prayer has been answered and it's back on our screens.
Each week, we'll be recapping the best bits from Channel 4's much-loved show – from the crying (or tiers) to the Star Baker smiles, plus the inevitable big moments that lead to questions in Parliament about custard, or whatever happens this year.
Check back here on Wednesday 28 October for all the drama, talking points and best reactions from social media from the sixth episode, Japanese Week (a first for Bake Off).
Episode 5: Pastry Week
Bake Off is so unpredictable this year – and it's better because of that
In past Bake Offs, you could make a decent stab at the series winner after a handful of episodes, and more often than not, you'd be right on the money. But this year is as changeable as, well, practically everything else in 2020.
Mark Lutton went from last week's Star Baker, into the drop zone here. Previous SB Marc Elliott also had a shocker, while Linda Rayfield – who has been in the mix for the top on numerous occasions – crumbled like her Caged Tart. One bad week and the bakers are sent packing from the bubble and back into the real world – a thought scarier than leaving the competition itself.
Linda invented "dipping eclairs"
It was quite the Technical for Linda Rayfield. She ended up making the choux pastry for the salted caramel and raspberry éclairs three times, with each batch looking progressively less like éclairs, and more like brutally squashed churros.
In the end, time – much like everything for Linda in Pastry Week – was not on her side. She didn't even have time to add filling. Although squeezing filling into those flat éclairs would have been like trying to inflate a pancake. So, she served it as a dipping sauce in a DIY end product Paul Hollywood generously called "terrible".
Peter won his first Technical
Peter Sawkins would perhaps be disappointed his Week 1 Star Baker turn hasn't materialised into a dominant showing in the competition. He's been consistent, he's certainly towards the top of the tent, but he's still a long way from the win, and subsequent primetime cooking show, probably called The Cake Whisperer.
But his éclairs wowed the judges, giving the accounting and finance student a first win in the Technical. It's not necessarily an indication of future greatness (Linda proved that with her Technical win last week!), but it's certainly the kind of move he needs to make at this midway point. And they did look delicious.
Linda left the tent this week
If Linda Rayfield was a Premier League striker, you'd say she missed every kick and scored three own goals (and quite possibly got lost on her way back to the team bus). When asked for pasties in the Signature, she made samosas. When asked for éclairs in the Technical, she made… something.
By the time the Caged Tart Show Stopper came around, her cage disintegrated, leaving her with a selection of brightly coloured worms that she laid on the side like they'd been killed in battle. Mark Lutton's cage also crumbled, and he will feel like he got away with it this week as Linda was the one to leave.
Laura was a very worthy Star Baker… at last
Another week and another new Star Baker as Laura Adlington put in a very strong showing in all three challenges. Her Show Stopper, in particular, was a thing of beauty. Less a cage, and more the kind of idyllic domed pavilion you'd see at Kew Gardens. Not only that, the judges said it tasted "amazing".
It was so good, you can only assume Paul forgot to dose his palms with alcohol gel before the judging because it was screaming out for a handshake. The praise meant a lot to digital manager Laura, and peaking at this point in the contest is a good sign as we move closer and closer to the finale.

Episode 4: Chocolate Week
The Signature challenge was BRUTAL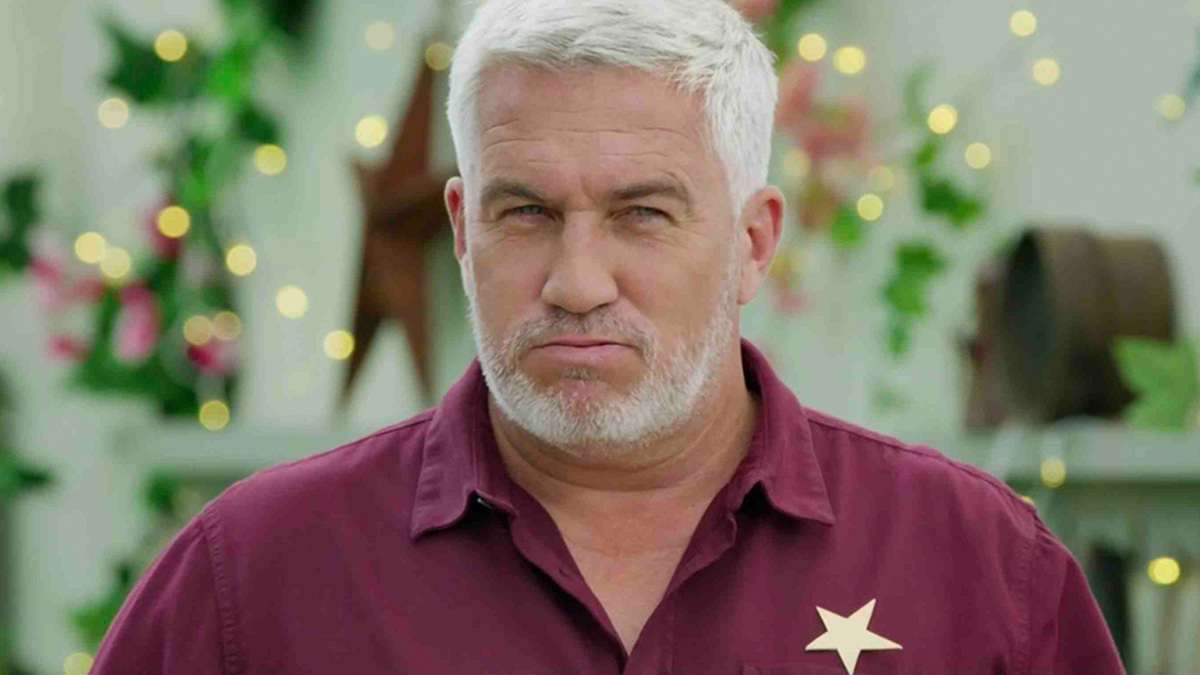 Old Blue Eyes wasn't having any of it, was he? We're midway through the contest, and a gruff Paul Hollywood judged the brownies like he suspected all the bakers were responsible for writing vicious one-star reviews about his latest book.
In fairness to Paul, this was not a good challenge for the tent. As Sura Selvarajah pronounced, if any of the bakers had simply produced a basic brownie, they would have been away. At best, they largely produced cakey traybakes. At worst, some kind of warm chocolate soup. Sura didn't even get hers out of the tin!
We all learnt about brownies, possibly for the first time
Up there with the Great Baking Debates (see: Jaffa Cake – is it a cake or a biscuit?), we all discovered brownies are meant to be gooey in the middle, with a hard shell on top. Bake it for too long, they said, and it turns into a cake-like texture (which is bad, apparently). Not long enough, and it falls apart quicker than a baker's confidence when Paul calls their proposed methodology "interesting".
What we're trying to say is we've clearly never made brownies properly. But we weren't alone. Lottie Bedlow accurately said of hers that it '"looks like an actual car crash", while Laura Adlington – who largely had a good week – served up raw brownies that Prue piled on as also being "too sweet".
Prue really, really enjoyed Hermine's Show Stopper
Well. We've all been there. The moment you eat something so delicious that your body makes an audible and involuntary pleasure noise. That happened this week, as Prue tucked into her Show Stopper, which Matt Lucas immediately dubbed a "Pruegasm". Will this be the new Hollywood Handshake? We can only wonder.
Elsewhere, we saw Peter Sawkins once again listening to his cakes, proving that being a good listener pay dividends in all walks of life. Meanwhile, Mark Lutton accidentally compared his wife to an elephant when he suggested that the two share a favourite alcoholic tipple. Needless to say, neither will forget.
Sura left the tent, but Lottie had a very lucky escape
The Show Stopper proved to the crucial final hurdle for Lottie Bedlow and Sura Selvarajah – after a week of stumbling and tripping over ever hurdle chocolate week had put in front of them. After poor Signatures and finishing last (Lottie) and seventh (Sura) respectively in the Technical, it was hard to separate them.
Lottie's white chocolate celebration tier cake was like a white chocolate Sagrada Família, in that it was tall, impressive-looking and slightly unfinished, but the judges called it "bone dry". Fortunately for the pantomime producer, Sura's effort was raw and gave Paul and Prue a much easier decision.
Mark's consistency pays off with Star Baker
Yes, it was Mark Lutton who scooped Star Baker this week, holding off another consistent rival in Peter Sawkins for the win. That means we're halfway through Bake Off and we haven't seen a repeat SB, making it one of the most open contests in years. No one can say they've got a hand on the cake stand yet.
Linda Rayfield has certainly pushed herself into contention in recent weeks, with a good all-round performance capped with a win in the chocolate babka Technical. It also led to this week's best innuendo with Matt Lucas' advice to Linda when her dough wasn't rising: "Maybe if you stroke it, it'll get a bit bigger." Classic.
Episode 3: Bread Week
It was the week of the wobbles
Bread Week is always a toughie, as Paul Hollywood generally struts around the tent with all the confidence of a peacock who thinks they invented bread. And the nerves showed in the bakers. Previous Star Bakers Dave Friday and Peter Sawkinsstumbled, with Dave, in particular, hovering around the drop zone.
The armoured guard didn't have a good week, with his flat rainbow bagels in the Technical and a Show Stopper where his depiction of his family home looked like the "after" shot from Britain's Dodgiest Builders. But then, nobody had what you'd call a good week. Fortunately…
Rowan's time in the tent is over
If entertainment is what you're after, Rowan Williams should have been saved AT ALL COSTS. However, if you want to stick to the idea that it's a baking contest, then obviously Rowan had to go. He narrowly escaped last week, and it was right he finally exited here. But, boy, we'll miss him a lot.
Rarely complimented by the judges, the man was still a walking charisma (and occasional baking) machine. His shrivelled bagels – normally something that requires medical attention – weren't good, and while his Show Stopper looked gorgeous, it tragically epitomised his time in the tent: all style, no substance.
Marc scooped Star Baker
It wasn't a week where anyone covered themselves in glory, but Marc Elliott did deserve Star Baker. While so many bakers have been consistently inconsistent, flitting between glory and disaster in the space of the same week, there's been very little thrown at Marc that he hasn't dealt with admirably.
As well as pinning himself firmly as A Contender, the bronze resin sculptor also revealed that his family had joined him for the show's duration in the Bake Off bubble, finishing this week's episode by embracing them. It would have warmed your heart in any other series, but in 2020, the nation hasn't stopped crying since.
Hollywood Handshake for Hermine
So taken was Paul with the 39-year-old accountant's sweet and savoury soda bread in the Signature round, he threw out his hand in congratulations. Fans of The Art Of The Handshake will have enjoyed how coy this one seemed. There was almost a body feint, a drop of the shoulder before he struck. Very stealthy.
That's three weeks, and two handshakes so far – which is more than most people have mustered during the entirety of this past year.
Do we know who's going to win yet?
Rather than thrive, Bread Week was something the bakers simply had to endure – like the Pillars of Hercules (or breadsticks, in this case). So do we have any idea who might walk away with the coveted cake stand at the end of it all? Well, the pack of proper contenders is certainly narrowing.
Sura Selvarajah had a better week than most and was definitely in the running for Star Baker alongside Marc, another contender. Lottie Bedlow has been consistent. Peter's stumbles here shouldn't discount him, or his love of the gluten-free option. Hermine, Mark Lutton and Dave are also well in the (cake) mix.
Episode 2: Biscuit Week
The innuendos are back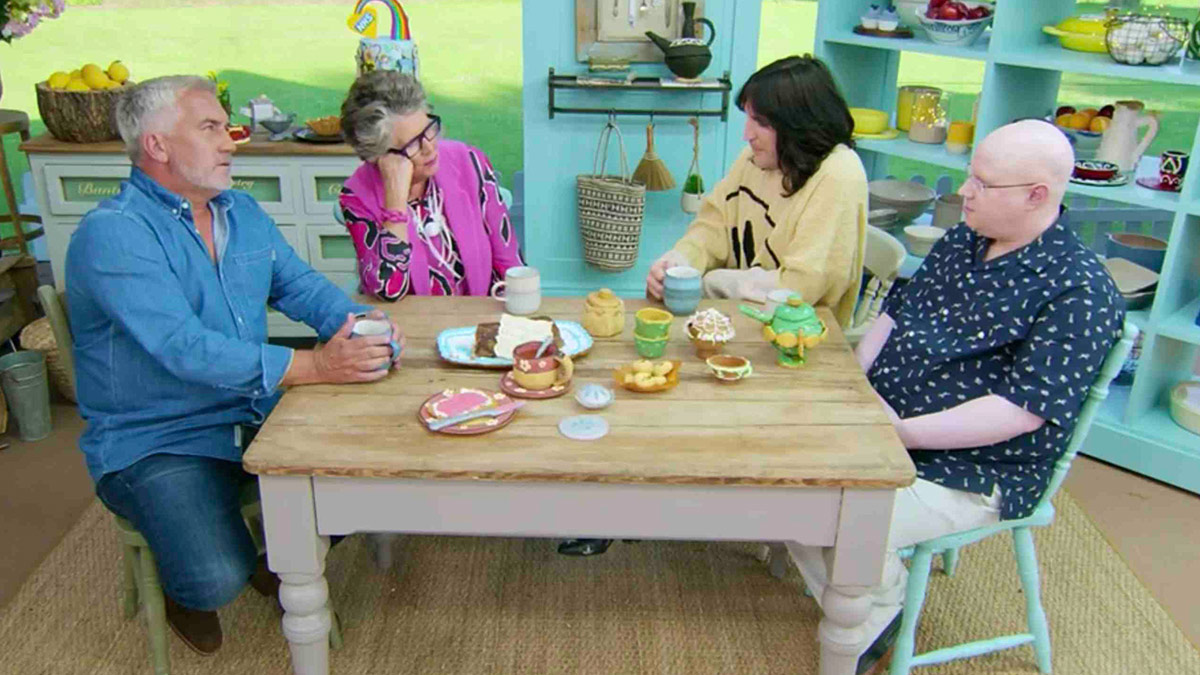 Part of the charm of Bake Off is waiting for someone in the tent to say something about cakes that sounds a bit saucy. You might call us childish, whereas we'd say, "SHUT UP, IT HAS BEEN A TOUGH YEAR, GIVE US THIS ONE THING." Thankfully, Prue Leith didn't miss her chance to give the nation what they wanted.
"I remember worrying a bit about your very large nuts," she cooed at Project Manager Mark Lutton. She knew exactly what she was doing, and we loved it.
Lottie Bedlow gets the first Hollywood Handshake
Before this series, rumours swirled that the Hollywood Handshake – the moment when Paul gets so overwhelmed by eating that he's rendered speechless so thrusts his hand forwards instead – was going to be axed due to the pandemic. Would it be the Hollywood Fist Bump, or possibly the Hollywood Wave?
Thanks to Bake Off being filmed in a Covid-secure bubble, there was no fear. Lottie's Florentines in the Signature challenge moved Paul to offer up his hand for the first time this series – and a gesture that arguably has even more meaning in 2020. Hopefully alcohol gel was available for her immediately afterwards…
Dave makes his move as Star Baker
There was another strong outing from last week's Star Baker Peter Sawkins, but it was Armoured Guard Dave Friday who came top, winning the Technical and lauded heavily in the other rounds (including the fabled Florentine "snap", which we all just heard about for the first time in our lives and are now instant experts on).
Could he be a contender? So used are we to seeing timid bakers sheepishly present their perfect bakes as if they've just broken Prue's toilet, Dave's out-and-out competitiveness is certainly a step change. He's on a mission, that man.
Rowan was very, very… very lucky to stay
Accountant Makbul Patel became the second contestant to leave the tent. Mak certainly wasn't going to win the thing, and failed to wow the judges in any of the challenges, but should he have gone? Step forward Rowan Williams, whose continuation in the contest rattled the normally tranquil world of social media.
His Signature waistcoat-themed Florentines failed to impress, with only half of them decorated (which is putting it kindly), he came last in the Technical, and his biscuit lighthouse centrepiece in the Showstopper was a maritime disaster. An escape not seen since Steve McQueen's motorcycle jump.
Mangoes were absolutely everywhere
A trend spotted on social media, that it appeared this episode was brought to you by mangoes. There was mango in Mak and Hermine's Florentines. The Technical featured mango curd. And the Showstopper was "decorate a mango using nothing but mango." OK, it wasn't, but it wouldn't have surprised us…
Episode 1: Cake Week
The Prime Minister started the show… twice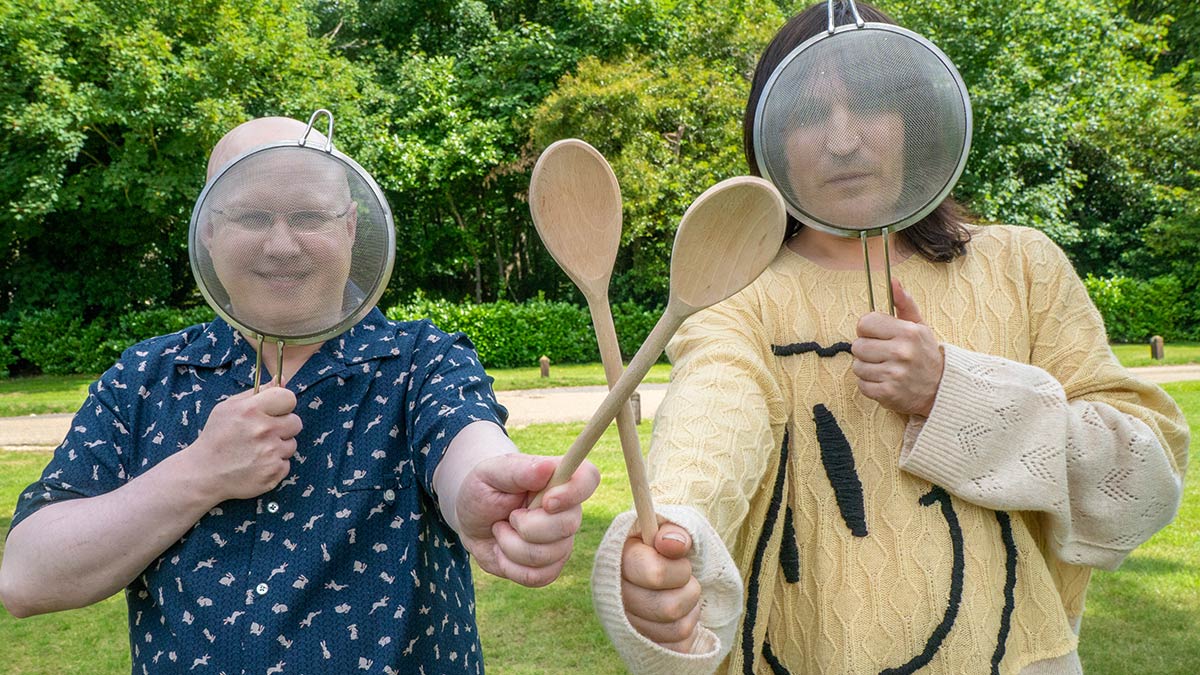 After the PM gave his latest speech (with Very Clear Instructions on screen that Bake Off was next), up popped Matt Lucas doing a spookily-accurate impression of the man himself. Lucas, who replaced Sandi Toksvig, was an instant hit here, looking like he had won a competition throughout episode 1.
He sang and ate everything in touching distance, and towed the whimsy line well. He was especially good during THAT moment (more on that soon), making fun of himself to lighten a mood heavier than some of the Battenberg on offer.
Pinapplecakegate was the most dramatic TV this year
Blimey. If you've been catching up on shows like Line of Duty during lockdown, Bake Off managed its own gasp-inducing high drama here. After the bakers had finished their individual pineapple upside-down cakes, Sura threw her arms up to swipe away a fly… and also Dave's cakes at the same time.
They hit the floor, and she was mortified by the unfortunate accident as Dave did the "no, no, it's absolutely fine" face of someone absolutely seething. To confound things, a red-eyed Sura was then crowned the winner of this same Technical.
Face cakes were one of the all-time great Showstopper challenges
The brief: make a cake bust of their hero. The reality: expected. Any time Bake Off has asked its bakers to create these kinds of monstrosities (remember Paul's bread lion and Rob's Dalek biscuit tower), hilarity has always ensued.
No hero came out unscathed. David Bowie looked like a melted candle. Freddie Mercury looked like Frank Sidebottom. Tom DeLonge looked like a serial killer in The Simpsons. David Attenborough looked like he had just given up. It was all utterly, utterly perfect and this whole challenge should be watched on repeat.
Loriea became the first out of the tent (and the village)
It was revealed at the top the show that all the bakers had formed a mini-Bake Off village (a spin-off waiting to happen!) as an isolated bubble community, with the potential of not seeing their families again for seven weeks due to quarantine. So the first one out of the door had even more meaning this year.
It was Loreia Campbell-Claire, the 27-year-old Diagnostic Radiographer from Durham who left the tent. Prior to the show, she said she rarely follows a recipe exactly… and so it proved, as she failed to impress in any of the three challenges. Although Dave and Linda should both consider themselves lucky too.
Star Baker Peter sets the early benchmark
The least surprising bit was Paul Sawkins – a 20-year-old accounting and finance student from Edinburgh, and the youngest contestant in this series – scooping Star Baker. He was strong throughout, with a Showstopper that actually looked like Sir Chris Hoy (albeit a Sir Chris Hoy with a very small head).
He won our hearts by listening to his sponge – something he learnt from Bake Off series 3, apparently – and his consistency in all three challenges makes him one to watch. Sura – who was involved in literally every big moment – also looks like she'll go far, as does Hermine, with Rowan being a dark horse.
Wasn't it all just really, really nice?
While it was certainly the most dramatic opener in the history of the show, it was also noticeable how well gelled the bakers were together.
Perhaps that has come through living together for weeks prior to the show. But watching Lottie shouting out supportive words (and how long was left, constantly), or Sura dropping everything to help Laura assemble what she was optimistically calling Freddie Mercury, gave us all the feels. Welcome back, Bake Off.
When is The Great British Bake Off on TV?
The Great British Bake Off started on Tuesday 22 September at 8.15pm on Channel 4 HD (CH 104). The series will continue every Tuesday at 8pm.
It is also available after each episode has aired for 30 days in Catch Up > Channels > All 4.
TV channels: Channels, content and features available depend on your chosen package. Channel line-ups and content are subject to change at any time and to regional variations.
HD: HD TV set, V HD Box, TiVo box or Virgin TV V6 connected with HDMI cables required for HD channels. Number of inclusive HD channels depends on package.
Catch Up TV: Catch Up TV content available for up to 7 days or up to 30 days after broadcast, depending on content.