Skip to main content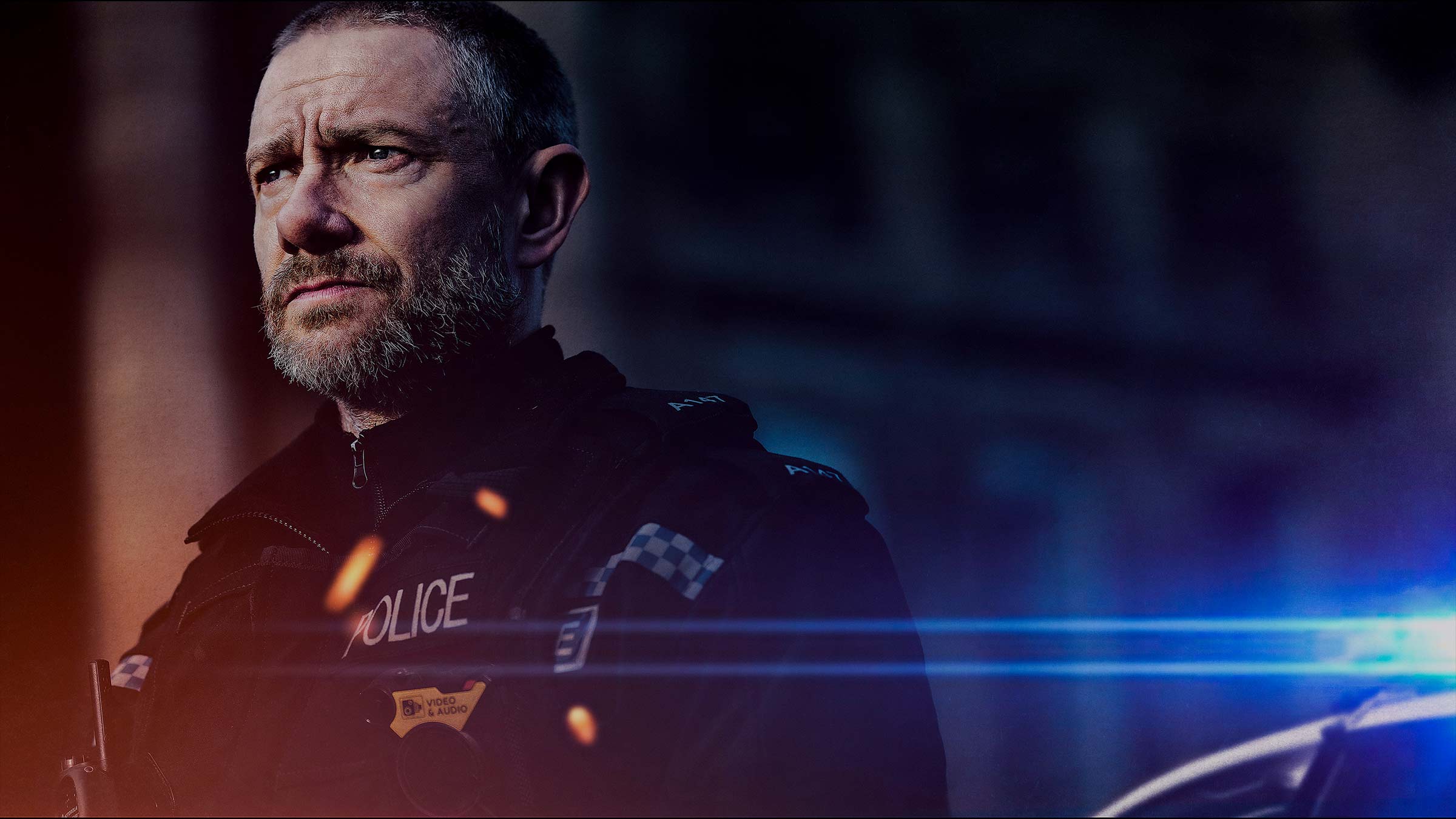 The cast and creative team, including Martin Freeman, discuss this new BBC police drama, which is not the next Line Of Duty – and is all the better for it
By Laura Rutkowski, Senior Staff Writer
The Responder begins not down at the police station, but in a therapist's office. "I want to be a good bobbie. I want to be normal," says urgent response police officer Chris (Martin Freeman, Sherlock) during his session. His work is taxing and thankless and has been taking its toll over the years – something that creator Tony Schumacher knows all too well.
Having done the job himself for more than a decade in his native Liverpool, he quit due to the strain on his mental health. "What made me start writing is I had a breakdown and I realised it would help me through that. It's good for the soul."


Using an amalgamation of people he's met and experiences he's had along the way, Schumacher has penned an emotionally autobiographical series set across a series of eye-bag-inducing night shifts in Liverpool. Chris' morals – and his patience – are tested when he's assigned a new rookie partner to keep an eye on him.
Filming took place in Liverpool, with a largely Liverpudlian cast, and a distinctly Scouse sense of humour, despite the crippling loneliness of the characters and the bleak events.
"If you're setting something in Liverpool, it's difficult to not make it funny," Tony says. Jimmy McGovern, who actually discovered Tony, and Willy Russell certainly come to mind. As Chris sits inside a house where a woman has recently died, eating her still-warm soup, in episode 1, you have to laugh, or else you'll cry.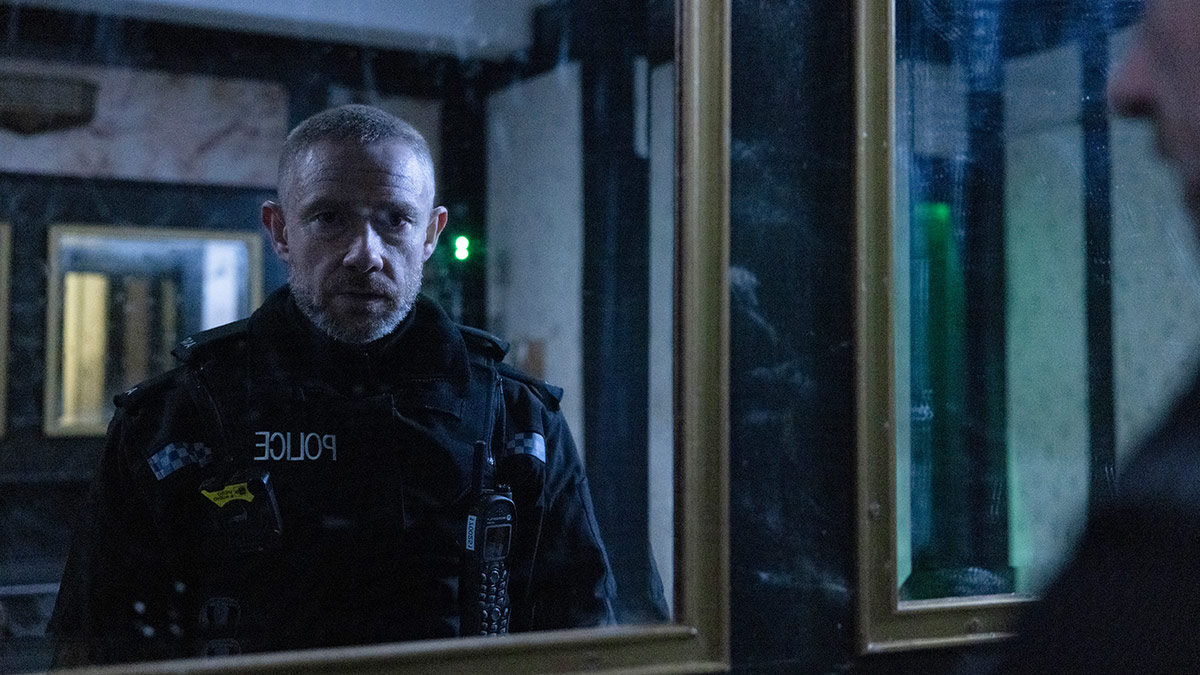 When urgent response police officer Chris (Martin Freeman) looks in the mirror, does he like what he sees?

Tony's screenwriting debut has been like "getting paid for therapy", he says. "It's been part of my journey." The result is a shockingly authentic, exhilarating and exhausting ride.
Before The Responder airs, here are seven things the cast and creative team told us about the show…

1. The Responder isn't your typical police drama
Tony Schumacher: I didn't want to write a police drama, I wanted to write a people drama. The minute you do that [a police drama], you've immediately got to start walking down corridors drinking black coffee and showing those "the tape is beginning" scenes and all that stuff. I wanted to keep it out of the police station as much as we could.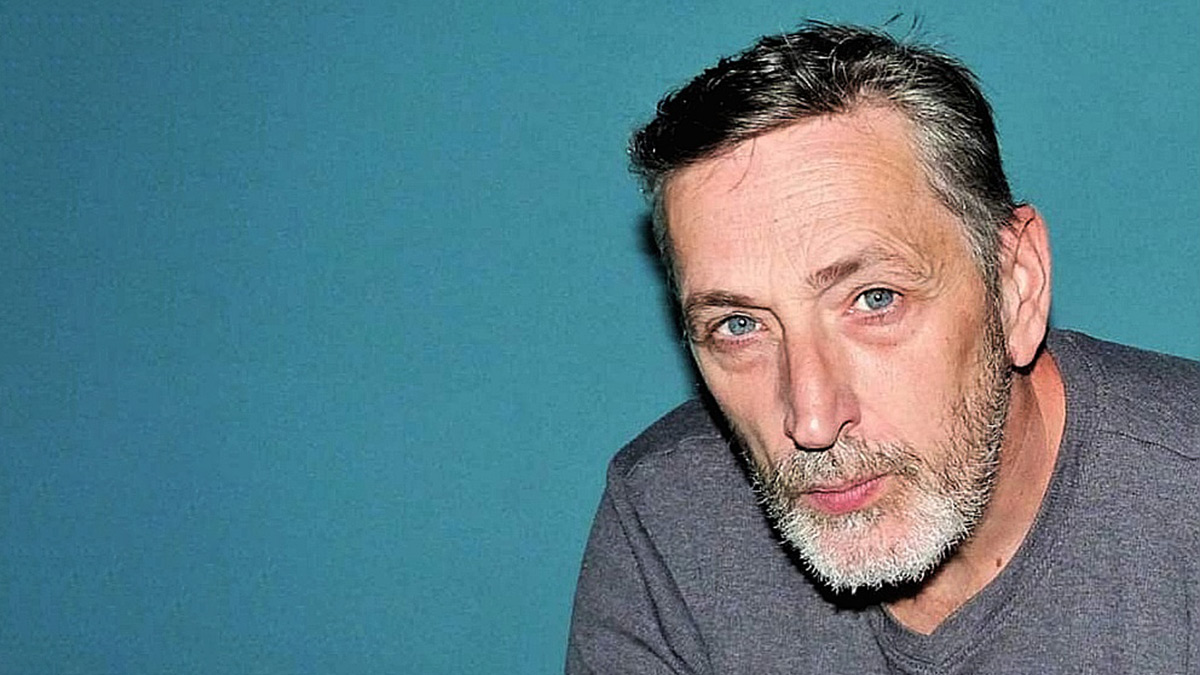 Although Tony Schumacher has written books, The Responder is his first original series for television

Rebecca Ferguson (producer): Director Tim Mielants' pitch was No Country For Old Men in Liverpool, and I think he achieved it. There's this strange stillness and a Western tone to it. We chose really ancient anamorphic lenses, properly old 60s lenses. We made sure the colour palette was oranges and reds so it felt very different to the blues and the coolness you've seen on usual police dramas.
Warren Brown (police officer Ray): I've been involved in police dramas [including Luther], and it's such a huge market, but The Responder isn't really about the procedures, it's about human nature and the characters in this world.
I've been in cop shows where it's like, "Oh, you're the good guy." No one likes Ray, which I actually liked. He's out to bring the main guy down. Ray has really got it in for Chris.

2. Mental health is a huge focus of the series
TS: Being a copper is not like being a copper on TV. It's about being a human being wearing a uniform. People are more interesting than crime. When I was a copper, I don't remember that much about specific jobs, but I do remember how I was feeling in those specific jobs.
I wanted to shine a light on the damage that this job does to the men and women out there doing it. I also wanted to say how difficult it is for the people who are trying to pull them through. I didn't want Chris to get out a bottle of Scotch from the bottom of his desk drawer – I wanted to come at it from a different angle and say this is a guy who's really struggling to keep it all in and wants to get better.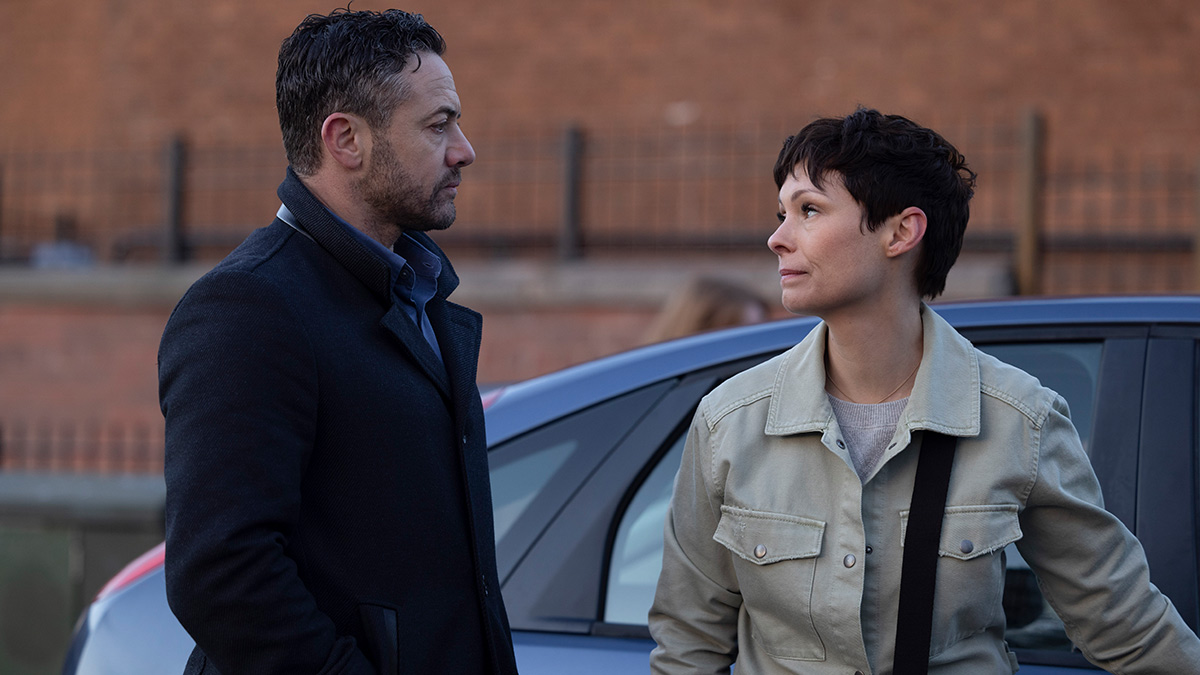 Are Ray (Warren Brown) and Kate (MyAnna Buring) more than just friends?

MyAnna Buring (Chris' wife Kate): The script shows what someone unravelling is like. It's not only the person with the job who is affected. If you're trying to have a family and a home life, that's really, really hard. You do anything you can – you throw doctors, medication, time and patience at it, but you'll never know how long it will take. At some point, you go, "How long can I wait?"
WB: Chris and Kate are both trying their best, but if she's not able to get that support from Chris because he's preoccupied with his job and there is someone that's maybe offering that shoulder, mistakes are made...
3. Martin Freeman does a (very good) Scouse accent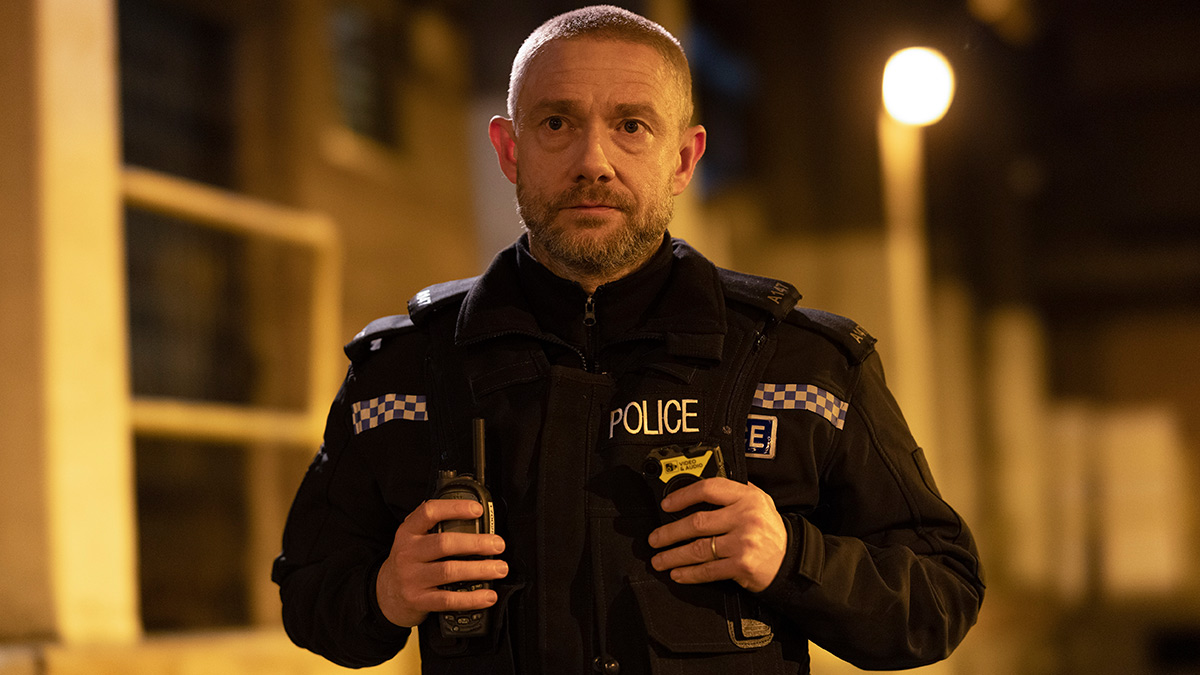 Tony says Martin would send him voice messages asking him to say certain words

Martin Freeman: It was obviously a big deal, because it's a major part of the way I was seeing that character from the first time I read the script. Even though people were being nice to me and saying, "Look, if you don't want to do the accent, you don't have to do the accent," that felt like a bit of a cop-out. I'm very glad I got away with it. Several times, I did say, "Stephen Graham should be playing this, shouldn't he?"
Chris Carey (executive producer): If there's any justice in The Responder universe, then we'd love to see Stephen Graham a part of it, and indeed Jodie Comer, and all the brilliant Liverpool actors.
MF: I talked to people in Liverpool and talked to Tony. I do trust my ear, I'm very exact about that stuff, because if I don't do it well, it's a terrible accent to get bad... in that city, among the inhabitants of that city.
TS: It's better than mine!
Emily Fairn (drug addict Casey): I thought it was boss! Because he was doing it on set, we always just saw him as some Scouse fella.
4. He was also mistaken for a real police officer
MF: One of the nights we were out filming in central Liverpool, on the other side of the road, there was this guy who didn't recognise me, he just saw a load of police and was giving us abuse straight away for literally no reason. I thought, "Oh, boy. Imagine 20 years of that." It's a lot.
5. Chris' partner questions his behaviour on the job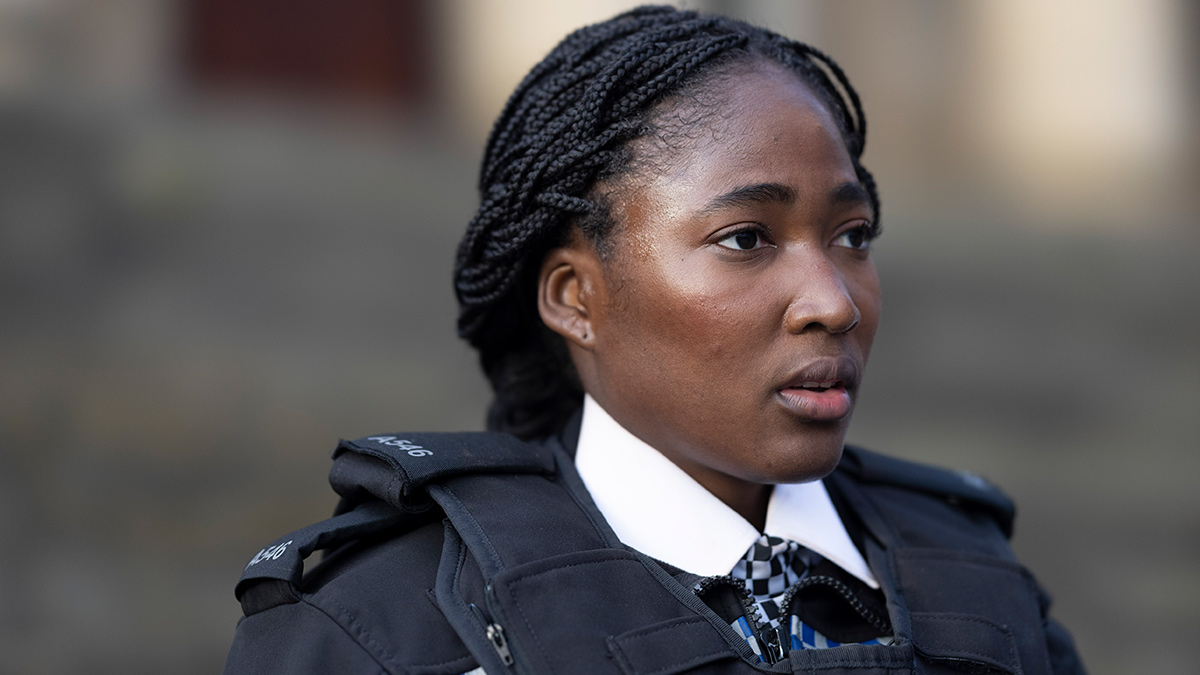 Rachel (Adelayo Adedayo) is there to keep Chris in check

Adelayo Adedayo (Chris' partner Rachel): Rachel comes in as the voice of reason and wants to do everything right. She's really brave, because Chris has been in the job for years. He's her superior. She's two weeks in and she comes in all guns blazing and she's not afraid to call him out. She tries to be an equal and stand her ground.

6. Newcomers and Liverpudlians Josh Finan and Emily Fairn became really good friends on set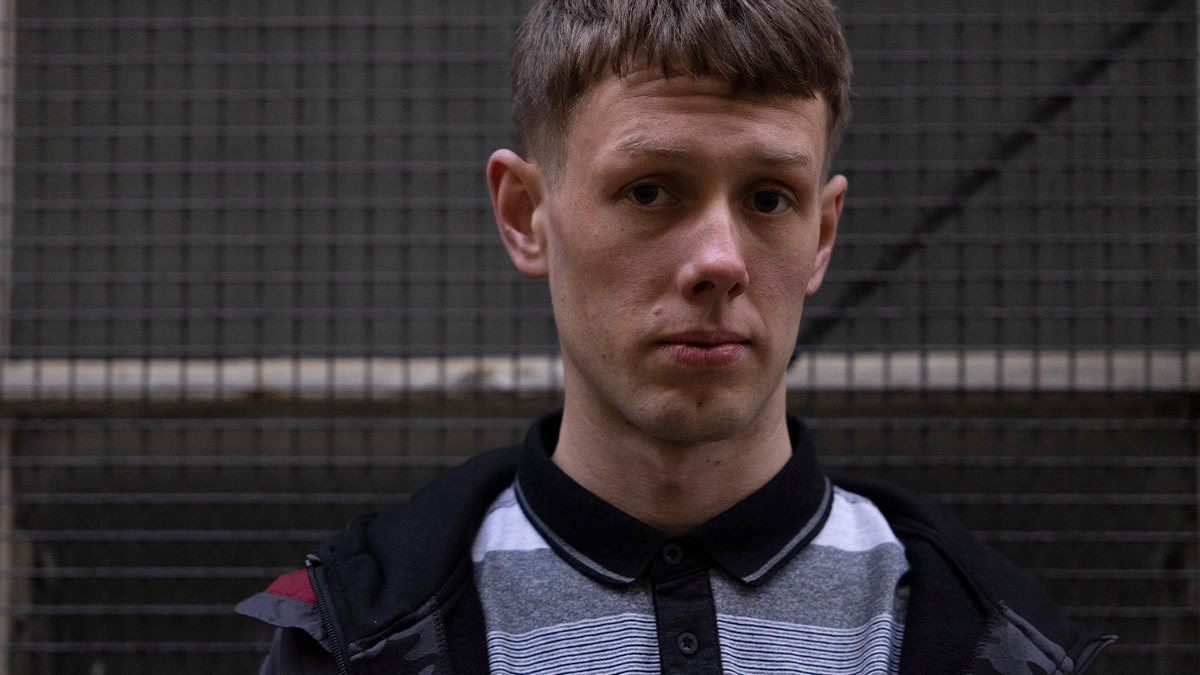 Josh Finan and Emily Fairn were discovered during a casting call in Liverpool

Emily Fairn: We were in a hotel during lockdown and I realised Josh was in the room next to me. I texted my mum and she was like, "Knock for him, see if he wants to hang out." The next day we met properly and then I got back to the hotel and Josh had pushed a note under my door saying, "Hi, this is me, here's my number" and I texted him, "Excuse me, I think it's very inappropriate to send letters under my door." It was the start of a delightful friendship! Josh and I got on so well that some scenes we completely improvised. We just took the mick out of each other.
Josh Finan (troublemaker Marco): It's definitely a very Scouse thing, and probably a universal thing, taking the piss out of yourself if you're stuck in the sh*t. Making light of the dark is the whole point.
7. Emily completed thorough research to play Casey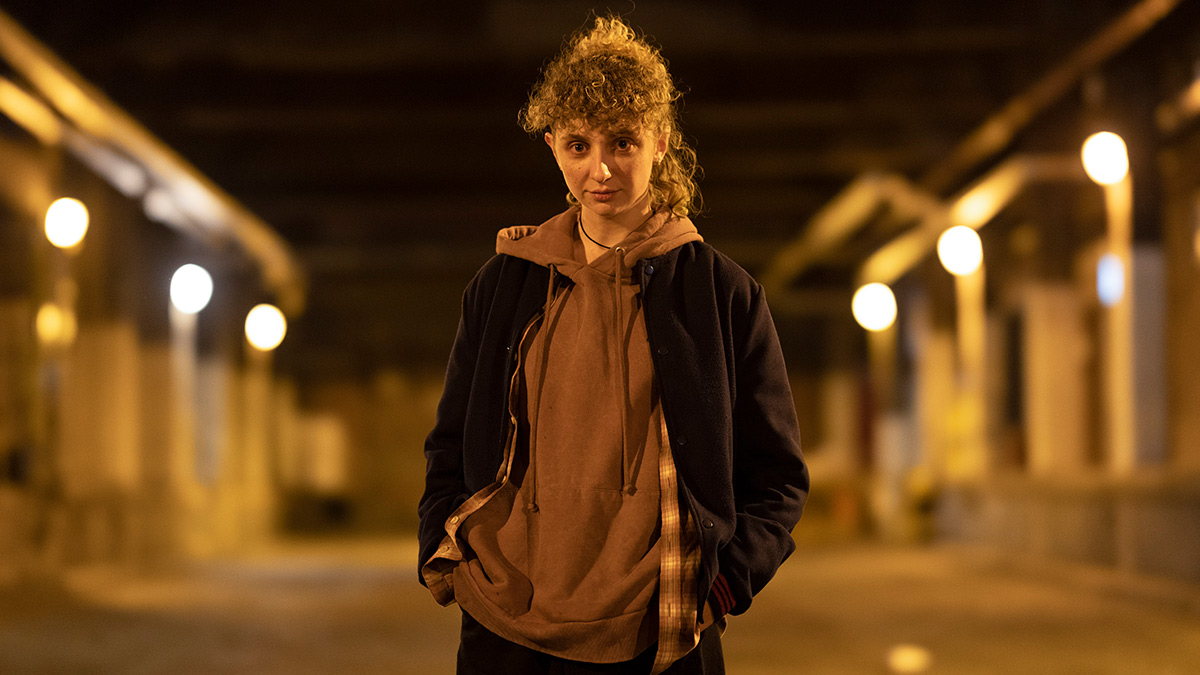 The Responder is Emily's first-ever acting job

EF: I watched a lot of documentaries and read a lot about people struggling with heroin addiction. I was very conscious to not play a stereotype or a cartoon, or to glamorise addiction. I tried to focus on Casey's background and how she got into her situation.
I tracked a timeline throughout the show of where she was and then I tried to pinpoint when she'd had hits and how high she was. That would reflect my physicality [spaced out or fidgety] and my headspace in that scene. It was a nice anchor to not do generalised drug addict acting.
When is the BBC's The Responder on TV?
The Responder airs on BBC One HD (CH 101/108) on Mondays at 9pm, with the first episode streaming on 24 January. All episodes will also be available in Ultra HD in Apps & Games > BBC iPlayer from 24 January.
The five-part series will subsequently air every week until Monday 21 February.
TV channels: Channels, content and features available depend on your chosen package. Channel line-ups and content are subject to change at any time and to regional variations.
HD: HD TV set, V HD Box, TiVo box, Virgin TV V6 box or Virgin TV 360 box connected with HDMI cables required for HD channels. Number of inclusive HD channels depends on package.
Interviews: Any opinions expressed in interviews are those of the interview subject and not those of Virgin Media.
Image credits: The Responder © 2021 Dancing Ledge Productions / Rekha Garton