Skip to main content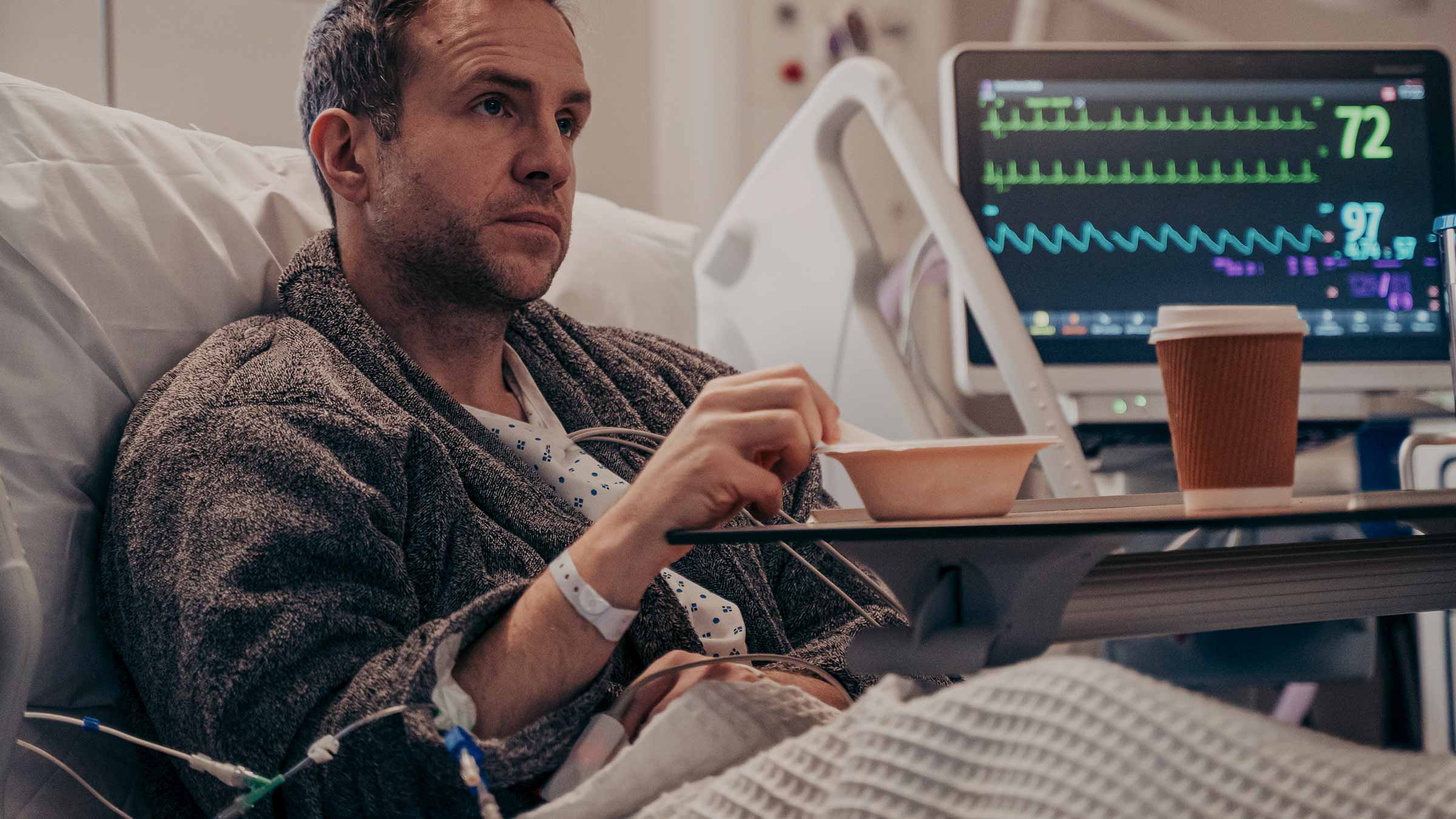 This new three-part series examines the poisoning of Sergei Skripal and his daughter Yulia
By Laura Rutkowski, Staff Writer
In 2018, the Skripals were found on a bench in Salisbury, England, after being poisoned with the deadly nerve agent Novichok. It was thought to be an assassination attempt – Sergei was a former Russian military officer and double agent for the UK's intelligence services.
After being hospitalised, they made a miraculous recovery, but that's not where the story ends. Detective Sergeant Nick Bailey was put on the case and became severely ill. Local woman Dawn Sturgess died after coming into contact with Novichok through a perfume bottle. Salisbury was suddenly at the centre of a public health crisis as leaders tried to prevent further contamination.

The Salisbury Poisonings recreates these unusual events and tells them through the perspective of the people who were there.
This is their story – here's everything you need to know about it…

The actors play their roles sensitively
Anne-Marie Duff (Shameless) has never played a real person who's still alive. That's why she wanted to play Wiltshire's director of public health Tracy Daszkiewicz "responsibly, kindly and truthfully". She met with her to understand her experience of the events, as well as with her husband and son. "I got a sense of who she is as a person and details that weren't in the script but can be useful for an actor to know, although it's not an impersonation," she said. Duff even wears Daszkiewicz's exact coat – because the story is so recent, the coat is still available to buy.
Ripper Street's MyAnna Buring plays Sturgess, who was portrayed in the media as a "a homeless addict who passed away because of her life choices." She added, "And that's simply not true. She was a complicated and wonderful human being who left behind an incredible family, and a partner, Charlie [Rowley], who was also poisoned. She should never have been dismissed like that, and we should not be dismissing her now." Buring met with Sturgess' parents, her daughter and with Rowley to prepare for the part.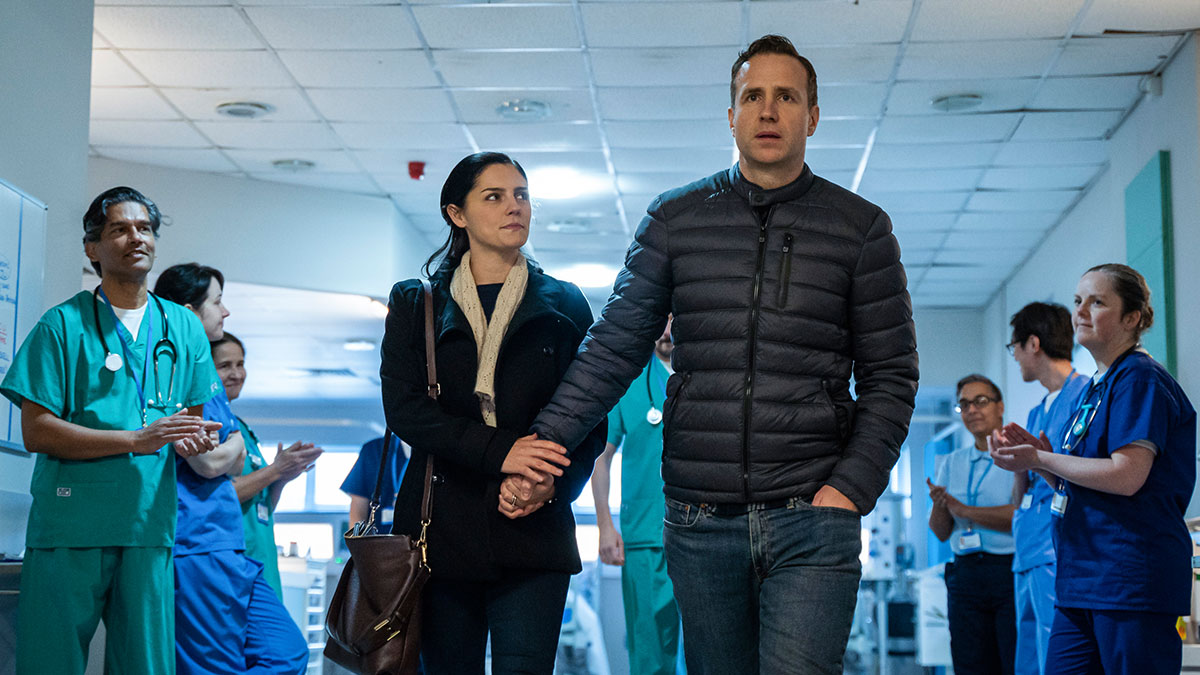 Rafe Spall and Annabel Scholey as Detective Sergeant Nick Bailey and his wife Sarah.

Meeting Nick Bailey and his wife Sarah was really important to Rafe Spall (The War Of The Worlds), who stars as Nick. "You don't want to pry, you don't want to ask things that are too personal, but you want to get the balance right. I decided not to try to mirror his mannerisms or his vocal inflections, because I don't think that's that helpful," Spall said. "The process of meeting him, for me, was out of respect and to say, "we're here, we're telling your story and we're going to do it properly.""

It was approached like a documentary
This is the first major TV script for writers and documentary-makers Adam Patterson and Declan Lawn. They told Deadline that their research process was "identical" to how they would make a BBC documentary. They moved to Salisbury for more than a year, spending time with Daszkiewicz and Bailey.
Patterson and Lawn worked with the series' journalistic consultant Caroline Bannock to find out who was best to interview and they went door-to-door to talk to people about the events. "People were more receptive because we didn't have to film them or record their voices. They didn't have the scary prospect of going on record," Lawn said. Director Saul Dibb also has a background in documentaries, which is why The Salisbury Poisonings features a lot of handheld and on-the-shoulder camera shots.

The team paid close attention to detail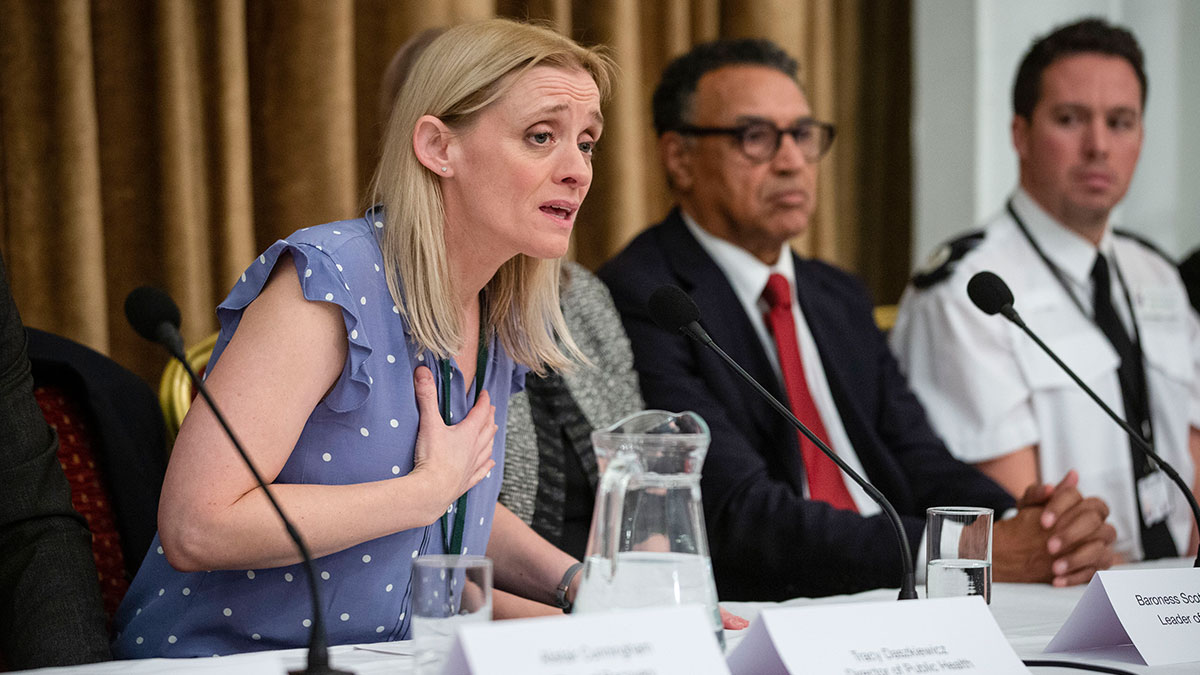 Anne-Marie Duff as Wiltshire's director of public health Tracy Daszkiewicz.

As well as the cast meeting the real people they were playing, the costume, design and make-up crew also met them in their homes. Filming took place in the real locations where possible, including at the Skripals' cul-de-sac and at the Maltings shopping centre in Salisbury. Artificial film lighting was not used in order to create the "most real, distinctive, yet oddly beautiful, feel," said Dibb.

The show almost wasn't finished in time
One of the final scenes was shot in early March, right before the COVID-19 outbreak. Executive producer Chris Carey told Deadline, "If we'd chosen a later date, we never would have been able to film it. It felt like we just got home before the tornado hit."
The similarities between the situation back then in comparison to what's going on right now is apparent. Don't be shocked when you're confronted with an eerie sense of déjà vu as a lockdown is enforced, the local economy is closed, contact testing and tracing is set up and Personal Protective Equipment is administered. "The answer, in the end, is that catastrophe forces us to look in the mirror," said Patterson and Lawn, "and to confront who we really are."

6 more series based on true stories
1. The People V OJ Simpson: American Crime Story
Find it on Netflix
This is just one of the true tales that's been adapted for the anthology series American Crime Story. Cuba Gooding Jr stars as OJ Simpson, with an inspired turn from David Schwimmer as his lawyer Robert Kardashian. This dramatisation lifts the lid on Simpson's murder trial, but whether you're convinced of his guilt, or his innocence, is up to you to decide.

2. Unbelievable
Find it on Netflix
Reporter T Christian Miller and Ken Armstrong co-authored the Pulitzer Prize-winning article "An Unbelievable Story of Rape" in 2015. The story was also turned into a radio show, a book (authored by Miller and Armstrong) and, most recently, an eight-part series. It tells the shocking story of Marie Adler (Kaitlyn Dever), who was raped when an intruder broke into her home. The poor handling of her case caused her to withdraw her account.
Meanwhile, a serial rapist continued to terrorise other women. Until, that is, detectives Stacy Galbraith and Edna Hendershot stepped in. Merritt Wever and Toni Collette expertly play them in the show, under the names Karen Duvall and Grace Rasmussen.

3. When They See Us
Find it on Netflix
Oscar nominee and Emmy winner Ava DuVernay co-wrote and directed this limited series that is based on the tragic case of the Central Park Five. In 1989, a jogger was assaulted and raped in New York's Central Park and a quintet of teenage boys from Harlem – Korey Wise, Kevin Richardson, Antron McCray, Yusef Salaam, and Raymond Santana – were wrongfully convicted for it. This hard, but vital, viewing spans a quarter of a century, ending with their eventual exoneration in 2002 and case settlement in 2014.

4. Unorthodox
Find it on Netflix
Based on Deborah Feldman's 2012 autobiography, Unorthodox: The Scandalous Rejection of My Hasidic Roots, this alarming story sheds light on a community that is often shrouded in mystery. Feldman fled Brooklyn to pursue a new life in Berlin, which is also where Esther "Esty" Shapiro (played beautifully by Shira Haas) ends up in the show.
The Berlin scenes in the series are fictional, because Feldman is now a public figure, but the idea of being Jewish in Germany provides real food for thought. Actor and Yiddish specialist Eli Rosen translated the scripts, coached the actors, helped with cultural accuracy and played Rabbi Yossele.

5. Rillington Place
Find it on Netflix
Tim Roth is chilling as notorious serial killer John Christie, who murdered at least eight people, including his wife Ethel (Samantha Morton) in the 1940s and early 50s. The killings took place at Christie's flat, 10 Rillington Place in London's Notting Hill. It was renamed Runton Close in May 1954 before being demolished in 1970. Across three episodes, Ethel, Timothy Evans (the Christies' neighbour, played by Nico Mirallegro) and then John each give their side of the story. Catch Killing Eve's Jodie Comer in one of her earlier roles as Timothy's wife Beryl.

6. Freud
Find it on Netflix
This one is a bit of a stretch, but Sigmund Freud (Robert Finster), the father of psychoanalysis, was very, very real. Unfortunately, so was his drug habit and some of the unscrupulous methods used to treat mental illness in the 1800s. In this fictionalised version of Freud's life, he joins forces with a psychic medium called Fleur Salomé (Ella Rumpf). Equal parts mystifying, sensuous and what-am-I-watching, psychology buffs will get a kick out of some of the subtle, yet nonetheless true, reference points. Plus, the acting is top-notch.

When is the BBC's The Salisbury Poisonings on TV?
The Salisbury Poisonings airs on BBC One (CH 101/108) across three consecutive nights at 9pm, with the first episode screening on Sunday June 14. It is also available for 30 days in Catch Up > Channels > BBC iPlayer.
The three-part series airs until Tuesday 16th June.
TV channels: Channels, content and features available depend on your chosen package. Channel line-ups and content are subject to change at any time and to regional variations.
HD: HD TV set, V HD Box, TiVo box or Virgin TV V6 connected with HDMI cables required for HD channels. Number of inclusive HD channels depends on package.
Catch Up TV: Catch Up TV content available for up to 7 days or up to 30 days after broadcast, depending on content.
Netflix: Netflix subscription required at extra cost.
Interviews: Any opinions expressed in interviews are those of the interview subject and not those of Virgin Media.
Image credits: The Salisbury Poisonings © Dancing Ledge Productions – Photographer: Ray Burmiston