Skip to main content
Virgin Media becomes the UK's largest gigabit broadband network
04 August 2020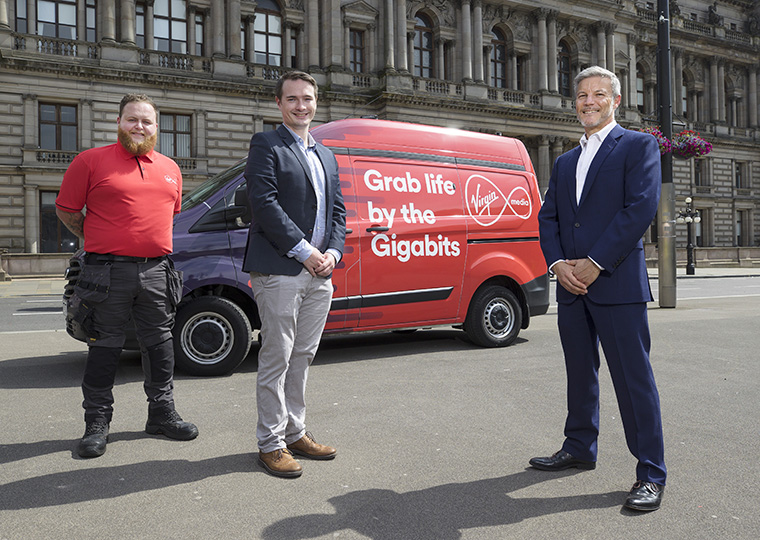 Almost 1 million homes across Glasgow, Leeds and Bradford can now benefit from Gig1 offering average download speeds of 1,140Mbps
A quarter of premises (3.6 million) passed by Virgin Media's network now have access to next-generation connectivity as the company remains on track to roll-out gigabit speeds to its entire network - more than half of the UK - by the end of 2021.
Virgin Media has now connected a number of UK cities to gigabit broadband including Southampton, Manchester, Birmingham, Liverpool and Edinburgh
Virgin Media has become the largest gigabit broadband provider in the UK as it connects more cities to its hyperfast network, pushing ahead with its plan to bring gigabit speeds to more than 15 million homes across its entire network by the end of 2021.
Homes across Leeds, Bradford, Glasgow and their surrounding areas are the latest locations to benefit from Virgin Media's Gig1 broadband, following the roll-out of gigabit connectivity in Edinburgh and Liverpool last month.
Today's news makes gigabit broadband – offering blisteringly-fast average download speeds of 1,140Mbps – available to almost a million additional homes, and means that 3.6 million properties across Virgin Media's network can now access this future-proof connectivity.
Thanks to continued investment, a quarter of Virgin Media's network is now gigabit enabled. As a result, Virgin Media now boasts the largest gigabit network in the UK surpassing all other networks.
Recent analysis by thinkbroadband shows that of the top 20 local authorities for gigabit coverage in the UK, 17 are served by Virgin Media's Gig1 broadband. The Government has set a target for all UK premises to have access to gigabit speeds by 2025.
Lutz Schüler, Chief Executive Officer at Virgin Media, said:
"We're proudly leading the charge to make the UK faster by offering our gigabit connectivity to more homes than any other provider.
"We set out an ambitious target to roll-out gigabit speeds across our entire network of 15 million homes by the end of next year, and we're on track to deliver that promise with Glasgow, Leeds and Bradford being the latest cities to have access to our blisteringly-fast Gig1 service reaching 1140Mbps.
"Providing next-generation connectivity across the country is a mission that is increasingly important as the role of our services to everyday lives and the economy has never been clearer. We'll be connecting more cities to our gigabit network this year at a speed and scale unmatched by anyone else. Whatever the future holds, we're connecting our customers to what's next."
Virgin Media's gigabit network is now available in numerous areas across the UK, including Southampton, Manchester, Reading, Birmingham, Coventry, Edinburgh, Liverpool and now across Leeds, Bradford, Glasgow and their surrounding areas.
The power of Gig1
With Virgin Media's hyperfast gigabit connection, ultra-high definition 4K films and TV programmes, very large files and videos can be downloaded almost instantaneously, even with multiple devices using the connection simultaneously.
Covid-19 has accelerated moves towards digital technology, with Virgin Media research finding that consumer's digital habits have shifted permanently in recent months. Nearly half of people (45%) would like to carry on catching up with friends and family via video calls and group messages, while a fifth have purchased VR headsets to play video games.
Over the first 10 weeks of lockdown, Virgin Media households downloaded an extra 325GB on average making use of their ultrafast speeds.
Gig1 broadband – faster speeds, new router and competitive pricing
Customers taking Gig1 will benefit from Virgin Media's new and best ever equipped gigabit capable router – the Hub 4. The new router is Virgin Media's fastest to date and features improved WiFi hardware to provide speedy and reliable connectivity throughout customers' homes.
The Hub 4 boasts more antennae than its predecessor, the Hub 3, meaning it can manage multiple devices at the same time around the home which can all share the hyperfast speed.
The new router makes use of the operator's next generation broadband technology, known as DOCSIS 3.1, which it will deploy across its entire cable network over time.
Gig1 broadband is available to new and existing customers and can be packaged with or without telephone, TV and mobile services. Prices start from just £62 per month on an 18 month contract with a guaranteed price freeze for at least 24 months.
Virgin Media's gigabit-capable network
Virgin Media has the largest gigabit-capable network in the UK which currently passes 15 million UK premises. The network consists of both fibre-rich cable and fibre connected directly to the premises, both of which can provide customers with gigabit speeds. Upgrades to the network mean that Virgin Media has been able to introduce the gigabit service without needing to excavate roads and streets to install new cables.
Virgin Media, through its Project Lightning programme, is also continuing to expand its ultrafast network to more homes and businesses across the UK. More than 2.3 million premises have been passed since the project began.
Customers can find out more and buy Gig1 at www.virginmedia.com/Gig1Fibre
Notes to Editors
Source for broadband speed claims
The UK's average download speed is 64Mbps. Source: Ofcom, UK Home Broadband Performance, published 13 May 2020.


*957,000+ homes across Leeds, Bradford, Glasgow and their surrounding areas now have access to Virgin Media's Gig1 service.

BT Openreach currently passes 3 million premises with its "gigabit" network offering advertised download speeds of 900Mbps.